Killabears is an immersive NFT entertainment project that promises an exciting journey into the world of online entertainment. It was created in April 2022, and it already managed to gain a reputation as a brand that never lets its fans down.
In November 2022, at the height of the crypto winter, the NFTs of this collection were trading at 1.5 ETH, and NFT #2315 was sold for an incredible 40 ETH. The following month, despite the continuation of the bearish trend in the market, these NFTs strengthened significantly. The minimum price of the collection exceeded 3 ETH, giving holders the opportunity to double their income.
The project experienced an unprecedented triumph at the beginning of February 2023. As a result of the minting of the Hunt open issue, 49,268 pieces of digital art worth over $1.6 million were sold in 24 hours. This event manifested the team's wish to become the leading player in the Web3 industry. At the time of writing (April 12, 2023), the minimum price of Killabears is 3, 27 ETH, and that is quite impressive.
Surely you can't wait to find out what the Killabears collection is all about, its ecosystem and prospects? Well, let's turn to our experts for reliable and comprehensive information.
Killabears Official Links
What is Killabears?
Killabears are 3,333 PFP animated NFTs randomly generated on the Ethereum blockchain. The bears depicted are funny in their own way, but their menacing appearance and determined attitude show that they are tough guys who have been in trouble.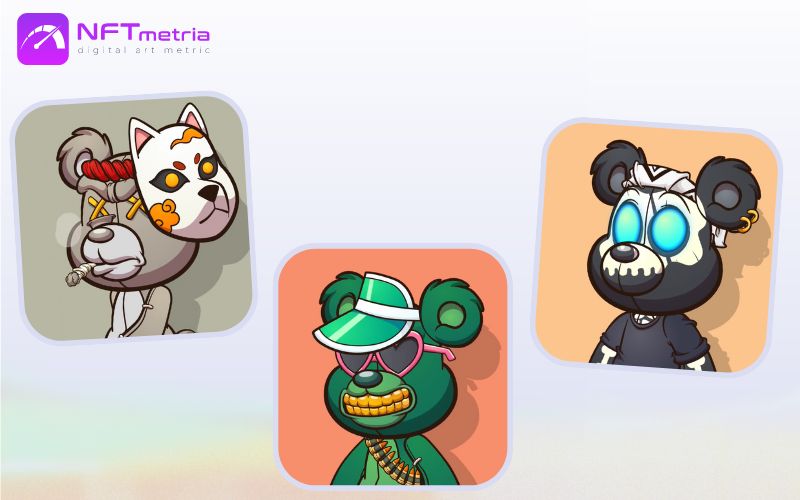 The project started in April 2022 with the announcement of the free minting, and within a year, all holders who entered the project at its start knew for sure that they were unspeakably lucky. The fact is that the owners of the Killabears genesis collection got access to exclusive events, such as applications for new series of NFTs, free giveaways, raffles, and the rights to many other privileges. The demand for the tokens is confirmed by the trading activity and high floor price of 3.27 ETH, despite the limited number of 3,333 digital assets.
Killabears in numbers
A collection of 3,333 NFTs was launched in April 2022 as a free mint.
The total volume of secondary sales exceeded 28k ETH (over $56 million at the current exchange rate).
Floor price is 0.94 ETH (about $1,800).
Average sales range from 0.9 ETH to 1.6 ETH.
The most expensive #2315 was sold on December 1, 2022 for 40 ETH (over $52k at the time of sale).
A total of 1,104 unique holders (33%).
Only about 6% of the collection (189 pieces out of 3,333) are for sale, among them the offers range from 0.9 ETH to 24 ETH. This shows that almost all holders see the project as a great investment prospect and are not in a hurry to part with their assets at a lower price.
Data (including exchange rates) are given at the time of publication (July 3, 2023)
Killabears types and attributes
A number of attributes give Killabears a mesmerizing horror vibe:
Background (15);
Clothing (32);
Eyebrows (3);
Eyelids (7);
Eyewear (14);
Fur (25);
Hair (10);
Head Gear (26);
Mask (9);
Mouth (14);
Special Head (10).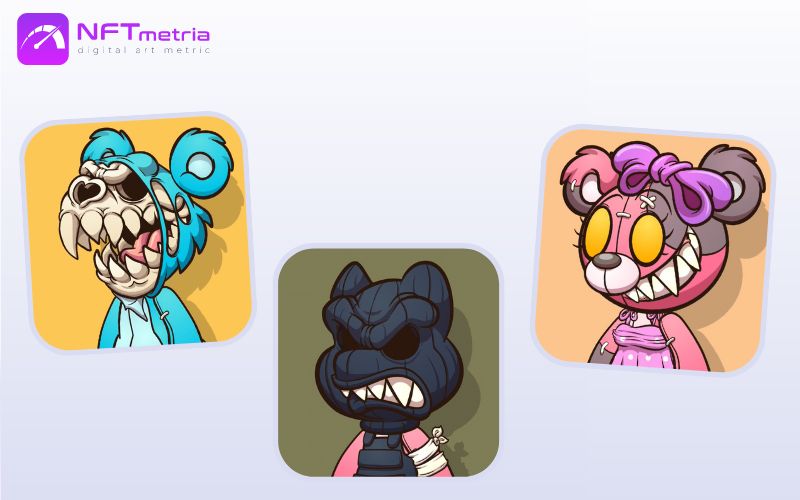 Analyzing the historical sales data, we can conclude that the most valuable and expensive NFTs include the Special Head attribute. There are only 10 varieties of this attribute, and a total of only 131 bears from the entire collection have it.
Who founded Killabears?
The founding team of Killabears consists of 4 people:
Ben Cohen @mr_benft. CEO and co-founder of the project. For the last 14 years he has been working in the technology and social media industry. Having successfully mastered Web2, Ben Cohen turned his attention to Web3, realizing the importance of this concept for the future of the entertainment industry. Cohen's goal is to turn KillaVerse Productions into a next generation entertainment brand, while developing the overall Web3 ecosystem.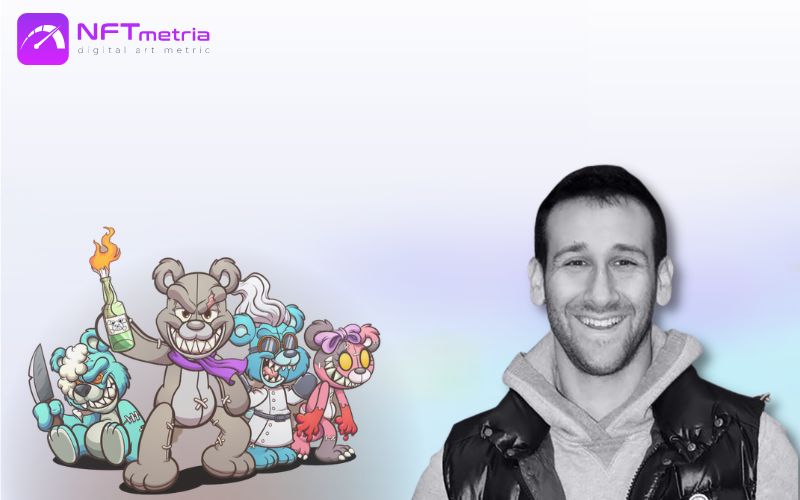 Mikael Tyrsen @kickRRR. Creative director and co-founder of the project. Mikael has tremendous experience in video gaming, having been a professional gamer himself. He has directed while working with brands like ABC and HULU, and is also known as the creator of mobile games with over 30 million downloads. Mikael Tyrsen oversees all creative endeavors at KillaVerse. He aims to turn Killabears into Web3 level Angry Birds. Mikael Tyrsen can literally be called the center of creative innovation at KillaVerse.
Bean Magnus @KryptoBean. CTO. Bean Magnus is a self-taught engineer with over 20 years of experience under his belt. He is a KillaVerse genius in technical skills and creative design. Bean Magnus pays special attention to detail and safety issues, as well as providing a first-class user experience.
Memo Angeles @MemoAngeles_KB. Illustrator. Memo Angeles is known for having spent more than 10 years honing his fine art skills before joining the Killabears project. Memo's experience and talent in creating characters based on a definite storyline has come in handy for KillaVerse and the world that has lined up around it.
Why is Killabears popular?
The community-oriented course chosen by the project team attracted many loyal fans and supporters to the project in just one year. Such mass support (despite the lack of venture capital funding) would be the envy of many traditional brands.
Here are the main reasons for the growing popularity of KillaBears:
The professionalism of the project team, which demonstrates not only the most serious intentions, but also the ability to implement them. One of the indicators of team's professionalism is the impressive promo video released on May 27, 2022. It is a top-notch video product, created according to Hollywood canons. Released shortly after the launch of the project, it became the best business card of the future leader of the NFT industry, capable of creating a global entertainment Web3 brand.
Do we have your attention yet? @killabearsnft pic.twitter.com/JHfNI7N0eo

— KILLABEARS 🐻 (@killabearsnft) May 27, 2022
Responsible and creative approach to keeping the community informed by issuing regular newsletters.
20/ Or the "news reports" from KBBtv reporting on what's happening https://t.co/mvtNw7JreO

— RB 🐻 (@quirk_bear) November 15, 2022
Creative storytelling. The project team is not limited to test alerts on Twitter or Discord. Often creative videos are used as an informational tool.
KillaVerse Citizens – we need your help!

Please watch this important message from KillaLabs CEO – J. Andrew Bearington for details.

We will see you – at #KillaLabs!@killabearsnft #SaveTheKillaverse pic.twitter.com/AQhifTa0AP

— KillaLabs Research (@killalabs) August 7, 2022
Promising prospects for gamers. For video game fans, and there are many of them among project fans, having a unique digital animated character, a member of an existing or future online game, is a most valuable acquisition.
Continuous development of the Killabears storyline. The metadata included in the storytelling and staking of NFTs changes every 24 hours, which is a testament to the project team's attention to detail.
Motivating user loyalty policy. The project has developed an elaborate system of rewards that supports community loyalty. It includes:
really valuable rewards for staking, organically fitting into the history of the project;
physical merch;
Just in time for the holidays…#KillaWear v_2 is coming!

Plus – as usual, you're getting rare Killacubs Trait Tokens for every bundle you order. https://t.co/8LzJpG5PaH

Pre-sale begins #KillaFriday 11/18, 10a PST 💥 pic.twitter.com/4VX0DiQHTd

— KILLABEARS 🐻 (@killabearsnft) November 15, 2022
— KILLABEARS 🐻 (@killabearsnft) August 13, 2022
The limitless possibilities of KillaVerse. The universe with its ever-expanding ecosystem allows its participants to play and meet, travel to parallel worlds and make great purchases.
All of the above is attracting more and more people to the project. One of them tweeted the following:
Finally joined the @killabearsnft fam by fire selling my Mutant & sweeping 3 Bears! Let's go! #killabears pic.twitter.com/4vPJFDXZSB

— Neo 🪐📺 (@thevincerussell) November 30, 2022
Dozens of other fans of the project could say the same.
Killabears Idea
The Killabears project was conceived as a new kind of digital entertainment according to the Web3 model. The creators of the collection sought to combine in their NFT product interactive storytelling, engaging videogaming technologies, a system of incentives and rewards and community-oriented IP rights.
The Web3 model is changing the way entertainment is delivered, consumed, and created – and Killabears is proud to be among the teams leading the way through this monumental shift. Here's what CEO & Co-Founder Ben Cohen has to say about it
He is fully supported by Creative Director Mikael Tyrsen:
With the support of our incredible community, we're building the foundation for the next generation of entertainment, while building a globally recognized brand that stretches across many different categories. Our goal is for the bears to bring excitement, and joy to audiences of all ages, worldwide.  That's what Mikael Tyrsen thinks
Killabears Roadmap
The Killabears team intends to continue pushing the boundaries of its ecosystem with new interactive forms of digital entertainment. And what is nice is that they openly and clearly state their plans in their roadmap. The following projects are in the process of development (we will talk more about some of them in the Ecosystem section):
KillaCubs Workshop, which will allow collectors to design and mint Cubs tokens by mixing and matching Killabears traits or adding any KillaTraits. It will be possible to create one Cub for each Killabears NFT. The remaining will be available to KillaPass owners and the general public. KillaCubs NFTs will be used for additional benefits in the KillaVerse ecosystem.
KillaKush. This is an innovative partnership project between Killabears and representatives of the actively developing cannabis industry. The essence of the project is the appearance of NFT bears in teaser commercials advertising cannabis cigarettes. By showcasing their digital artwork, collectors will be able to monetize their intellectual property. The project's Twitter account featured toy branded figurines in front of cannabis cigarettes.
#KillaKush is coming… https://t.co/pw8gLRmnfm pic.twitter.com/hEHWl59uwo

— RB 🐻 (@quirk_bear) September 3, 2022
Teddy Workshop. For each NFT, the user will be able to create and mint a TeddyBear NFT, using both the traits of his token and some traits that remain behind the veil of mystery. A duplicate check will be introduced to prevent two identical TeddyBears from appearing.
A special series of KillaToys that will allow you to bring genesis NFTs to life and see what they would look like in the real world. KillaToys is a collection of Killabears toys. It includes 1,200 items, is curated by the community, and uses a burn to redeem mechanism.
KillaWear. This is a new model for rewarding collectors for purchasing the project's branded clothing. Whenever collectors order limited edition KillaWear items, they receive exclusive perks, including ERC-1155  tokens for use in the KillaVerse ecosystem.
Lootboxes. These are gift chests with ETH prizes, discounts, whitelist spots for other projects, and exclusive NFTs.
Staking + Coin. It is planned to develop an innovative staking system, which means that users will be able to stake their NFTs from each collection and receive exclusive rewards.
Pixabears + Metaverse. Holders get to mint Pixabear (a pixelated version of Killas, which is suitable for use in Metaverse) for free.
The team also plans to create movies, games, streaming, branded clothing, and CPGs. Many of the plans will be realized by the end of this year.
Killabears Ecosystem
The ecosystem of the project goes beyond just the OG collection. It has a multi-level staking system that includes two stages:
Stake-cation,
The KillaLabs Experiment.
The team has also created a convenient interactive gallery, which shows all the NFTs in the collection. The gallery has a large number of filters and a search mechanism by number, and also allows you to see all the tokens for sale from all available marketplaces.
In addition, there are many sub-collections under the umbrella of the company, including:
KillaBits
Killa Passes
KillaBears XL
KillaLabs
KillaGear
Killa Traits
Soulbound Kilton Rewards
KillaBits
KillaBits are 3,333 pixel companion generative NFT bears released in July 2022. KillaBits are the defenders of KillaVerse. Each KillaBit owner receives an animated KillaGear weapon for participating in the first staking phase. Total volume is over 3.1k ETH, and the floor price is 1 ETH.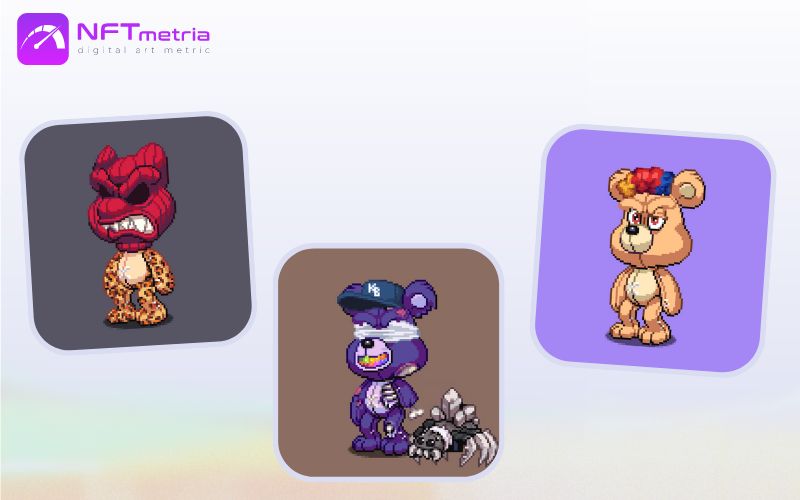 KillaPasses
KillaPasses are 346 NFTs that are exclusive passes to the upcoming Build-A-Cub Workshop event at KillaVerse. Each Pass token gives you access to a free KillaCub creation from a future collection of the same name. Total volume is over 145 ETH, the floor price is 0.6 ETH.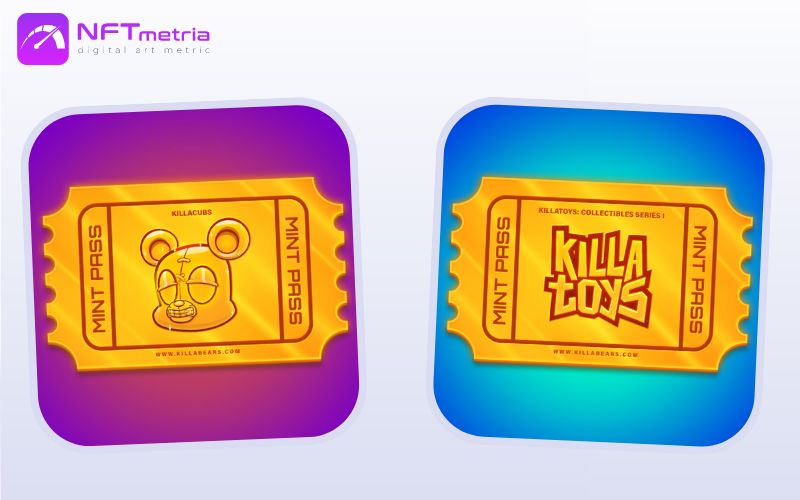 KillaBears XL
KillaBears XL are 20 NFTs released in April 2022. They are remixed versions of the Killabears collection. The total volume is 36 ETH, and there are no tokens for sale.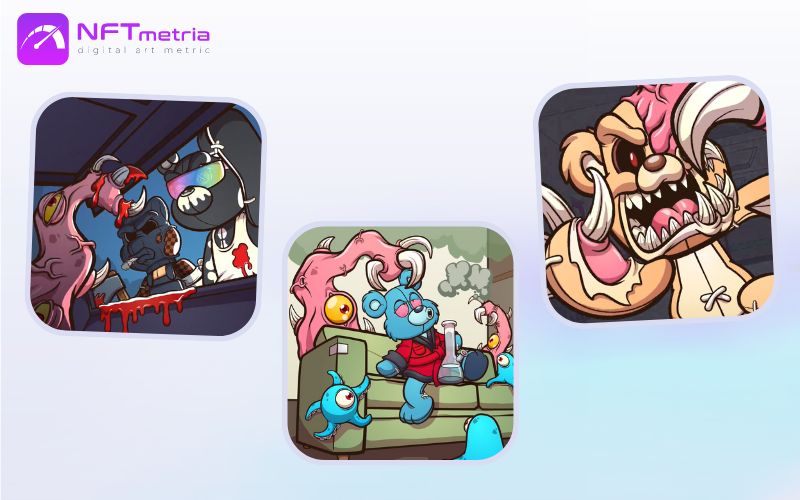 KillaLabs
KillaLabs is a revolutionary virtual center where CEO and Head of Innovation Dr. Fogerty FOMO is experimenting on Killabears and KillaBits, trying to save KillaLabs from being taken over by the dangerous enemy species Vorians. A total of 270 NFTs have been released as part of the collection, and it was created in November 2022.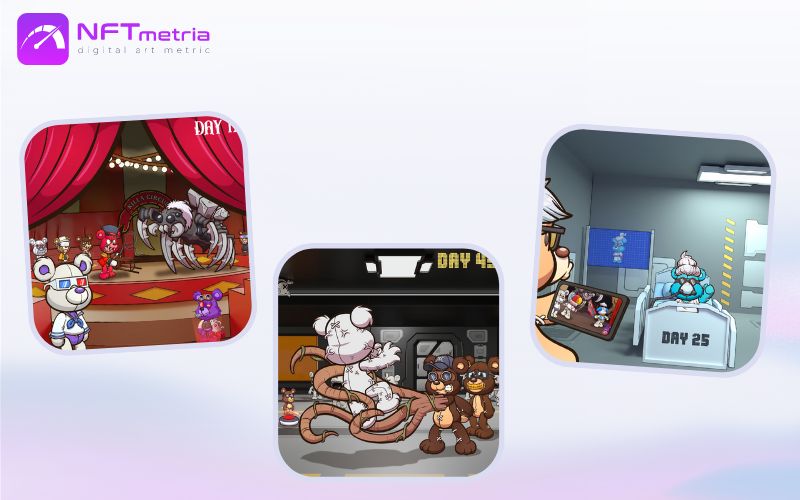 KillaGear
KillaGear is a special outfit for KillaBits. A total of 1,231 NFTs have been issued. The collection was created in September 2022. Total volume  is over 500 ETH, the floor price is 0.29 ETH.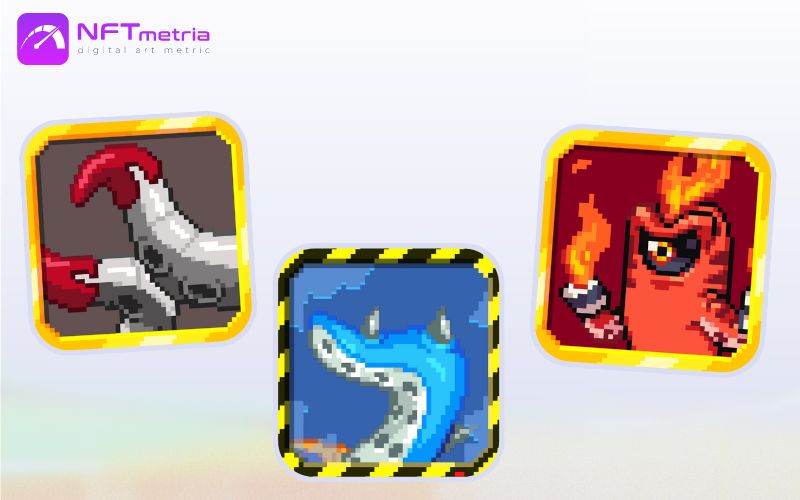 KillaTraits
KillaTraits will be used to create KillaCubs in the upcoming Create-A-Cub Experience game from the founding team. There are a total of 3999 NFTs. The total volume is over 300 ETH, the floor price is 0.065 ETH.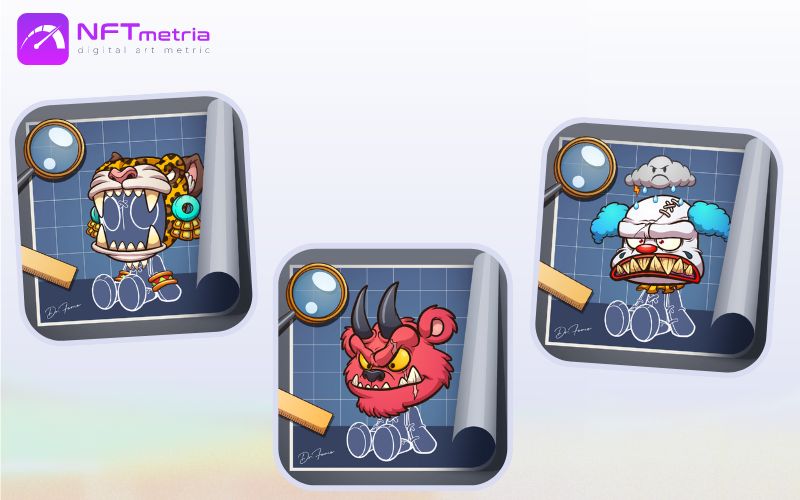 Soulbound Kilton Rewards
Soulbound Kilton Rewards are soulbound (not transferable) NFTs. A total of 854 tokens are issued and each token is addressed to the owner and is a message from the creation team.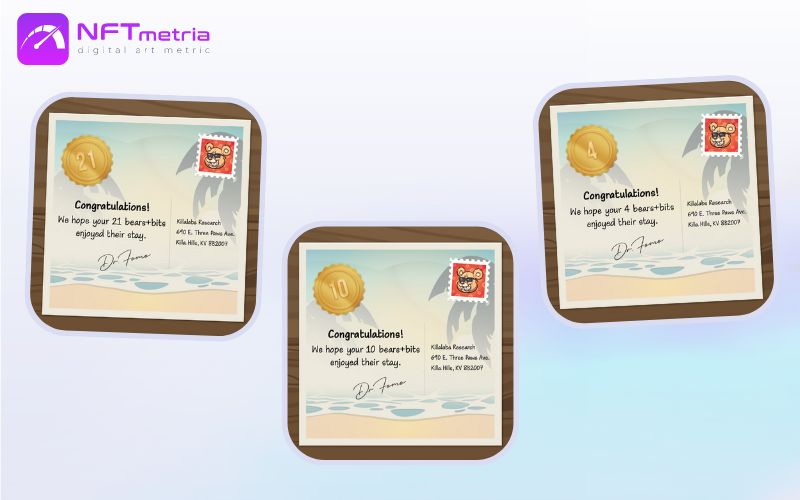 This list clearly demonstrates the creative potential of the project. There is definitely more to it than meets the eye.
How much do KillaBears cost?
The project started in April 2022 with the announcement of a free mint. As was to be expected, the minting ended when it had barely begun. That same month the collection began trading on secondary markets, where there was great demand for it. And how are things now?
To visualize the price dynamics, we made a slice of the average price for 1 NFT:
In June 2022: 1.1 ETH;
In October 2022: 1.7 ETH;
In February 2023: 4.9 ETH;
In June 2023: 1.2 ETH
At the moment, on July 3, 2023, the floor price is 0.94 ETH. On average, the latest sales are in the range of 0.9-1.6 ETH. And the total volume of secondary sales amounted to more than 28k ETH (more than 56 million dollars at the moment).
The Most Expensive Sales of Killabears
The most expensive sales are led by the following NFTs from the KillaBears collection:
#2315 sold on December 1, 2022 for 40 ETH (over $52k at the time of sale);
#3083 sold on July 8, 2022 for 37.5 ETH (over $46k at the time of sale);
#2438 sold on April 1, 2023 for 28 ETH (over $51k at the time of sale);
#1632 sold on December 2, 2022 for 24 ETH (over $31k at the time of sale).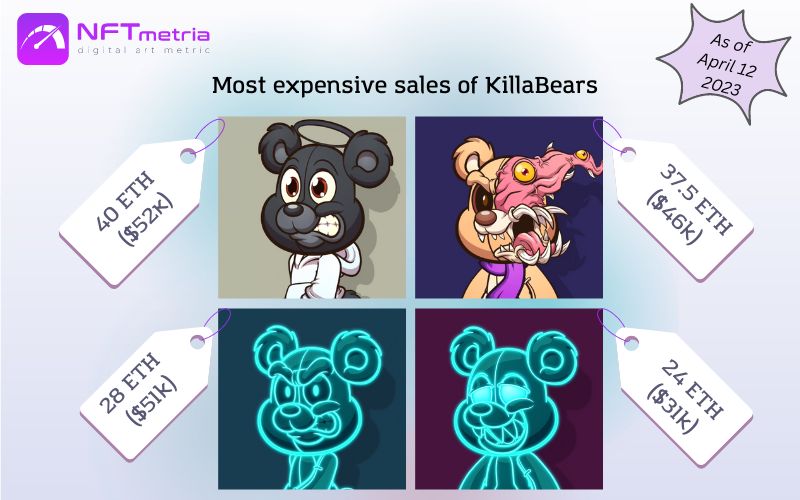 Where to buy Killabears?
Currently, KillaBears can only be purchased on the secondary market, on marketplaces such as:
How to buy KillaBears?
Remember that initially you need to connect your crypto wallet with self-storage to the marketplace of your choice.
Next, find the official collection using the search bar on the marketplace.
Analyze and choose the NFT you want to buy; click on it and then on the "Buy" button.
Or you can bet on the NFT you like. Make sure you leave enough ETH for gas or transaction fees. If the seller approves your bid, the deal goes through.
Should you invest in KillaBears?
The powerful energy coming from Killaverse has already attracted many investors.
Here are some more numbers for you to analyze: the monthly volume of loans taken by crypto enthusiasts to acquire Killabears NFT is steadily gaining momentum. While the figure was over $20,000 in July 2022, it has already surpassed $300,000 since December, when community activity began to pick up, and continues to stay at that level. The highest loan, $20,000, was taken to acquire Killabear #1632.
Here are some reasons to join the project investors so as not to experience FOMO in the future:
The team's intention to turn its entertainment brand into a global IP franchise, as well as steps to implement this idea, inspire respect and trust.
Killabears is one of the projects whose NFTs are actively traded today despite market turbulence and, judging by the analytics of recent days, are unlikely to go down tomorrow.
Ownership of NFTs provides a full set of commercial intellectual property rights. This allows rights holders to monetize the characters in the collection by choosing any method of promotion – be it licensing, sponsorship, partnerships or product branding.
The fact that the number of OG Killabears is limited gives this project an advantage over many of the blue-chips in the NFT industry. After all, purchasing even one of the 3,333 Killabears NFT, stars of the KillaVerse, will allow you to own a much larger portion of the collection compared to projects with 10,000+ digital items. Which means you'll have a chance to get a lot more value, and at a much lower price compared to other collections.
The demand and price for the rarest items in the genesis collection are constantly increasing. The most exclusive bears that cost over $20,000 today may sell for much more tomorrow.
Given the team's ability to create effective Hollywood-kind commercials, you can count on a quick and maximum return on investment in this project.
In any case, do your own in-depth analysis and research when investing in NFTs, and then make your own decision.
Opinion of NFTmetria
Killabears is one of the most successful NFT projects of 2023. By focusing on consensus with the community, it has managed to defy a turbulent market. The team's decision to hand over IP rights to NFT collectors has enabled the support of an audience of thousands and the birth of a host of creative products.
The founders are building a complex ecosystem, not unreasonably claiming leadership among the next generation of entertainment brands. The team's recent accomplishments assure that the project has serious plans for the future, and it is not going to slow down its growth rate.
Join KillaBears for carte blanche to enter a world of exciting entertainment called KillaVerse.