You probably remember the resounding success of Space Jam, starring the legendary Michael Jordan. At the time, many dreamed of joining the glory days of this stellar basketball team. Today the Rumble Kong League project, which unites professionals of the highest level, allows you to reach unprecedented sporting heights (though in the NFT world). The token holders of the collection include such prominent NBA players as Stephen Curry, Tyrese Haliburton, Josh Hart, Cole Anthony and others, and in the nine months since the RKL's release, its trading volume has been nearly $55 million!
It's breathtaking, isn't it? So what does this NFT project represent? Should we treat RKL bullish and what are the prospects for this NFT basketball forward? Let's find out in today's review.
Rumble Kong League Official Links
What is Rumble Kong League?
Rumble Kong League is a basketball-themed NFT collection of 10,000 unique ERC-721 tokens located on the Ethereum blockchain.
The NFTs are ape-like basketball players that look a bit like the characters from the Bored Ape Yacht Club. They are made in a bright and colorful manner. Not surprisingly, they remain in high demand.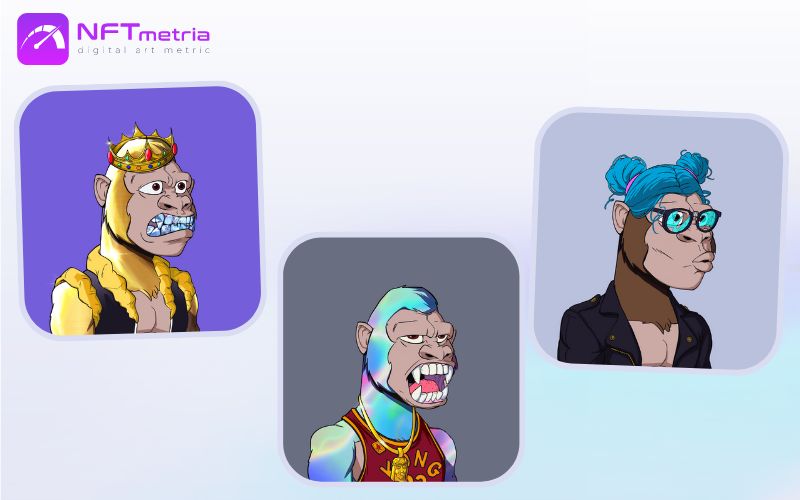 The official website describes the Kongs as elite athletes who have made their way to the top of the Rumble League. The Kongs are the real stars of basketball, making their viewers to follow their performances both on and off the court.
Rumble Kong League in numbers
A collection of 10,000 NFTs was released on July 27, 2021.
The minting price was 0.08 ETH.
The total volume of secondary sales exceeded 19k ETH (over $35M at the current exchange rate).
Floor price is 0.28 ETH (about $520).
Average sales range from 0.23 ETH to 0.5 ETH.
The most expensive #9802 was sold on January 8, 2022 for 40 ETH (about $128k at the time of sale).
Total 3,015 unique holders (30%).
Only about 2% of the NFT collection (224 pieces out of 10,000) are for sale, among them the offers range from 0.28 ETH to 30 ETH. This shows that almost all holders see the project as a great investment prospect and are not in a hurry to part with their assets at a lower price.
Data (including exchange rates) are given at the time of publication (April 4, 2023)
Rumble Kong League types and attributes
Each NFT is randomly generated from over a hundred hand-drawn features, resulting in a unique basketball token in Kong's signature style.
The Kongs' visual characteristics are provided with varying degrees of rarity. Each digital basketball player is also randomly assigned attributes that determine each Kong's potential on the court and their strategic skills.
To date, Kongs have the following attributes:
Background (11),
Clothes (26),
Eyes (13),
Fur (14),
Head (22),
Head Accessory (12),
Jewellery (3),
Mouth (17),
Defense (0-100),
Finish (0-100),
Shooting (0-100),
Vision (0-100).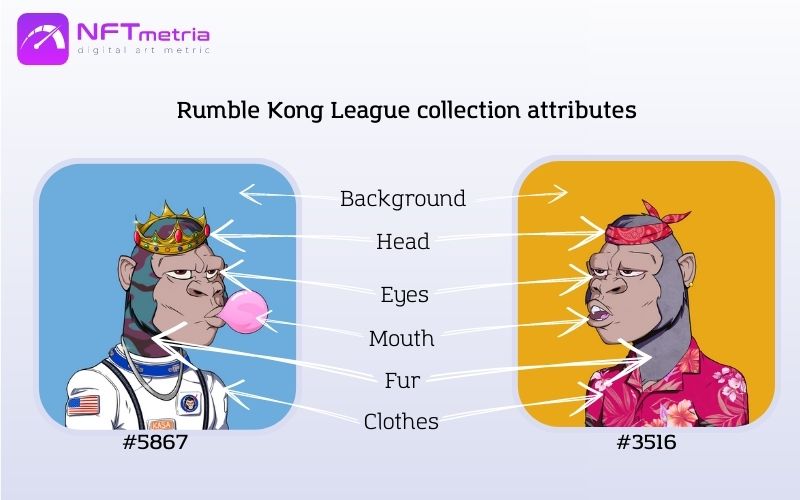 Who founded the Rumble Kong League?
The Rumble Kong League NFT project team consists of 5 people:
Marcus Bläsche @direkkt. CEO and co-founder. Marcus boasts a wealth of experience in gaming and cutting-edge technology. He collaborated with Blizzard, which is known for the development of famous games Call of Duty, Spiderman, Warcraft, Guitar Hero and others.
Nick Vale @nickev123. Co-founder of the project. He has extensive experience in game development. He managed projects for creating Microsoft games that were in the top-selling places. It is also known that Nick Vale was a member of the founding team of reNFT @renftlabs (a marketplace where you can rent NFTs) and is one of the employees of The Sandbox's marketing department.
Le'Jon LaMon (aka Sickpencil) @sickpencil. Artist and co-founder. He came to the Rumble Kong League team from the art world. Le'Jon LaMon has an undeniable talent for creating unique visual images. He has been involved in street graffiti and digital art for some time. Le'Jon LaMon has painted walls all over Los Angeles, and his art can be seen everywhere from Nipsey Hussle to basketball courts.
Naz @AlgorithmicBot. Co-founder and technical director. He has worked and continues to work in the high-tech sphere. For several years he created algorithmic trading bots for hedge-funds in London, then he got acquainted with the world of cryptocurrencies and decided to change the direction of his career. Nick Vale considers Naz a professional mathematician and one of the best developers of smart contracts.
Nicken. All-knowing marketer, co-founder of the reNFT project, and member of marketing department at The Sandbox.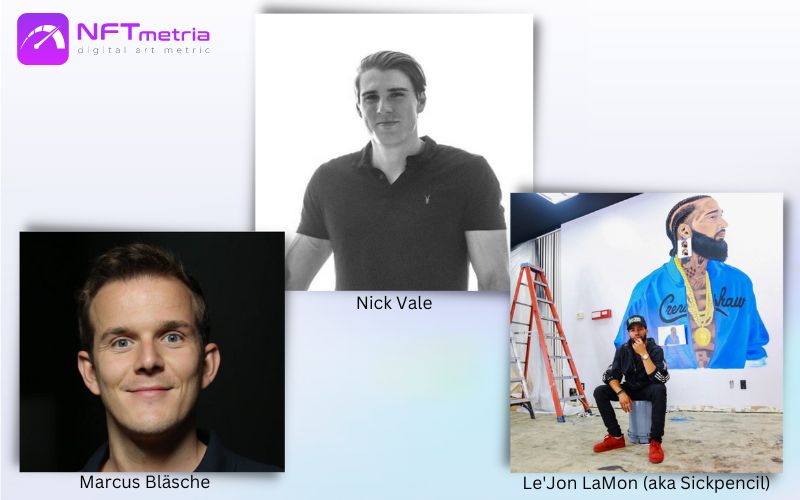 Why is Rumble Kong League popular?
Rumble Kong League is known and loved by many fans of the NFT world. And here's why:
The project is popular with top NBA stars.
Along with the funding, the announcement of the partnership with Under Armour and Curry brands was like a gift that would keep on giving.  

Furthermore, #NBA star @Yg_Trece not only loved the project enough to sport his RKL hoodie, he also became an investor in RKL.

8/17 🧵 pic.twitter.com/17bCVSG4ED

— Rumble Kong League (@RumbleKongs) July 28, 2022
RKL has received significant support from CAA Sports @caa_sports and Paul George @Yg_Trece, helping to accelerate its release. Under Armour Basketball and Curry were the brand's first major partners. The collaboration with the latter resulted in the release of Curry Flow sneakers for the NFT collection.
The creators also indicate that the brand is trusted by such well-known brands as JDS Sports, Animoca Brands, Penny Jar Capital, Framework Ventures, IDEO CoLab and others. This shows RKL's serious reputation and indicates the possibility of successful long-term development.
But the main popularity came to the project thanks to the Play-to-earn  3vs3 game launched in 2022. And you don't even have to own a Rumble Kong League token to take part in it! However, keep in mind that there are some leagues that you can't get into without an RKL NFT.
Players get a wide range of options. They can:
Take part in 3vs3 basketball games;
Compete in leagues and tournaments for cryptocurrency prizes;
Own and manage teams and clubs; the owner of the club can invite and hire Kongs to play, acting as the general manager of the club, managing squads, game schedules, sponsors, etc.;
Buy collectible clothing items for your Kongs;
Train Kongs to improve their stats;
Earn on sponsorship and use in-game NFTs for various purchases / transactions;
Resell and trade your Kongs at your own discretion.
Utility
Rumble Kong League NFTs can be used to enter clubs and earn rewards, play in tournaments, and play in 3v3 basketball games.
Rumble Kong Leauge holders will also be able to earn from sponsorships and use the in-game token for in-game purchases/ transactions.

— 🅰️ltcoin_Turner (@AltcoinTurner) June 6, 2022
Rumble Kong League Idea
The main goal of the NFT project was eloquently expressed by Marcus Bläsche, the project's CEO:
Our goal is to provide a truly unique and memorable experience for sports fans within the Rumble Kong League. NFTs and the Metaverse are making a huge impact in the gaming world and we aim to build the go-to sports ecosystem and push the boundaries of what is possible within the web3 space. The co-founder of the project Marcus Bläsche says
At the same time, Nick Vale emphasizes that one of the main reference points for the project is the community. This is the center of the project's universe; the sun around which everything revolves. By joining the Rumble Kong League, one can find a great opportunity to express oneself in the digital world. Since the project is a fusion of sports, street culture and hip-hop, every fan of these will find here like-minded people and a lot of interesting adventures.
Rumble Kong League Roadmap
There is no official roadmap for the Rumble Kong League NFT project. However, we can assume that the team will continue to work on improving the gameplay and introducing new benefits for its players.
Rumble Kong League Ecosystem
The Rumble Kong League ecosystem, in addition to the main Kongs NFT collection, includes the following projects:
Rumble Rookies
Rumble Rookies is an NFT collection of basketball players that consists of 9,804 tokens. Rookies are true hunters by nature. They use their intelligence and well-developed reflexes to fill the basketball court with energy. The goal of the Rookies is to make their way to the Rumble top league.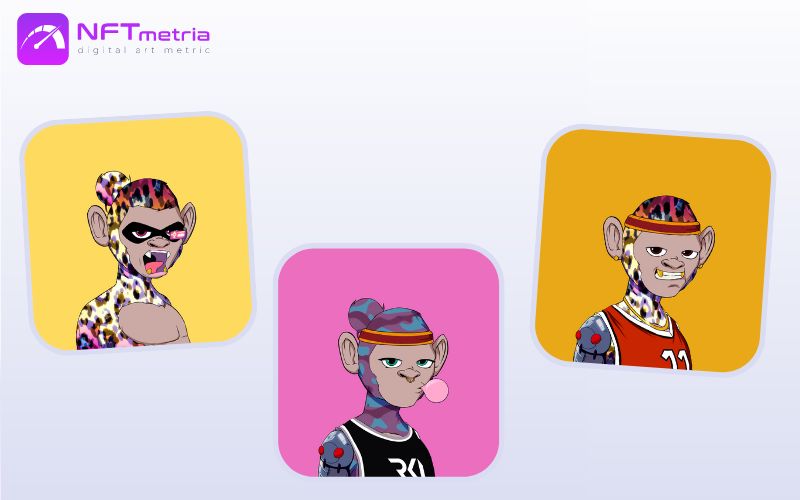 Holders of the main NFT collection can apply for Rumble Rookies, after which they are randomly generated. The total trading volume of the collection exceeds 127 ETH, and the floor price is 0.054 ETH.
Rumble Sneakers
The Rumble Sneakers are an NFT collection of 3,148 pairs of sneakers for Rumble players. They are used as a must-have inventory for every self-respecting professional basketball player. The collection's trading volume exceeds 642 ETH, and the floor price is 0.029 ETH.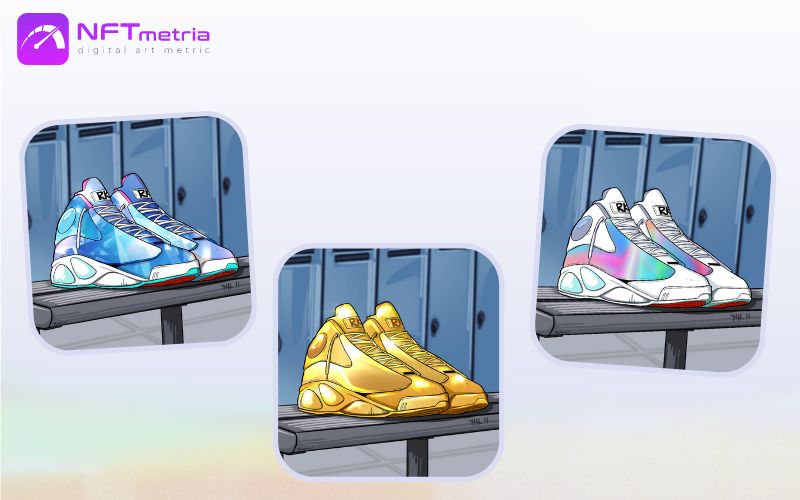 Athlos
Athlos is a world where Rumble athletes live and compete. On the official website of the project you can take a virtual journey through Athlos, moving through it with the cursor.
Kongcubator
Kongcubator is an investment fund of the Rumble Kong League community created with the participation of Penny Jar Capital @pennyjar. Its goal is to support community member projects to expand and strengthen the RKL ecosystem.
Clubs
Clubs is a separate layer of the RKL ecosystem, allowing users to manage their own teams and select the best Kongs to achieve new victories.
How much do Rumble Kong League NFTs cost?
The project was released on July 27, 2021, at which time the minting price was 0.08 ETH. That same month, the NFT collection began trading on secondary markets, where there was great demand for it. And how are things now?
To visualize the price dynamics, we made a slice of the average price for 1 NFT:
In September 2021: 1.9 ETH;
In December 2021: 3.8 ETH;
In March 2022: 1.9 ETH;
In August 2022: 0.7 ETH;
In December 2022: 0.6 ETH;
In February 2023: 0.5 ETH.
At the moment, on April 4, 2023, the floor price is 0.28 ETH. On average, the latest sales range from 0.23 to 0.5 ETH. And the total volume of secondary sales amounted to more than 19k ETH (more than $35 million at the moment).
The Most expensive sales of Rumble Kong League
The most expensive sales are led by the following NFTs from the Rumble Kong League collection:
#9802 was sold on January 8, 2022 for 40 ETH (about $128k at the time of sale);
#5868 was sold on December 29, 2021 for 36.69 ETH (about $133k at the time of sale);
#9148 was sold on September 16, 2021 for 33 ETH (about $133k at the time of sale);
#2763 was sold on September 4, 2022 for 33 ETH (about $139k at the time of sale).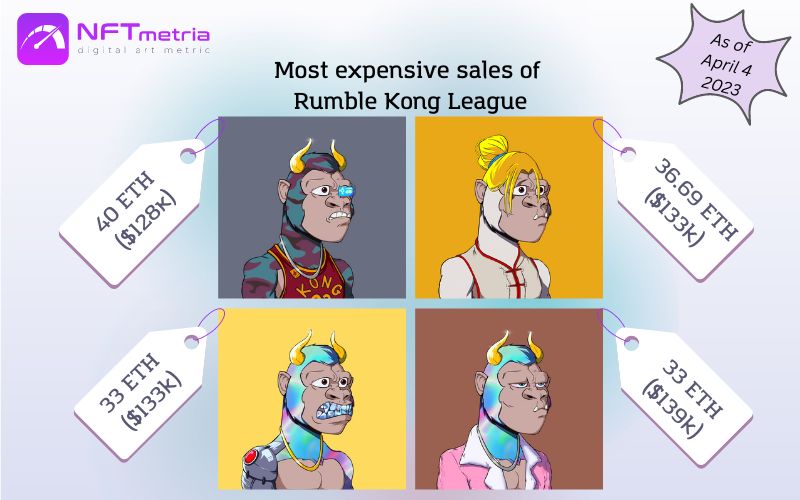 Where to buy Rumble Kong League?
Currently, Rumble Kong League NFTs can only be purchased on the secondary market, on marketplaces such as OpenSea, X2Y2 and LooksRare.
How to buy Rumble Kong League?
Remember that initially you need to connect your crypto wallet with self-storage to the marketplace of your choice.
Next, find the official NFT collection using the search bar on the marketplace.
Analyze and choose the NFT you want to buy; click on it and then on the "Buy" button.
Or you can bet on the token you like. Make sure you leave enough ETH for gas or transaction fees. If the seller approves your bid, the deal goes through.
Should you invest in Rumble Kong League?
The Rumble Kong League NFT project looks attractive from an investment point of view, and here's why:
Members of the community have almost unlimited possibilities with their NFTs. They can earn real money with them, manage them and buy equipment for them, all of which creates a unique experience.
New members get an opportunity to join an elite NFT club, whose token holders are the stars of the sports world.
The popularity of the NFT project means additional user benefits in the future as the project grows and new partnerships are established.
The creators are a powerful team of professionals.
RKL partnerships with global brands such as JDS Sports, Animoca Brands, Penny Jar Capital, Framework Ventures, IDEO CoLab and others.
Exciting future gamification opportunities.
Extensive and close-knit community.
In any case, do your own in-depth analysis and research when investing in NFTs, and then make your own decision.
Opinion of NFTmetria
It is no exaggeration to say that Rumble Kong League is a unique sports project in the world of NFT. When working on it, its authors combined popular blockchain and game industry features, such as collectibles, PFP avatars, algorithmic gameplay, the functionality of the Play-to-earn genre and exciting NFT events. By adding their own original vision of how digital entertainment should be orchestrated to this dish, RKL developers have created a stunning sports metaverse with colorfully-drawn NFT gameplay.
At the same time, Rumble Kong League is a project focused primarily on the community, which allows it to remain on the crest of popularity and attracts more and more fans to it.