DegenToonz is one of the most breakthrough NFT collections of 2022. Within a week of its launch, all of the tokens depicting the cringe cat were sold out. The popularity of DegenToonz is like a magnet attracting crypto fans from Ethereum and ADA systems. Plus, the collection has received significant support from influencer Morgan David @M0R84N, CEO of Pavia Corp. Even despite the fluctuations of the NFT market, the collection remains a sought-after project that continues to be much talked about. So what is the basis of such inexhaustible fame?
DegenToonz Official Links
What is DegenToonz?
DegenToonz is a PFP collection of 8,888 NFTs on the Ethereum blockchain. The tokens are some strange-looking cats that are literally hypnotizing with their unusual images. An attentive observer might see these characters as references to the popular '90s cartoon series Looney Tunes. Undeniably, these digital cats have a nostalgic appeal, and they are also made on a high artistic level.
The project was launched in February 2022. And then, the sales rate of new NFTs was really amazing.
We just hit 4K unique wallets and over 960 ETH trading volume! We love seeing all the new #TOONZ Drop your collection below! #toonztothemoon #toonfollowtoon #ThatsAllToonz pic.twitter.com/QNuuhxsdM4

— Degen Toonz (@DegenToonz) February 24, 2022
DegenToonz NFT pre-sale was limited to 3 Toonz per transaction/wallet, and the maximum number of tokens per wallet was not to exceed 10. This was done to minimize the risk of bot interference and to give every crypto enthusiast a chance to own a unique NFT. During the secondary sales there was a rush on OpenSea, and the peak flor price reached 1.2 ETH apiece.
Notable media personalities weren't left out either. Morgan David, CEO of Pavia Corp, tweeted on February 25 about the Toonz set he had assembled. The jewel in David's collection was the 1/1 Gold Paws token named after the world-famous artist Kaws.
OK. That's probably enough of these too for now. pic.twitter.com/1n2bdbP0oZ

— Morgan (@M0R84N) February 25, 2022
DegenToonz in numbers
A collection of 8,888 NFTs was launched in February 2022 via a whitelist followed by a public sale. And within a week, all the tokens found their owners.
The price of a mint was 0.085 ETH + gas.
The total volume of secondary sales exceeded 24k ETH (over $45M at the current exchange rate).
Floor price is 0.33 ETH (about $620).
Average sales range from 0.3 ETH to 0.45 ETH.
The most expensive #5480 was sold on January 12, 2023 for 35 ETH (over $49k at the time of sale).
A total of 3,816 unique holders (43%).
Only about 4% of the collection (322 pieces out of 8,888) are for sale, among them the offers range from 0.33 ETH to 14 ETH. This shows that almost all holders see the project as a great investment prospect and are not in a hurry to part with their assets at a lower price.
Data (including exchange rates) are given at the time of publication (April 6, 2023)
DegenToonz types and attributes
NFT cats from the collection have a number of interesting characteristics and attributes:
Background (20),
Bag (4),
Base (12),
Chain (7),
Clothing (38),
Eyes (13),
Head Accessories (12),
Mouth (11),
Paws (3),
Piercings (8),
Robot (1),
Tattoos (5).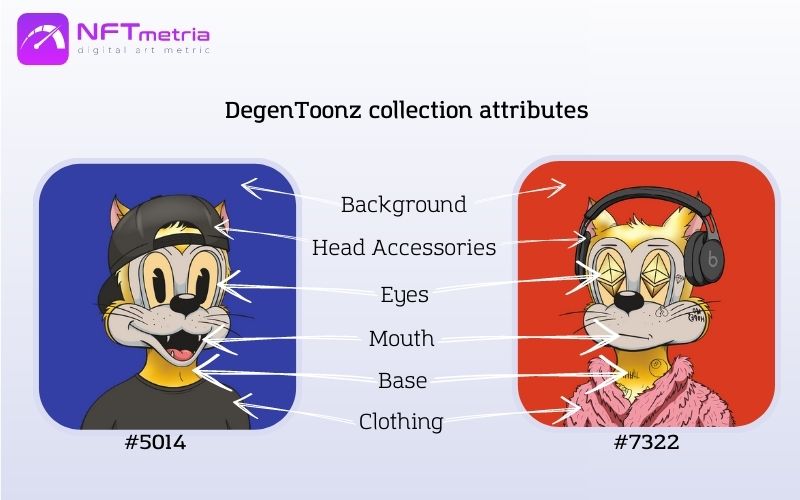 Who founded DegenToonz?
The DegenToonz team consists of talented and creative people: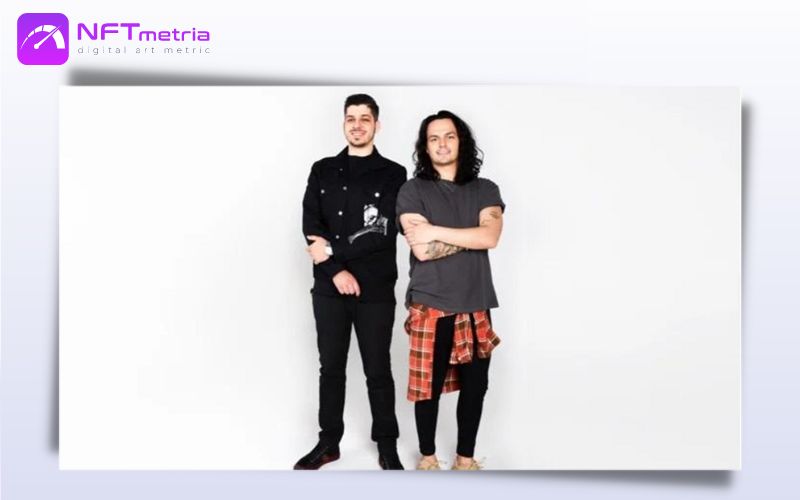 Bader Asad and Prince Lail have a long friendship. In their words, they were drawn to the rising NFT world by "emerging technologies and Web3 [as] an ideal way to combine creativity and business knowledge".
One day, we kind of had this crazy idea of creating an NFT project. Co-founders of the collection say
DegenToonz was not the first collaboration between these two creative people, but it was their greatest achievement.
Why are DegenToonz NFTs popular?
The popularity of DegenToonz is easy to explain because the tokens from the collection open up a number of opportunities for their owners:
 Access to an exclusive club. Each NFT serves as a ticket to the Toonz Metaverse called Toon Town, which guarantees the holder a wide range of privileges, including voting rights in the DAO and access to merchandising items and events. Toon Town is also expected to launch a Play-to-earn game in the future.
Toon Town is expanding.. are you moving in? 🛠🌇 pic.twitter.com/Ro2msMx1nE

— Degen Toonz (@DegenToonz) November 16, 2022
Joining the global celebrity community. The launch hype has helped the project gain useful strategic collaborations. To date, the creators of the collection have partnered with brands and celebrities such as Steve Aoki, Bored & Hungry, Jarritos, Ledger, The Hundreds, and more.
Art & Meme Contest 🎉

We have partnered up with @Jarritos to give away this Custom Mini Fridge to one lucky TOON!

Yes, it will include your favorite Jarritos flavor as well.

Contest Details are Below! pic.twitter.com/bw1lshq4jU

— Degen Toonz (@DegenToonz) August 31, 2022
Notification of the latest project news. The team holds regular events for the community (twice a week). On Tuesdays there are Toon Talks, during which the authors of the project inform about their decisions and make various announcements. On Fridays, there are Happy Hours Toon Talks, allowing the community members to relax and have fun. Kelly Blumberg and Lyn Tan host all of these casual conversations.
Unlock the experience 12/22/22 🚪🔑 pic.twitter.com/peC5p6KIse

— Degen Toonz (@DegenToonz) December 12, 2022
A special role in the community's Discord channel (for each holder).
Frequent airdrops from the project team, as well as monthly opportunity to win NFT gifts and ETH tokens.
IP rights associated with ownership of DegenToonz tokens, allowing you to use the assets for any purpose, including commercial one.
Access to merchandising products. The brand follows high quality standards when developing its own merch. T-shirts are 220 gsm and sweatshirts are 470 gsm; in other words, they are quite dense. It is precisely this quality that is produced by the leading streetwear brands around the world.
TOONZ! Apparel goes live at 2:00pm PST! 🧨

Website link will ONLY be available on this Twitter account and our official Discord announcement channel. pic.twitter.com/vK7UXWMj7Q

— Degen Toonz (@DegenToonz) July 22, 2022
DegenToonz Idea
The goal of Bader Asad and Prince Lail was not pure commercial interest and the desire to create as much hype around their new brainchild as possible. They are working hard to build long-term values, which will benefit the community and the brand as a whole.
According to the authors of the collection, the DegenToonz project involves creating a future in which the art of storytelling plays a formative role. Bader Asad and Prince Lail are developing a platform that takes into account the interests of creators, curators and community members, and promotes an inclusive brand that thrives on blockchain technology.
Particular attention is paid to the involvement of the community in this process. The founders want its members to be actively involved in the development of the project, as evidenced by the creation of the DAO and the purchase of metaverse land. For example, land was previously purchased in NFT Worlds.
We have purchased the DAO selected land for our metaverse implementation! World 2827 in @nftworldsNFT will become #TOONZTOWN! #TOONZ #toonztothemoon pic.twitter.com/TzozMDC3Z9

— Degen Toonz (@DegenToonz) March 9, 2022
DegenToonz Roadmap
From the very beginning, the project prepared a detailed roadmap, which consisted of the following stages:
Q1 2022
Launching the collection.
The DegenToonz brand makes its first steps in the Ethereum ecosystem and immediately succeeds.
DAO development, as well as that of community & charity wallet.
First DegenToonz IRL event in Los Angeles.
THE TOONZ LOUNGE! An exclusive space for #TOONZ to chill, connect and create! Coming soon in Los Angeles, CA! #toonztothemoon

— Degen Toonz (@DegenToonz) February 27, 2022
Q2 2022
Airdrop of the Minter Reward Card token for all wallets that took part in minting. The token is used to access limited edition clothing, including a free Minters T-Shirt.
Dynamite Drop. Launch of the GN GM Industries subproject. All holders can order free Dynamite for each Toon token.
Hosting DegenToonz's second NFT NYC event. It featured Fivio Foreign @FivioForeign, as well as performances from celebrities like Steve Aoki and Bun B @BunBTrillOG.
TOONZ in NYC! Here's your chance to to win a FREE Dynamite.

Take a Photo around NYC with your Toon and use the hashtag #ToonzTakeNY

A winner will be selected on Wednesday June 22nd!

Get creative, and good luck! pic.twitter.com/oNjswu6z1j

— Degen Toonz (@DegenToonz) June 20, 2022
DegenToonz X The Hundreds collab.
TOONZ in NY! @BoredNHngry @FoodFightersU pic.twitter.com/D8fu6Yyqir

— Degen Toonz (@DegenToonz) June 24, 2022
Launch of the Rolling Toonz contest, in which the lucky winner receives monthly ETH and the cover of the 1/1 "Rolling Toonz" magazine dedicated to significant events in the life of the DegenToonz brand.
We are giving away 1 ETH and an exclusive 1/1 Rolling Toonz Magazine Cover NFT every month, starting NOW.

Details on how to participate are in the video below

Good luck in becoming TOON of the MONTH! 🧨 pic.twitter.com/VrfqfKvPek

— Degen Toonz (@DegenToonz) May 2, 2022
Q3 2022
Launching the clothing store exclusively for DegenToonz token holders.
DegenToonz X Bored & Hungry collab.
Establishing partnerships with Jarritos.
Warner Music announces partnership with Degen Toonz.
Warner Records ❤️ Degen Toonz @DegenToonz crew, where you at? pic.twitter.com/jYteTe9bsg

— Warner Records UK (@warnerrecordsuk) September 7, 2022
DegenToonz X Steve Aoki / DIM MAK. DegenToonz is launching a collaborative collection with clothing brand Steve Aoki Dim Mak.
The Official DIM MAK x DEGEN TOONZ Collection is now LIVE!

Shop your favorite styles by clicking the link below @dmcollection @steveaoki 🧨https://t.co/QSZLbLNp3X

— Degen Toonz (@DegenToonz) September 10, 2022
Future
Reward System. Token holders get the opportunity to earn and get rewarded with bonus points.
A feature that allows you to select new items of clothing and accessories for your token, changing its style. Closet can be accessed through the LOFTZ section on the project's official website.
The Closet experience explained!https://t.co/OfS756HYHF

— Degen Toonz (@DegenToonz) February 24, 2023
Marketplece. A place to buy, sell, and share unique digital goods, community-created products, and more.
GEN II. A collection that will feature a new character joining the Toonz ecosystem.
Who needs a friend? All @DegenToonz holders will receive a FREE MINT upon collection II launch! #TOONZ #GENII pic.twitter.com/AuymemqVTF

— Degen Toonz (@DegenToonz) February 18, 2022
DegenToonz Ecosystem
The Degentoonz ecosystem includes the following subprojects:
Detonated Toonz
DegenToonz token holders are eligible to apply for items from the GM GN Industries collection. They are NFT dynamites that can be used to detonate a genesis token and receive an NFT from the Detonated Toonz collection (Tier 1 Detonated Toon) in return. The owner can also combine the 3 explosives to create a radioactive version of the NFT, forming a Tier 2 Detonated Toon.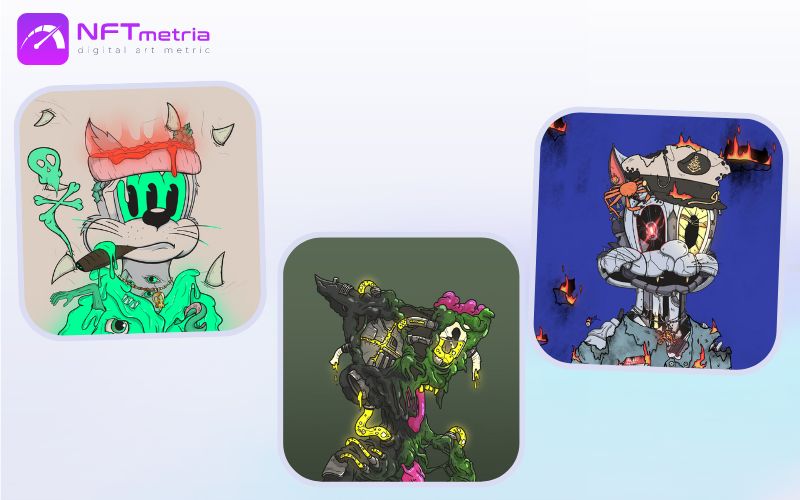 To date:
2,756 NFTs.
Thr total secondary trading volume exceeds 390 ETH,
The floor price is 0.06 ETH.
Minted Rewards (Reward Cards)
Degen Toonz Minted Rewards (Reward Cards) are 3,362 NFT keys to all future rewards for community members.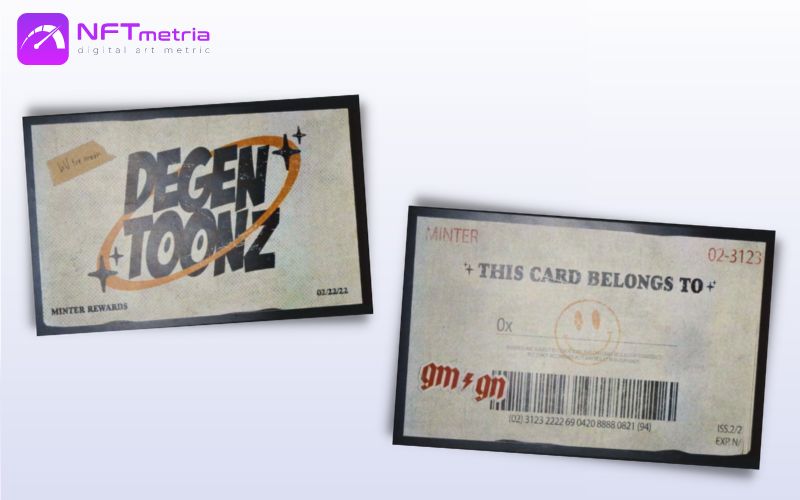 To date:
The total secondary trading volume exceeds 214 ETH,
The floor price is 0.016 ETH.
Degen Toonz Shop
Degen Toonz Shop is an online store where you can buy merchandise from the brand. The hoodie is priced at $75 and the branded T-shirt can be purchased for $45. In addition, there are caps on sale for $35.
DegenToonz DAO
Every community member with a token can participate in the DAO and vote on project-wide decisions.
TNZ token
$TNZ is the project's native token. It can be requested in the LOFTZ section of the official website.
How much do DegenToonz cost?
The collection was launched in February 2022 by whitelisting and then public sale. The price of a mint then was 0.085 ETH + gas. And already in a week all tokens found their owners. In the same month, the collection began trading on secondary markets, where there was great demand for it. And how are things now?
To visualize the price dynamics, we made a slice of the average price for 1 NFT:
In March 2022: 0.7 ETH;
In June 2022: 1.2 ETH;
In October 2022: 0.7 ETH;
In February 2023: 0.6 ETH.
As of April 6, 2023, the floor price is 0.33 ETH. On average, the latest sales range from 0.3 to 0.45 ETH. And the total volume of secondary sales amounted to more than 24k ETH (more than $45 million at the moment).
The most expensive sales of DegenToonz
The most expensive sales are led by the following NFTs from the DegenToonz collection:
#5480 sold on January 12, 2023 for 35 ETH (over $49k at the time of sale);
#548 sold on April 17, 2022 for 18.7 ETH (over $56k at the time of sale);
#801 sold on April 2, 2022 for 18.36 ETH (over $54k at the time of sale);
#4282 sold on April 23, 2022 for 17.61 ETH (over $52k at the time of sale).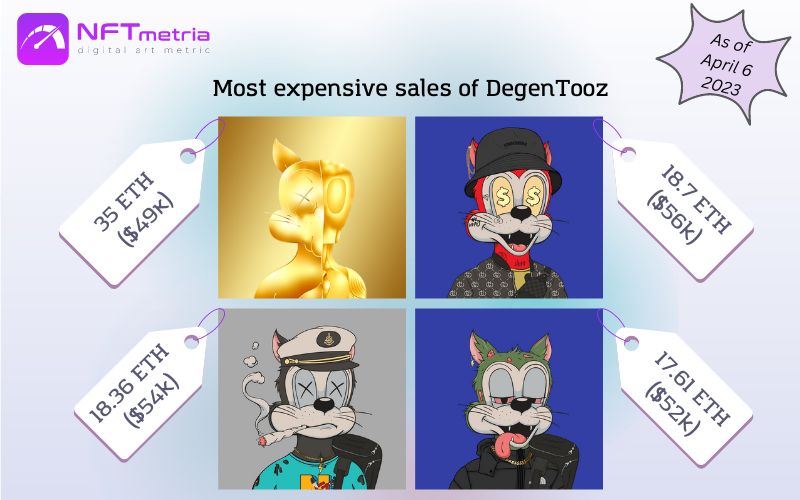 Where to buy DegenToonz?
DegenToonz is currently only available on the secondary market, on marketplaces such as OpenSea, X2Y2 and LooksRare.
How to buy DegenToonz?
Remember that initially you need to connect your crypto wallet with self-storage to the marketplace of your choice.
Next, find the official collection using the search bar on the marketplace.
Analyze and choose the NFT you want to buy; click on it and then on the "Buy" button.
Or you can bet on the token you like. Make sure you leave enough ETH for gas or transaction fees. If the seller approves your bid, the deal goes through.
Should you invest in DegenToonz?
Investing in DegenToonz looks quite logical for the following reasons:
The project is in constant communication with its community, developing steadily through numerous collaborations and keeping the promises it has made. This is what helped it survive the bear market.
The project has a native token $TNZ.
NFTs owners have IP rights to any tokens they own within the DegenToonz ecosystem.
The value of the project is further enhanced by the brand's community wallet and charity wallet, which are important funding tools.
There are high-profile collaborations with brands and celebrities such as Warner Music, Steve Aoki, Bored & Hungry, Jarritos, Ledger, The Hundreds and others.
In any case, do your own in-depth analysis and research when investing in NFTs, and then make your own decision.
Opinion of NFTmetria
If you feel nostalgic for the cartoons of the '90s and have long dreamed of entering the world of NFT, but have not yet chosen a suitable collection, you should take a look at the DegenToonz project. Its authors literally idolize the community and make every effort to ensure that all participants get the benefits provided by the modern Web3 technology.
A solid guarantor of DegenToonz' stable development is the extensive package of collaborations with well-known brands. All of this together contributes to the active growth of the project and its continuing relevance on the NFT market.