Who among us does not remember the legendary cartoon characters of the '90s – Scrooge McDuck and Donald Duck? But they are no longer trendy. However, the SupDucks NFT collection is now on the top of popularity. It already got recognition at the launch. The collection was launched on July 16, 2021, and all of its NFTs sold out within 48 hours. Initially, the price  assets ranged from 0.1 to 0.7 ETH apiece. But after a while, rare copies of the collection were already worth hundreds of thousands of dollars on secondary markets. So what is the SupDucks NFT collection and what can explain its popularity?
SupDucks Official Links
What is SupDucks?
SupDucks is a collection of 10,000 unique NFT avatars created from hand-drawn elements on the Ethereum blockchain. The tokens are cartoon ducks in the style of the 90s, and you can see references to the pop culture of that time in these characters.
Originally NFTs were 2D drawings. But the project evolved, and now virtual ducks are also available as 3D avatars for use in the metaverse. Both then and now, SupDucks enjoy increased attention from NFT collectors because they are hand-drawn digital works of art. The creators used only three tools – iPads, Apple Pencils and Procreate – to create each NFT.
Collectors continue to hunt for NFTs. The most expensive duck at the moment is Galactic Duck that was sold in August 2022 for 75 ETH ($233,075 at the then exchange rate).
SupDucks in numbers
A collection of 10,000 NFTs was launched on July 16, 2021, and all of its tokens were sold out within 48 hours.
The price ranged from 0.1 to 0.7 ETH per mint.
The total volume of secondary sales exceeded 24k ETH (over $34M according to the official website).
Floor price is 0.07 ETH (about $130).
Average sales range from 0.07 ETH to 0.1 ETH.
The most expensive #339 was sold on July 19, 2021 for 50 ETH ($95k at the time of sale).
Total 3,844 unique holders (38%).
Only about 1% of the collection (142 pieces out of 10,000) are for sale, among them the offers range from 0.13 ETH to 1 ETH. This shows that almost all holders see the project as a great investment prospect and are not in a hurry to part with their assets at a lower price.
Data (including exchange rates) are given at the time of publication  (June 25, 2023)
SupDucks types and attributes
Digital ducks are endowed with unique combinations of characteristics. The rarity is ranked as follows:
Backgrounds (26 types),
Skins (28 types),
Clothes (49 types),
Hats (48 types),
Mouths (37 types),
Eyes (37 types).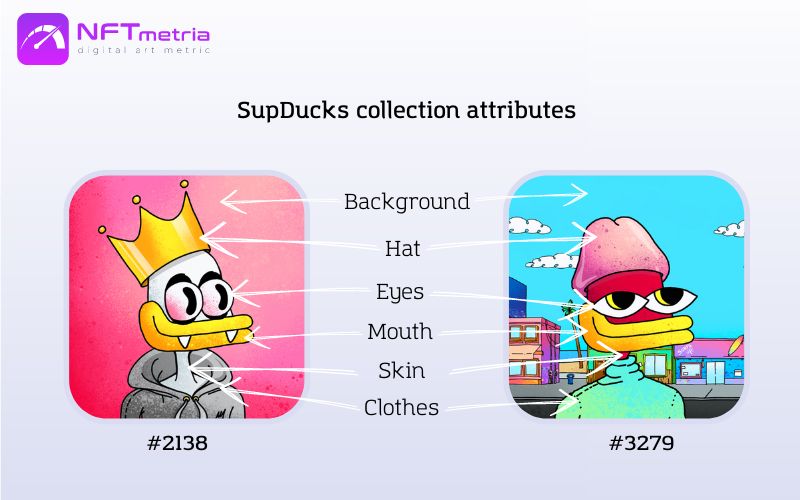 Who created SupDucks?
The founder of the SupDucks collection is MegaVolt Corp. The inspiration and the main author of the project was Latin American crypto-artist Franky Aguilar from California (better known in professional circles as FrankyNines @frankynines). He has a bachelor's degree in web design and interactive media.
Franky started as a street artist, but already in 2017, he became actively interested in the crypto world. He has significant experience of working with iconic gaming brands, such as CryptoKitties, Dapper Labs and Zynga. In 2016, Franky founded YoShirt, a company which provides the opportunity to create and purchase personalized clothing items. Franky Aguilar is also known for his collaborations with famous personalities, and namely Snoop Dogg, Steve Aoki, Major Lazer and Gary Vee.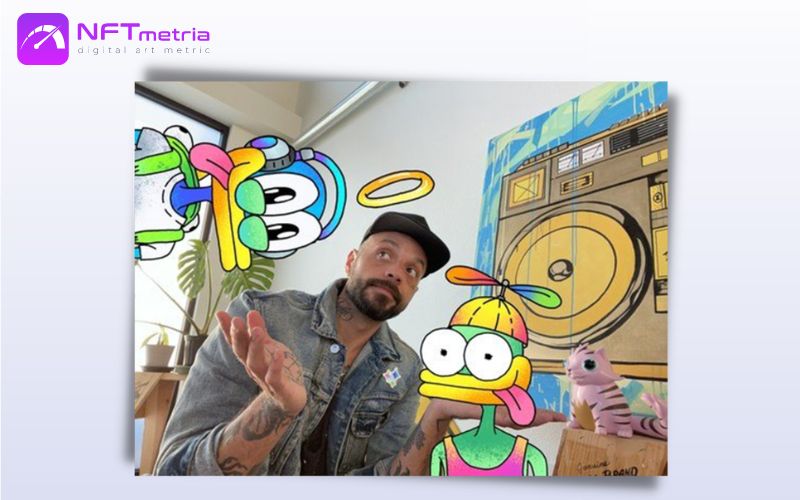 Speaking of Gary Vee, it should be noted that this well-known figure of the NFT space favors the project.
If you want to join the NFT Community buy BAYC or SupDucks. Gary Vee claims
In one of his tweets, he agreed with a post by a user who called SupDucks assets "top-tier":
Agree and @RealSupDucks https://t.co/7zS7HJJxdU priced in a way that some can "still get in" https://t.co/2Tm57OAhKJ

— Gary Vaynerchuk (@garyvee) January 1, 2022
In addition to Franky Aguilar, the project team includes other figures in the NFT business, about whom little is known other than their Twitter nicknames:
But the main fiddle in the project is Franky Aguilar. He actively publishes posts related to the project on the official Discord channel, as well as regularly streams there.
Why are SupDucks popular?
The SupDucks project is a great opportunity for those who haven't already done so to get into the metaverse. The developers of the collection offer digital duck owners a number of amazing benefits and exciting adventures:
Utility tokens $VOLT of the ERC-20 standard are one of the greatest goodies of the project. Owners can use these tokens to modify their ducks, unlock exclusive content, redeem merchandise, and more. Each SupDucks token can generate 10 $VOLT daily.
In 2022, a game called WackyDucks was introduced. Users were invited to "wack" digital ducks to give them new fancy features by changing their metadata, which could number up to 100,000. Such an opportunity was offered to holders, the $VOLT token, and the Mega Toad asset (another project that is part of the own ecosystem). WackyDucks is a game cycle that promises future rewards and drops.
Support of famous personalities, such as Gary Vee, gives the project respectability and authority.
SupDucks Idea
When Franky Aguilar was asked where he gets inspiration for his work, he said he gets a lot of it from his Twitter followers. He explained that SupDucks goes back to 2019, when he created the iOS app Editional, which caught the attention of many digital entertainment fans. This provided Franky Aguilar with a powerful incentive to keep working in the same direction, which led to the creation of the NFT collection. Virtual ducks have become a symbol of funk culture, drive and excitement.
It's time the art world let loose and gets a little silly – That's what this project is all about. That's what Franky Aguilar says about SupDucks
SupDucks Roadmap
The roadmap is presented in a rather original way on the project's official website and on the collection's Twitter account:
Roadmap TIMELINE + Milestones
Change the way the community
views a "Roadmap" 🚀 pic.twitter.com/sIJoJ1nha6

— SupDucks (@supducks) April 21, 2022
One of the highlights of the NFT project roadmap is the launch of a mechanism called DuckGod.
It is assumed that DuckGod will randomly choose one of the WackyDucks and give it some kind of surprise. Owners of digital ducks who are lucky enough to meet this character can get additional value by running updated NFTs into the SupDucks metaverse under construction, as well as constructing their own systems within the SupDucks world. Moreover, they can expect to be whitelisted, eligible for exclusive community memberships and unique access to interesting events.
Another key milestone of the roadmap is to build its own metaverse called the Megaverse. The team is currently actively working on it.
According to collection founder Franky Aguilar, an important point in the Megaverse will be the creation of a decentralized API for working with 2D art collections and optimizing the Web3 experience. Every project will be able to fit into this metaverse, and it won't even be necessary to own a SupDuck asset. The main utility token of the metaverse will be $VOLT. It should provide all the necessary mechanics.
Other important roadmap milestones include work on the following subprojects:
A cartoon featuring SupDucks;
Ducketts;
Kid Ducks;
Shop of branded goods ;
Release of toys;
Breeding (combining several NFTs to generate a new one);
DAO;
The launch of the innovative $VOLT 2.0 token, which will allow each holder to apply for 100 utility tokens per digital duck; these assets can then be used to access new features.
One of the successful milestones was the opening of the SupDucks brand store. It offered everything from T-shirts, hoodies, and towels to socks, shorts, and more. The store is currently closed. Probably the authors are working on its reorganization. But the website has its own marketplace which allows you to sell and buy NFTs.
SupDucks Ecosystem
The SupDucks ecosystem includes the following major projects:
SupDucks VX
SupDucks VX is a collection of 10,000 NFTs (also known as Voxel Ducks). These are 3D PFP characters presented in voxelized form and intended for use in the metaverse.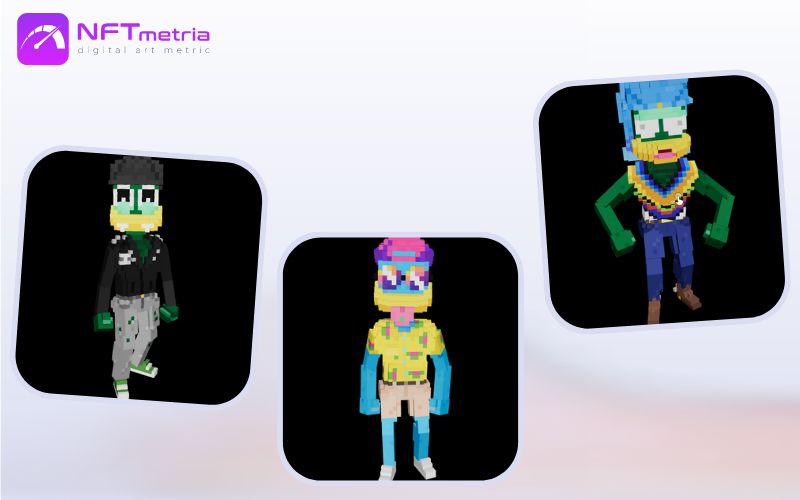 First of all, it is worth noting that SupDucks VX is compatible with The Sandbox metaverse, but the usefulness of the NFTs is not limited to that. This NFTs can be successfully used on all platforms that support voxel assets. Among other things, these tokens provide owners with intellectual property rights.
King Frogs
King Frogs is a collection of 19,000 digital companions that was released in October 2021. Secondary trading volume exceeded 2.8k ETH and floor price is 0.013 ETH.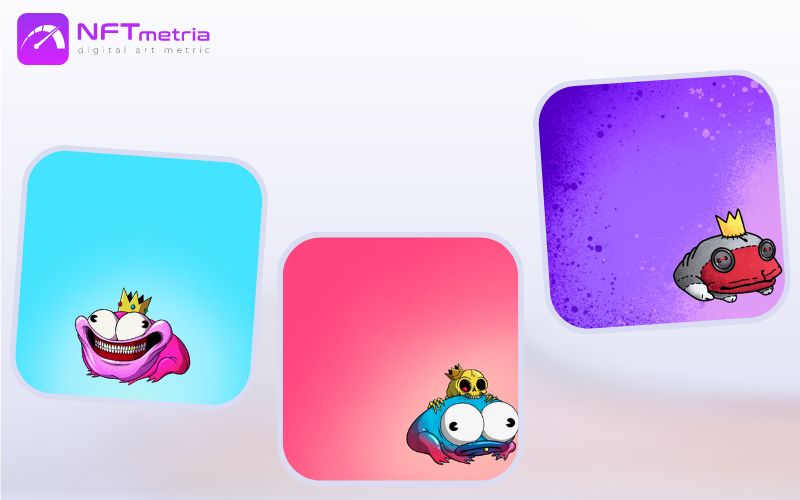 This NFTs inherit the basic traits of those ducks from the SupDucks set that were used to claim King Frogs. These include features such as hats, eyes, skin, and background.
Mega Toads
In the fall of 2021, the ecosystem added a new collection of Mega Toads of 1,000 NFTs. Secondary sales volume exceeded 500 ETH and floor price is 0.17 ETH.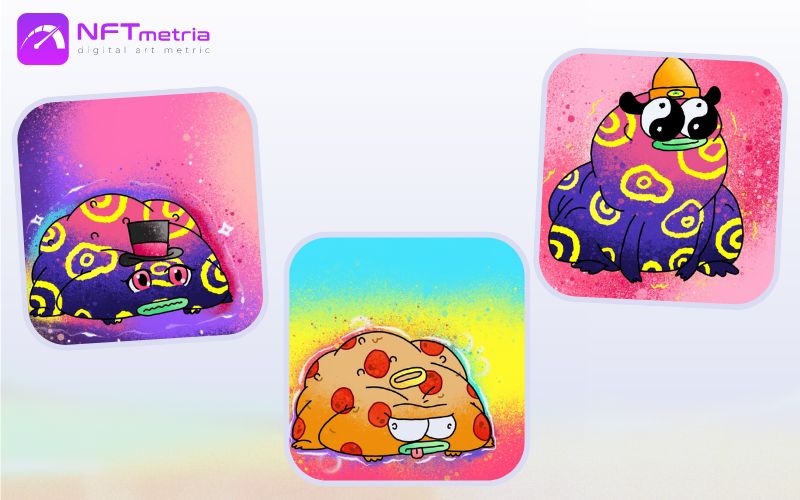 The uniqueness of the collection lay in the fact that users created these NFTs themselves, showing their creativity to the best of their abilities. By combining several King Frogs, it was possible to generate 1 Mega Toad:
How much do SupDucks cost?
The collection of 10,000 NFTs was launched on July 16, 2021, and all of its tokens sold out within 48 hours. The minting price ranged from 0.1 to 0.7 ETH apiece. And how has the project evolved since then in terms of pricing?
To visualize the price dynamics, we made a slice of the average price for 1 NFT:
In September 2021: 2.9 ETH,
In December 2021: 1.2 ETH,
In April 2022: 0.9 ETH,
In September 2022: 0.2 ETH,
In December 2022: 0.2 ETH,
In March 2023: 0.15 ETH.
Now (June 25, 2023) the minimum price is 0.07 ETH. On average, the latest sales range from 0.07 to 0.1 ETH. And the total volume of secondary sales amounted to more than 24k ETH (about $34 million at the current exchange rate).
The most expensive sales of SupDucks
The most expensive sales are led by the following NFTs from the SupDucks collection:
#339 was sold on July 19, 2021 for 50 ETH ($95k at the time of sale),
#4719 was sold on July 19, 2021 for 50 ETH ($90k at the time of sale),
#9375 was sold on July 19, 2021 for 42,069 ETH ($80k at the time of sale),
#3372 was sold on July 19, 2021 for 40 ETH ($72k at the time of sale).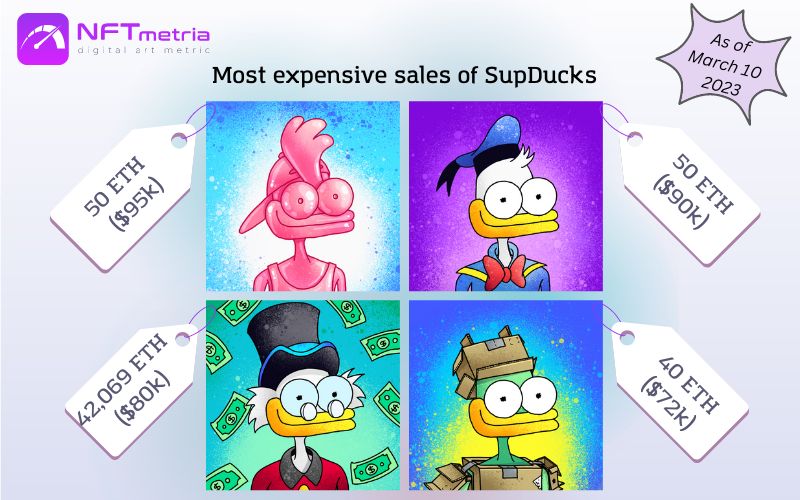 Where to buy SupDucks?
Currently, SupDucks can only be purchased on the secondary market, on marketplaces such as:
How to buy SupDucks?
Remember that initially you need to connect your crypto wallet with self-storage to the marketplace of your choice.
Next, find the official collection using the search bar on the marketplace.
Analyze and choose the NFT you want to buy; click on it and then on the "Buy" button.
Or you can bet on the NFT you like. Make sure you leave enough ETH for gas or transaction fees. If the seller approves your bid, the deal goes through.
Should you invest in SupDucks?
The SupDucks collection is currently one of the most actively developing projects. Therefore the idea of investing in it looks quite logical. The following factors speak in favor of this:
Focusing on the development of its own metaverse into which many projects can merge, which guarantees the successful development of SupDucks in the long run.
Passive income opportunity: each NFT brings its owner 10 $VOLT daily, and with the new $VOLT 2.0 token, you can expect an increase in profitability.
Upcoming drops and rewards.
Ability to obtain intellectual property rights to digital assets.
In any case, do your own in-depth analysis and research when investing in NFTs, and then make your own decision.
Opinion of NFTmetria
It is hardly possible to unequivocally answer the question of what exactly the SupDucks collection is all about. The developers of the project offer NFT holders a whole bunch of benefits.
This includes:
The opportunity to realize your creative potential by generating new NFTs,
Future benefits from participating in the Megaverse,
Stable passive income thanks to advanced tokenomics,
And many other goodies.
That said, the creators of SubDucks are not going to stop there, as their roadmap proves, and strive to provide an even more exciting experience to the members of their community.