Unlike static pictures, bright animation is gaining more and more popularity lately. This can be seen in the analysis of the digital art market for 2021-2022. People are attracted by dynamics, movement, brightness, details, sounds – everything that causes our emotions and sometimes we miss it so much in real life.
Among the artists who know how to work with technically complex software, have a unique taste and have already earned deep recognition from the community, DeeKay Kwon stands out. With his work, he evokes positive emotions in people. And the community responds very positively to each of his new work.
Thanks to such mutual sympathy, the artist released the project Lets Walk, the volume of secondary sales of which exceeded $ 9 million, and Cozomo de' Medici bought his solo work LIFE AND DEATH for 310 ETH (about $ 1 million).
Who is Deekay?
DeeKay (full name DeeKay Kwon) is a digital artist born in 1989 from South Korea and has been living in the US for 22 years. The NFT animator has been creating funny sketches for 11 years, and in 2021 he successfully entered the NFT space.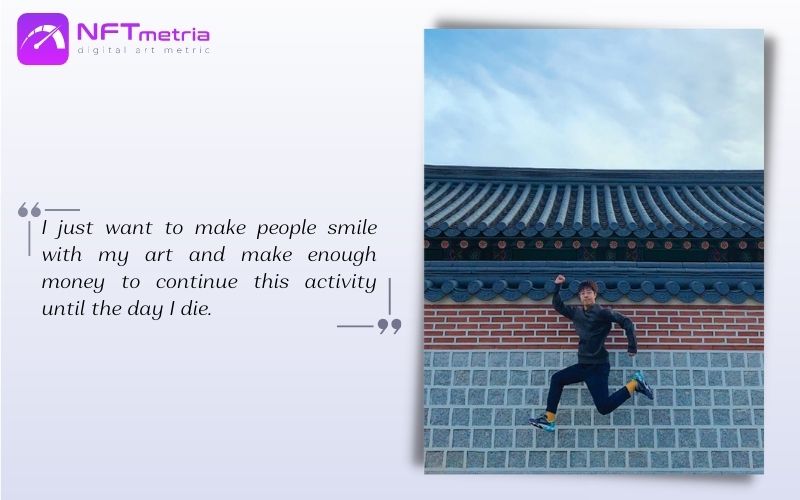 DeeKay is by no means a novice in the world of animation, he has been working in this area for over 11 years.
10 years of animation 😇 pic.twitter.com/GhgY6QiNUU

— DeeKay (@deekaymotion) December 27, 2021
There are a lot of achievements in the artist's piggy bank:
was invited to the projects of global brands Samsung, Google, Louis Vuitton, American Express, Pixel, Mcdonald's, Huge, Dr. Bronner as animator
worked for Apple where he created animations for product promotions,
is the author of the NFT-project Lets Walk, the volume of secondary sales of which exceeded 9 million dollars,
In April 2022, he sold NFT Life and death for 310 ETH (about $1 million) and in October 2021 "Destiny" for 225 ETH (about $805k) to the Cozomo de' Medici.
DeeKay Official Links
The creative path of Deekay: from drawing as a child to NFT
Today DeeKay is one of the most successful animators in the world. But his path to glory was not always clear.
Artist Deekay was born in 1989. Until the age of 12, he lived in South Korea, then moved with his family to the United States. As a child, the boy was quite serious about sports – during his school years he received a black belt in taekwondo and planned to take part in the Olympic Games as part of his team.
In parallel, even at preschool age, he showed interest in fine arts, later, because of his passion, he went to study at an art school. But it was not possible to get a full-fledged education from DeeKay Kwon due to the difficult financial situation in the family. At the same time, the young artist did not give up his hobby and continued to develop independently.
Years later, his work bore fruit – he received the first position of Motion Designer in a company that specialized in post-production (namely, he processed commercials). Having gained enough experience and developed his own unique style, after that the artist began to cooperate as a Motion Designer with well-known companies such as Louis Vuitton, American Express, Pixel, Mcdonald's, Huge, Dr. Bronner. At the same time, he made beautiful works for himself and periodically published them on his personal Instagram page and on YouTube Kunal.
Before moving into the NFT industry, Deekay was employed by Apple, where he left in July 2021. And this became the artist's last official place of work, after which his solo, successful path as an NFT artist began.
Yesterday was my last day of work at Apple. I am gonna take some time off and make my own art. 🙃

— DeeKay (@deekaymotion) March 28, 2021
Deekay in the NFT world
In the world of NFT Deekay appeared in 2021. He created and hosted the first NFT "Skateboard Rides You" on Foundation while still finishing his job at Apple.
Since then, the artist has been developing solo work, and at the same time collaborating with other market participants.
So, within the framework of such collaborations, he has the following works in his piggy bank:
Collaborated with PAK (one of the most famous and enigmatic NFT artists in the industry) in March 2021. Together they managed to release two recognizable works by Wizzard and Ronny.
In September 2021, together with the Stampu NFT project team, he released three NFTs: Busy Boy, Lazy Girl and GM of Sparrow.
GM, let's get busy!

Busy boy by @deekaymotion pic.twitter.com/HZanfzh2x4

— Stampu📮 (@StampuNFT) August 2, 2022
In October of the same year, he had a collaboration with Cozomo de' Medici, in which DeeKay created two animations Hollywood Gm and GM.
In October 2022, the NFT Lets Walk Finale was put up for auction worldwide by Sotheby's and sold for $214,200.
For 2 years in the industry, Deekay has become a respected, recognized and popular artist. Through his creativity and constant work, he was able to earn more than $12 million, which was generated from:
The wildly successful LetsWalk NFT collection, which includes 11 episodes. Secondary sales exceeded $9 million.
More than 16 personal animated works, the total sales of which exceeded 2 million dollars.
5 collaborations with bright and famous members of the community.
NFT corporate identity by DeeKay
Artist DeeKay's detailed animations capture the dreams, fantasies and imaginations of all people. We literally recognize ourselves in some of the illustrator's characters. The emotions and actions of his animated characters are a copy of our lives. DeeKay uses different fonts when writing text for animations, as well as carefully crafting each subject in his illustration.
With each new illustration, the guy's skills are getting cooler and cooler. He manages to surprise with interesting animation sketches. He uses surreal and life stories in his art. Therefore, people are willing to pay hundreds of thousands of dollars for his work.
My goal is to create art that everyone can enjoy at any age.This is how the artist defines his work for himself
The most famous NFTs by DeeKay
The artist's works are recognizable all over the world. Deekay was able to convey the feelings and thoughts of millions through cheerful illustrations that accompany no less cheerful sounds and songs. His work does not leave indifferent and provokes a person to emotions. This is what he attracted eminent collectors and market participants who buy his work for hundreds of thousands of dollars.
YIN YANG NFT
YIN YANG is based on an ancient Chinese philosophy that mentions the struggle of opposites. Deekay interpreted this concept in his own way. He tried to convey that life gives people many options and the choice of a particular one depends on perception (he succeeded). Someone sees in it only light, and someone is dark. Both perceptions try to influence each other. The artist invites everyone to decide on their own which side to choose.
YIN YANG was minted at SuperRare on September 20, 2022. Already on September 22, this work was bought by the user spartanblack_1 for 118 ETH (about 157k dollars).
DESTINY NFT
DESTINY demonstrates the role of chance in our lives. DeeKay clearly demonstrated that in order to create a couple, a girl and a guy must go through their own difficult path. Despite a lot of life's obstacles, they both find themselves in the same place and at the same time. This is nothing but destiny.
This animation was minted by the artist on October 5, 2021 on SuperRare. And the very next day, a buyer was identified who outbid everyone else. They became Cozomo de'Medici. The user purchased this work for 225 ETH (about $809k).
A timeless work, with a timeless theme.

For me to grab it today, from the skilled hands of @deekaymotion, I believe, was destiny in itself.

I raise my glass to you all.

🍷⚔️♥️~CdM pic.twitter.com/O5KInsKEuX

— Cozomo de' Medici (@CozomoMedici) October 6, 2021
LIFE AND DEATH NFT
LIFE AND DEATH is the artist's most recognizable work. So, he demonstrated the path of every person on the planet. First, we are born, then we live, we get emotions, we accumulate experience, then we leave this world, leaving memories of ourselves.
The animation was exhibited in a single copy on April 8, 2022 on SuperRare. The next day, it was bought by Cozomo de'Medici for 310 ETH (about $1 million).
Where can you buy NFTs by DeeKay?
Now NFT 1/1 of DeeKay is available only on the secondary market, namely on such marketplaces as Foundation, SuperRare. And you can buy works from the popular Lets Walk collection on OpenSea. In addition, you can follow the artist's Twitter and Instagram for future updates.
Opinion of NFTMetria
DeeKay is a professional in his field, a creator, an artist, who is followed by thousands of fans of his work. Such success is not an accident, not a hype, not a competent networking. This is primarily the result of many years of painstaking work and personal determination.
Given the upward trend in the value of sales of his work, the efficiency of the artist and the famous owners of his work, potential NFT investors and collectors should take a closer look at his work.