In the last decade, motion graphics has become a huge field for creativity, as technology and resources are available to almost anyone who wants to learn the basics of modern animation. Animator Markus Magnusson is a well-known face in this market with a rich portfolio and over 15 years of experience. He actively shares his knowledge through author's animation courses. And in 2021, he began to comprehend the NFT market, popularizing his work. Today, he is known to many thanks to his sensational Invisible Friends collection. How did he do it? And what is unique about his work? Let's find out.
Who is Markus Magnusson?
Markus Magnusson is a famous Swedish animator and artist, creator of the famous NFT collection Invisible Friends. The artist has a rich portfolio with over a decade of experience bringing characters to life for major companies ranging from Google to Dropbox. He is an animator who bases his work on traditional animation and vector graphics.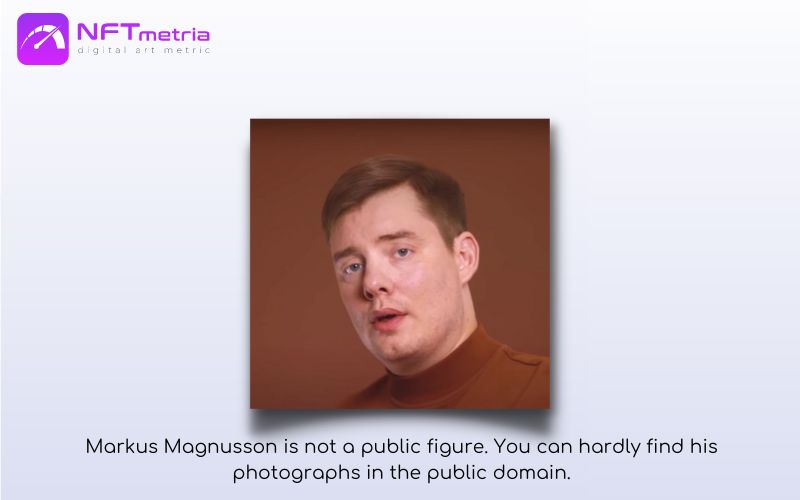 Little is known about the artist's personal life: he was born on May 13, 1988, he is now 34 years old, was born and lives in Malmö, Sweden.
Markus Magnusson Official Links
The creative path of the artist Markus Magnusson: from a chef to NFT
In his youth, Markus Magnusson could hardly imagine himself as a well-known creative person. But everything changed when, at the age of 22, while working as a cook, he bought a semi-professional video camera with a 3ccd chip. This led to the fact that he entered the media school and began to comprehend the basics of graphics and further animation.
Since that time, he began to carry out at first small graphic orders, gradually increasing his professionalism. At some point, his skill reached the level where large and very large brands want to work with the artist.
His portfolio includes works such as:
doodles for the Google homepage,
doodle logo for YouTube rewind,
various stickers for Dropbox,
graphics for Nike.
The video shows one of his works, published in 2019. The smoothness of the animation and the drawing of all elements speak of the quality of performance. By the way, he teaches this in his author's animation courses.
Thus, he made a well-known name for himself in the specialized communities and created his first community, whose members closely follow his work.
Markus Magnusson in the NFT world
Now Markus Magnusson is a well-known figure in the NFT world due to his rich experience, which he successfully translates into his works. But that's not all, the artist has extensive contacts and a comprehensive understanding of mass marketing, which made it possible by the time the Invisible Friends collection was released in February 2022 to have more than 450k readers on the project's Twitter, and more than 60k active participants on the Discord channel. And the first two NFT-works "Skate Wizard" and "little space friend" in 2021 were placed on the Foundation marketplace in the same branded cartoon animated style. Then they were sold for 2 ETH and 3.9 ETH, respectively. Thus, began his career as an NFT artist.
NFT Skate Wizard
As of this writing, Markus Magnusson is a co-founder and member of the Random Character Collective.
Random Character Collective is a trio of artists:
Lucas Zanott with his MoodRollers collection,
James Curran (aka SlimJim) with his SlimHoods collection,
And, in fact, the founder Markus Magnusson himself with his Invisible Friends collection.
The collective is different from other projects in that the Random Character Collective's Discord is home to fans of each of the three collections. The team received a lot of support ahead of the Invisible Friends mint as 50% of the long-awaited collection's pre-sale list was reserved for Slimhoods and Moodrollers owners.
Features of the NFTs by Markus Magnusson
Do not forget that the talented Swede is first and foremost an animator, so it would be amazing to see his tokens as just static pictures. His work is professionally animated. And most importantly, what distinguishes his style is the simplicity of lines, emphasis on details, thick outline and bright colors.
The most famous NFTs by Markus Magnusson
Although he released a few NFT singles in 2021, he became best known for his first collection, which we'll talk about.
Invisible Friends NFT Collection
Invisible Friends is a collection of 5000 animated NFTs. In the center you will see only the silhouette of the character, and the emphasis is on all kinds of accessories and clothes. All movement is centered around the walking cycle.
I think walk cycles are just one of those things that immediately infuse a lot of life into a character without necessarily adding a bunch of narrative. I think my main passion is character design, but I also want it to come to life.The author reflects
The drop of mints of this collection happened in February 2022 and caused a huge outcry. As mentioned above, the collection is part of the Random Character Collective project, due to which half of the whitelist tokens have been reserved for owners of Slimhoods and Moodrollers. By the way, these collections are included in the above project.
In addition, also in 2022, an additional free update was released for all holders of these tokens in the form of identical 3D characters.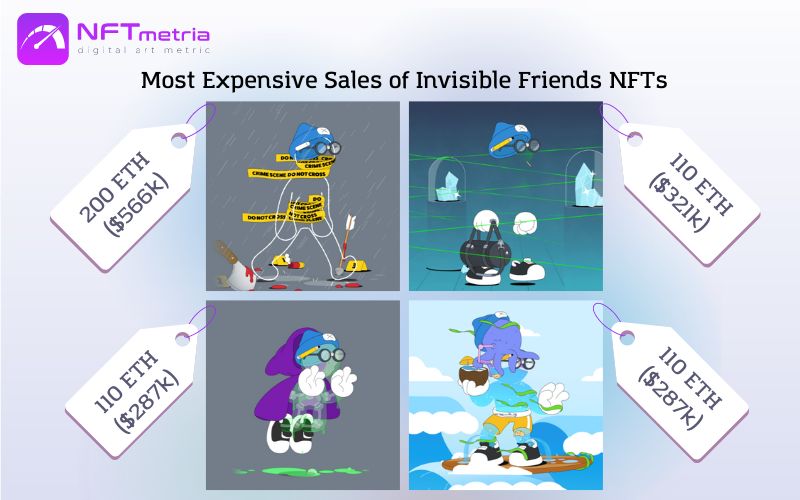 A few figures about the project:
Limited edition of 5,000 pieces supports high demand and exclusivity of ownership,
At the time of the mint, there were more than 450k followers on the Twitter of the project, and more than 60k active participants in the Discord channel,
The cost of a mint was 0.25 ETH, which was then equivalent to $700. Part of the community felt that it was expensive, but despite this, everything was sold out instantly.
After a minute, the price jumped to an impressive 10 ETH,
The total volume of secondary sales exceeded 46k ETH (more than 60 million dollars at the moment). Thus, the collection is included in this indicator in the top 50 best collections of all time.
Floor price is 2.23 ETH, which is also a high entry threshold and indicates the value of these assets in the market.
The most expensive Invisible Friends #1125 was sold on March 3, 2022 for a record 200 ETH ($566k). It features a friend from "Chalk Outline" walking in the rain through a crime scene.
Garbage Friends
The Garbage Friends collection according to the project Whitepaper will be released in 2023, but the entire community is in incredible anticipation of the release. So far, little is known about this project, but it is clear that this will be a continuation of the first hit collection.
These crappy friends are everything our Invisible friends are not. It's stinky, dirty and nihilistic. They still belong to the same universe, how? Stay tuned! This is how Markus Magnusson himself speaks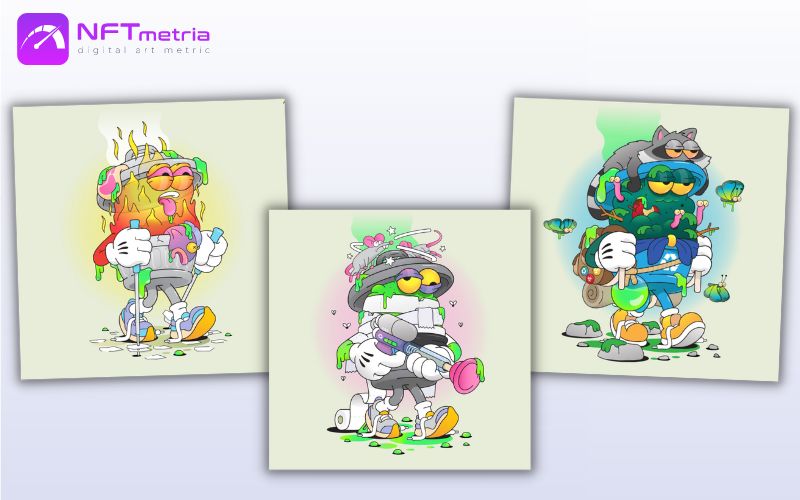 Where can you buy NFT by Markus Magnusson?
Now NFTs are only available on the secondary market. You can choose it on several platforms, mainly OpenSea and LooksRare. In addition, you can follow the future updates on the artist's Twitter.
Opinion of NFTMetria
Markus Magnusson is a person who very successfully moved into the NFT industry from the professional field of modeling and animation. In addition, as shown by the Invisible Friends collection, the artist is an extremely thoughtful marketer and entrepreneur who was able to successfully implement his first major project on the market and declare himself loudly throughout the industry.