In our midst, there are numerous exceptionally talented individuals, each brimming with creativity. However, not everyone succeeds in showcasing their uniqueness and the value of their work to a broad audience, aiming for recognition, relevance, and prominence in the art world. The landscape changed with the rise of the digital art market, but it also brought about increased competition.
Sometimes, artists find themselves in the spotlight unexpectedly, almost by chance. This was precisely the case for Bryan Brinkman, an American television artist. His stroke of luck came when he became a participant in a social experiment featured on the popular late-night TV show, Late Night with Jimmy Fallon.
Who is Bryan Brinkman?
Bryan Brinkman wears multiple hats – a 3D animator, editor, screenwriter, and blogger. However, above all, he stands as one of the most influential NFT artists of our era and a former artist for renowned American television programs.
Residing and creating in the bustling city of New York, Bryan Brinkman showcases his digital masterpieces at esteemed auction houses and various NFT platforms. His art is distinguished by a distinctive style and the expertise he has honed over many years in animation and graphic design.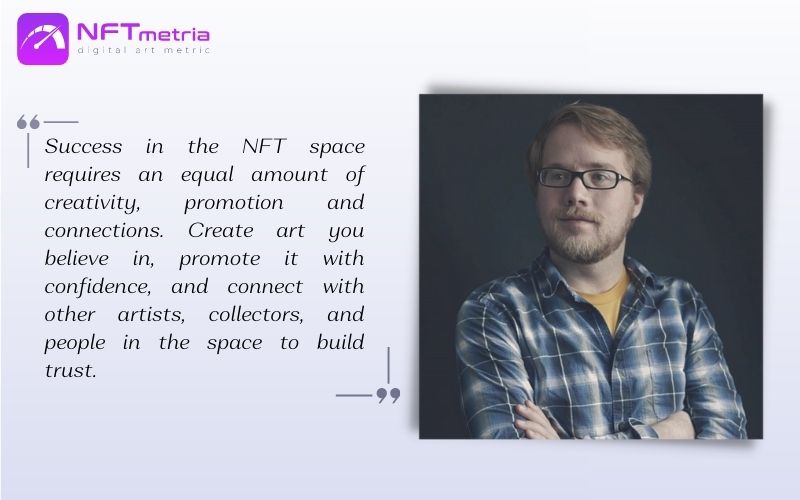 Until now, he has crafted more than 3,000 NFTs, valued at a staggering $13 million. Engaging in diverse collaborations, he notably partners with the renowned generative art platform, Art Blocks. Noteworthy buyers of his creations include prominent figures and influencers such as Pranksy, Snowfro, j1mmy.eth, and many others.
Bryan Brinkman Official Links
The creative path of Bryan Brinkman: From TV shows to NFTs
Bryan Brinkman was born in 1985 in Omaha, Nebraska, a small town where he spent his entire childhood. His fascination with Saturday cartoons on television during his early years sparked a deep interest in the animation. Growing up in a family of musicians, he was immersed in a creative atmosphere from infancy.
During high school, Brinkman immersed himself in digital art programs and honed his graphic design skills. He mastered the creation of web animations for early Flash websites.
His passion for animation led him to pursue formal education. He studied animation at the University of the Arts in Philadelphia and furthered his studies at the School of Visual Arts in New York City.
Upon completing his education, Brinkman embarked on a career as an artist, working on television shows like Wonder Showzen, The Life & Times of Tim, The Tonight Show, Girl Code, and Saturday Night Live. He excelled in this field, earning recognition with a Visual Effects Emmy in 2020 and 2021 in the Outstanding Variety Sketch Series category for his contributions to SNL. Simultaneously, he began creating his own art, although he initially didn't gain widespread recognition in this artistic sphere.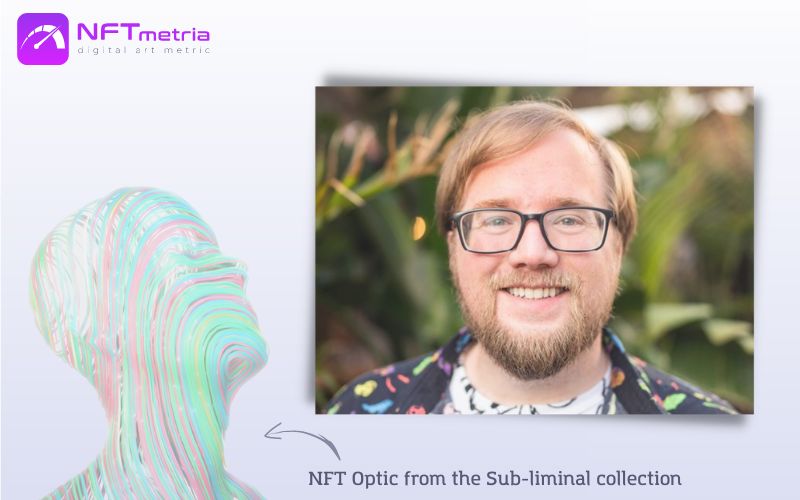 Everything changed for Bryan Brinkman in March 2011 when he became part of the Bryan Brinkman Experiment on the popular late-night TV show Late Night with Jimmy Fallon.
During this experiment, Jimmy Fallon and his guests, including American celebrities like Kevin Rose and Russell Brand, encouraged their social media followers to subscribe to Bryan Brinkman's Twitter account. The response was staggering – within just a few days, Brinkman's Twitter followers skyrocketed from seven thousand to thirty-four thousand.
Almost overnight, he gained widespread recognition and a substantial fanbase. However, during those years, the concept of NFTs didn't exist yet, and Brinkman primarily created digital art for galleries. There was one catch – all his work had to be physically produced. To achieve this, the artist employed various methods, such as printing and embedding artworks in 3D displays within shadow boxes or creating screen prints on T-shirts.
Bryan Brinkman in the NFT world
It started when my wife told me about CryptoKitties in 2017. Many years ago, I tried to create a wallet and buy this kitten, but I couldn't figure out how it works. Then I saw the Ethereum symbol, but I had no idea what it meant. So, I started to delve into it more. The artist remembers
Thanks to his social experiments on TV shows, the artist garnered a substantial Twitter following, yet the realm of digital art was still in its infancy.
In 2020, the onset of the global COVID-19 pandemic led Bryan Brinkman to discover fellow artist Killer Acid, who was already showcasing his work on SuperRare. Intrigued, Brinkman delved into the world of crypto art, immersing himself in the intricacies of cryptocurrency, smart contracts, and NFTs. He realized that his unique style was not yet represented in this market.
With newfound enthusiasm, Bryan Brinkman decided to make his mark on the NFT scene. He chose the familiar platform of SuperRare, applied, and after his candidacy and portfolio were accepted, he dedicated himself entirely to this new venture. Shifting to NFTs allowed him to fully channel his passion for digital art and animation, bringing his imaginative ideas to life.
"When I entered this space, my goal was to explore all the creative avenues it offers. I've ventured into animation, generative art, and programmable art. I'm constantly looking toward the future, eager to embrace the upcoming technological waves," Brinkman remarked. He envisions the digital market as exceptionally promising.
My goal when I joined the space was to experiment with all the media it provides. Since then I have been involved in everything from animation to generative and programmable art. I'm looking at what the next wave of technology will be like, and I'm excited to continue moving in these new directions.The artist sees the digital art market as very promising
Today, Bryan Brinkman stands as one of the most prominent NFT artists, with a portfolio comprising over 3,000 NFTs. The total sales from his artworks have exceeded $13 million.
Corporate identity in NFTs by Bryan Brinkman
Bryan Brinkman's inaugural creation, titled "Explosion," was minted in February 2020 on SuperRare. Interestingly, this artwork was acquired by the renowned NFT artist Pranksy. This brief yet captivating animation depicts the explosion of multicolored clouds, serving as both the artist's debut piece and a representation of his artistic style.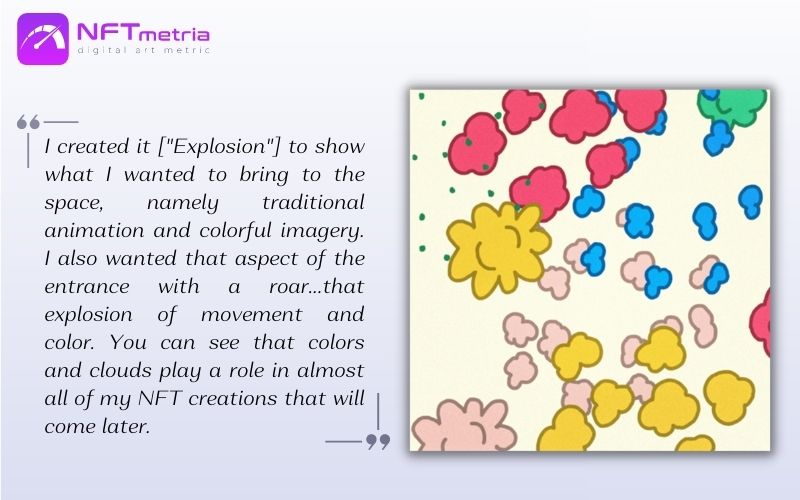 Bryan Brinkman's art is characterized by its upbeat and joyful vibe, with animation being its central theme. The NFT artist's creations are typically brimming with vibrant imagery that captivates the imagination. This becomes evident when exploring his collections at digital art exhibitions.
I hope that people will leave my work with positive emotions. Much of my design and art is based on the idea that these works will be in the virtual spaces we will live in in the future, and I want collectors to be able to decorate their galleries with brightness, movement and color.This is how Bryan Brinkman speaks about his art
The most famous NFTs by Bryan Brinkman
Bryan Brinkman's portfolio encompasses unique 1/1 pieces as well as curated collections featuring 100 and 400 images. He explores various formats within crypto-art, creating digital art, 3D-cel art, posters, videos, and more.
His creations have been showcased by renowned auction houses such as Sotheby's and Christie's:
Sothebys – Oct '21 "Explode" Genesis NFT resale,
Christies NY – Sept '21 Post-War to Present: The NFTs (NimBuds),
Sothebys London – Art Blocks "19 works".
Cloudy NFT Collection
In November 2020, "Cloudy" marked Bryan Brinkman's debut collection on the Nifty Gateway NFT marketplace, serving as his new artistic hallmark. This series comprised three animated paintings, exploring the recurring themes of the creative process and personal growth. The cycles depicted in these artworks drew inspiration from Earth's water cycle, symbolizing regeneration and the transformative power of growth.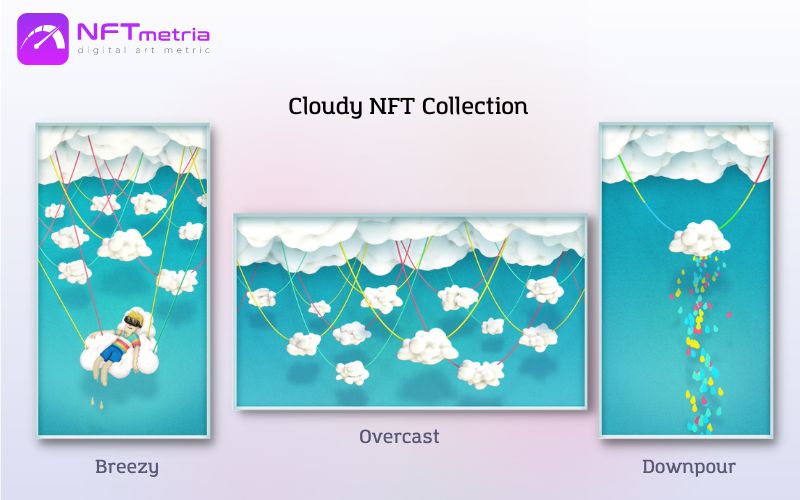 Here are some current statistics regarding the "Cloudy" collection:
Breezy: Initially sold in editions of 5 at $800 each. Secondary market sales have exceeded $2,000.
Overcast: Initially released in editions of 10 at $400 each. Secondary market sales now surpass $20,000.
Downpour: Originally sold in editions of 20 at $200 each. Secondary market sales have soared to over $45,000.
NimBuds NFT Collection
The NimBuds collection, launched in January 2021, is an Art Blocks curated project, renowned for its generative art. This collection comprises 400 cloud-themed images featuring a variety of random elements such as wires, colors, eyes, mouths, cloud bodies, and more.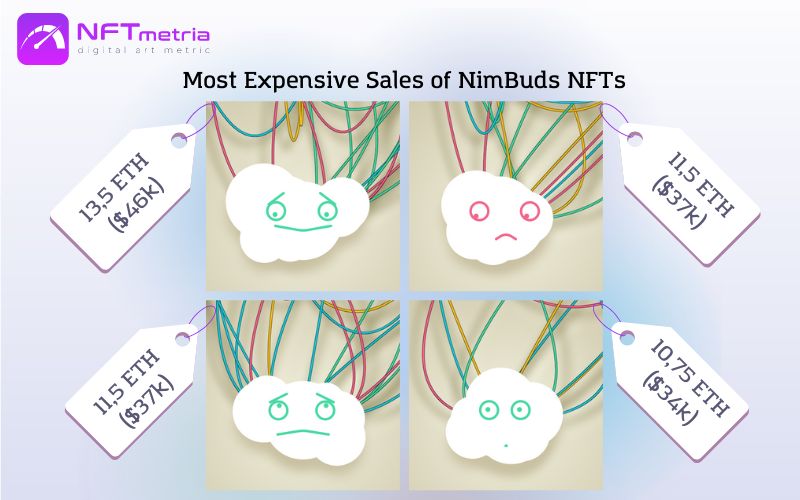 Here are some recent statistics regarding NimBuds:
Secondary sales have reached a total volume exceeding 1.1k ETH.
The floor price for a NimBuds artwork is set at 1.1 ETH.
The highest recorded sale was for NimBuds #311, which sold on September 1, 2021, for 13.5 ETH (equivalent to $46k at the time of the sale).
Tragic Pop NFT Collection
In the Tragic Pop collection, the artist shifts focus from the thematic clouds and delves into the realm of pop art. Through vibrant hues and lively elements, the artist explores profound and serious themes, delving into five aspects of the human body associated with our emotions, vision, tactile senses, hearing, and thoughts.
This release also stands as a gesture of appreciation and respect to the artist's community. Within this collection, there are two artworks available for purchase at just $1 for the owners of the artist's early releases on Nifty Gateway, available for a limited 60-minute window.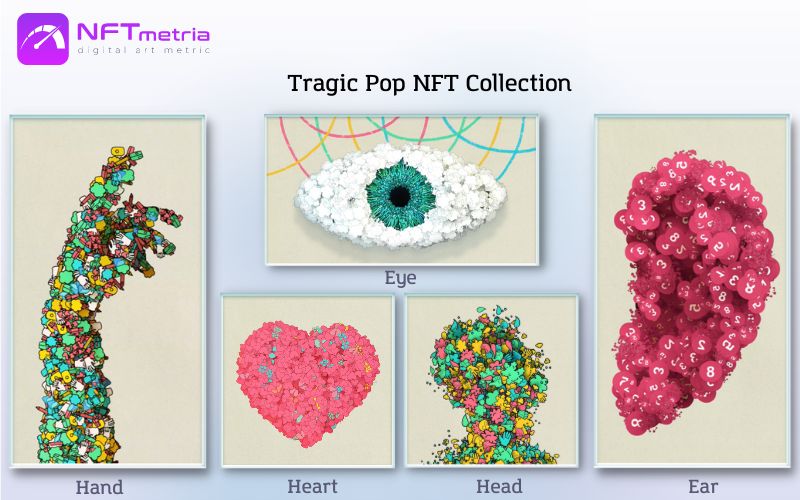 A collection of five animated artworks was launched on March 12, 2022, on Nifty Gateway.
Heart: Limited to 15 pieces, it was initially sold for $1,200. Subsequent sales have reached over $20,000, and the current minimum price stands at $1,299.
Ear: Released in quantities of 15, it was initially priced at $1. Secondary sales have surpassed $3,000, and the floor price now stands at $25,000.
Hand: Released in 15 pieces, the initial price was $1. Secondary sales have exceeded $2,000, and the current floor price is $3,000.
Head: A limited edition of 15, it was initially retailed for $1,200. Secondary sales have surpassed $12,000, and the floor price is $2,679.
Eye: Limited to 15 pieces, it was initially retailed for $1,200. Secondary sales have exceeded $25,000, and the minimum price now stands at $3,250.
Where can you buy NFTs by Bryan Brinkman?
Currently, NFTs are exclusively accessible on the secondary market, primarily through platforms like OpenSea, NiftyGateway, SuperRare, ArtBlocks, Async, Rarible and more. Additionally, you can stay updated on the artist's latest releases and announcements by following their Twitter account.
Opinion of NFTMetria
Bryan Brinkman's previous releases have shown remarkable success, evident in the statistics, and he strategically maintains limited circulation. This scarcity prevents market oversaturation, typically resulting in significantly higher secondary prices compared to the original ones. Naturally, this approach also comes with drawbacks, such as lower immediate profits for the artist.
However, Brian mitigates this risk by creating scarcity for his current high-demand works, ensuring a stream of passive income from subsequent sales (royalties). His auctions at prestigious platforms like Christie's and Sotheby's serve as concrete evidence of his strategy's effectiveness. This entire scenario confidently establishes Bryan Brinkman as one of the most renowned and dynamic NFT artists, boasting a dedicated community, high demand, and a distinctive artistic style.