There are many truly talented creative people among us today. But not everyone manages to open up to the public and convey the uniqueness and value of their work to a wide audience in order to gain recognition, relevance and weight in the art industry. With the advent of the digital art market, although the situation has changed, the competition has become higher.
It happens that it is thanks to a happy accident that the artist becomes the object of attention. Such was the case with Bryan Brinkman, an American TV show artist who got his lucky ticket when he became a social experimenter on the hit late night TV show Late Night with Jimmy Fallon.
Who is Bryan Brinkman?
Bryan Brinkman is a 3D animator, editor, screenwriter and blogger, but first of all one of the most influential NFT artists of our time and a former artist of well-known American TV shows.
Bryan Brinkman lives and works in New York City and exhibits his digital works at auction houses and various NFT venues. His work is recognizable due to the unique style and professional skills of animation and graphic design, which Bryan Brinkman has been developing for many years.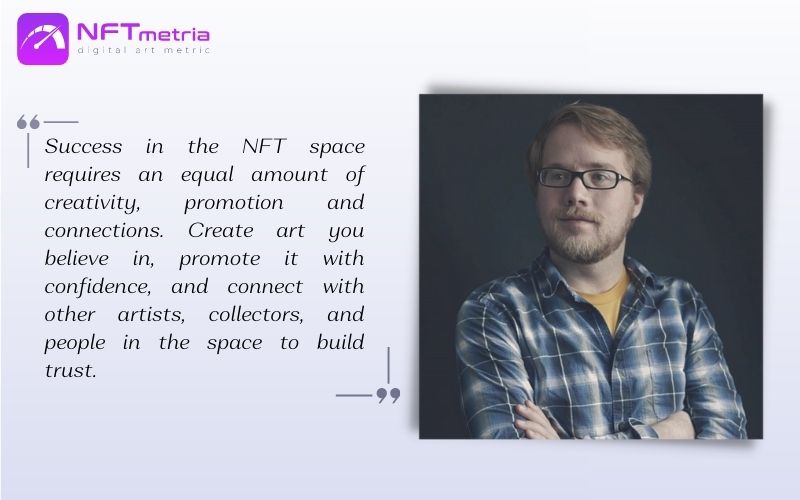 To date, he has created over 3,000 NFTs, which have brought the artist over $13 million. The artist creates various collaborations, including with the most famous platform for generative art Art Blocks. And among the buyers of his work there are many famous personalities and influencers, including Pranksy, Snowfro, j1mmy.eth  and others.
Bryan Brinkman Official Links
The creative path of Bryan Brinkman: from TV shows to NFTs
Bryan Brinkman was born in 1987 in the state of Nebraska in the small town of Omaha, where he spent all his childhood. As a child, Brian was very fond of Saturday cartoons on TV, and as a result he was so fascinated by the art of animation that he decided to connect his life with it. Moreover, his whole family were musicians, that is, from infancy he was brought up in a creative environment.
In high school, he studied digital art programs and graphic design skills. So, he learned how to create web animations for early flash web sites.
Further, the future creator of works of crypto-art studied animation at the University of the Arts in Philadelphia, later he continued his studies at the School of Visual Arts in New York.
After which he pursued a career as an artist, working full-time on television shows such as Wonder Showzen, The Life & Times of Tim, The Tonight Show, Girl Code and Saturday Night Live. And he's excelled in this area – the artist won a Visual Effects Emmy in 2020 and 2021 in the Outstanding Variety Sketch Series category for his work on SNL. In parallel, Bryan Brinkman had already begun to create his own art creations, but he was not so popular in this scene.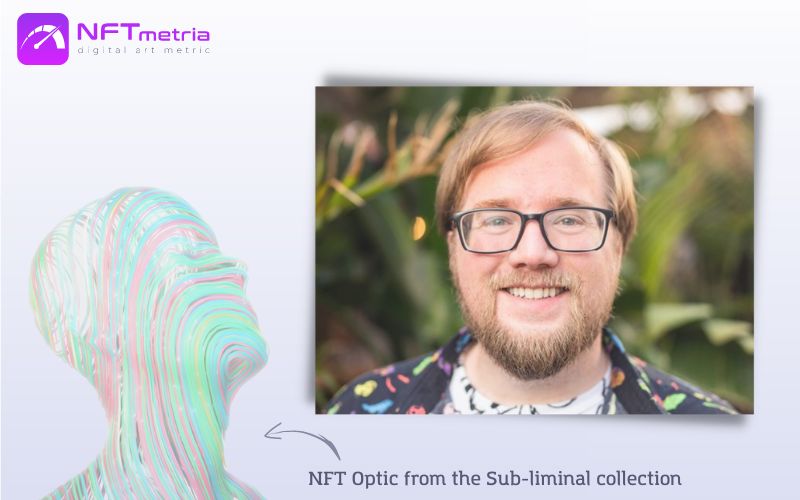 That all changed in March 2011, when Bryan Brinkman, on the popular late-night TV show Late Night with Jimmy Fallon, was randomly exposed to the host's experiment, dubbed the Bryan Brinkman Experiment.
As part of the experiment, Jimmy Fallon, as well as American celebrities (Kevin Rose, Russell Brand and others), who were guests of his show at that time, posted on their social networks a call to subscribe to the artist's Twitter. As a result of the experiment, the number of Bryan Brinkman followers on Twitter grew thousands of times – from seven thousand to thirty-four thousand in just a few days.
So, in a couple of days, he became famous and received the first large-scale audience of potential fans. But in those years, the NFT did not yet exist, and then the artist created digital art for galleries. Only with one condition – all the work had to be done physically. To do this, the author used different methods, for example, printing and embedding them in 3D displays with shadow boxes, or making screen prints of T-shirts.
Bryan Brinkman in the NFT world
It started when my wife told me about CryptoKitties in 2017. Many years ago, I tried to create a wallet and buy this kitten, but I couldn't figure out how it works. Then I saw the Ethereum symbol, but I had no idea what it meant. So, I started to delve into it more. The artist remembers
Thanks to his social experimentation on TV shows, the artist had an impressive Twitter following that was well supported, but digital art was still in its infancy.
Then, in 2020, the global COVID-19 pandemic came, and Bryan Brinkman saw fellow artist KillerAcid, who was already publishing his work on SuperRare. Thus, the artist began immersing himself in the world of crypto art, thanks to which he learned all the intricacies of cryptocurrency, smart contracts and NFTs. And he also realized that his own style is not yet represented by anyone in this market.
So, Bryan Brinkman decided to debut from a platform already known to him and applied for SuperRare. After agreeing on his candidacy and portfolio, the artist began to promote himself and conquer the NFT market on a large scale, devoting all his time to a new occupation. Switching to NFT has allowed him to focus on his passion for digital art and animation to bring all ideas to life.
My goal when I joined the space was to experiment with all the media it provides. Since then I have been involved in everything from animation to generative and programmable art. I'm looking at what the next wave of technology will be like, and I'm excited to continue moving in these new directions.The artist sees the digital art market as very promising
Today, Bryan Brinkman is one of the most famous NFT artists, with a portfolio of over 3,000 NFTs, thanks to which he has earned more than $13 million.
Corporate identity in NFTs by Bryan Brinkman
The first work of Bryan Brinkman was "Explosion", minted in February 2020 on SuperRare. By the way, it was purchased by the famous NFT artist Pranksy. This short-looped animation of the explosion of multi-colored clouds is a debut and at the same time indicative of the entire work of the artist.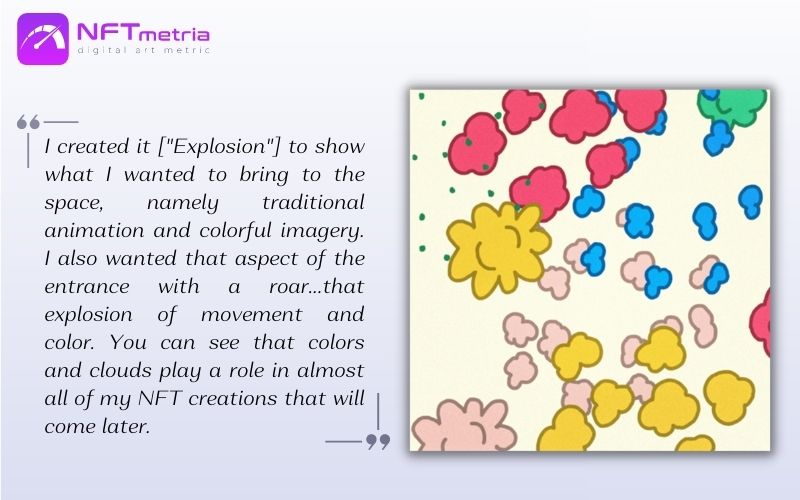 The work of Bryan Brinkman is distinguished by a positive and joyful flair, and the main theme of his work is, of course, animation and animation. The works of the NFT artist are usually filled with bright images that excite the mind. This can be easily seen if you study his collections at digital art exhibitions.
I hope that people will leave my work with positive emotions. Much of my design and art is based on the idea that these works will be in the virtual spaces we will live in in the future, and I want collectors to be able to decorate their galleries with brightness, movement and color.This is how Bryan Brinkman speaks about his art
The most famous NFTs by Bryan Brinkman
The portfolio of Bryan Brinkman includes both 1/1 works and collections consisting of 100 and 400 images. He tries himself in different formats of crypto-art, among his works you can find works of digital art, 3D-cel art, posters, videos, and much more.
His works are exhibited by the famous auction houses Sotheby`s and Christie`s:
Sothebys – Oct '21 "Explode" Genesis NFT resale,
Christies NY – Sept '21 Post-War to Present: The NFTs (NimBuds),
Sothebys London – Art Blocks "19 works".
Cloudy NFT Collection
Cloudy in November 2020 became the debut collection on the digital art marketplace Nifty Gateway, and the author's new calling card. A series of three animated paintings based on recurring themes of the creative process and growth. These cycles are related to the Earth's water cycle and the regeneration and growth that it brings.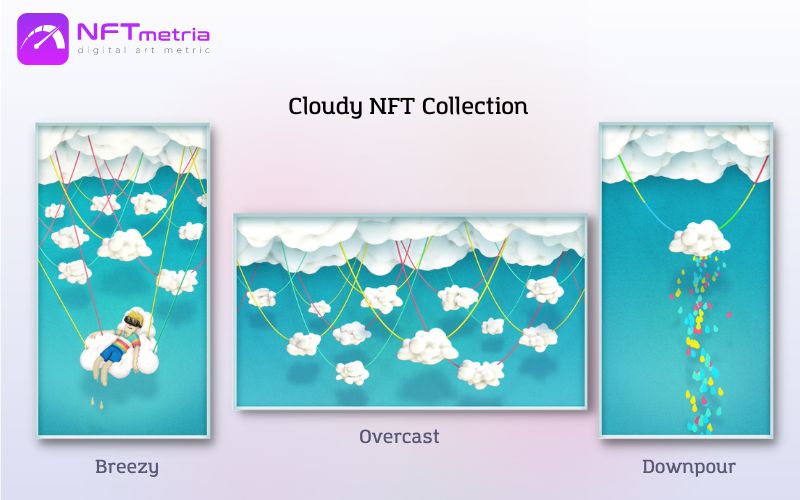 A few numbers about Cloudy today:
Breezy, released in quantities of 5, originally sold for $800. Secondary sales are more than 2k dollars,
Overcast, released in quantities of 10, originally sold for $400. Secondary sales are more than 20k dollars,
Downpour, released in quantities of 20, originally sold for $200. Secondary sales are over $45k.
NimBuds NFT Collection
The NimBuds collection is a project curated by the most famous generative art platform Art Blocks, released in January 2021. It consists of 400 generated cloud themed images that have random wires, colors, eyes, mouths, cloud bodies and more.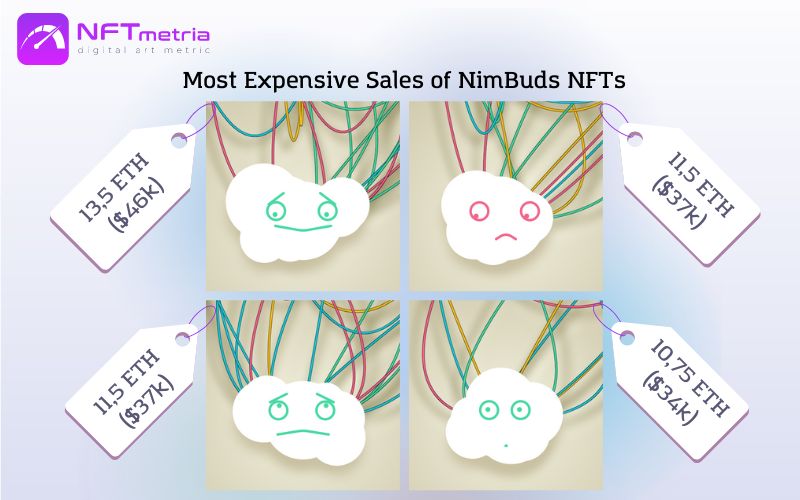 A few numbers about NimBuds to date:
The total volume of secondary sales exceeded 1.1k ETH,
The minimum price is 3.5 ETH,
The most expensive NimBuds #311 sold on September 1, 2021 for 13.5 ETH ($46k at the time of sale).
Tragic Pop NFT Collection
In the Tragic Pop collection, the artist moves closer and closer to the theme of pop art and moves away from his thematic clouds. This time, through bright colors and cheerful elements, the artist examines deeper, more serious tones, examining 5 parts of the human body with which we feel, see, touch, hear, think.
This drop has also become a sign of respect and gratitude to its community. The collection includes 2 works that the owners of the author's early releases on Nifty Gateway could purchase for only $1 within 60 minutes.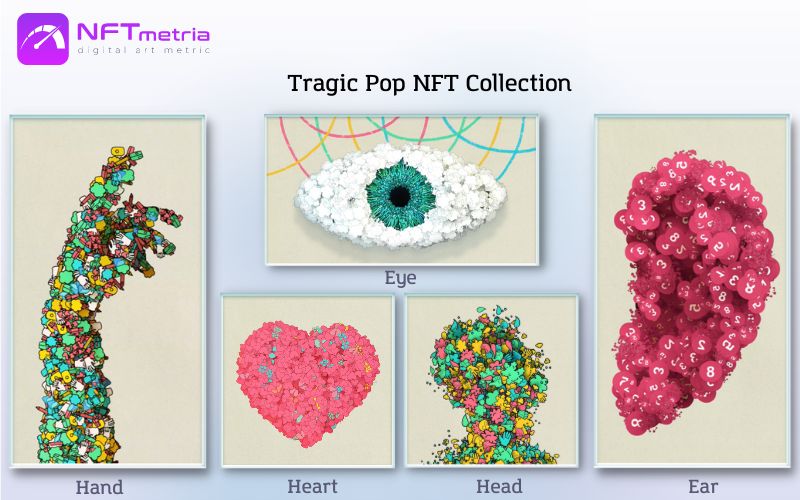 A few numbers about Tragic Pop today:
A series of 5 animated pictures launched March 12, 2022 on Nifty Gateway,
Heart, limited to 15 pieces, originally sold for $1,200. Secondary sales are over $20K and the minimum price is $1699
Ear, released in quantities of 15, was originally sold at $1. Secondary sales are over $2k and the minimum price is $10k.
Hand, released in quantities of 15 pieces, was originally sold for $1. Secondary sales are over $2k and the minimum price is $3k.
Head, a limited edition of 15, originally retailed for $1,200. Secondary sales are over $12k and the minimum price is $4500.
Eye, limited to 15 pieces, originally retailed for $1,200. Secondary sales are over $12k and the minimum price is $4500.
Where can you buy NFTs by Bryan Brinkman?
Now NFTs are available only on the secondary market, namely on such marketplaces as OpenSea, NiftyGateway, SuperRare, ArtBlocks, Async, Rarible and others. In addition, you can follow the future updates on the artist's Twitter.
Opinion of NFTMetria
Bryan Brinkman's previous releases have been successful, as statistics show, and he tries to keep circulation low. A small number of publications prevents market saturation, and, as a rule, the secondary price is much higher than the original one. Of course, this format also has disadvantages, for example, less profit for the artist.
But with Brian, there is no such risk, since he thereby creates a deficit for his current and in-demand work, providing himself with passive income from secondary sales (royalties). His auctions at Christie's and Sotheby's are proof of this. This whole picture boldly describes Bryan Brinkman as one of the most famous and vibrant NFT artists with his own community, demand and style.