For many artists, creativity becomes a personal therapy and a way out of various life situations. So, they show the general public the problems that bother them, their worldview and individual style. And sometimes for his bright debut, a person has to go through personal difficulties and health problems. It was in this way that one of the most popular and sought-after NFT artists, Frederic Duquette under the pseudonym FVCKRENDER, entered the NFT market.
Who is FVCKRENDER?
Frederic Duquette aka FVCKRENDER is a self-taught Canadian digital artist. He is currently 31 years old and lives in Vancouver, Canada.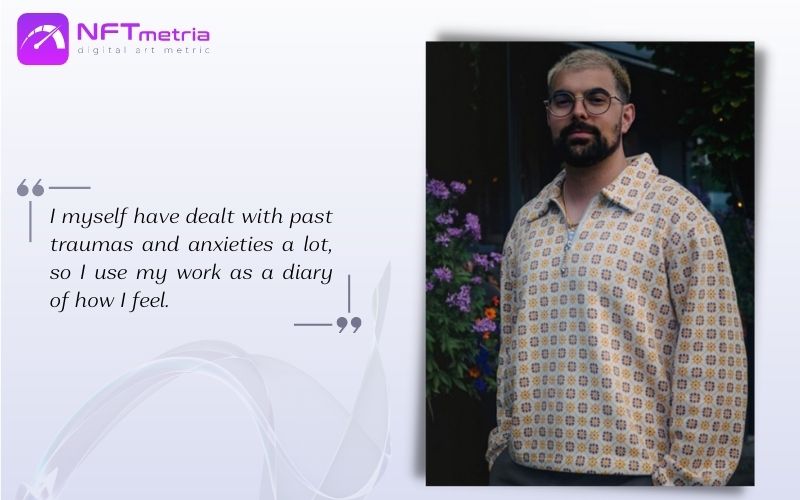 His style, which combines bright, shiny elements, mesmerizing animation, crystal processing, is known to many. Unique technique has made FVCKRENDER a well-known artist and has worked with major clients such as Lil Nas X, Lebron James, Puma, Spotify, Instagram, Supreme, Christian Dior, Hypebeast and many more. His art has also been auctioned by reputable auction houses such as Christie's and Sotheby's.
FVCKRENDER Official Links
The creative path of FVCKRENDER: from waiter to NFT
After FVCKRENDER dropped out of school at 17, he began working as a waiter in a restaurant. But he was not going to build a career there. In his free time, he mastered a wide range of Cinema 4D software tools, mastering all the basics of working with 3D graphics. Moreover, he did this both before work and after, sparing no time and effort for self-study and training.
In 2016, FVCKRENDER had an accident and lost sensation on the left side of his body. So, in order to train his brain, he began to actively engage in digital art, developing more and more of his skills. To do this, he set a goal for himself – to create and publish once a day, one render on Instagram. And he did not change his goal over the next 5 years, creating a huge portfolio.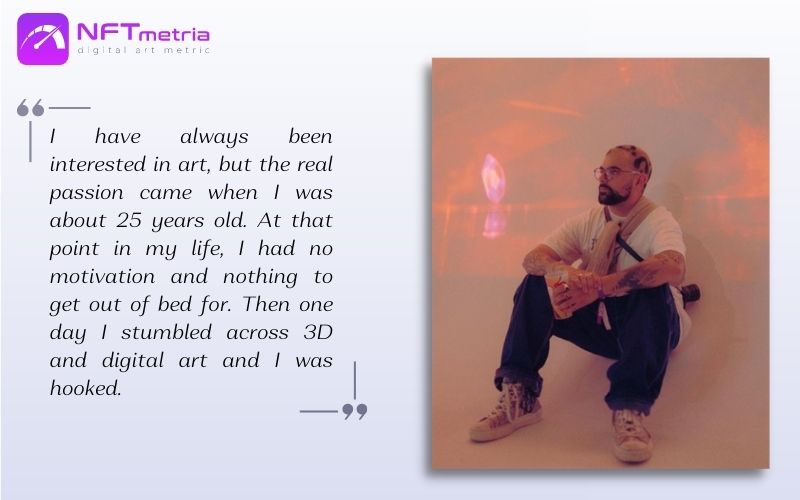 All his efforts were not in vain – over the next years, a community of fans of his art appeared, bright collaborations and high-profile sales of his works.
Collaborations include:
Lil Nas X. The artist created visualizations for the rapper track,
Lebron James,
Supreme for a clothing collection,
Christian Dior. It was created for the new collection of the fashion house,
D.S. & Durga for a perfume collection that was presented in the summer of 2022.
FVCKRENDER in the NFT world
The NFT market for FVCKRENDER has become a logical continuation of his creativity and work. Having already had a lot of experience, admirers of his art and already a well-known name in profile circles, the artist organically joined this industry.
FVCKRENDER's comprehensive understanding of the NFT industry has made him a thought leader and supporter of web3.
He recently participated in the landmark Ledger Op3n conference where he shared his experience teaching his family about crypto security. In addition, now he is a welcome guest at many other exhibitions, conferences and other thematic events.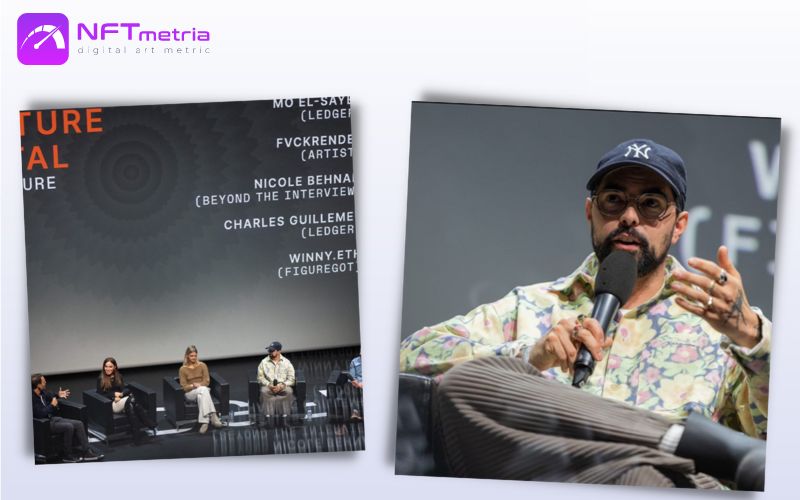 He made his NFT sale for 171 ETH which made him famous in the industry. Now Frederic Duquette is focusing a lot on creating his own LVCIDIA metaverse, which is an exploratory art and meditative experience in collaboration with other artists.
I have always wanted to create my own universe and environment for people to explore my art. NFTs opened this up for me. People trusted my vision and really supported it. Now I can take advantage of this support and create what I want for everyone. Frederic Duquette said
Corporate identity in the NFTs by FVCKRENDER
The work of Frederic Duquette is not just art, as it is for many other famous and successful artists. His works serve for him, first of all, as personal therapy, an opportunity to accept, overcome and show his injuries.
I take a lot of photos of how light interacts with the environment. I'm changing it in a way that doesn't make sense in real life. This is how the artist explains his love for light illusions.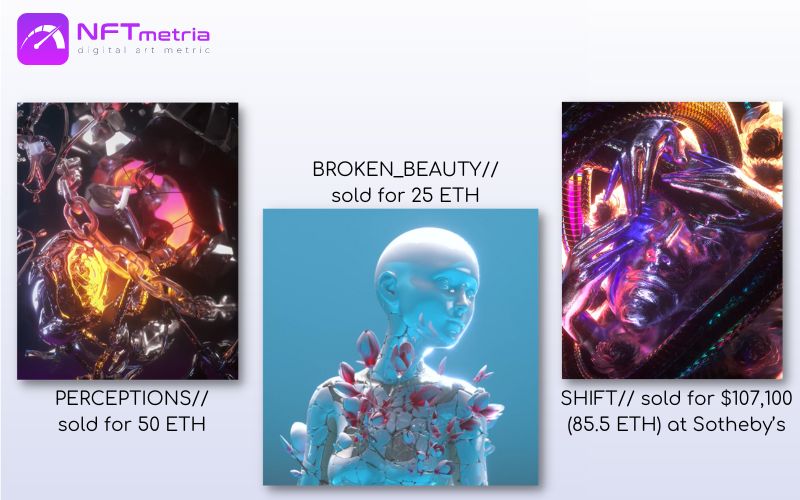 FVCKRENDER's style is unique. This is pure futurism, where the author is not afraid to play with space, but skillfully shows it and uses it to create the effect of depth. The works are futuristic, surreal and rich in symbolism. Chains, snakes, faces, flowers, scorpions, gloss are signature elements in the artist's works. Despite the fantastic nature of his work, in every picture you can see incredibly realistic digital textures.
The most famous NFTs by FVCKRENDER
Frederic Duquette has released 12 collections and many single works since 2020. Each of his drops causes a vivid reaction from the public and is sold out very quickly. In total, the artist has sold more than 2.5k of his tokens worth more than $40 million.
SELF_HELP// NFT
NFT named SELF_HELP//, listed on March 8, 2021 on the Foundation marketplace, was sold on March 9 for a then record 171 ETH (more than $214k at the time of sale).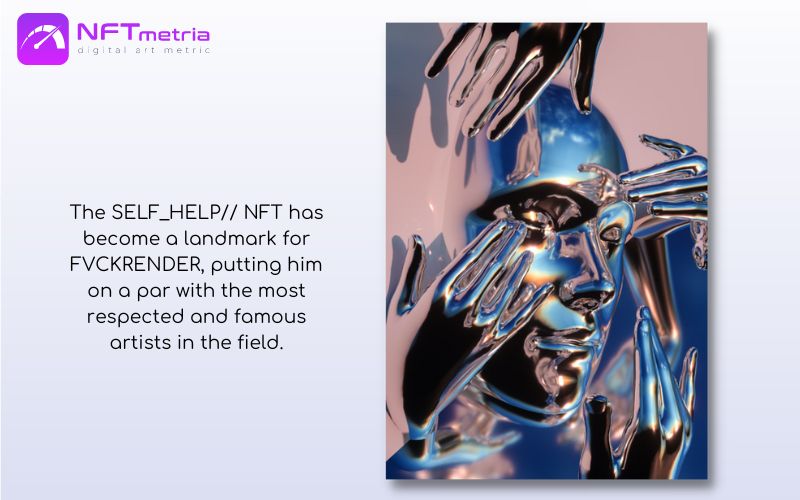 In November 2022, it became known that the artist, in partnership with the new generation art market Avant Arte, is launching a line of his sculptures, which will be complete duplicates of similar NFTs. And he decided to start with a revision of the work SELF_HELP//, giving a new name to two sculptures TOUCHED// and FEEL//.
https://www.instagram.com/p/CkyMgX4rruZ/
FVCK_CRYSTAL// NFT collection
FVCK_CRYSTAL//, released in August 2021 in the form of 4169 crystals, made a splash. These stones flourish as beautiful digital art pieces and are useful in a metaverse created called FVCKRENDERVERSE. Each crystal has been computer generated and optimized for future use.
My main goal with FVCK_CRYSTAL// was to make a clear distinction between my art and utility. My art is a work of art that must not rely on utility to maintain its value. Frederic Duquette says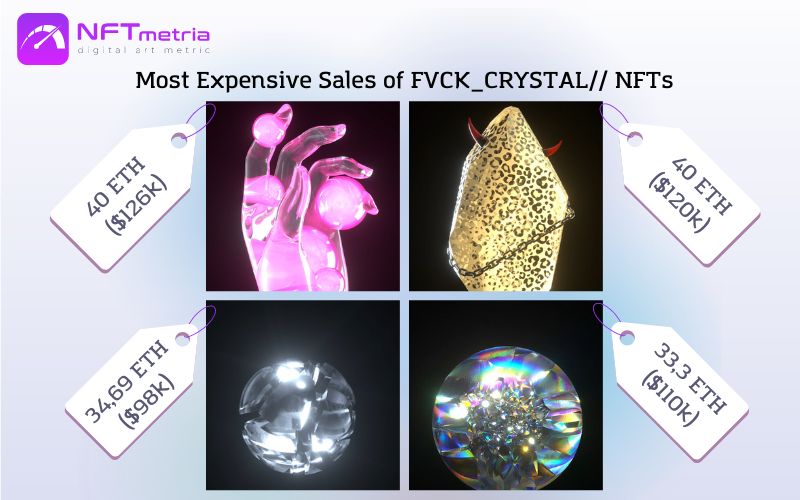 Some numbers about FVCK_CRYSTAL// today:
The volume of secondary sales exceeded 11.8k ETH (more than 30 million dollars, taking into account the volatility of the cryptocurrency),
The minimum price for today is 0.4 ETH,
The most expensive FVCK_CRYSTAL// #3645 was sold on August 12, 2021 for 40 ETH (over $126k at the time of sale).
FV_ARIAX9// NFT
FV_ARIAX9// auctioned by Nifty Gateway on April 29, 2021 was sold for 145,551 ETH (over $182k at the time of sale). This work is the second most expensive among the individual works of the artist after SELF_HELP//.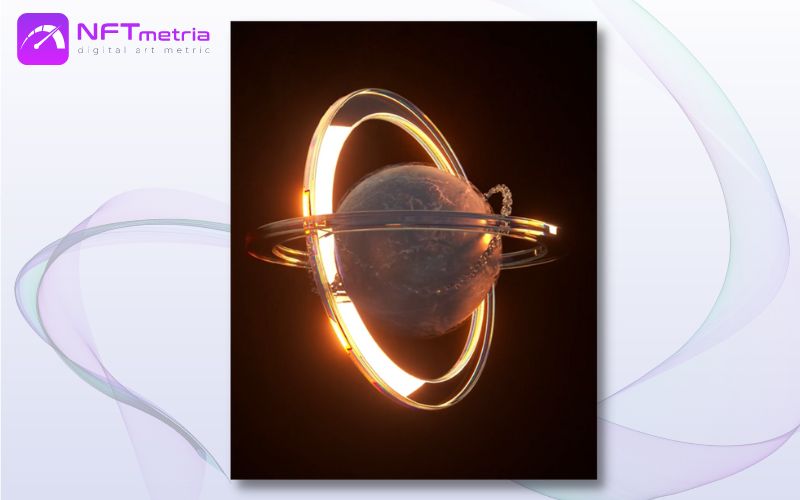 Where can you buy NFTs by FVCKRENDER?
Now NFTs are available only on the secondary market, namely on such marketplaces as OpenSea, Nifty Gateway, Foundation. In addition, you can follow the future updates on FVCKRENDER's Twitter.
Opinion of NFTMetria
The case with FVCKRENDER is the one when natural talent, developed by the artist himself through hard work and perseverance, gives stunning results. Micro and macro rendering of all elements, realistic movements and textures, the brightness of the elements add up to a unique style of the artist, which was recognized and loved by many in the digital art market.
From alien-like objects to geometric shapes, his art is diverse but united in one thing – they all cause a strong reaction from the public, and the demand and recognition of FVCKRENDER itself is only growing.