Evolution makes its way through thorny metamorphoses through all living things and those around us. Everything that is newly creates a new kind of art. It was the non-standard, atypical and sometimes repulsive that was created by the artist Rich Lord. This is what he attracted attention to himself when you both admire and do not accept creativity. The main meaning is to give a separate life, filled with the depth of the being itself and simple, but significant, infinitely repulsive mechanisms.
Rich Lord is an intriguing but controversial personality, just like his works. The depth and scrupulousness of the edges is hypnotizing. You will endlessly watch the smoothness of the lines, even if you are not ready to accept what you see. He succeeds in awakening love even for the one who rejects.
Who is Rich Lord?
Rich Lord is a digital artist interested in world building, artificial life, machinery and all kinds of generated art. At the same time, his creativity is contradictory: it attracts, fascinates, but at the same time it rejects oneself. It is this amazing mixture of emotions that attracts many to his art.
Some of my music videos are often described as rude or disturbing. I understand this point of view, but I do not intend to deliberately provoke such a reaction. I'm really interested in creating an atmosphere and feeling that something really alien is opening up. The artist sees the mystical and extraterrestrial in his works
Rich Lord is not restrained in creativity, but restrained in talking about himself. A creative person, always striving, sharing his vision. Despite his popularity, Rich Lord is reserved, selective and conservative in this matter.
Rich Lord Official Links
The creative path of Rich Lord: from LEGO to NFT
Rich Lord is an NFT artist, a creator who fell in love with art from a young age. As a child, he spent many hours drawing pixels on one of the first Amiga 500 PCs and spent hours building LEGOs. So, he created the first voluminous system works from mechanics and blocks.
And in one of his most famous works, his love for mechanisms is very well traced:
In this project, its key feature is clearly traced – to combine idealistic order with uncontrolled house. As soon as the eyes learn the addictive perfect rotation, the nervous system enjoys the alignment of the grooves of the rotating and probably perfectly lubricated gears with pleasure.
The artist then learned programming through coding a musical system based on John Conway's classic Game of Life. After that, Rich Lord realized his professional achievements as an engineering systems artist:
Designed the mechanical systems for the Portal and Portal 2 video game series as an artist.
Created several procedurally generated music videos for Plus Device and Alessandro Parisi, both of which have won Vimeo.com awards and have been screened at several film festivals.
Just look at what hypnotizing and mystical works the artist managed to create. And he has dozens of such works. Amazingly beautiful and mesmerizing!
The creative path of Rich Lord was to realize his limits, to understand what he should show to the world. And now we can see the realization of the worldview and the depth of the author's fantasy.
Rich Lord in the NFT world
In the world of NFT art, Rich Lord is a sensual, vulnerable person, but with an amazing vision of beauty. He discovered this sphere of creativity for himself at the end of 2020. Several of his friends were into cryptography and showed the artist what they were working on. After that, he applied to several sites and started selling 1/1, but even then, he realized that 1/1 only showed one side of his own potential.
And here the case helped – on the expanses of Discord, Rich Lord met animator and NFT artist Brian Brinkman, who explained the concept of generative art more globally and introduced the Art Blocks project. And this step became a fateful one, which in 2021 made a real famous digital artist out of a dreamer artist.
Animation pieces found deep in a hole. My is always in them. The sincerity and hopelessness of his own genius perfectly reflect his own words as an artist.
He was able through his ambiguous work to find a large circle of like-minded people who are happy to invest in his work. To date, through the Art Blocks platform, he has created 2 collections, each of which has resonated. Thus, the secondary sales of more than 1.5k works exceeded the volume of more than 30 million dollars.
Features of NFT works by Rich Lord
The main feature in the NFT works of the artist Rich Lord is the ability to ideally probe all the neurological villi of the most sophisticated minds and completely random viewers.
I love that generative art is a process of discovery. I'm not sure what I'll get, but I can change things up a bit. I'm developing ways to create that sense of discovery in environmental art as well as animation. Something fascinating and unexplored that I might want to poke with a stick. There are connections between these areas, and I expect to explore them for the rest of my life.Generative art has opened up a new, interesting world for Rich Lord
One of his most famous Octo Garden collections will give you insight into the artist's imagination and thoughts:
Looking at each animated work, you seem to be immersed in hypnosis from lines, circles, details and colors.
The most famous NFT works of Rich Lord
Rich Lord stepped on the edge of the ideal, blurring the boundaries. He created Octo Garden and Geometry Runners, two collections that completely contradict each other. By this, he designated himself and the boundaries that do not exist.
His love for octopuses and the perfection of lines help him achieve fluidity and grace in Octo Garden. Interesting switching and merging of the impossible with the possible can be seen in the Geometry Runners project. Let in the impulse of life, beat the simplest forms with completeness and transition, giving the ultimate life goal to geometric shapes that had the imprudence to touch his hand.
Octo Garden NFT Collection
Octo Garden is the first generative art project by artist Rich Lord on the Art Blocks platform. Fractal spirals share their tenderness thanks to the properties of moss and lichen that they have been given. Collapsed structures fully unfold, acquiring the form of deep octopuses inaccessible to the eye. A living abstraction of an inanimate form will allow you to experience caring love for each abstraction.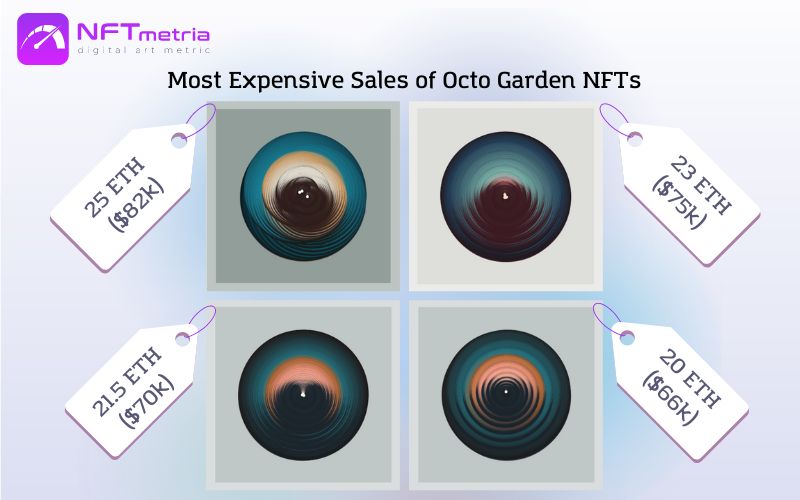 Some numbers for today:
The collection was presented on July 15, 2021 and consists of 333 works,
The total volume of secondary sales exceeded 1.2k ETH (more than 1.5 million dollars),
Floor price is 0.7 ETH,
The most expensive Octo Garden #164 was sold on August 28, 2021 for 25 ETH ($82k at the time of sale).
Geometry Runners NFT Collection
Geometry Runners is a collection of 1000 animated geometric NFTs. The project was released under the curation of Art Blocks on August 27, 2021.
How can you describe the meaning of the collection?
Based on walking systems, which the author has rethought so that they can work in real time.
This is how creatures from sine waves, vector mathematics and trigonometry turned out,
This is an exciting, adrenaline-filled journey of geometric figures that are racers. They proudly wear their team colors and compete in the biggest race of their lives.
There are many ways to organize a Geometry Runner. Sometimes it can be very chaotic or very orderly. Also, the runner animation can be shifted for each runner. From time to time all these things line up and the Runners form a wave or pattern in their movement. This is how the artist explains the uniqueness of his work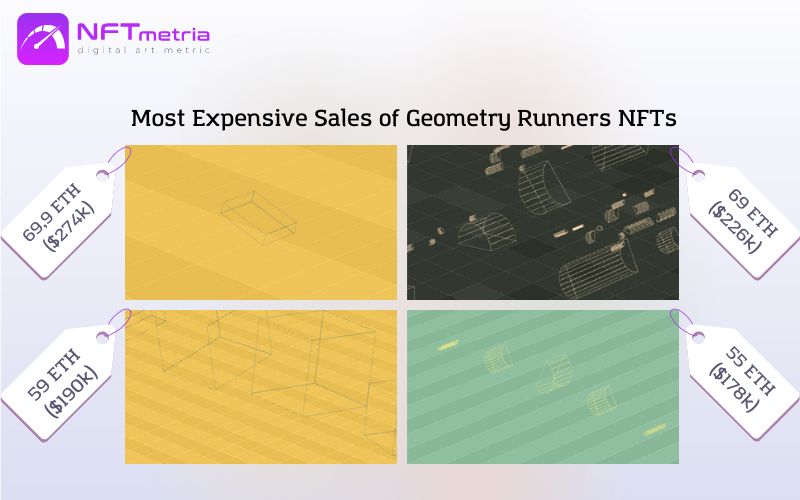 Some numbers for today:
The total volume of secondary sales exceeded 10k ETH (more than 12 million dollars),
Floor price is 1.5 ETH,
The most expensive Geometry Runners #698 sold on September 6, 2021 for 69.9 ETH (over $274k at the time of sale). By the way, the famous NFT influencer and collector punk6529 owns it.
Where can you buy the work of the artist Rich Lord?
You can purchase and invest in NFT the works of the artist Rich Lord on the OpenSea marketplace. In addition, the author's new projects can be tracked on the Art Blocks generative art platform and on his personal Twitter page.
Opinion of NFTMetria
Rich Lord is a truly enigmatic NFT artist who does not strive to make a product that will be bought without hesitation. He creates art as a separate life, filled with depth of meaning, through simple lines and mechanisms that seem to hypnotize.
Definitely, he has occupied his niche for connoisseurs of fine digital art. He has only 2 high-profile projects, completely different, but truly fascinating. The next project is already awaited by many NFT investors, and we advise you to pay attention if you want to invest in NFT.