Sexuality and erotica have become less and less taboo topics in our society over the years, but they still cause resonance in society every time. And what happens if you put these themes and images at the center of all creativity? This is exactly what the artist Slimesunday did, a detailed review about which you will read below.
Who is Slimesunday?
Slimesunday is a talented artist named Mike Parisella from Salem, Massachusetts who creates extraordinary digital collages. In his art, he tries to push the boundaries and creates something new with the help of various erotic themes. Instagram often blocked his work, but he managed to acquire a real army of followers. Gradually begins to promote work as an NFT and quite successfully. As a result, he is in the top ten highest paid artists in this field.
Slimesunday Official Links
The creative path of Slimesunday: from doctor to NFT
Slimesunday is the creative pseudonym of Boston-based artist Mike Parisella from America. With a bachelor's degree in psychology from Salem State University and a medical background, he worked as an emergency physician. But in 2013, he decided to connect himself with art, quit his job and began to look for himself in digital art. Then he announced himself on Instagram, and began to publish his work en masse there. The first about 5 years were experimental, the artist tried different software and eventually fell in love with Photoshop. His art is bright, catchy, with psychedelic elements.
https://www.instagram.com/p/BhEvqP4AgBe/
Around 2019, I started doing more erotic art. It was more exciting, it seemed a little more taboo, and there weren't many people that I personally knew to explore the genre.
https://www.instagram.com/p/Bq7yrMRFjXr
Mike Parisella did it so vulgarly, refined and original that he found his fans pretty quickly thanks to hashtags. At that time, Instagram was still more loyal in terms of censorship and did not block erotic illustrations. But then the rules of the social network began to tighten.
After thinking about these things for a while, I decided to play a game of algorithms. For example, if I can take something – say a breast – and make it look like something else – a mango – will the algorithm pick it up? Everyone knows that if you post a nipple on Instagram, you're done, but what about a mango?
https://www.instagram.com/p/CE4asHNBR07/
With the growth of fame and professionalism, Slimesunday worked for about 8 years as a designer and artist, performing work for various major publications (from The New York Times to Playboy) and world music stars (J. Cole, Lana Del Rey, Katy Perry, J Balvin, Beck, 3LAU).
But in 2020, the global Covid-19 pandemic came, and the artist's income dropped sharply. And Slimesunday had to look for other ways of its development, which would bring a decent income.
Slimesunday in the NFT world
Slimesunday has worked with the 3LAU musician as a freelance artist for many years. Over the years they have become friends. Subsequently, the artist even became the art director of a famous musician. And so, when Mike Parisella needed help, he turned to a friend.
He spoke about the NFT. At the time, I had no idea what they were. We saw artist Trevor Jones sell out for $50,000. We dived right in. Reminds me of Mike Parisella.
Then they launched SSX3LAU, a 50/50 art project where both played an equal role in the creation of each piece. So, in the fall of 2020, Slimesunday also became an NFT artist, releasing both collections and single collections in his original style during this time.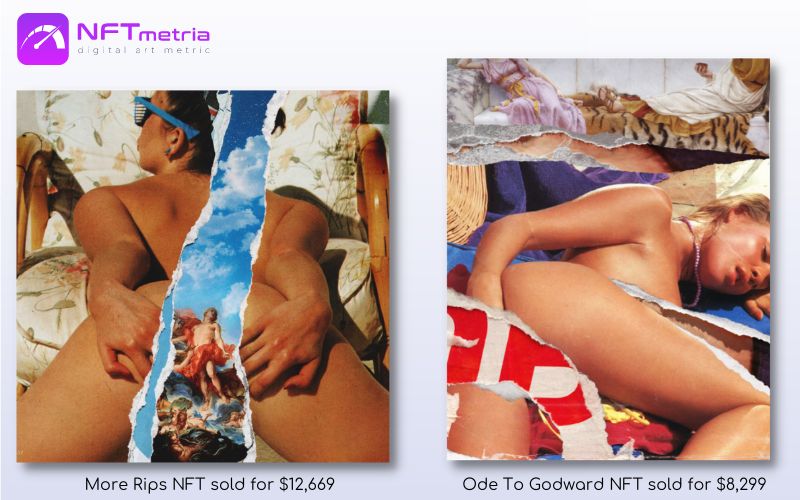 For Mike Parisella, the NFT world is, of course, not only a way to make money. First of all, this is the real world, independent of censorship and restrictions. Here he can publish all his works without fear of their removal due to the next rule.
Moving to Web3 helped a lot. Most of the platforms I post on don't have censorship rules, or if they do, I just avoid them. By all accounts, this is a censorship-free zone, so there are many places where you can post your work without restrictions. I know most of my fans haven't taken the blue pill yet and I'm sure they would love a place where they can view my work without restrictions.
To date, the cost of all his NFTs has exceeded $12 million. And right now, he is participating in the Christie's auction for the first time with a new work SPF30, the starting price of which is 8 ETH. Bets are accepted online, and the results will be summed up on December 7, 2022.
Features of NFT artwork by Slimesunday
The style of the Slimesunday artist is unique.
Erotic digital collage and other strange crap. This is how the artist describes his style in one sentence.
He was the first who not only touched, but also professionally revealed the topic of sexuality on the verge of censorship, prohibitions and aesthetics. The art of the artist Mike Parisella at the same time delights, excites, amazes, and rejects someone. His work touches on important topics such as censorship, consumerism and sexual identity.
Sexuality is a natural human phenomenon that has hardly been talked about for centuries. There is nothing wrong with the human form or sexuality and I really don't understand why everyone is still so concerned about it.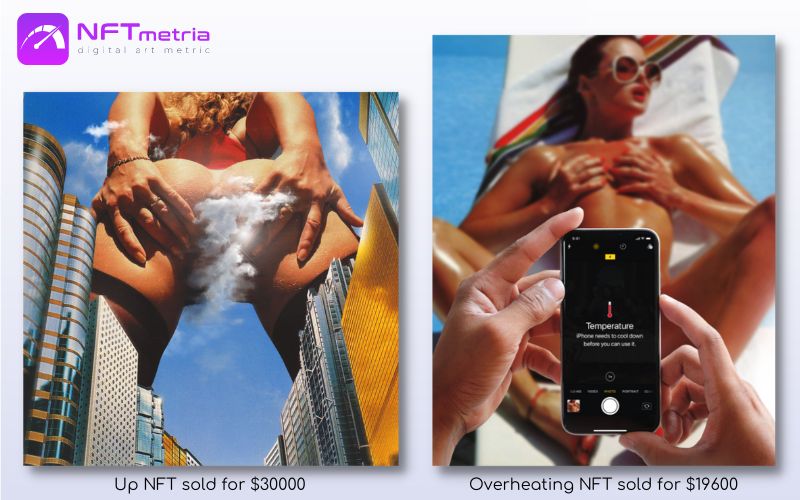 The most famous NFTs by Slimesunday
The artist has already created many striking works that have stirred up society and attracted a lot of attention.
Auction Winner Picks Name NFT
https://www.youtube.com/watch?v=b0Xq6LlUsNY
This is a collaboration between Slimesunday and DJ 3LAU as part of the SSX3LAU project. In March 2021, the musical composition was sold at the Nifty Gateway auction for $1.3 million. The winner received the full music video and the opportunity to choose a title for the track. The choice was given to this version of the work and created later. The customer chose the song, and now it's called "Gunky's Uprising". This time the buyer, by the way, is not anonymous. They became the CEO of T-Mobile, John Legere, who is a longtime fan of the work of these authors.
The bonus on the Nifty Gateway platform managed to sell about 60 tokens. They were shorter variants of the Auction Winner Picks Name and were listed for $9,999 each.
One Satoshi NFT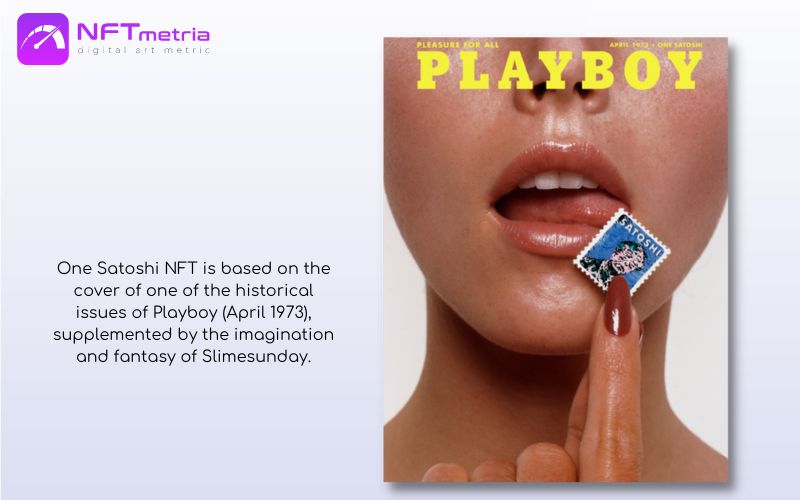 One Satoshi NFT is part of the Liquid Summer: Playboy x Slimesunday collaboration that they released in May 2021. In fact, this is a collaboration between the historical giant of previously forbidden sexuality and the revolutionary of our time, who puts eroticism at the head of his art.
The illustration is based on the cover of one of the historical issues of Playboy (April 1973), supplemented by the imagination and fantasy of Slimesunday. At Nifty Gateway, as a result of the auction, this lot became the most expensive and went under the hammer for $250k.
Slimesunday Vault 001 NFT
In 2021, for $151,200 Slimesunday Vault 001 NFT was sold at Phillips New York as part of his "What the Fork?" series.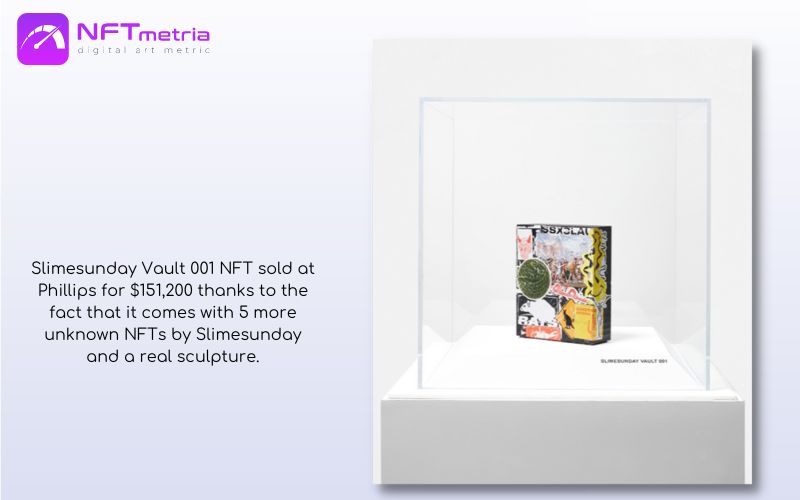 For the first time, Mike shares his own vault. The token is accompanied by a hard drive, and this includes 5 works that were previously blocked by social networks. The owner also received a sculpture in addition to the disc, minted as NFT.
Where can you buy NFTs by Slimesunday?
Now NFTs are available only on the secondary market, namely on such marketplaces as OpenSea, Nifty Gateway, SuperRare, Rarible, Foundation. In addition, you can follow the future updates on the artist's Twitter.
Opinion of NFTMetria
Slimesunday (Mike Parisella) is a niche, exclusive digital artist who, even before entering the NFT scene, has made a splash with openness, brilliance and dynamics in his work. Given his portfolio, track record of working with big brands and famous personalities, and his current success in the NFT scene, NFT investors should now pay close attention to the work of this artist, whose work will only gain value in the future.