The field of digital art is pushing the boundaries and every day becomes much more than just interesting pictures on the blockchain. And today we see outstanding artists in the NFT industry who have managed to attract a lot of attention. And it is not necessary that they were originally artists.
We are talking about Don Diablo, a world-famous DJ, producer, trendsetter, who is now breaking the traditional boundaries in understanding the NFT product. It was he who went down in history as the first artist who sold an hour-long recording of his concert for $1.2 million, and also created the largest physical part of the token. Don Diablo is the embodiment of the future, and this modern approach prevails in everything he does, whether in his futuristic aesthetic or in his art.
Who is Don Diablo?
Don Pepijn Schipper, better known as Don Diablo, is an internationally renowned Dutch DJ, electronic music producer and digital art innovator.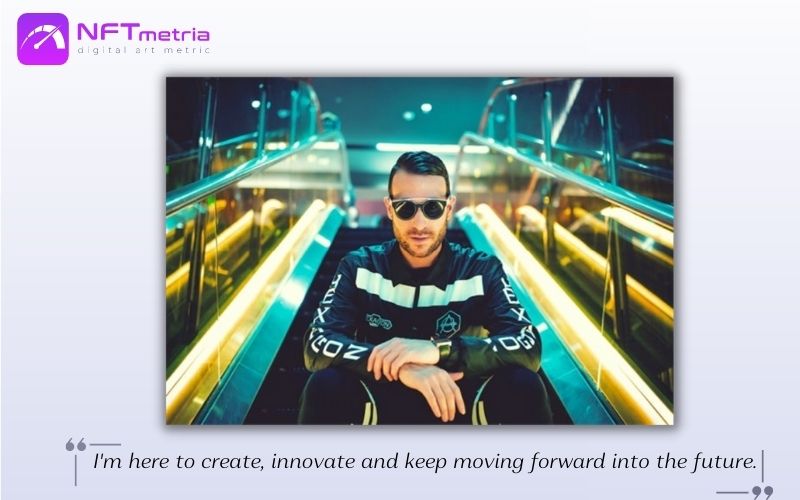 In 2016, he was ranked 15th in DJ Magazine's Top 100 DJs list.
In 2017 he took 11th place in the list of the best DJs in the world according to DJ Magazine.
In 2019, ranked 6th in the same ranking.
The popular producer has collaborated and remixed with a wide range of artists including Dua Lipa, Justin Bieber, Gucci Mane, Ed Sheeran, Mark Ronson, Travis Barker, Miley Cyrus, Rihanna, Madonna, Ty Dolla $ign, The Chainsmokers, Coldplay and many more.
Don Diablo Official Links
The creative path of Don Diablo: from DJing to NFT
Don Diablo, born in 1980 in Coevorden (Netherlands), began his career at the age of 10. Then he was diagnosed with severe heart and lung failure. And he decided to create his own future and make his everyday life as rich as possible, which now had a number of restrictions.
So, let's take a look at his stunning career, which he started from an early age:
From the age of 11 Diablo started making short films in his bedroom.
From the age of 12, he began to create music with the help of a computer.
A year later, he released his first album, which became the starting point in his early creative career.
In later years, he rose to the top of the international music industry and entered the arts, fashion and philanthropy.
In 2015, Don Diablo launched his record label Hexagon. Year after year, the label remains one of the most influential in the field of electronic music.
In 2018, Don Diablo worked with Disney and LucasFilm to launch the official Star Wars movie.
He also created the author's line of designer clothes HEXAGON, which created his personal authority in the fashion world.
In 2019, at New York Comic Con, he presented his semi-autobiographical sci-fi comic book series HEXAGON.
A few years before the global Covid-19 pandemic, Don Diablo played 200 concerts a year. Just look at the global audience of his fans:
In 2020 he performed his personal set in Formula 1
The artist's full-length album Forever, which he released in 2021, has over 500 million streams. And the clip "Save A Little Love" has collected more than 31 million views on YouTube:
Now, after the removal of Covid restrictions, he also continues to tour as a DJ. Moreover, the geography of his performances is extensive – from Prague to Singapore, from the USA to Germany. But since 2020, he is also known as a pioneering NFT artist.
Don Diablo in the NFT world
Don Diablo triumphantly entered the digital art market, one might say, forcedly. Then, in 2020, the global Covid-19 pandemic paused all his touring activities and literally locked the musician in his house during the quarantine.
Don Pepijn Schipper is not an NFT artist who creates thousands of token collections. He creates unique, one-of-a-kind works that amaze with their technology, aesthetics and the combination of the physical and digital worlds. To date, he has released only a few works. And each of them becomes public, breaks records and gives very high earnings to the artist.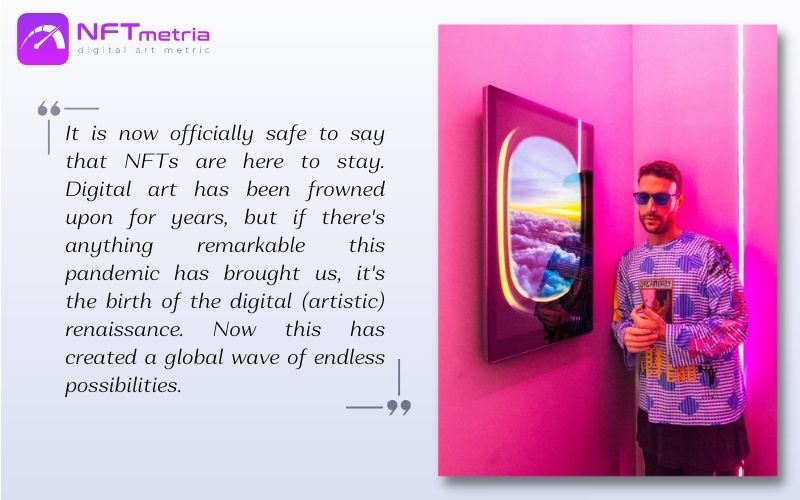 Record sales at renowned digital art gallery SuperRare and successful auctions at Sotheby's have seen his work sold and exhibited at the Venice Biennale, Art Dubai and Art Basel in Miami. His latest work "HΞXAVERSΞ by Don Diablo" is currently on display in downtown Hong Kong and Shanghai in collaboration with K11. Don Diablo also started his own HEXAGON Foundation to help artists in the NFT space.
Corporate identity in the NFTs by Don Diablo
I specialize in the intersection of art, music, visual effects and technology from the same artist and I have been preparing for this digital renaissance for most of my life. This period of time really feels like a vicious circle. The future is today. This is how the artist describes the value of the NFT sphere
Don Diablo creates unique, futuristic works of art, combining the real and digital worlds in one publication. He sees no limits in size, materials, technology, scale. The artist pushes the boundaries and limits of all standards, looking into the future through his works.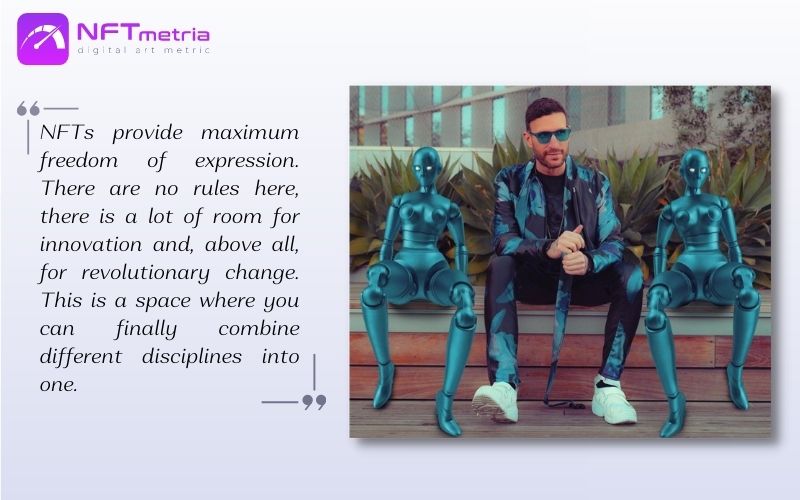 The most famous NFTs by Don Diablo
Among all the NFT works of the artist, we will not be able to get lost, because there are only 4 of them. But each of them has become a legend in its own way and a breakthrough in the digital art market.
The DJ has established himself as a true pioneer in the NFT market by releasing the world's largest physical token and the world's first full-length NFT recording of his concert.
His artwork GENESIS was sold for a debut record amount of 110 ЕТН at the SuperRare fine art auction. Another record sale soon followed, with Destination Hexagonia becoming SuperRare's largest primary sale (600 ЕТН), instantly making him one of the highest paid artists in the community.
HΞXHIBIT III NFT
With "HΞXHIBIT III" , the artist made his debut in the NFT market. And he did it out loud. The fact is that this is not just a digital token created on the blockchain. Attached is the largest physical part in the history of the NFT.
HΞXHIBIT III is a combination of digital art and physical artwork. The work itself demonstrates the concept of a mysterious object that looks like a combination of a spaceship and a portal. Don Diablo created a tangible reality, which is how he imagines the metaverse. And this work has become so revolutionary that the organizers were able to demonstrate it in various parts of the world: Amsterdam, Barcelona, London, Dubai.
Not only is it one of the largest physical pieces attached to a token in NFT history, but it's also a way to physically feel, hear and experience the power of digital art once the doors close behind you. This is how Don Diablo himself speaks about his large-scale work
The auction ended with the purchase of an anonymous collector "33" for a record $1.2 million.
The latest jaw-dropping @DonDiablo NFT project has just sold for $1.2 million through Sotheby's to collector @33NFT.

See HΞXHIBIT III in Amsterdam's Museumplein from 9-10th December before it heads to @moco_museum.

Learn more: https://t.co/TZTbSi3tHk

— Sotheby's (@Sothebys) December 7, 2021
Destination Hexagonia NFT
The second work "Destination Hexagonia" also made history: Don Diablo sold the first ever one-hour concert in the form of NFT for 600 ETH, which is equivalent to about 1.2 million dollars. The 60-minute show, titled Destination Hexagonia, was created specifically for the auction and filmed over the course of a year in collaboration with videographer Paul Snyder, featuring green screen FX and 3D renderings of characters and sets, all in keeping with Don's sci-fi aesthetic.
Destination Hexagonia was sold on April 9, 2021 on the SuperRare site in a single copy and was delivered to the winner of the auction on a unique USB drive that contains a video file.
INFINITΞ FUTURΞ NFT
INFINITΞ FUTURΞ was the continuation of the revolutionary rise of the artist Don Diablo. This work is a mixture of digital art, physical work and a look into the future. The digital part of the NFT is a mesmerizing visualization of an endless energy loop that demonstrates the cyclical nature of life.
INFINITΞ FUTURΞ is stored on a unique cartridge that can be inserted into a custom made one-to-one transparent hologram cabinet. Once installed, it will bring the NFT to life by creating a unique work of art.
It was sold at Sotheby's as part of the auction house's debut NFT program, Natively Digital: A Curated NFT Sale. As a result, INFINITΞ FUTURΞ went under the hammer on June 10, 2021 for $928k.
#AuctionUpdate @DonDiablo's⚡️'INFINITE FUTURE' ⚡️soars to $928k in our #NativelyAuction auction. pic.twitter.com/CYbrrbWDkR

— Sotheby's (@Sothebys) June 10, 2021
Where can you buy NFTs by Don Diablo?
NFT artist Don Diablo is currently unavailable due to extremely limited release. He sells all his works in the form of an auction through the SuperRare NFT marketplace or through the Sotheby's auction house.
Therefore, we advise you to follow future novelties and drops on the artist's Instagram and Twitter.
Opinion of NFTMetria
Dutch DJ and revolutionary artist Don Diablo challenges and breaks the boundaries of the public consciousness with his work. Having created a million-strong army of fans of his musical creativity, fashion and technology, he acquaints the entire general public with how you can physically look at and physically touch the future.
To step inside Don Diablo's mind is to step into the future
His works are such a rare product that it is almost impossible to acquire them, and the cost of his future works is difficult to estimate. Definitely, the artist has taken his exclusive niche, which allows him to create, be recognized in the community and earn a lot of money.