What is the attraction of the digital art field, unlike classical art, where creators spend years honing their style, gaining recognition, looking for galleries to place? That's right – full openness and accessibility to everyone. And this applies not only to initially creative people. Former baseball player Micah Jonhnson is a rising star in the NFT digital space. He came to art from big sport and has already achieved impressive success. His work is predominantly aimed at supporting young, ambitious and, in a good way, daring black people.
Who is Micah Johnson?
Micah Jonhnson is a former professional baseball player who was active in games from 2015 to 2017 with the Chicago White Sox, Los Angeles Dodgers and Atlanta Braves. After numerous severe injuries, including a fractured wrist and torn shoulder ligaments, Micah Jonhnson had to retire from professional sports. In 2016, the athlete took drawing lessons, which revealed his talent and gave him a new dream.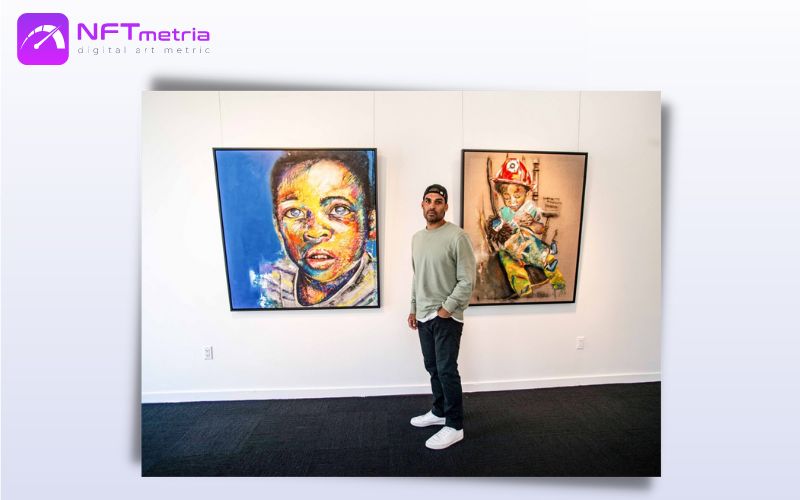 His most famous collection is Aku. The artist created an entire universe dedicated to a black astronaut boy; whose prototype was his nephew. With this collection, Jonhnson emphasizes the importance of individuality and purpose, no matter who you are or what skin color you are.
Micah Jonhnson Official Links
The creative path of Micah Jonhnson: from baseball to NFT
From the age of three, Micah Jonhnson knew exactly what he wanted to be when he grew up – his passion was professional baseball. The boy's dreams came true in 2012 when the Chicago White Sox drafted him in the 9th round. At that time, Jonhnson did not even imagine that baseball would be just a small milestone in his life.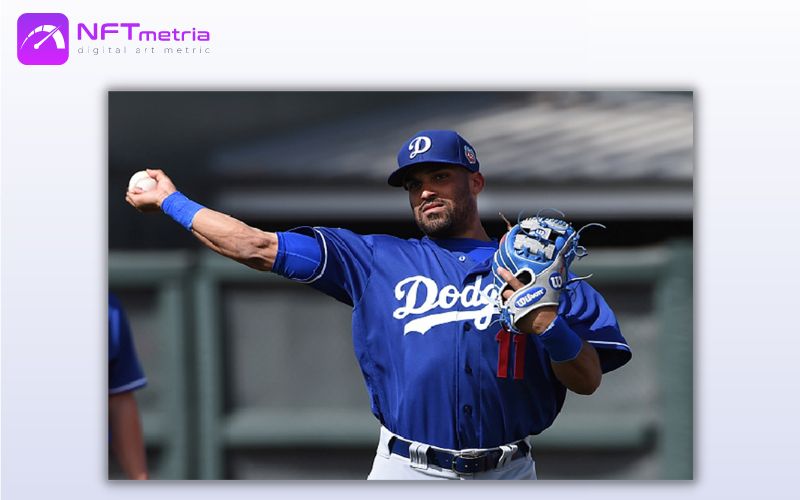 The athlete first discovered drawing in 2016, and with the support of his then teammates from the Los Angeles Dodgers, his new passion began to take a very real shape. In his work, the artist focused on the idea of helping young African American children see the possible in the impossible and dream without limits.
Micah Jonhnson in the NFT world
In the winter of 2019, Johnson had already left baseball due to injuries incompatible with sports and began to seriously engage in art. Like any other artist, the artist was looking for new ways to realize his work. By this time, he had already heard something about the NFT space, and began to search for information comprehensively in various social networks. Micah Jonhnson, a black man, felt like something of an anomaly in the predominantly white space of blockchain technology. Then he realized his more global role in the world of contemporary digital art.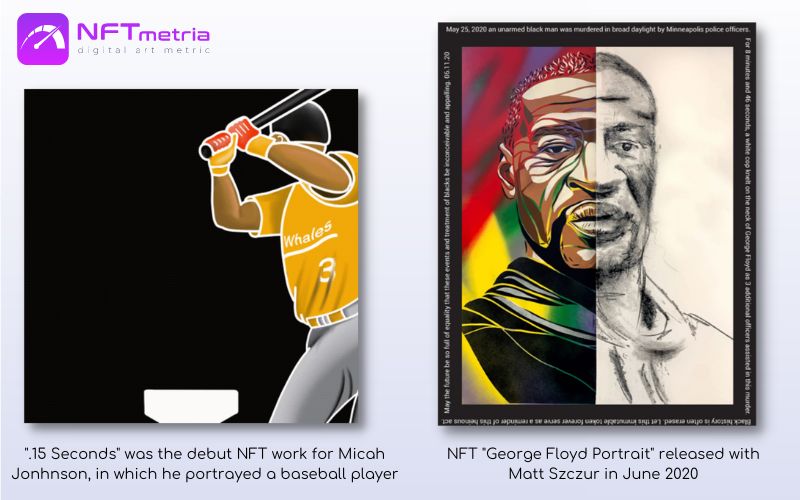 Helping him adapt to the industry at the time was fellow online friend Jimmy McNelis, CEO of NFT42 and renowned collector and NFT influencer (@j1mmyeth). He also purchased the first NFT ".15 Seconds" for 3.75 ETH in February 2020 on the Nifty Gateway marketplace, which now oversees his work.
I can't imagine doing anything other than working in the NFT space. When I was looking for a job or a place to showcase my art after baseball, no one paid any attention to me. The NFT community at the time welcomed me with open arms and showed me the way. The lessons I learned from all these incredible thought leaders helped set the stage for what was possible for a character like Aku. Micah Johnson says
After his debut, the baseball player released several more single animated NFT works. And in February 2021, the public was presented with an animated Aku – a self-confident black boy astronaut. Thus, began a fascinating and sought-after story called the world of Aku, around which there were already more than 10 collections in the form of a series about a fearless boy.
Thus, former professional baseball player Micah Jonhnson found himself in the world of digital art, developing his own narrative line with a global purpose.
To date, creativity has brought the artist more than $ 50 million. But Micah Jonhnson also faced big losses – in April 2022, due to technical problems with the smart contract, the Aku project lost about $34 million. To make up for all losses to the community, he reimbursed approximately $22 million from personal funds to affected Akutar owners.
Features of NFT artwork by Micah Jonhnson
Micah Jonhnson is a figurative artist who uses strong gestural lines combined with casual brushstrokes to create dramatic portraits, mostly of African-American children.
I want everyone who has ever been told that they can't do something or that their dreams are too big and they need a plan B to hear and see Aku. I sincerely believe that I can do everything, and if everyone had such a mentality, our world would look very different.This is how the author defines the mission of his Aku project
The most famous NFTs of Micah Jonhnson
Micah Jonhnson's first sale of a digital painting took place in February 2020, and this debut paved the way for him, which he has been successfully blazing ever since. Since then, he has released several single animated works, but the main credit and key project of his career to date is Aku World.
Aku NFT World
Aku is an animated NFT series about the adventures of a little boy of the same name who dreams of becoming an astronaut. Micah Jonhnson came up with an entire universe with his character Aku. One day, his nephew asked if black people could be astronauts. In response to his question, Johnson began painting 6-foot-by-6-foot canvases of his nephew wearing an astronaut helmet.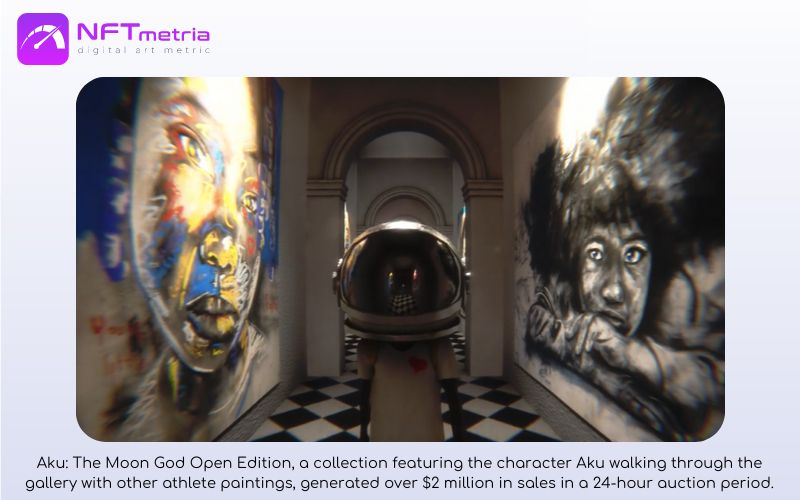 This vision has evolved into the Aku universe, which includes:
a series of animated videos,
interactive gallery in Art Basel Miami,
A 15,000 item NFT profile picture project called Akutars.
This is the first NFT project to have a character bought out for TV and film projects Anonymous Content and Permanent Content, a joint venture between Shawn Mendes and his manager Andrew Gertler.
The character Aku graced the cover of the world-famous Time magazine in August 2022.
TIME's new cover: The metaverse will change everything https://t.co/SxAerdwINZ pic.twitter.com/Q6qfgu4eJm

— TIME (@TIME) July 18, 2022
The Aku World project and its founder have grandiose plans, so all the attention of Micah Jonhnson is focused on him.
Where can you buy NFTs by Micah Jonhnson?
Micah Jonhnson has been working with the Nifty Gateway marketplace since the beginning of his creative career, where you can find all his collections and single editions. To date, purchases are available only in the secondary market. But we advise you to follow his Twitter, where he regularly posts all the news and announcements about future drops.
Opinion of NFTMetria
Micah Jonhnson is a unique example of how an adult black baseball player was able to find himself in contemporary art in adulthood. Considering that the artist has now chosen a specific line of work for himself through the Aku project, there is a lot of development ahead for this project with the support of various industry influencers. And Micah Jonhnson himself is actively and confidently developing his community, increasing his weight as an artist in the market and his creative professionalism.