A person who combines natural talent, entrepreneurial abilities, high efficiency will definitely achieve success in his niche. Rob Corradetti, who works under the pseudonym Killer Acid, is one of those people. He is an NFT artist, creator of a successful clothing brand and designer prints of the same name. It specializes in one direction – humorous, slightly absurd and psychedelic ephemera. Killer Acid has been operating since the 1990s, during which time he has been gradually promoting his brand and regularly bringing it out into society.
Killer Acid has been successfully developing in many areas of creative and entrepreneurial activity for over 25 years. This aspect only makes him unique as an NFT artist and a successful businessman.
Who is Killer Acid?
Killer Acid (real name Rob Corradetti) is an NFT artist and businessman from Delaware who grew up in New York City. Now the name Killer Acid is the name of a full-fledged brand that creates and sells clothing (t-shirts, sweatshirts, pants, socks, hats, etc.), skateboards, comics, prints and much more with humorous psychedelic designs.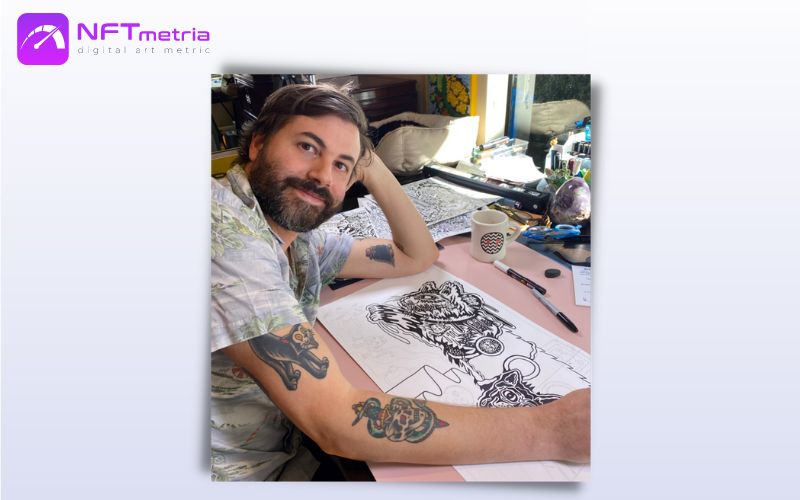 On the popular NFT marketplace SuperRare, Killer Acid is in the TOP 30 of the best crypto artists of all time. So far, over a two-year career as a digital artist, Rob Corradetti has sold more than $2 million worth of his work.
He has partnered with many companies over the years including Santa Cruz, High Times, Polaroid, Adult Swim, Zumiez, Meow Wolf and VICE. His artwork has been featured in Chelsea art galleries and malls across America. And in addition to his own store, everyone can buy all the goods of his brand at Zumiez, Urban Outfitters, PacSun, Blue Tomato (Europe) and Cosmic (New Zealand).
Killer Acid Official Links
The creative path of the artist Killer Acid: from a clothing brand to NFT
Interest in art at Rob Corradetti arose in his youth. He began his work by painting on an easel with oil paints. At the age of sixteen, the artist had already found a suitable direction for himself and created paintings on psychedelic themes, which is what he is doing today.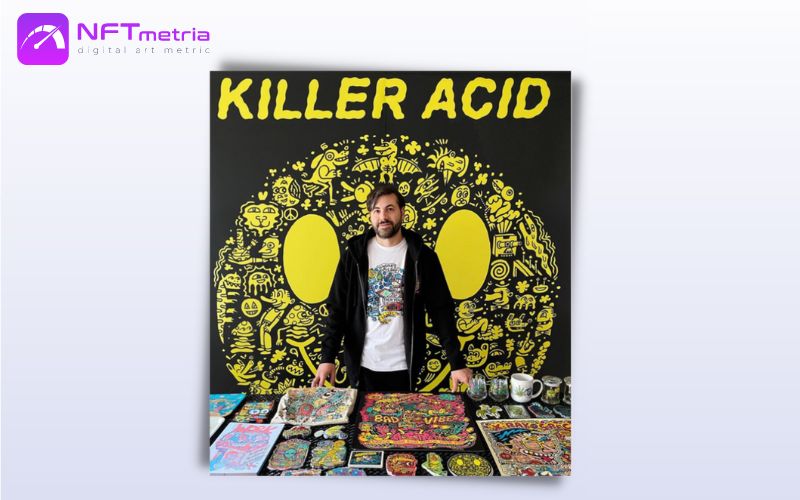 The artist began active work on his own career in the early 2010s. Around this period of his life, he took the pseudonym Killer Acid and carefully tried to promote his name on the Internet and social networks in order to reach a high level both in creativity and in business collaborations.
Over the years, Rob Corradetti has managed to build its own massive brand. Now it is a full-fledged store and production, its main assortment includes the following products:
clothing – T-shirts, sweatshirts, long sleeves, pants, socks, etc.;
posters and banners;
skateboards;
various accessories (stickers, badges, stickers, pins);
wall clock.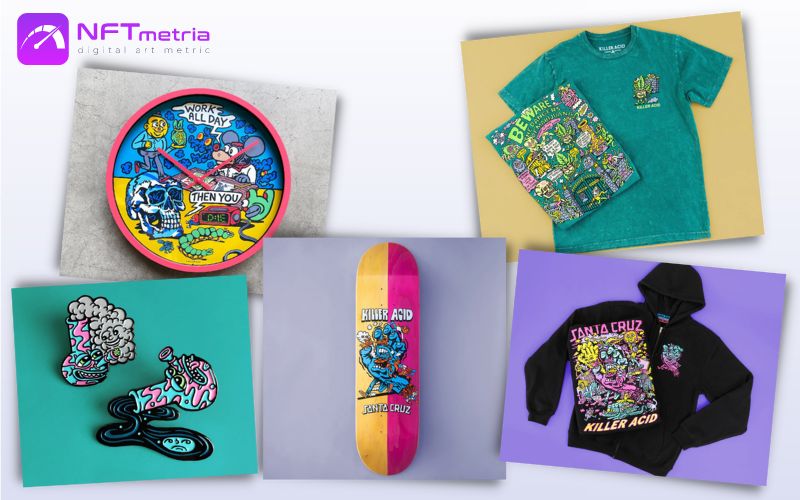 All products use the Killer Acid corporate identity – this is a humorous cartoon psychedelia. Random, bright and whimsical works attract the eye of anyone. And upon closer examination, you can find that all the bright elements are intertwined with personal meanings and artifacts of memories.
During his creative career, Rob Corradetti has worked on major commercial projects, collaborating with companies such as the skateboard brand Santa Cruz Skateboards, the American High Times magazine, the American optical company Polaroid, the Zumiez sportswear store, the Meow Wolf artist community, the American company VICE.
Killer Acid in the NFT World
Rob Corradetti made his NFT debut in 2021 with Bong Love. During this period, the artist is already a well-established brand that has its own audience and is quite well known in world circles. Therefore, it was not difficult to start a journey in a new direction.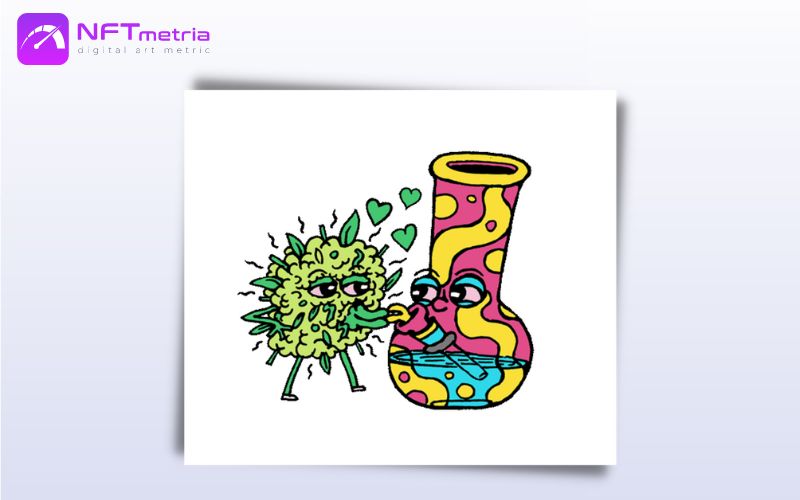 To date, Killer Acid has released 7 collections of digital compositions made in his signature style. In addition to collections, Rob Corradetti presented more than 50 individual NFT works.
Killer Acid is one of the top 30 bestselling digital artists of all time on SuperRare, as well as a list of curated artists from renowned digital gallery AOTM (Art of This Millennium). His crypto compositions are valued and purchased by such major collectors as Zack Yanger, Bryan Brinkman, 33vault, Artnome, Deeze, J1mmy.
In addition to releasing their own digital compositions, Killer Acid owns NFT CryptoPunk #6632.
Features of NFT artwork by Killer Acid
Killer Acid positions itself as an artist who works in a distinct style. This is a symbiosis of cartoonish psychedelics and surrealism under bright and stormy colors. But as Rob Corradetti himself is noted by fans of his work, there is a different meaning behind these compositions, which is radically different from the appearance of the picture itself. It is worth noting that it creates both classic and animated NFT compositions.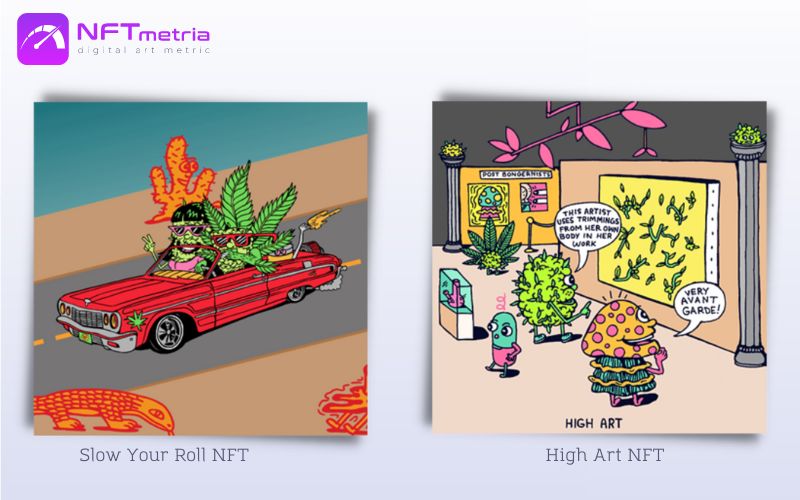 At the expense of his inspirers and idols, the artist noted Picasso, whose biography he met at a very early age, as well as the French artist Jean Cocteau. For general development in the field of art, he studied the work of illustrators Gary Panter, Robert Crumb and Stanley Mouse. And from the genres of art, he likes the style of the 80s, in the paintings of which you can find many interesting and impressive ideas for creativity. All these sources of knowledge and inspiration have become one way for Killer Acid to form his own style.
The most famous NFTs by Killer Acid
Killer Acid has already created more than 50 single NFT works, as well as 7 collections. The total volume of secondary sales of all released NFT compositions to date is more than $2 million.
The Scream, 2022 NFT
An NFT  that attracted attention in the style already familiar to himself and his fans. But it is important to note that this work is an interpretation of the world-famous work of art by Edvard Munch – "The Scream", released back in 1893.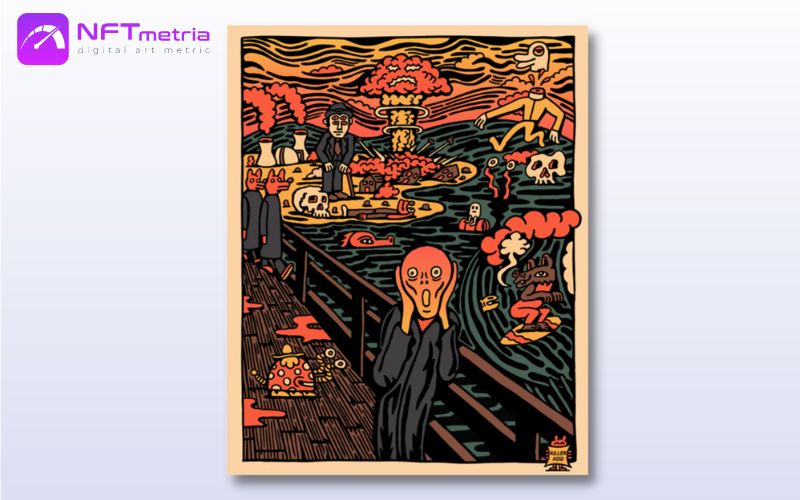 The Scream, 2022 was minted on March 15, 2022 on SuperRare and already on March 17 in the auction format was bought for 31,069 ETH (about $87k).
Crypto Art NFT
Here Rob Corradetti brings to life and gives an outlandish and whimsical mood to inanimate objects, showing the movement of the most famous cryptocurrency, Bitcoin. Crypto Art was minted on August 2, 2022 by SuperRare and was sold on the same day for 42 ETH ($68k).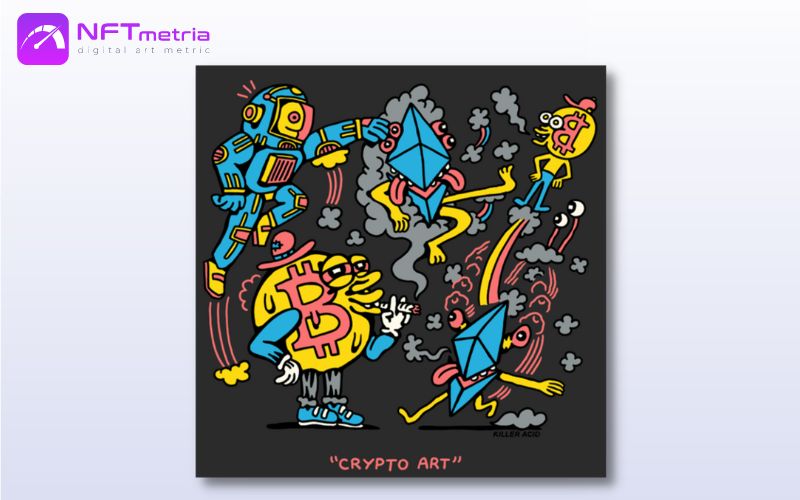 Right-click and Save As Killer Acid Guy NFT
Right-click and Save As Killer Acid Guy is one of the animated digital compositions, which is a few seconds of a bizarre story. NFT is an updated version of the already existing digital illustration by crypto artist XCOPY "Right Click and Save As guy", released in 2018.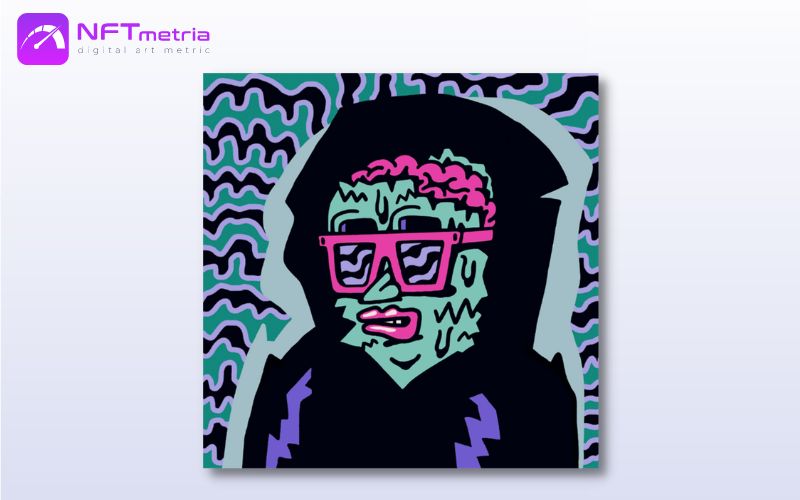 The Right-click and Save As Killer Acid Guy was minted on January 31, 2022 and was sold for 40.69 ETH (about $109k) during an active auction to renowned collector and influencer Deeze.
Killer Acid Patterns NFT Collection
The Killer Acid Patterns Collection is a collection of five individual, carefully rendered NFTs, linked by colorful psychoactive substance and creature motifs, and a unified color scheme.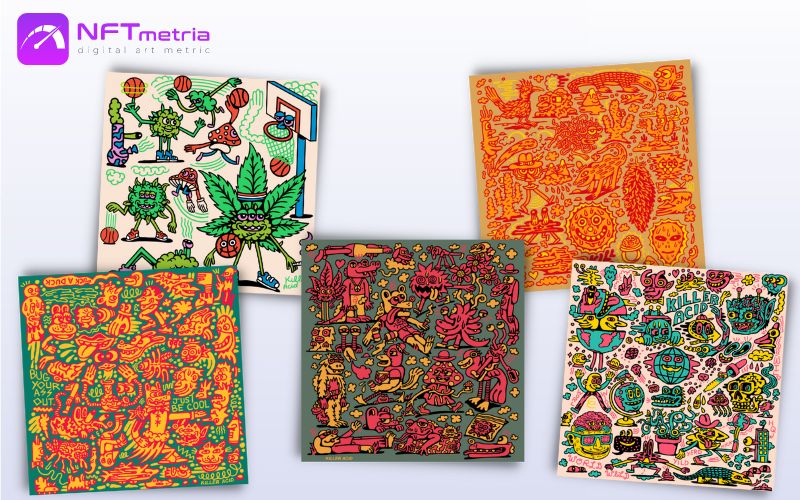 Four of the five pieces were issued on May 19, 2022, while the fifth, Killer Acid Basketball Association, was minted on June 14, 2022. The total sales amounted to 24.5 ETH (about $50k at the time).
Where can you buy NFTs by Killer Acid?
Now the NFTs of the artist Alpha Centauri Kid are available only on the secondary market, namely on such marketplaces as Nifty Gateway, SuperRare. In addition, you can follow the artist's Twitter and Instagram for future updates.
Opinion of NFTMetria
Acquiring NFT from Killer Acid is a sound investment decision. Rob Corradetti is unique not only as an NFT artist with a signature style and successful work in his history, but also as having his own full-fledged clothing and accessories brand that has been around for many years and is a successful business.
Killer Acid is a professional businessman with a high social level in the media space. Therefore, his paintings will always gather around him a stir among major collectors and fans of this branch of creativity, and this is an excellent foundation for investment.