Street graffiti has always attracted attention with its brightness, rebelliousness, skate parties and rich imagination of the authors. And among them there are also individuals who, with their individual, noticeable style, were able to create a name for themselves. But with the advent of a new era of digital art, to achieve success, you need to popularize yourself as much as possible, using both traditional and digital space.
Greg Mike is one of the main representatives of graffiti parties and a famous pioneer of the crypto art market. He has managed to bridge the gap between digital and traditional art spaces.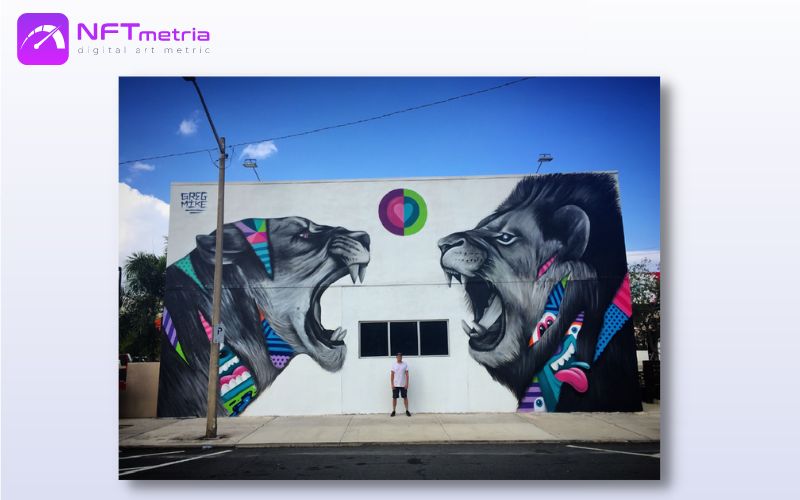 The works of the graffist attracted attention due to the bright, explosive color palette, in which the surreal beginning can be traced. The artist's paintings are filled with joyfully perverted characters, disturbing and mischievous motifs.
Who is Greg Mike?
Gregory Michael Menshing (better known as Greg Mike) is a renowned contemporary street artist, designer, mural and digital graffiti artist whose name has become known through street art and murals across America. The artist depicts everyone's favorite cartoon characters in bright colors with elements of surreal pop art. The artist is currently 40 years old, lives in Atlanta and is the founder and creative director of the creative center ABV AGENCY + GALLERY.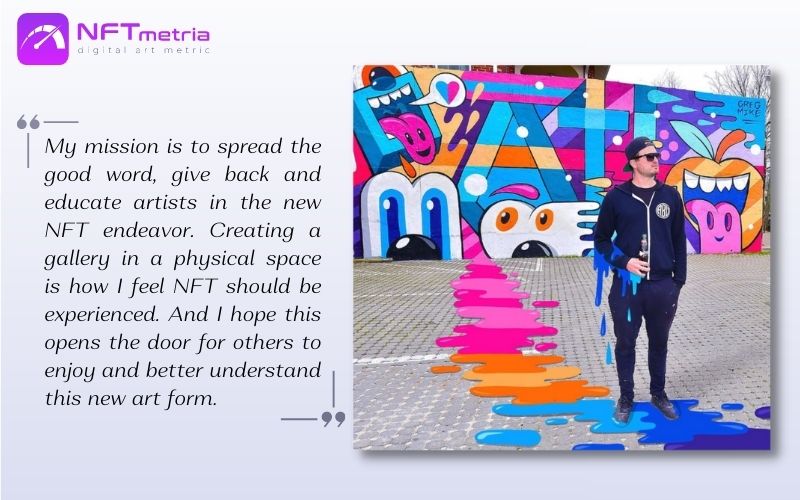 Greg Mike has murals in Miami, Los Angeles, Atlanta, San Francisco, the Swiss Alps and Las Vegas and the list goes on. And his studio projects are exhibited in galleries and museums in Paris, Atlanta, Taipei, Saint-Tropez, New York, Shanghai, Los Angeles and other countries.
To date, he has collaborated with such major brands and names as Reebok, Nike, Facebook, Coca Cola, Porsche, Polaroid, Atlanta Braves, DJ Deadmau5 and many others.
It's been an honor to work with @CocaCola as the Creative Director for their "Atlanta Mural Project". Myself and 6 other ATL based artists created new murals all over the city… Here's a little BTS footage. Learn more here: https://t.co/hpTmXqp7Eg pic.twitter.com/pINb97x8bN

— GREG MIKE (@GREGMIKE) September 7, 2022
Greg Mike bridges the gap between digital and traditional art spaces. He paints magnificent street murals throughout America, creates paintings for private clients in his corporate style. And since 2021, he is also an iconic NFT artist in the crypto space.
Greg Mike Official Links
The creative path of Greg Mike: from graffiti to NFT
Greg Mike was born in 1982 in Danbury, Connecticut. He became interested in graffiti at the age of 13, and when he was in his early twenties, he moved on to frescoes. The artist became known for his skate culture, intersected with the world of design. In high school, Greg Mike moved from Connecticut to South Florida.
Already in his school years he painted graffiti. As soon as Greg Mike got a computer, he began to create digital images using it through the line and fill tools of Microsoft Paint. During his youth, suburban Internet access was available through AOL's dial-up connection. The author shared his work with the world through graffiti bulletin boards.
When the iMac was released in 1998, the rules of the game changed, prompting the artist to study graphic design more deeply at the age of 16. He continued to do the same during his student years. After graduating from Florida State University with a Studio Art degree, the artist moved north to Atlanta, Georgia to continue his career, where he has lived to this day.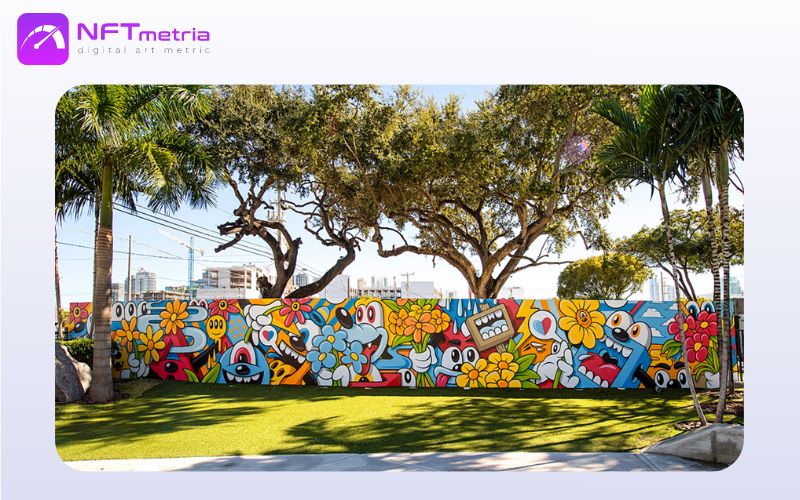 In the same place, Greg Mike created ABV AGENCY + GALLERY in 2008, where he acts as a creative director. It is a multi-platform creative studio specializing in street art, art direction, graphic design, murals and more.
In 2015, Greg Mike founded the OuterSpace Project. This is a combined series of events that includes pop art, design, music, sports and culture. Thanks to this event, more than a hundred murals were painted throughout the city of Atlanta.
In general, if you look at his entire biography, we can say that since 2008, a large-scale creative growth of the artist begins. He is invited to various exhibitions and projects. From 2009 to 2022, the artist participated in more than 200 events – from festivals, public space murals to solo exhibitions, from London to Miami, from Beijing to New York.
Greg Mike in the NFT World
For the first time, the artist heard the term "minting" in 2018 at a Bitcoin conference in San Francisco.
We painted the giant mural live throughout the event. And people kept coming up to me and they kept asking, "Hey, are you going to mint this thing?" And at the time, I had no idea what "mint" meant.Mike recalls
Greg Mike debuted as an NFT artist in February 2021 on the Nifty Gateway platform, with whom he collaborates to this day. Then a collection dedicated to the last decade of his career, MAD CANS, was released. Now, many people associate his name with bright cartoon jars, which depict various characters from well-known cartoons.
In addition to independent creativity, the artist participates in collaborations with other bright participants in the space. For example, the NFT collection "A DAY IN THE LIFE", created in March 2021 in collaboration with DJ NGHTMRE, includes 4 stylized images. In total, secondary sales have already exceeded 220k dollars.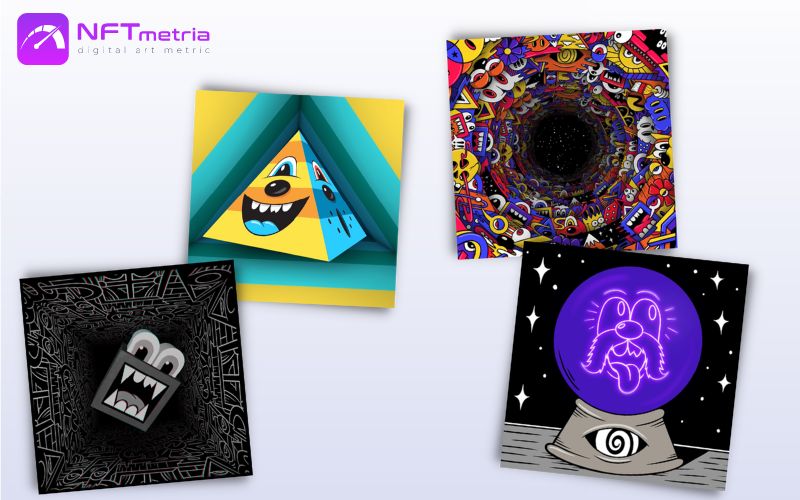 In addition, collaborations with renowned digital artist BILLELIS and designer Loudsqueak have also been implemented.
The artist is not going to stop there, in 2023 the release of a new NTF collection "The LOUD ONES" is expected.
I think there are several things that draw people to NFTs. For some, it's a digital and collectible aspect… With the advent of social networking apps like Instagram, we're constantly making art on a daily basis and on a whole new personal level. This art form and media is what the younger generation is growing up on. Now there is a way to collect works and invest in them like never before.Greg Mike said
Features NFTs by Greg Mike
Greg Mike's paintings display joyful images in a space of sharp outlines, non-standard ensembles, sharp jumps, as well as unique combinations of reality and the cartoon universe.
Loud characters, loud spaces, loud animals. This mixture of what I want and will interact with. This is what the artist himself says about his work.
Indeed, it is. His work is characterized by an unusually vibrant color palette combined with life-affirming cartoon characters in surreal cover art. The author is inspired by typography, animals, old characters and combines everything together, causing an emotional explosion in the audience in a good sense of the word.
Greg Mike successfully uses the deconstruction of cartoon images, dropping them into layers of paint, which he creates using his proprietary technique. At the same time, he has a long-term symbol and cult character LoudMouf – a creature with a blue mouth and a broken tooth. It is him that you can see on most of the works – somewhere he is a close-up, and somewhere he is a minor hero. And in 2023, a collection dedicated to LoudMouf is expected.
LOUD LEAK #1 💧‼️ Time to start revealing some art..
👀‼️ pic.twitter.com/4MH420j8I3

— THE LOUD ONES (@TheLoudOnes) April 22, 2022
The most famous NFTs by Greg Mike
In the NFT space, Greg Mike created a new concept for himself using already known characters and his creative style. He decided to debut with cool cans, which depict all the famous cartoon characters.
Mad Cans NFT Collection
Mad Cans' debut NFT collection was released on February 26, 2021 on the Nifty Gateway marketplace. The Mad Cans set contains 10 unique, bright jars of 30 pieces each. At the same time, you can see in the animated pictures how one character is replaced by another, creating a bright, colorful and positive image of the author's digital work.
And on June 11, 2021, the release of the second series took place, which also included 10 cans of 30 copies each.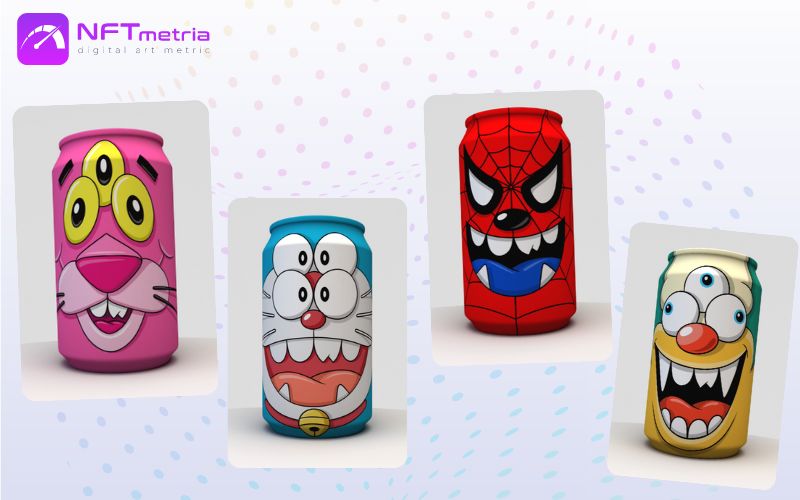 A few figures about the collection today:
Total collection consists of 20 Mad Cans,
The initial listing price was $2,000 per edition,
Total secondary sales exceeded $1.7 million.
Marble Smoke NFT
Marble Smoke is the result of the joint work of two authors BILLELIS and Greg Mike. The animated picture combines two unique styles – BILLELIS's mystical love for the dark and skulls and LoudMouf's signature character.
Marble Smoke released on Nifty Gateway on February 26, 2021 with a total of 483 pieces at a listing price of $1,500. To date, secondary sales have exceeded $400k.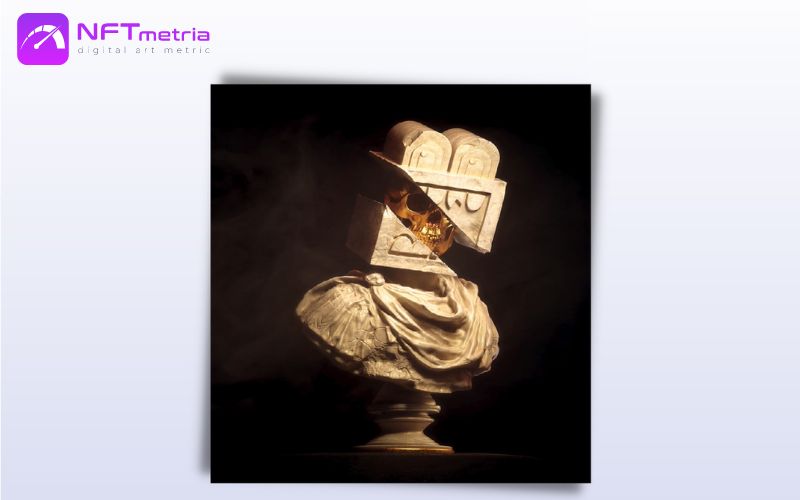 Mad Can (3D) NFT
On March 16, 2022, Greg Mike released the sequel to his beloved Mad Cans 3D series. In total, 200 editions were released, which were sold initially for $ 1. To date, the minimum price is $3450. And the volume of secondary sales exceeded 28k dollars.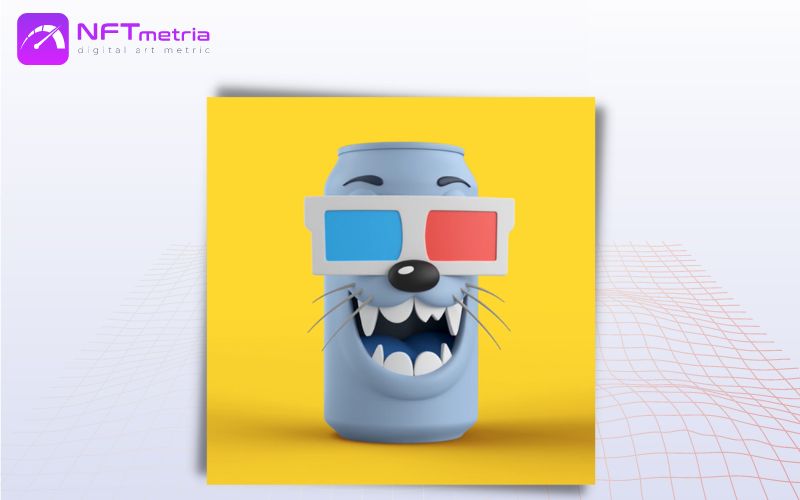 Where can you buy NFTs by Greg Mike?
Now NFTs are available only on the secondary market, namely on such marketplaces as Nifty Gateway, OpenSea. In addition, you can follow the future updates on the artist's Twitter.
Opinion of NFTMetria
To date, Greg Mike is one of the leading NFT artists. Now he plans to immerse the NFT world in surreal pop art and give people smiles. He is not going to stop in his own development, and this is confirmed by his own unique center ABV AGENCY + GALLERY. Such personalities form the trends and moods of the space, having an impact on their own audience. We can only watch the artist, invest in his art and wait for new surprises from Greg Mike.