The future definitely belongs to digital technologies and metaverses. Some still find it hard to believe, but meanwhile there are more and more new projects that are confidently making their way in this direction. One of these startups is RTFKT (pronounced "artifact"), which recently literally took over the NFT fashion industry thanks to its collaboration with the Nike brand.
Is the hype around this studio justified and what can it offer to members of its community? Our experts have carefully studied this platform and are ready to share their observations with you.
What is RTFKT Studio?
RTFKT is a London based startup founded by three friends Benoit Pagotto, Chris Le and Steven Vasilev. They managed to build one of the most dynamic and fastest growing NFT community in the world. At the moment, their Twitter account has nearly 400,000 followers, and they already have over a million loyal fans on TikTok. RTFKT uses the latest game engines, NFT technology, blockchain authentication and augmented reality (AR) techniques to create unique digital sneakers and artifacts.
The project will definitely be of interest to those who have been a "sneaker" and collected shoes from top brands such as Jordans, Yeezys, etc., as well as those who want to immerse themselves in the world of the metaverse and are looking for a suitable "springboard" for this.
RTFKT Official Links
Who are founders of RTFKT?
At the origins of RTFKT were three friends who founded the studio: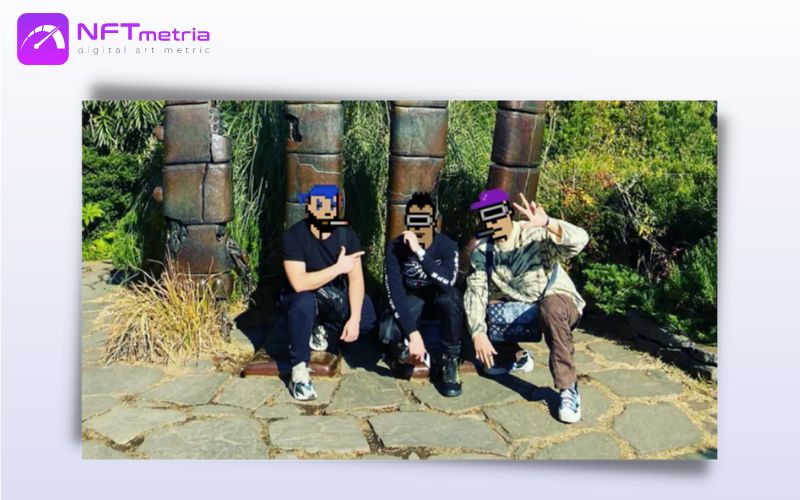 We do not have exact information about what the guys were doing before joining the NFT world. Unless you can say for sure that Benoit has a huge experience in building a strategy for the development of various brands and marketing. He has collaborated with major companies such as Gucci and Tommy Hilfiger, collaborating with other business giants such as Animal Crossing.
History of RTFKT
The RTFKT project was officially launched in January 2020. The team's big advantage was that they were able to develop a strong business relationship with Apex Legends @PlayApex, a free-to-play battle royale shooter game developed by Respawn Entertainment and published by Electronic Arts. Initially, the project focused on creating custom digital sneakers and cool AR filters, sharing it on Instagram and TikTok. A good boost for the popularity of RTFKT was the Cybersneaker drop.
CYBER SNEAKERS 👟
Price: ~33 $SAND
Quantity: 190
Rarity: Rare
Can be used as sneaker wearable by any avatar on SB
https://t.co/AIkQSj2LXY pic.twitter.com/L9SQ7Uwspp

— RTFKT (@RTFKT) March 14, 2022
This cool sneaker release even caught the attention of celebs like Elon Musk and Kanye West.
https://www.instagram.com/p/CCJmlTrpVk-/?utm_source=ig_embed&ig_rid=c3fe7c6f-362d-4c4b-b583-039494b7e9f3
Other landmark RTFKT projects include the following initiatives:
The PS5 shoes are an innovative digital product. With the help of augmented reality elements and Snapchat lenses, anyone could try on the digital PS5 sneakers before buying.
Our PS5 Sneaker is now live on @SuperRare_co
Our way of celebrating the launch of the #PlayStation5
Let the console wars begin ! 💎🌐🔥 #PS5 https://t.co/W1jLLgLyR3… pic.twitter.com/Vx6dNUHbEx

— RTFKT (@RTFKT) November 12, 2020
The X Evolutions are the world's first AI-powered digital running shoes. They were developed in real time and changed their appearance with each new offer.
The X Evolutions, the first Sneaker designed by AI 🤖🎨 a crazy project we've been working on with @mglhs_com dropping 19th of Nov on https://t.co/gkdxgLyyPC

pre-register now 🦾 pic.twitter.com/WnjHgULTif

— RTFKT (@RTFKT) November 5, 2020
The Meta Jacket is a versatile NFT accessory that can be worn across multiple metaverses – Decentraland, The Sandbox and Ready Player Me.
Try the Future, enjoy the glitches 👾
Meta Jacket AR are live 🔮https://t.co/1oF1nuS4nH pic.twitter.com/h9GcAwP2kp

— RTFKT (@RTFKT) July 2, 2021
Acquisition of RTFKT by Nike
Gradually, the RTFKT studio gained momentum in popularity and began to stand out from its competitors. The three friends were doing so well that Nike Inc. took notice of their project and decided to acquire the studio in December 2021.
RTFKT is now a part of the NIKE, Inc. family. 🌐👁‍🗨 pic.twitter.com/5egNk9d8wA

— RTFKT (@RTFKT) December 13, 2021
The news made a splash in the NFT community as it was Nike's first big step into the metaverse. These two brands were expected to take the lead in the digital sneaker market.
According to Nike CEO John Donahoe, the collaboration with RTFKT will help the company accelerate the brand's digital transformation and provide athletes with products at the intersection of fashion, sports, art and technology. Donahoe also shared his plans for the future, saying that Nike plans to invest in the development of the studio and expand the brand's influence in the digital space.
RTFKT projects
RTFKT is now the focus of attention of the biggest authorities in the NFT industry. This allows the creators of the innovative project to hope for further success. Here are some of RTFKT's stellar collaborations and sub-collections.
RTFKT x CryptoPunks Sneaker Drop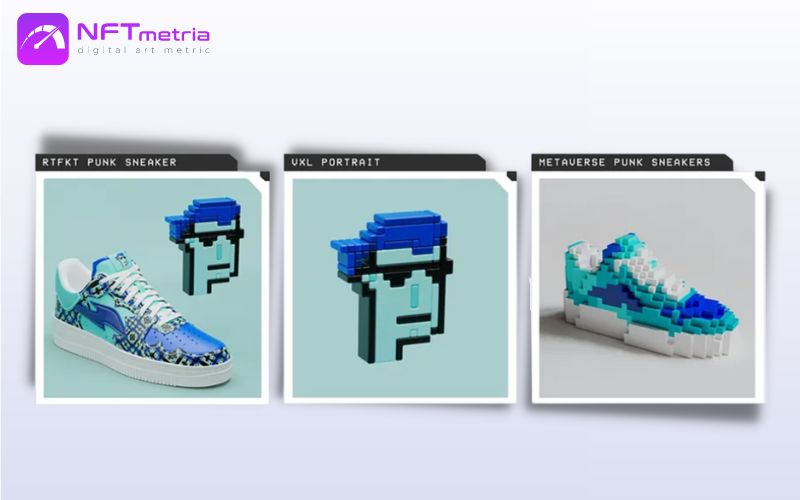 RTFKT partnered with Larva Labs, creators of CryptoPunks, in May 2021. This event stunned the NFT community and skyrocketed the price of CryptoPunks. To get unique digital sneakers, one had to own at least one CryptoPunk.
Each CryptoPunk owner got access to:
NFT 1/1 Punk Sneaker,
Forging 1 Complementary Physical sneaker,
1/1 voxel portrait,
Metaverse Wearable voxel files.
Thus, users received NFTs of running shoes, physical running shoes, and running shoes for their characters in the metaverse.
RTFKT x Jeff Staple
Jeff Staple's name began in the early 2000s when he partnered with Nike to create the iconic Staple x Nike SB Dunk "Pigeon" shoe (now valued in the tens of thousands of dollars). Then there was a period of calm, and in 2021 RTFKT representatives approached Jeff Staple with a proposal for cooperation. This is how Staple made its name in the history of digital sneakers. The collaborative drop was named Meta-Pigeon.
Doing a post drop clubhouse with @jeffstaple + @farokhgoodlife

Join in 🚀https://t.co/g1KG790anu

— RTFKT (@RTFKT) May 6, 2021
The RTFKT x Jeff Staple NFT collection had excellent sales dynamics. There was a time when tokens from this set were sold at a price of more than 20 ETH. Now the floor price is 0.269 ETH, and the trading volume has already exceeded 4k ETH.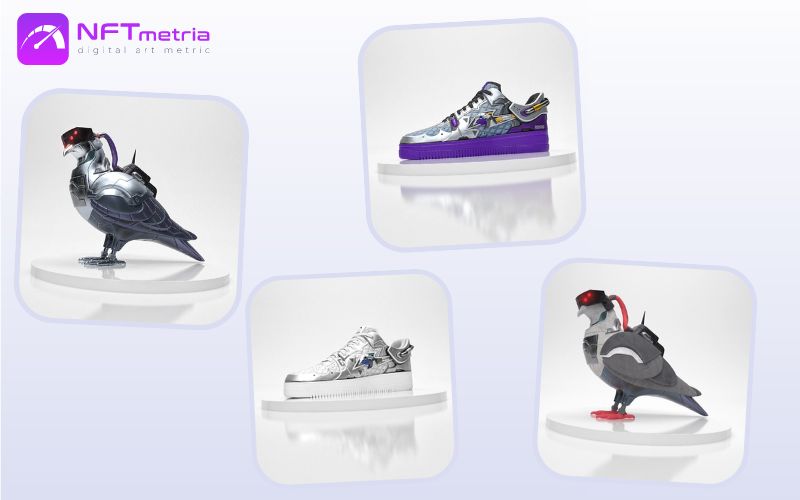 Clone X – X Takashi Murakami
At the end of 2021, RTFKT initiated the release of the Clone X collection with the participation of the famous Japanese artist Takashi Murakami. This is perhaps the most valuable NFT subproject released by RTFKT. Some even consider owning a Clone X to be equivalent to owning the Bored Ape Yacht Club or Azuki. Owning such a collectible is a dream come true for most people in the NFT space.
Clone X is a collection of 20,000 NFTs belonging to the PFP category. These are clone avatars that can be used in the metaverse. The presale price was set at 0.05 ETH ($132). As of today, the floor price is at the level of 3.05 ETH, and the total volume of sales has exceeded 390k ETH.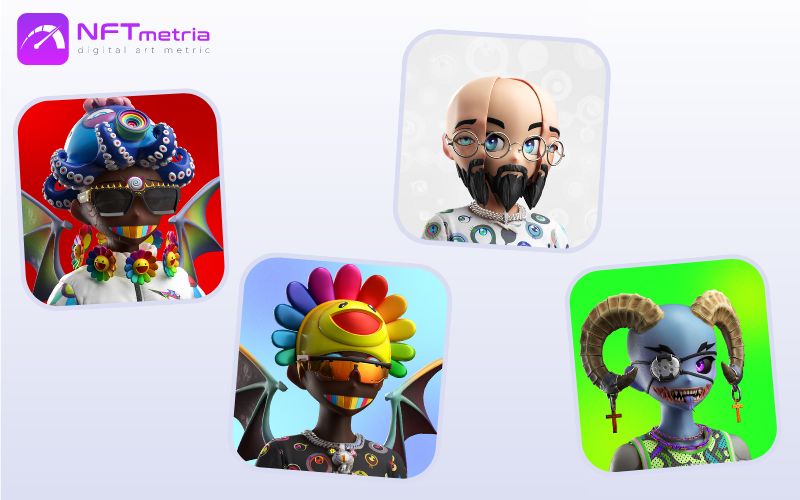 The following gifts have been prepared for Clone X holders:
Space Pods which are RTFKT's first step towards conquering the metaverse. The airdrop took place on December 25, 2021. These NFTs are Oncyber-powered virtual spaces where users can show off their NFTs and hang out with friends.
Pods 🏡
Space Pods have been done as our first little step in the Metaverse : personal, relatable, space apartments.
All our next NFTs will have integrated 3D files to display in your pods.

This is the start of something much bigger and we aren't be the only ones building👷‍♂️🛠

— RTFKT (@RTFKT) February 3, 2022
Loot Pods are standalone pods from RTFKT. Even if users don't have Space Pods, they can use Loot Pods as a separate room. The airdrop took place on February 6, 2022.
Loot Pods work as standalone NFT too btw.
Even if you dont have a space pod you can use it as a solo room, or you can connect it to your space pod.
🌐💎 pic.twitter.com/i3IrQ56K0F

— RTFKT (@RTFKT) February 6, 2022
Pod Creator Challenge. Clone X holders could take part in the challenge by creating 3D designs of their Loot Pods. The winners were given the opportunity to mint collectible items of their choice in the form of RTFKT Creator Collection NFTs and share the proceeds from NFTs sold.
CREATOR CHALLENGE 🛠️
The Pod creator challenge is now live. ❇️

Follow @RTFKTcreators for challenge updates 🚨

We're leading a creative revolution, together. ⚔️ pic.twitter.com/uki29ulSyA

— RTFKT (@RTFKT) March 7, 2022
MNLTH
In early February 2022, the studio released MNLTH (pronounced "monolith") NFTs that were airdropped to Clone X holders.
ENTER THE MNLTH,
a RTFKT x NIKE Cryptokicks experience is now live.
You can now finally OPEN your MNLTH and get ready for the Future 🌐⚔️https://t.co/MSkgnus3gB

We'll go into detail about each Artefact you'll unlock in the MNLTH in the next tweet thread

— RTFKT (@RTFKT) April 22, 2022
This led to a significant increase in the price of Clone X, which reached 30 ETH ($80,000 at the then exchange rate). MNLTHs provided an immersive experience: they were made in the form of digital floating metal boxes. MNLTH holders, having opened their tokens, discovered three types of additional NFTs:
RTFKT x Nike Genesis Dunk Cryptokicks,
Skin Vial EVO X,
MNLTH 2.
Now the floor price of the collection is 0.1995 ETH, and the total trading volume has exceeded 1.1k ETH.
RTFKT x FEWOCiOUS
RTFKT has collaborated with Las Vegas digital artist Victor Langlois, who goes by the pseudonym FEWOCiOUS. The collaboration resulted in a separate collection, the drop of which took place on the Nifty Gateway platform. The "gift set" included physical sneakers made with a striking design.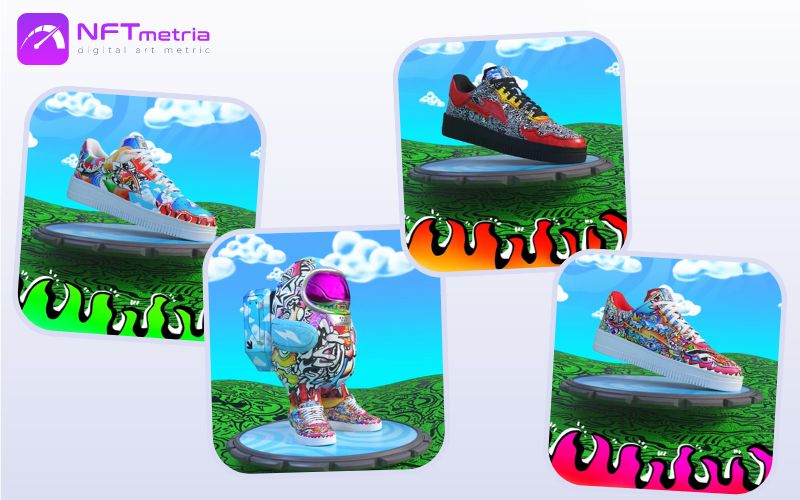 To date, the minimum price for items from this collection is 0.678 ETH, which is very low compared to last summer, when they were sold at an average of 16 ETH ($41,966). The total trading volume reaches 4,918 ETH.
Ledger x RTFKT
At the end of February 2023, a new collaboration with Ledger became known, which is a collaboration of two industry giants. As a result, the market saw a joint educational program Ledger Quest and a joint NFT collection, whose digital assets can be exchanged for real Ledger branded hardware wallets.
[ Ledger ] Market – RTFKT Nano X
[ Ledger ] Market – RTFKT Nano S Plus
[ Ledger ] Market – RTFKT Nano X Vial pic.twitter.com/gU02qNIIrw

— RTFKT (@RTFKT) February 24, 2023
RTFKT perspectives
On June 29, 2022, RTFKT representatives released an updated roadmap. However, it could hardly be called a roadmap in the usual sense of the word, since each milestone in it is represented by two emoji. Thus, representatives of the project prefer to keep the intrigue, and it must be said that such tactics are sometimes successful.
🛣🗺 2022

🌐👨🏻‍⚖️🔓 : 4th of July #clonesunlocked
🕊✔
⚗️✨
⚒️🧬
🗿🧩
👁‍🗨👁‍🗨
🔥🚀
✈️👾
👁‍🗨👁‍🗨
🧪🧬
🌃🌐
🦋👁‍🗨
⚙️👁‍🗨
👁‍🗨👁‍🗨
👤🖥
⚒️👟
🧬📈
📍👥
🌸👁‍🗨

— RTFKT (@RTFKT) June 29, 2022
A lot of talk in the NFT community has been and is ongoing about the future appearance of the $Drip token, which was hinted at by the creators of the project. What functions will it perform? What real benefit will bring the owners? So far, the answers to these questions remain at the level of conjectures and rumors.
Step 2: $drip

Since the mint of clones, there were rumors about a token drop called $drip

Both holders and @RTFKT can profit from this drop$drip can be used as the currency to buy forgeable assets and more…

(9/13)

— AiKo (@0xaiko) April 8, 2023
Only the following is known for certain:
The focus of RTFKT will remain NFT avatars and measures to further conquer the metaverse.
The studio is fully supported by Nike and has access to its marketing tools.
Members of the RTFKT community can expect to benefit from new collaborations.
Opinion of NFTmetria
The track record of the RTFTK studio is impressive. Its founders have shown that they have a sufficient level of knowledge, skills and business acumen to take their rightful place in the space.
Crafting art designs and characters that stand out from most projects in the NFT space, and bringing a real sense of utility to digital avatars has earned RTFKT the fame it deserves. The dedicated community sincerely believes that the Clone X collection alone can easily catch up with, and perhaps even bypass, NFT bison such as BAYC and CryptoPunks in popularity. And even despite the illusory nature of the project plans, there is no doubt that the team is preparing many more pleasant surprises for its fans.