If we talk about high-profile and famous personalities in the NFT photography industry, then it is worth starting, of course, with Justin Aversano. He is an art and photography innovator, capturing the charm of life through portrait photography. Today, thanks to his work, Justin has gained wide popularity and caused a stir among critics and art historians.
His work combines elements of street photography with the intimacy of an artistic portrait. This combination is most clearly represented in his Twin Flames collection. This is a unique project that presented to the whole world portraits of 100 pairs of twins from around the world. "Twin Flames" managed to break auction records and contributed to the growth of the NFT photography community.
Who is Justin Aversano?
Justin Aversano is a famous, creative and multidisciplinary personality, and here are his main roles:
American photographer,
NFT artist,
co-founder and CEO of Quantum Art, a platform focused on curating digital culture through NFTs,
co-founder and creative director of SaveArtSpace, a non-profit organization dedicated to distributing digital community art in public spaces.
Influencer and bright, influential member of the NFT industry.
The artist was born in 1992 in New York. Currently resides in Los Angeles. He has become widely known for his activities in the field of digital art. He positions himself as a humanist and social entrepreneur. In his art, he conveys special moments, faces and emotions through the prism of a camera lens.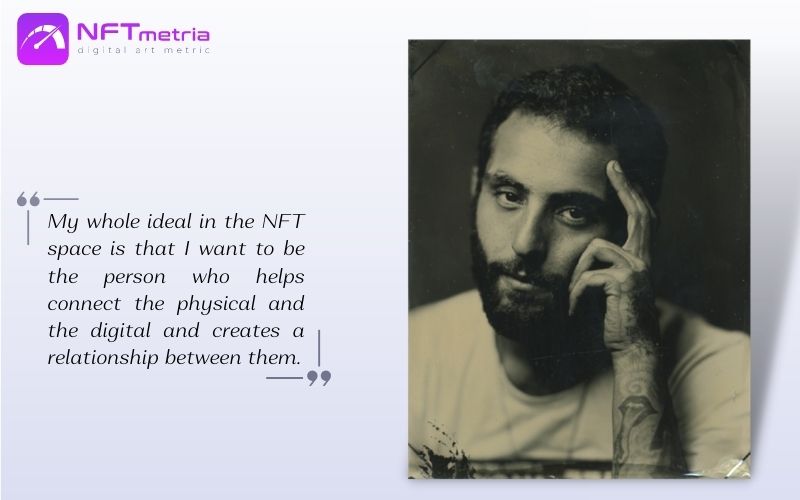 In 2021, during the NFT boom, the artist rose to global prominence with the successful Twin Flames project. And one of the photographs, #83, sold at Christie's for $1.1 million, earning Justin Aversano the title of the first NFT photographer ever sold by the auction house.
Justin Aversano Official Links
The creative path of Justin Aversano: from portraits to NFTs
From 2010 to 2014, Justin studied at the Visual Arts School, School of Fine Arts (New York), under the BFA Photography program. According to the artist, this allowed him to freely communicate with professionals in the art world and gain the opportunity to use all creative tools. At the same time, he could devote himself to the study of philosophy and the humanities, so necessary for establishing the basic concepts of his style.
On September 22, 2012, Aversano launched the Every Day Is A Gift – The Birthday Project, in which every day, 365 days, he photographed people celebrating their birthday with a camera.
Aversano's first participation in a group exhibition dates back to 2015, when his work was published in The Living Gallery in Brooklyn.
And in 2019, his first own exhibition was held – the event took place in a gallery called "The Storefront Project", located in the Lower East Side, New York. By that time, he already had extensive experience in this field and set himself increasingly global goals.
Justin Aversano in the NFT world
In 2017, his most popular experimental project Twin Flames started. The collection consisted of 100 photographs of twins from all over the world, including Peru, New York, California, London and other cities. The reason for creating such a series was the death of the twin brother of the artist himself. These images were not originally intended to be NFTs, and the artist even held several exhibitions throughout 2019.
In early 2021, Justin Aversano contacted renowned collector and investor Gmoney and others involved in the CryptoPunks.Then he wanted to sell them his physical collection of twins. But he was dissuaded from this, explaining that it is possible to digitize all the paintings on the blockchain. So, thanks to personal contacts and the openness of the nascent community, the artist successfully debuted on OpenSea with this collection, the secondary sales of which today exceeded 5.6K ETH. And it was "Twin Flames" that became the hallmark of Justin Aversano.
The future of NFTs for photographers is to return power to creators. Approves the artist
In May 2021, he decided to pay tribute to the CryptoPunks community that supported him at the very start, and purchased CryptoPunk 2961 for $43k.
Today is the best day of my life! Thank you to everyone who is on this creative journey with me. https://t.co/W694vcB0la

— justinaversano (@justinaversano) May 25, 2021
Then he became a co-founder and creative director of SaveArtSpace. The company strives to advertise as much as possible about art through public places, billboards. So, in April 2021, with the collaboration of GMoney and Justin Aversano, CryptoPunks billboards appeared in Miami, New York and London. And it has become one of the most notable events in raising awareness of the project.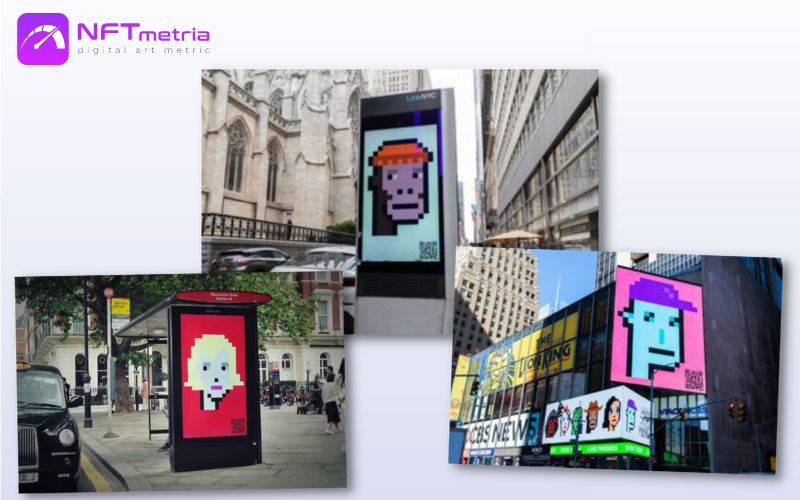 In autumn 2021, the artist co-founded the Quantum Art platform with Kris Graves, Alexx Shadow, and Jonas Lamis. It focuses on curating digital culture through NFTs. In February 2022, the platform raised $7.5 million in funding led by True Ventures through partner and renowned NFT enthusiast Kevin Rose.
In the summer of 2022, Justin Aversano opened the NFT Physical Gallery in Los Angeles, where artists can showcase their digital work in real-life settings. During the opening, he also has his new collection of photographs of twins "Doppelgänger", which is a logical continuation of the famous project.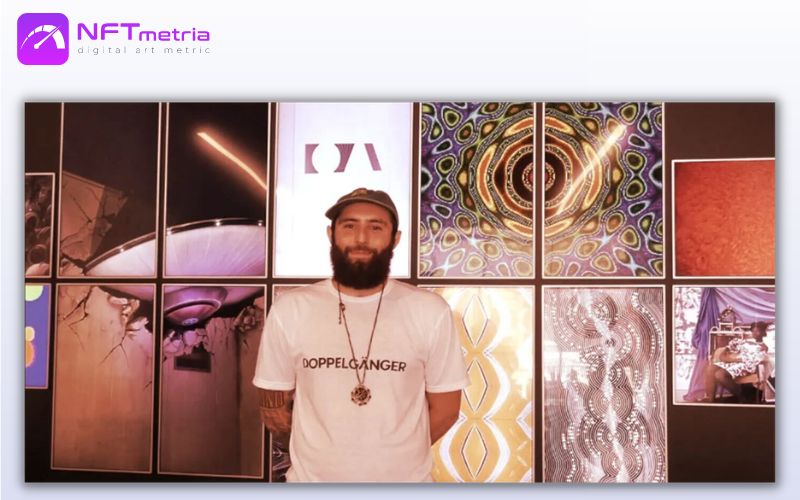 In August 2022, the artist presented a new large-scale project Cognition. It took a whole year to create it – from May 2014 to 2015. After the death of his mother, Justin Aversano looked for an implementation in something more global, and thus the Cognition project was born.
The work I want to do now is related to spirituality and the environment. I don't want to contribute to climate change, everything has to be aligned with my values, so the Cognition series is in many ways an extension of my exploration of these topics. The artist meditates
Features of NFT artwork by Justin Aversano
From an artistic point of view, Aversano is known for photographing people in normal natural light. His images are alive, and the situations are natural, sometimes as if accidentally "peeped".
I view my work, in fact, as totems of death. Art for me is the use of creativity as a healing totem that turns death into beauty. Justin Aversano said
His style can be clearly seen in the exhibition "Twin Flames": the collection presented a striking style of photographs, poems and Polaroids, shown through large full-color reproductions. The stories of 100 pairs of twins made it possible to plunge into an exciting journey that expands the boundaries of consciousness, based on social studies, beauty, tragedy and comedy, duality.
The work I create is about humanity, documenting truth and self-expression. Portrait photography is my favorite form of photography because I love people. This is how the artist describes his work
The most famous NFTs by Justin Aversano
In 2021-2022, Justin Aversano managed to release 5 thematic collections, each of which is based on photographs, the author's philosophy through the prism of his own emotions and experiences. In total, his projects have generated revenues of more than $10 million. And this figure continues to grow due to the royalties that the artist receives from each secondary resale.
Twin Flames NFT Collection
Twin Flames on the crypto scene is the most famous and expensive collection of photographs. Justin took 100 pictures of twins around the world between May 2017 and July 2018. The project aims to create a set of works dedicated to "multiple births and the phenomenon of twins." He took such a step, trying to find peace after the death of his twin.
As a result, in 2021, on Valentine's Day, the collection was released and gained crazy popularity. Among the owners of these tokens, you can meet well-known industry influencers and collectors: Gary Vee, StevesChest, 6529, VincentVanDough, Shaatchi, DCinvestor, Gmoney. Almost all of them are members of the CryptoPunk community.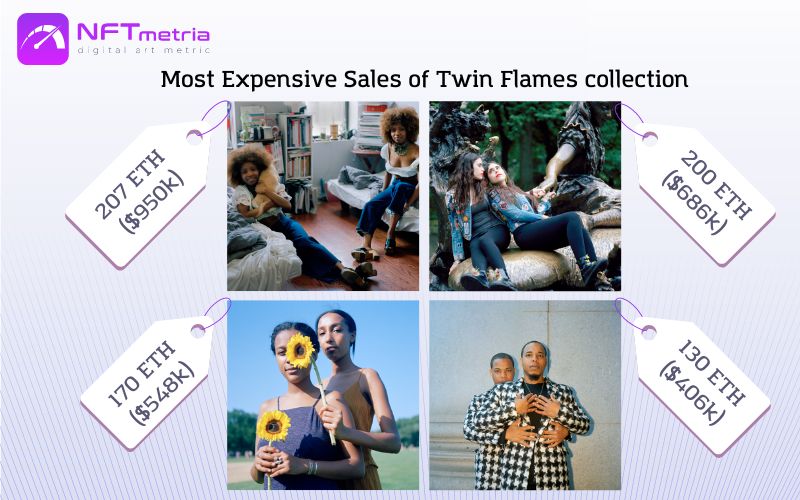 A little in numbers about Twin Flames today:
The project was launched in February 2021,
100 photographs were put up for primary sale at 0.55 ETH each,
The total volume of secondary sales exceeded 5.6k ETH (more than 8 million dollars),
Floor price is crazy 169 ETH (about 225k dollars),
In October 2021, Twin Flames #83 Bahareh & Farzaneh Safarani, along with 100 16″ x 20″ physical photographs, sold at Christie's for $1,110,000. This sale was a record among all previously sold photos in the form of a non-fungible token. This work features two sisters holding a painting of their own silhouettes. Absolutely different in the picture (image, poses, mood), while in the photo the girls look almost identical.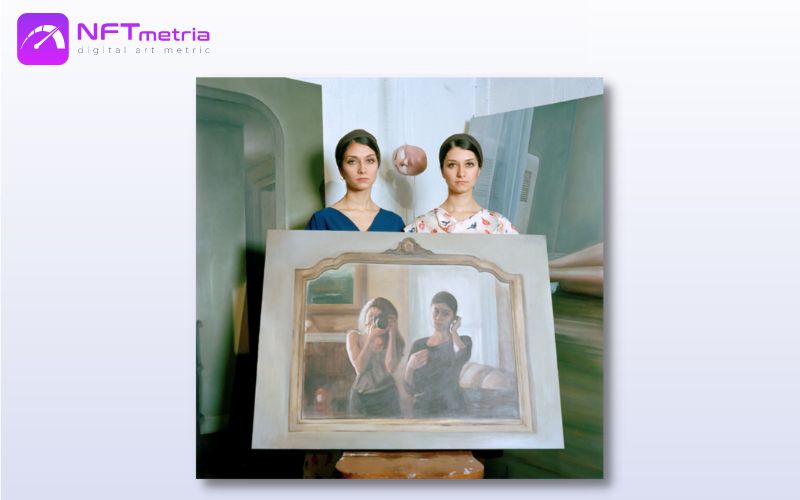 In June 2021, Twin Flames #49. Alyson and Courtney Aliano was sold at Sotheby's for $35,280. The artist donated this amount to the NFT community through the Sevens Foundation.
The bidding at @Sothebys has begun! As the community nominated lot, I will be donating 100% of my proceeds back to the community! To support more artists with NFT Nonprofit @SevensGrant by @illestrater_ https://t.co/I1npozhnDN

— justinaversano (@justinaversano) June 3, 2021
The photo itself shows a man holding his twin's death certificate, looking into a mirror. And this is the only image in the collection that only shows one twin.
Cognition NFT Collection
The idea for the Cognition project first came about when Aversano switched from photography to painting after his mother died of cancer. Then he decided to create one new work a day for a year. This daily practice proved fruitful for the artist, challenging his notions of the creative act and allowing him to experiment with collage and illustration.
And the inspiration was the ideas of free association, surrealism, dadaism and collage. The collection contains 364 paintings, each of which has been digitized as a 3D model and released as an NFT on the Ethereum blockchain. The works cost 1 ETH each, and were immediately sold out.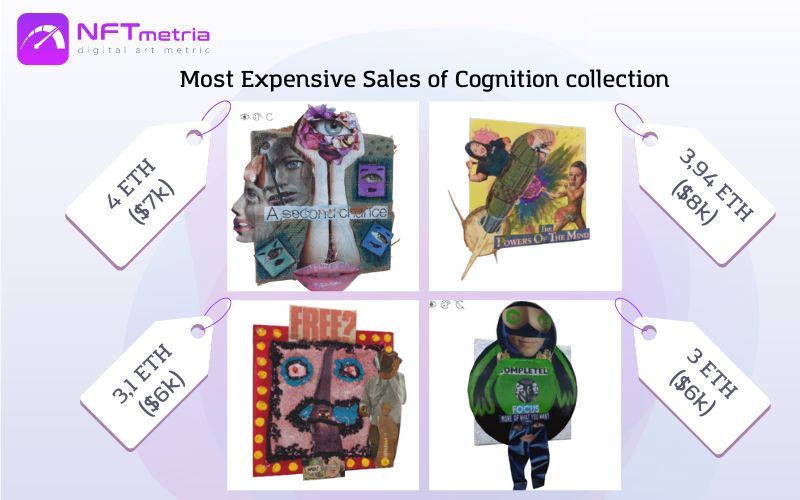 A few numbers about Cognition today:
The project was created in August 2022,
The total volume of secondary sales exceeded 260 ETH,
Floor price is 0.769 ETH,
The most expensive Cognition #239 sold for 4 ETH,
Average sales are in the range of 0.4-1 ETH.
Smoke and Mirrors NFT Collection
Since 2018, Justin Aversano has focused his energies on the mysterious "Smoke And Mirrors" collection. He photographed mystical personalities: psychics, mediums, astrologers and representatives of other similar professions from around the world. Each work represents a unique tarot card. Thus, the artist created a group of works dedicated to the existence of magic and mysticism, through an immersive portrait review and tarot divination.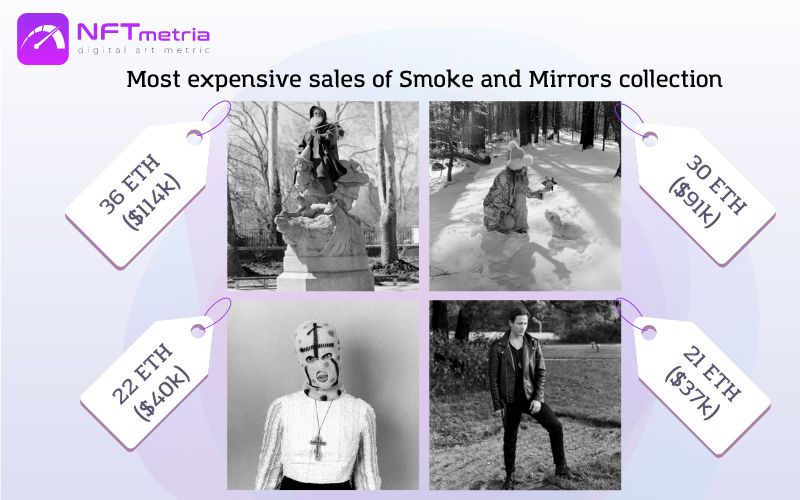 Some numbers about Smoke and Mirrors today:
A collection of 78 images released in February 2021,
The total volume of secondary sales exceeded 250 ETH,
Floor price is 17.4 ETH,
The most expensive Smoke and Mirrors #40. The Fool sold for 36 ETH.
Where can you buy NFTs by Justin Aversano?
Now the NFTs of the artist Justin Aversano are available only on the secondary market, namely on such marketplaces as OpenSea, Nifty Gateway. In addition, you can follow the artist's Twitter and Instagram for future updates.
Opinion of NFTMetria
As a progressive artist, photographer, CEO of Quantum Art, and co-founder of SaveArtSpace, Justin Aversano has made significant contributions to the world of NFTs and inspired many creators to push their limits. His enthusiasm and social studies make viewers think about the world around them in the context of life and death, the mysteries of spirituality and dualism.
His career growth analytics show that his work is a promising investment in NFT art. As an independent author, he is not going to stop there and sets himself ever greater goals.