Fans of Japanese Gachapons toys will appreciate the Capsule House collection represented by virtual Gachapons on blockchain. With the influx of Japanese culture around the world, including anime and manga, the NFT space is also being filled with collections dedicated to Japanese culture. One such project is Capsule House by renowned NFT artists Seerlight and Kaejunni, which aims primarily to create a community of fans of Japanese culture.
Capsule House Official Links
What is Capsule House?
Capsule House is a collection of 10,000 NFTs of ERC-721 token standard on the Ethereum blockchain. It is a version of the popular Gachapons capsule toys, characters from popular Japanese cartoons, games and manga.
Capsule House serves as a welcoming space for creative people and artists. The exciting stories take community members into another world of digital art that is filled with love and life.
At the same time, the tales of the world of Capsule House, which is a bright part of the project, plunge the user into the world of Gachapons, where pleasant music plays, and all four types of characters interact with each other, captivating fans of Japanese culture with their adventures.
The Japanese project collaborates with such collections as:
Tubby Cats,
Secret Garden,
Divine Anarchy.
Capsule House received a special boost from its collaboration with 0N1 Force which has more than 62,000 ETH in secondary sales. Besides, the project aims to create a full-scale metaverse with narratives, additional collections and more.
Capsule House in numbers
A collection of 1000 tokens was released on September 28, 2021 with the help of a public mint with a mint price of 0.08 ETH.
The total volume of secondary sales exceeded 25k ETH (over $42 million at the current exchange rate).
Floor price is 0.1 ETH (about $160).
Average sales range from 0.09 ETH to 0.15 ETH.
The most expensive 03371 was sold on January 29, 2022 for 50 ETH ($107k at the time of sale).
A total of 3,734 unique holders (37%).
Only about 3% of the collection (266 pieces out of 10,000) are for sale, among them the offers range from 0.09 ETH to 4 ETH. This shows that almost all holders see the project as a great investment prospect and are not in a hurry to part with their assets at a lower price.
Data (including exchange rates) are given at the time of publication (March 2, 2023)
Capsule House types and attributes
There are 4 types of characters in the collection:
Yokai (1,290 pieces) are the rarest and most powerful characters. They can move from the spirit world to the material one.
Demihumans (3,040 pieces) are hybrid species. They are half-humans. They live on the edge of civilization and prefer cities to nature.
Humans (3,150 pieces) are the weakest characters, but they make up for it with knowledge, building entire civilizations and pushing progress forward.
Posthumans (2,520 pieces) are the strongest, most mysterious, formidable and intelligent characters, and they can surpass Yokai in strength. They have advanced technology and wield black magic. This species appeared later than the others thanks to a derivative collection of Zodiac Capsules.
Who created Capsule House?
The creators of the Capsule House project are:
Seerlight is a famous NFT artist. He's included in the top 10 best artists on SuperRare. In 2022, one of his NFTs was sold for 150 ETH. He also had a hand in the Secret Garden project.
Kaejunni @Kaejunni is an NFT artist based in Singapore, and you can also see his work on SuperRare.
Oksami @itsoksami is an experienced developer and music producer. He has a musical education and is the lead developer of Secret Garden.
Why is Capsule House popular?
The popularity of the project was influenced by some aspects and reference points of the collection itself.
As it happens in case of such projects, they are popular thanks to fans of Japanese culture, and above all anime and manga. The collection combines these genres of comics.
The collection also includes Japanese Gachapons toys, which are popular among the Japanese and fans of Japanese culture.
The goal of the project was to create a strong community. And it has succeeded. It is a community that is built around the treasury. Capsule House owners can submit their ideas within the community on the Discord server, and then all community members vote for that idea.
Well-known artists in the NFT space, Seerlight and Kaejunni, worked on the collection, and their work on SuperRare is highly appreciated by collectors.
The project implements an element of storytelling through The Tale of the Kitsune, in which the protagonist Nami the Kitsune travels from her home world of spirits to the industrial city of Nyon, full of fears and deceptions.
The collaboration with one of the most successful collections, 0N1 Force, gave the project a new round of popularity and attention from the market, and attracted new members of the community.
The announcement of a new roadmap for 2023 that focuses on the real possibilities of the project, primarily the release of the anime trailer and the creation of a three-dimensional world.
Capsule House Idea
The main goal of the project is to create a community of Capsule House NFT holders who get access to events, art installations and exclusive offers on various products.
The team creates carefully crafted and compelling stories that take the NFT owner into a world that is both universal and nostalgic.
Moreover, Capsule House is a creative studio of exceptional art and music, a welcoming place for artists, fans, and collectors alike. Owners can gain valuable benefits and access to the cultural community of the NFT space, as well as to that in real life.
Capsule House Roadmap
The roadmap on the official website features 3 seasons for 2022:
Summer season
Launch of the main collection with 3 types of characters;
Holding NYC Capsule House Party;
Development of the Capsuleverse portal;
Creation of kitsune fairy tales;
Development of Fight Night;
Development of Secret Garden Cross Pollination.
Fall season
Creation of a Capsule House;
Development and creation of additional collections.
Beyond
Creation of a community code;
Holding Secret Garden x Capsule House in the future;
Making partnerships with brands;
Launch of the gallery.
We're excited to present the next Chapter of Capsule House. pic.twitter.com/nvs2lHeO6A

— CAPSULE HOUSE ✨💊✨ (@capsule_house) May 1, 2022
It is worth noting that not all points of the roadmap are fully implemented, as the project will not be able to follow the traditional path that was originally laid down.
After the release of this roadmap, the project has changed the direction of its path, choosing a more sustainable path of art development.
For Q1 of 2023, the project roadmap is as follows:
Creation of Capsuleverse, a special three-dimensional world;
Capsule House Code website;
Creation of the remaining bouquets for each Secret Garden;
Anime trailer release.
Capsule House Ecosystem
The project's ecosystem includes the following:
an additional collection of Zodiac Capsules characters,
Capsule Community Curated collection,
Secret Garden Gallery, home to all the characters and a musical experience dedicated to the art of the visionary.
Zodiac Capsules
The Zodiac Capsules collection is an addition to the main collection with free minting for Capsule House owners.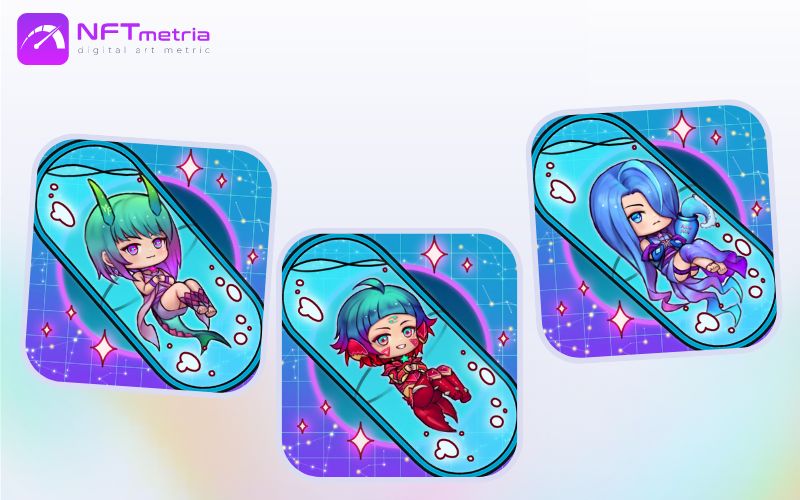 Briefly about the project:
Total 9,452 tokens,
The volume of secondary sales exceeded 4.9k ETH,
Floor price is 0.04 ETH.
Capsule Community Curated Collection
Capsule House Community Curated allows owners access to the work of amazingly talented, often underappreciated artists.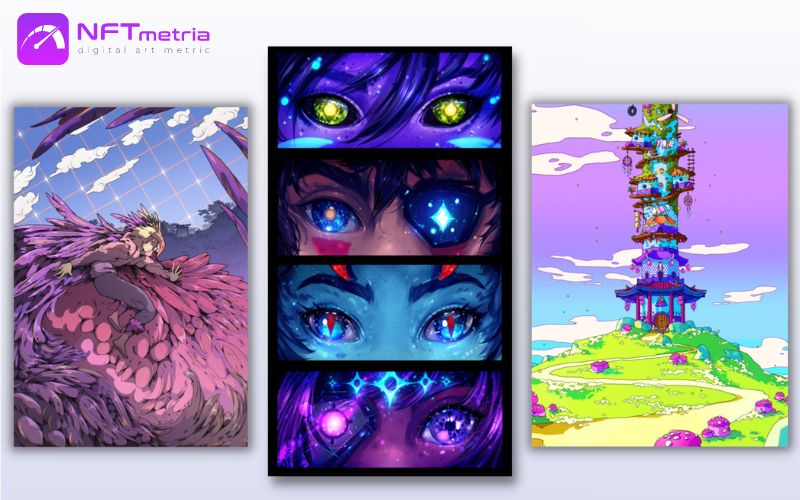 Briefly about the project:
11 unique works,
Total 2,869 tokens,
The volume of secondary sales exceeded 12 ETH,
Floor price is 0.008 ETH.
Capsule House Gallery
Capsule House Gallery can be accessed through the collection's official website. It was created to view all NFTs with multiple filters:
Rarity,
View,
Artist,
Animated,
Dimension and so on.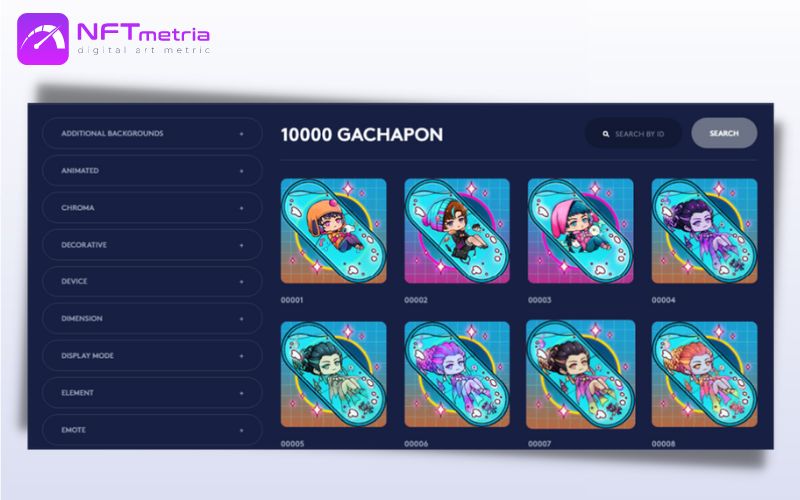 The gallery also includes a leaderboard where each owner can see where he or she ranks among all Capsule House collectors.
Secret Garden
Secret Garden is a virtual platform with music dedicated to the Capsule House collection. It is also traditional music for Gachapons.
And the music layer is Cross Pollination, a music track specifically for owners of Yokai characters. The platform acts as a simple and straightforward means of creating music without special tools through Web 3.0 technology.
How much does Capsule House cost?
A collection of 10,000 tokens was released on September 28, 2021 with the help of a public mint with a mint price of 0.08 ETH. How has the project developed since then?
To visualize the price dynamics, we made a slice of the average price for 1 NFT:
in January 2022: 2.8 ETH,
in April 2022: 1.1 ETH,
in October 2022: 0.2 ETH,
in December 2022: 0.15 ETH.
Now (March 2, 2023) the minimum price is 0.1 ETH. On average, the latest sales range from 0.09 to 0.15 ETH. And the total volume of secondary sales amounted to more than 25k ETH (about $42 million).
The Most Expensive Capsule House Sales
The most expensive sales are led by the following NFTs from the Capsule House collection:
03371 was sold on January 29, 2022 for 50 ETH ($107k at the time of sale),
08837 was sold on March 31, 2022 for 30.32 ETH ($99k at the time of sale),
03187 was sold on October 31, 2021 for 30 ETH ($129k at the time of sale),
06403 was sold on January 24, 2022 for 25 ETH ($61k at the time of sale).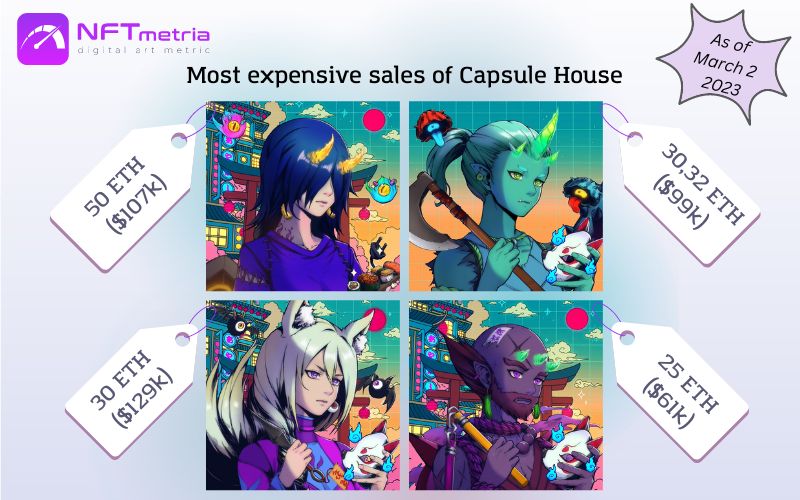 Where to buy Capsule House?
Currently, Capsule House is only available on the secondary market, on marketplaces such as OpenSea, X2Y2 and LooksRare.
How to buy Capsule House?
Remember that initially you need to connect your crypto wallet with self-storage to the marketplace of your choice.
Next, find the official collection using the search bar on the marketplace.
Analyze and choose the NFT you want to buy; click on it and then on the "Buy" button.
Or you can bet on the token you like. Make sure you leave enough ETH for gas or transaction fees. If the seller approves your bid, the deal goes through.
Should you invest in Capsule House?
There are several reasons why you might feel positive about this collection:
Detailed and well-drawn characters in the style of Japanese culture, which is popular in the NFT space lately.
Floor price is higher than NFT minting price after almost two years.
Powerful community that is built around the teasury;
Collaborations with such NFT collections as 0N1 Force, Tubby Cats, Secret Garden, and Divine Anarchy.
In any case, do your own in-depth analysis and research when investing in NFTs, and then make your own decision.
Opinion of NFTmetria
Capsule House is primarily a project for fans of Japanese culture. It is also in demand today, with its own community that can suggest ideas and also vote for one idea or another.
It's a case where well-known digital artists, after successful individual creative careers, come together to create a recognizable and stylized project, and unite their fans by communicating their vision through a larger project.