When 0N1 Force was first put up for sale on August 19, 2021, the price of one anime collection token was 0.07777 ETH (about $3,000). In less than 5 minutes, all 7,777 art objects were sold out.
According to OpenSea, the price of 0N1 Force increased by almost 10 times by the end of the month. In September, trading volume reached 50,000 ETH (approximately $58 million), and the number of members of the 0N1 Force community reached 20 thousand people.
Soon, Logan Paul (showman and YouTuber), Gary Vaynerchuk (guru of digital marketing), Bobby Kim (owner of The Hundreds streetwear brand), Steve Aoki (top DJ), TheNFTer (the largest marketplace for collectors of digital objects) joined the project.
Logan Paul purchased one of the tokens for 188 ETH (approximately $623,000). And Steve Aoki began to perform in an irl mask and demonstrate NFT from the screens of concert halls.
I am 0N1 KA1!! 🎼👺 my friends at @0N1Force are making me an honorary 0N1! let's gooo!! check it👇https://t.co/7FL8bqWrTb

if ur at my shows u may see my 0N1 KA1! 🥳 #0N1Force #A0K-1 pic.twitter.com/muF1EldhzU

— Steve Aoki (@steveaoki) August 31, 2021
Let's find out what is 0N1 Force NFT collection. Why did this art project cause such a furor and what does the future hold?
0N1 Force Official Links
What is 0N1 Force?
0N1 Force is a collection of 7,777 unique generative side-profile NFT characters. All of them are equipped with hand-drawn attributes.
These characters are bound together by a fascinating story. Until recently, they enjoyed poetry, music and painting in the Ethereal Enclave. But the death of the emperor and the ensuing chaos forced them to take up arms in order to revive the strength, style and spirit in their kingdom. In order to survive and defeat chaos, the inhabitants of the Ethereal Enclave need to unite, because they are divided into clans that differ in unique traits and rarity levels (common, uncommon, rare).
0N1 Force in numbers
A collection of 777 tokens was launched on August 19, 2021,
At the time of launch, the cost of a mint was 0.07777 ETH per piece, and the entire minting was completed in about 5 minutes, then everything was sold out in a flash,
The project is ranked 32nd among the best collections by sales volume of all time on the largest NFT marketplace OpenSea.
Total secondary sales exceeded 51k (over $80m at current exchange rates),
Floor price is 1 ETH (about $1.5k).
Average sales are in the range from 0.9 ETH to 1.3 ETH,
The most expensive K4M-1 #03 was sold on August 24, 2021 for 188 ETH ($624k at the time of sale),
Total 3,997 unique holders (51%),
Only about 7% of the collection (508 pieces out of 7,777) are for sale, among them the range of offers is from 1 ETH to 10 ETH. This shows that almost all holders see the project as a great investment prospect and are not in a hurry to part with their assets at a lower price.
Data (including exchange rates) are given at the time of publication of the article
0N1 Force types and attributes
All residents of Ethereal Enclave kingdom are divided into 4 clans:
Common clan Y0K-A1, which includes 5,278 Spirits. These are ordinary people of a harmless appearance, who love to dress provocatively and adorn themselves with bright garments;
Uncommon clan B4K3M0-N0, which includes 2,100 Monsters. These are representatives of the middle class who follow the fashion; they're adherents of advanced technologies, and have a rather ferocious appearance;
Rare clan 0N1, which includes 392 Demons. This is the elite of society. Their peculiarirties are stylish suits, Hannya masks and expensive signs of power.
Exclusive clan K4M-1, which includes 7 Gods. Unlike members of other clans, they look the other way and are equipped with stylish jackets and exquisite helmets. It is noteworthy that until the moment of minting the collection, the team kept the fact of the existence of this clan a secret.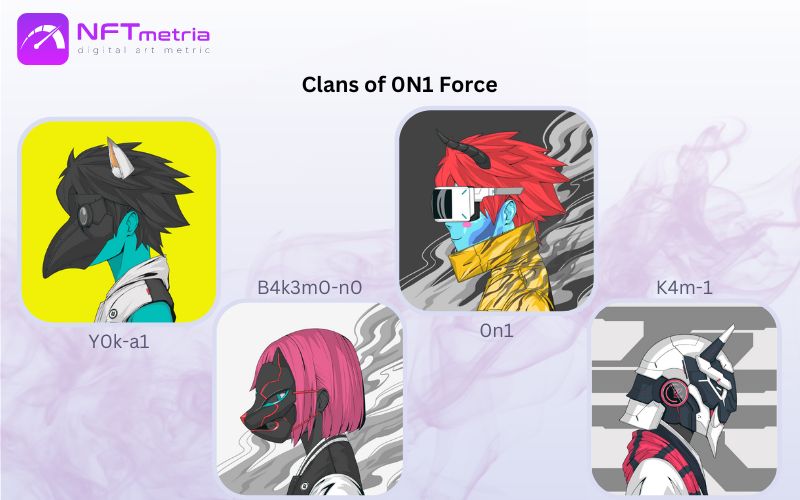 Each clan has its own rarities:
Clan Y0K-A1: Loop Earring, Cat Ears, Gasmask, Obsidian Kitsune;
Clan B4K3M0-N0: Fedora, 7 Earring, Rose;
The 0N1 clan: Canary, Haunted, Y0N1 Pin, Strawberry Pin, Gold Reflective Jacket.
The K4M-1 clan is the elite itself.
There are more than 100 attributes in the collection, from kimonos to hearing aids, from dreadlocks to bald heads. And they all impress with highly artistic and detailed design.
Who founded 0N1 Force?
The team behind the 0N1 Force project is quite numerous:
Before launching of the project, its creators did not know each other. They became friends thanks to the social network Clubhouse. Having found out that they are all fans of digital art, they decided to create their own NFT project. And a month later, 0N1 Force appeared.
0N1's unique art objects were brought to life by the imagination of pop art artist IMCMPLX, who was inspired by the work of his colleague Jamie Hewlett, creator of Gorillaz (the world's first virtual rap rock musicians). That's why some characters wear kitsune masks, tie their long hair into a knot on top of their head, or use headphones.
0N1 Force Idea
The 0N1 Force team sees its mission in developing next-generation cross-platform games. Only in such a game space can web3 be created. Only in co-creation that bridges storytelling and gaming, can 0N1VERSE be born.
The motto of 0N1 Force is "Strength, Style and Spirit":
strength of the project is in a strong community,
style is in bringing web3 closer to reality,
spirit is in the flight of fantasy.
The characters will only win if they build strength, style and spirit, being inspired by love and struggle, sun and moon, poetry and music, energy and creativity.
Why is the 0N1 Force popular?
The authors of 0N1 Force know that well-knit community is extremely important in Metaverse. The loyalty of NFT owners is supported by the significant contribution of the project founders:
Every month, 0N1 Force holds a giveaway, according to the results of which you can become the owner of valuable NFTs or merchandise goods from partners;
The ON1VERSE project focuses on creative individuals and maintains partnerships with world famous brands such as Paradigm Sports, Coinbase, Bassjackers;
Metaverse events are held every season to further unite members of the community, and their creative stories are regularly posted on Discord in the Daily Living section. Besides, in honor of the two Discord moderators, attributes such as a rose and a canary were added to the NFT.
Thanks to those measures 0N1 Force won the support of loyal community members, who can learn about current and upcoming events in 0N1VERSE from the official Discord channel.
0N1 Force Roadmap
The team of creators of 0N1 Force presented a list of changes to the project roadmap on the Medium platform in September 2021:
Looking for the best options for the digital universe, that would be safe and most profitable for NFT collectors.
The release of exclusive sweaters, t-shirts and other items of clothing that would highlight token holders. Model sketches are being developed by IMCMPLX, 0N1's in-house designer. The project team welcomes brands that share the values of the community and are ready to support them.
Role-playing game on the Discord platform. Community members can get a unique experience in the Discord game. Those who want to take part in this entertainment must agree to the rules of the game and get their roles. Gamified Discord channels will only be available to members with specific roles.
Creation of a digital comic. Artists Cromagnus and Josh Blaylock are working to bring to life 40,000 stories created by the imagination of the community. It is planned to create a special channel where members of the community will follow the process of creating a comic. Upon completion of this work, each NFT collector will receive a digital token that will allow him/her to become the owner of the 0N1 comic through an airdrop.
Development of the gaming economy. The currency of the M0N1 project designed on the 0N1 Force Discord server will allow all members of the community to participate in the gameplay. Depending on the category of currency, players will be provided with various options: buying items, placing bets, receiving rewards, or participating in NFT airdrops.
Press site. All articles and interviews related to the project should be stored in one place. Information sources can include news resources, personal blogs, social networks, YouTube videos, etc.
Calendar of events. Community members should be notified about upcoming events, meetings and game nights on Discord, so that they won't miss any important events.
Ecosystem 0N1 Force
The key goal of the 0N1VERSE metaverse ecosystem is to create real value for tokens as intellectual property. The owners of these NFT assets receive a commercial license to use them, as well as access to the following benefits:
joint on-chain game R1SE;
NFT tokens Nano Suits, which are unique nano-suits for heroes from the 0N1VERSE universe;
a land plot in the vastness of the metaverse in Ethereal Enclave kingdom.
0N1 Force marketplace
In September 2022, the team launched its own NFT marketplace. Based on the Origin protocol, this marketplace allows traders to save 1.25% for all trades compared to the OpenSea marketplace. In addition, token holders can trade profitably in the 10KTF online store located on the fictional planet New Tokyo and run by a fantasy character named Wagmi-san.
The marketplace has a great functionality. Users can search for the NFTs they need by Token ID. In addition, filters are provided for sorting tokens by price, rarity, type, etc.
0N1 Force shop
The 0N1 Force project also announced the launch of its own store to provide NFTs with stylish gear. In 2021, the first collection of pieces was released in partnership with the H4X brand, which included a baseball cap, t-shirt, hoodie, joggers, knit top and unisex reversible jacket. Currently, the project continues to work on the development of an online store, thanks to which each NFT will be able to get its own unique image.
0N1 FRAMES NFT collection
The 0N1VERSE ecosystem also includes the 0N1 FRAMES collection. This is a direct sequel to the original series. 0N1 FRAMES are specially selected for each of the 7,777 initial tokens.
0N1 FRAMES are transferable but not available for trading on the open market. This is because each of the 0N1 FRAMES is based on the ID of the original token. Thus, the right to own the character and its derivatives is preserved.
How much does 0N1 Force cost?
On August 19, 2021, a mint was worth 0.07777 ETH (about $3k at the time). Then all the tokens were sold out very quickly. Since then, sales have only grown.
To visualize the price dynamics, we made a cut at the average price for 1 NFT:
in October 2021 – 1.7 ETH,
in December 2021 – 0.9 ETH,
in March 2022 – 0.7 ETH,
in June 2022 – 0.3 ETH,
in September 2022 – 0.4 ETH,
in December 2022 – 0.6 ETH.
Now (February 2023) the minimum price is 1 ETH. On average, the latest sales are in the range of 0.9-1.3 ETH. And the total volume of secondary sales amounted to more than 51k ETH (about $80 million).
Most Expensive 0N1 Force Sales
The most expensive sales are led by the following NFTs from the 0N1 Force collection:
K4M-1 #03 sold on August 24, 2021 for 188 ETH ($624k at the time of sale).
0N1 #4650 sold on August 28, 2021 for 108.88 ETH ($353k at the time of sale).
0N1 #2856 sold on August 25, 2021 for 96.69 ETH ($306k at the time of sale). And it is owned by the world-famous DJ Steve Aoki.
0N1 #1132 sold on August 24, 2021 for 85 ETH ($269k at the time of sale).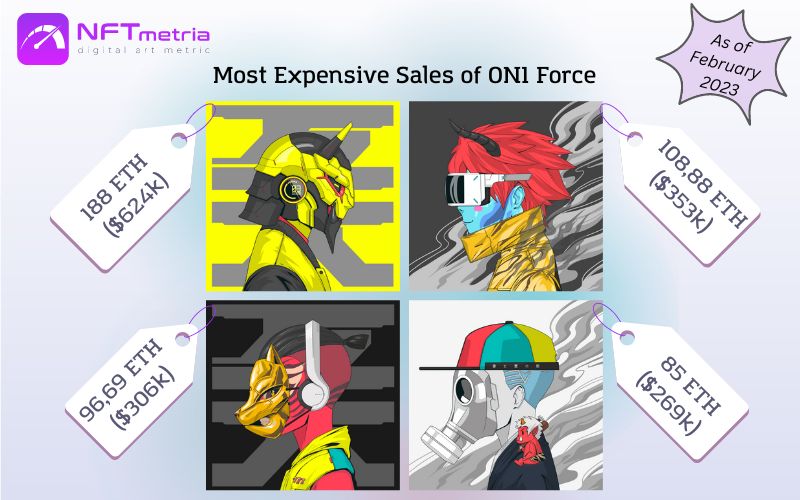 Where to buy 0N1 Force?
Currently, 0N1 Force can only be purchased on the secondary market. The project has its own marketplace; in addition, tokens are traded on such marketplaces as OpenSea, Rarible, CoinBase.
How to buy 0N1 Force?
Remember that initially you need to connect your crypto wallet with self-storage to the marketplace of your choice.
Next, find the official collection using the search bar on the marketplace.
Analyze and choose the NFT you want to buy; click on it and then on the "Buy" button.
Or you can bet on the token you like. Make sure you leave enough ETH for gas or transaction fees. If the seller approves your bid, the deal goes through.
Should you invest in 0N1 Force?
Enticing prospects open up before investors who are going to invest in the 0N1 Force project. They are as follows:
involvement in a rapidly developing digital universe with a strong community;
the opportunity to join the world of celebrities and become the owner of exclusive branded goods;
the right to profitable NFT trading on the marketplace of the project;
a chance to get a piece of land in the Metaverse.
But in any case, do your own in-depth analysis and research when investing in NFTs, and make your own decision.
Opinion of NFTMetria
From the very beginning, the 0N1 Force project intrigued the inhabitants of the crypto space with its legendary background. The story of fearless digital warriors who forgot clan differences for their own salvation won the hearts of many NFT fans.
NFT project also promises significant benefits for pragmatic crypto enthusiasts like regular NFT airdrops, merchande gifts, and joining the community, which is moving by leaps and bounds to the web3-metaverse. And these are just the most obvious perks. Therefore, NFT collectors are ready to pay tens and hundreds of ETH for the right to join this elite club.