For fans of futuristic space creativity, the leader in the field of 3D visualization Daz 3D, in honor of the International NFT Day on September 20, released the Spacebots project. These mysterious aliens are just beginning their story.
In this review, the NFTMetria team reveals the features, idea and investment attractiveness of the collection.
Spacebots Official Links
Spacebots NFT in numbers
Collection released on International NFT Day 20 September 2022 as a free mint.
A total of 9,888 NFTs distributed across 2.5K unique wallets. That is, on average, there are 4 tokens per wallet.
The entire collection is hand-drawn and has as many as 412 different features.
Total sales exceeded 33 ETH. Taking into account the free mint, this is a worthy indicator for a month and a half of the project's existence.
The most expensive NFT #4832 was sold for 0.397 ETH ($513 at the time of sale).
On average, trades are within 0.0001-0.0005 ETH.
Floor price is 0.0008 ETH.
Data (including exchange rates) are given at the time of publication of the article.
What are Spacebots NFT?
Spacebots is a new NFT collection from professional studio Daz 3D. It consists of 9888 space aliens, created on the basis of the Ethereum blockchain according to the ERC-721 standard and drawn by hand.
Spacebots have unique pastel graphics and many personal attributes. This became possible thanks to manual rendering without the use of generative algorithms.
Collection attributes
The entire collection is hand-drawn and has as many as 412 different features. And here are some of them:
background,
body armor,
brain,
eyes,
face,
mystical body,
masks,
spirit sign,
and many others.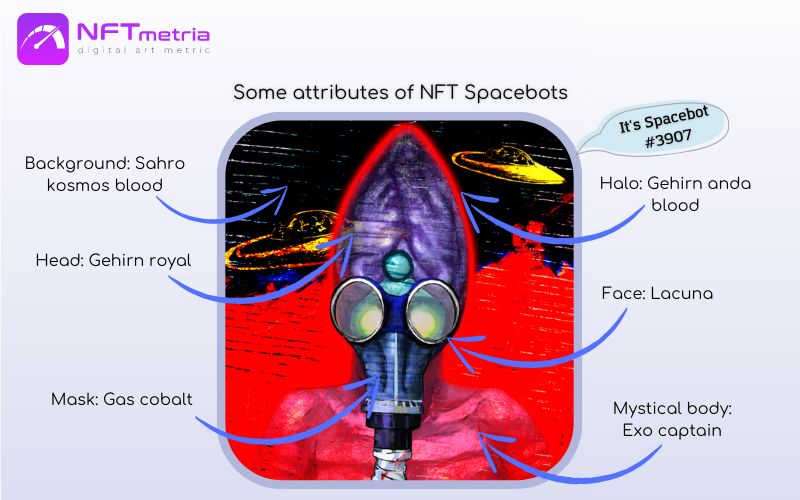 As such, each Spacebot is unique, with stellar features from mouth to brain, clothing to background, eyes to skin.
Who created Spacebots NFT?
The Spacebots NFT collection is co-created by acclaimed graphic design studio Daz 3D, artist Tory Bryant and creative strategist Ash Cooper Kerns.
Separately, it should be said about Tory Bryant. He is a digital artist who has blazed an already impressive professional path from fine art to 3D printing, film and design.
In her portfolio:
eight years of work at LAIKA animation, where he made a significant contribution to the production of frame-by-frame 3D animation,
Working at Nike Space Kitchen, which resulted in the Concept Air Jordan 3 RTNA collection with Tinker Hatfield,
Current job at Daz 3D as VP of Creative, which we all see in the company's new successful projects.
The idea of ​​the Spacebots NFT collection
Spacebots NFT by Daz 3D is an inclusive galaxy where every alien is different but not afraid to look strange. They came to our planet to find like-minded earthlings to jointly explore a galaxy where inclusion is the norm, not an anomaly. Only in this case, each member of the team will be able to understand their strength and pave a confident path to a happy future.
These amazing Spacebots have come to show us that every day is special. And if trouble happens and you are having a hard time, there is always a strong community that is ready to help.
How much do Spacebots cost?
Initially, the creators held a free mint of the entire collection on the CoinBase NFT trading platform in honor of the International NFT Day on September 20th. Owners only had to pay a transaction fee. Then the collection sold out very quickly.
Since then, trading has averaged between 0.0001-0.0005 ETH, and you can purchase Spacebots at a minimum price of 0.0008 ETH.
Most Expensive Spacebots Sales
#4832 sold for 0.397 ETH ($513 at the time of sale) on September 25, 2022,
#4690 sold for 0.3 ETH ($396 at the time) on September 21, 2022,
#5856 sold for 0.3 ETH ($373 at the time of sale) on September 21, 2022,
#7553 sold for 0.3 ETH ($396 at the time of sale) on September 21, 2022.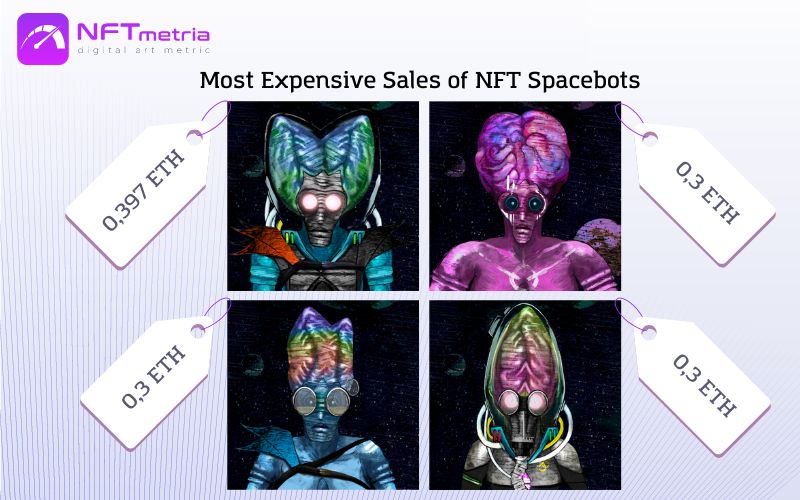 Where to buy Spacebots NFT?
You can buy Spacebots NFTs on the website of the official Daz 3D partner trading platform CoinBase NFT. In addition, sales go on the OpenSea and Rarible marketplaces.
How to buy Spacebots NFT?
Remember that initially you need to connect your crypto wallet with self-storage to the marketplace of your choice.
Next, find the official collection using the search bar on the marketplace,
Analyze and choose the NFT you want to buy; click on it and then on the "Buy" button.
Or you can bet on the token you like. Make sure you leave enough ETH for gas or transaction fees. If the seller approves your bid, the deal goes through.
Should you invest in Spacebots NFT?
Investment in the Spacebots NFT does not seem so obvious compared to, for example, blue-chip companies such as Azuki, Moonbirds and Doodles. But, you see, these projects have a completely different entry price barrier.
To understand positioning in terms of investment, it is worth paying attention to the distribution of tokens within the collection. Namely, on average, there are 4 tokens per unique wallet. This picture is typical for the distribution of assets within the established community, whose members understand the value of investing in a promising project from a well-known team of creators. At the same time, the project is devoid of informational noise and hype, which is now enough everywhere.
In any case, do your own in-depth analysis and research when investing in NFTs, and then make your own decisions.
Conclusion
Spacebots is a young futuristic NFT project from the strong Daz 3D team, which builds a global idea of ​​fighting fears in its collections and adheres to the principles of inclusiveness. And this project is a continuation of this story.
At the same time, the space theme has always attracted many fans of science fiction around it. In the future, with an interesting story and marketing efforts, Spacebots has every chance of becoming successful.