Daz 3D Studio is no stranger to the digital world. In over 20 years of operation, they have made a name for themselves by creating a major brand in the world of 3D visualization. Their software is used by more than 5 million people, the platform provides an opportunity for thousands of digital artists to earn money, and their library has more than 20 million works.
Having achieved stunning success in this area, they went further and began to work in the NFT market. In just 2 years of work in their portfolio, such partners as Coca-Cola, RTFKT Studio (Nike), Coinbase NFT, Atari, Clinique, Louis Moinet and others. In this extensive review, for the first time you will see Daz 3D not only as a tech giant, but also as a great generator of promising and technically sound projects.
What is Daz 3D studio?
Daz 3D (Digital Art Zone) is a 3D content and software studio specializing in providing rigged 3D human models, related supporting content and software for both hobbyists and professionals.
Also, since 2021, the studio has been actively developing the NFT market, pursuing the goal of maximizing the introduction of 3D characters in Web3.
When and where was Daz 3D founded?
Daz 3D was originally part of the Zygote Media Group, a company that also specializes in 3D content and human anatomy technology. But in 2000, the studio split off and began its own journey.
Daz 3D Studio is based in Salt Lake City, Utah, USA, where their head office is located to this day. In total, the studio employs more than 60 people.
3D platform Daz Studio
Daz 3D's proprietary 3D technology supports the creation of a wide range of character and body shape technologies, as well as clothing that can dynamically move between characters and body types using open source bridges. As the most downloaded platform for creating 3D figures, Daz 3D has become a place of work and creativity for a huge number of digital artists who have the opportunity to make good money from the content they create. Thus, the platform accumulates millions of turnovers thanks to hundreds of paid ready-to-use 3D works.
Daz 3D in the NFT world
After conquering the 3D visualization market, Daz 3D has been actively exploring the NFT market since 2021, also pursuing its vision with global goals and advanced 3D technologies.
An interesting fact is that the studio not only generates its own large-scale projects, but also actively works in partnership with many well-known names and organizes various collaborations.
To date, the studio has worked with such global brands as
Coca-Cola,
Clinique,
Champion,
Louis Moinet,
RTFKT (owned by Nike),
Warner Brothers,
and others.
Daz 3D Official Links
Daz 3D NFT Collections
Studio Daz 3D has a worldwide reputation in the field of 3D development, but for some reason modestly keeps silent about the great achievements in the NFT market. And there really is something to appreciate. Their own NFT projects are not just pictures. This is a full-fledged storytelling with goals, mission, roadmap and global issues. Starting its journey in 2022 with the release of the first collection, the studio took the priority problem of a person's struggle with fears. Follow their thin and deep line, and you will understand the globalization of their projects.
NFT collection of Non-Fungible People as a demonstration of 3D technologies in Web3
Non-Fungible People is Daz 3D's first own NFT collection, which includes 8888 unique female and non-binary PFP avatars, artistically executed in a hyper-realistic style. The collection was released on January 5, 2022 at a public offering price of 0.2 ETH.
Daz 3D aims to shape the future of the Metaverse with the Non-Fungible People (NFP) collection by providing owners with a unique avatar that also uses blockchain technology.
Each avatar in the collection has been algorithmically generated from a pool of over 30,000 different characteristics, making the NFP collection one of the most unique collections ever created. Packed with utilities and metaverse-centric, NFP avatars can be used almost anywhere 3D characters are supported. Including those used in real time, from popular video game engines to augmented reality and streaming software.
For added utility, each avatar comes with a fully customized 3D model.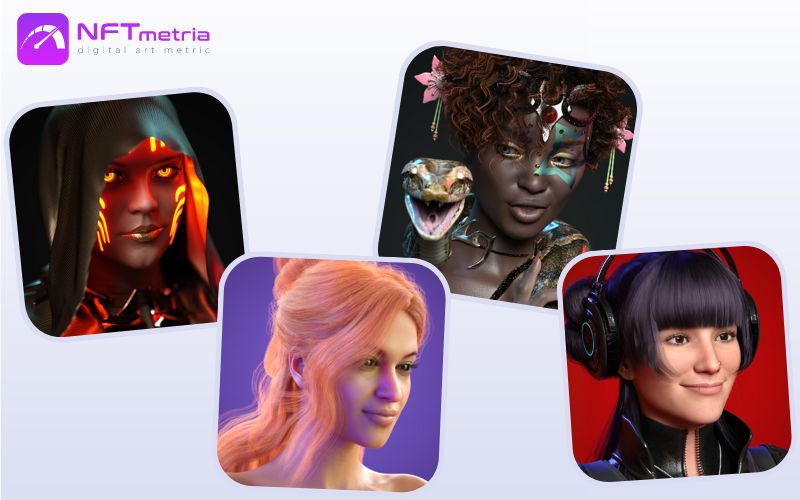 For the first collection, Daz 3D decided to focus on female and non-binary avatars, highlighting Daz's vision of the metaverse as a way for people to celebrate their uniqueness while encouraging an open, inclusive metacommunity as the metaverse continues to evolve.
The collection was released exclusively on the CoinBase NFT marketplace as the start of a partnership between the platform and the creators.
Sales of Non-Fungible People
The initial drop was priced at 0.2 ETH and was very well received by the community, resulting in fast sales.
Today the floor price is 0.028 ETH.
Trades are on average in the range of 0.03 – 0.15 ETH.
Scaredy Cubits Genesis sales exceeded an impressive 1,736 ETH. This debut provided the studio with a strong and loyal community of its own, which is now closely following the development and promotion of the brand.
NFT collection of Cronos-7 Visitors as an alien look at our imperfect world
On June 9, 2022, Daz 3D presented the NFT collection of Cronos-7 Visitors at the Crypto.com NFT site, where it is curated. The collection consists of 7777 extraterrestrial individual visitors, among which more than 270 properties are distributed according to 9 features such as skin, clothing, eyes, background, face, and so on.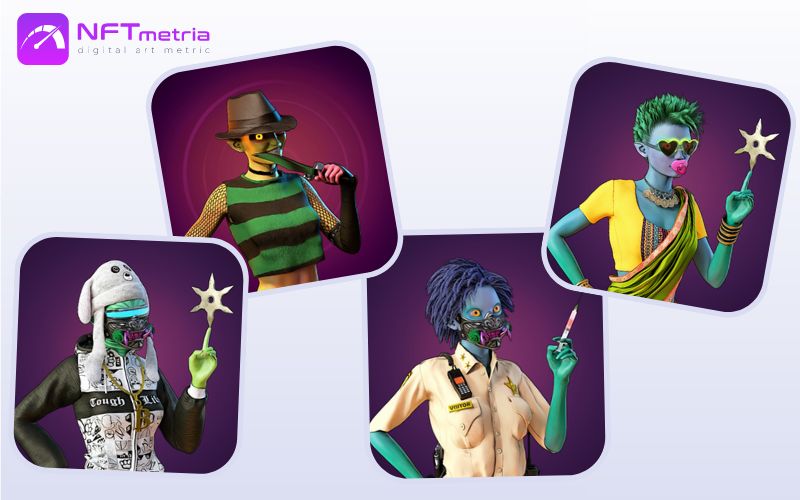 According to legend, visitors arrived on our planet from Hestia, the seventh satellite of the fictional planet Kronos. They are so interested in exploring our Earth that they have adapted to our world with the help of clothes, hairstyles, and accessories. And now they are trying to comprehend earthly existence and understand the meaning of our life.
This project also marked the collaboration of the studio with the Crypto.com NFT marketplace.
The Crypto.com NFT marketplace is truly a phenomenal leading platform with great artists and communities.Said Jessica Rizzuto, Senior Vice President of Ecommerce at Daz 3D
Sales of Cronos-7 Visitors
The initial drop took place at a price of $8,
Today the floor price is $20,
Trades go on average within 10 – 40$,
Sales of Cronos-7 Visitors exceeded $255K.
NFT collection Scaredy Cubits Genesis as the personification of the fight against the fears of mankind
The Scaredy Cubits Genesis NFT Collection is released on July 29, 2022 in partnership with digital artist Misoo. These 500 unique characters may seem funny to you, but in fact, the project carries a great mission.
The Scaredy Cubits are a small but powerful (and fun) band. They may be intimidated by this new world they find themselves in, but that won't stop them from facing their fears.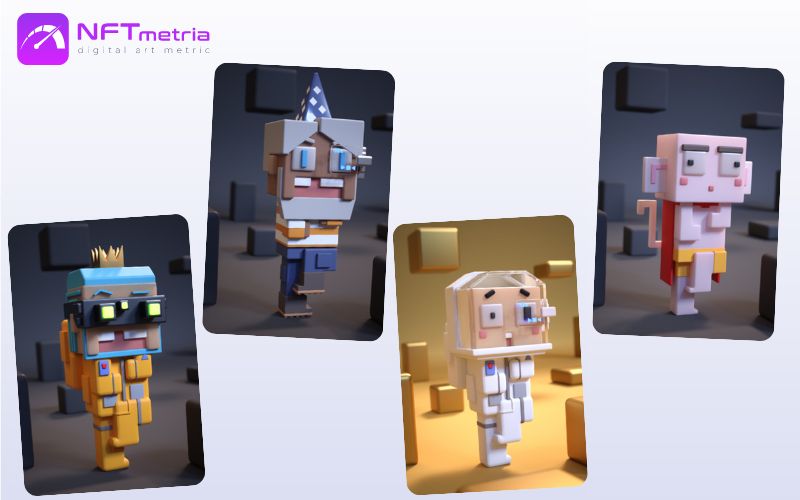 Scaredy Cubits Genesis includes over 180 attributes with 17 stats for everyone to find their fear fighting persona. The creators designed each character by hand without algorithms, which is rare in the PFP market. And this was not done by chance – each person has an individual fear, and manifests itself in different ways, creating a picture that no mechanic can describe.
The community is such an important part of the NFT space. And the best communities support each other in real life tasks, although they may only know each other in the digital environment. Scaredy Cubits Genesis creates a space where holders can discover that they are not alone and that we will overcome difficulties together. Art is just the beginning, the roadmap and idea behind this collection will benefit owners beyond PFP. And also, hopefully inspire them, as this collection has inspired me. Said artist Misoo
Daz 3D and Misoo want to inspire people with the Scaredy Cubits Genesis story, showing them that they are not alone in difficult times and that there is always hope.
Sales of Scaredy Cubits Genesis
The initial drop was 0.07 ETH and Scaredy Cubits sold out in one day.
Today the floor price is 0.14 ETH,
Trades are on average in the range of 0.06 – 0.25 ETH.
Scaredy Cubits Genesis sales exceeded 53 ETH. But do not rush to say that this is not enough – keep in mind that there are only 500 characters in the collection, which creates a large deficit with such a global project idea.
NFT collection of Spacebots as an indicator of the globalization of the fight against fears
The NFT collection of Spacebots was released on September 20 on the International Day of the NFT as a free airdrop on the partner site CoinBase NFT in the amount of 9888 pieces. The artist is none other than Tory Bryant, an award-winning artist and innovator with twenty years of experience in fields ranging from fine art to 3D printing, film and design.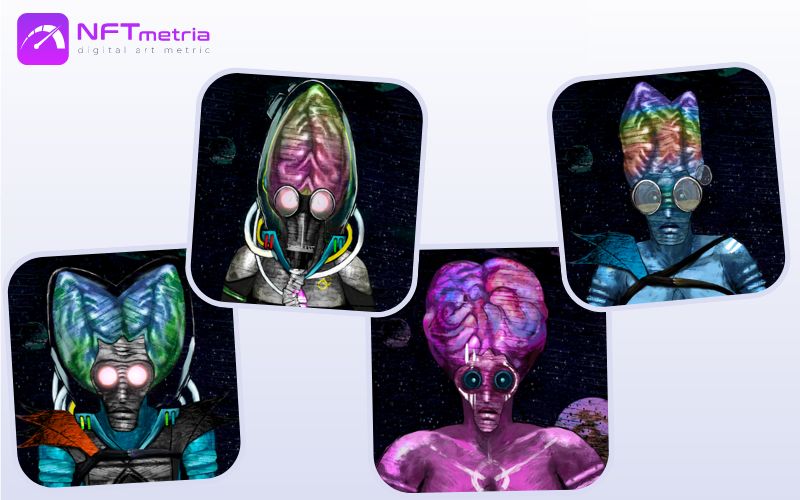 Spacebots, like the Scaredy Cubits, are hand-drawn without the use of generative art, thereby drawing public attention to the individual study of the fears of each earthling.
Spacebots is an inclusive galaxy where individual traits matter. Together they battled the evil spirits of Oothixo for many thousands of years. The heroes of Spacebot are on a mission to protect the Blue Star. To do this, they must embark on a journey of knowledge and support before finally returning as "Legends".
Sales of Spacebots
The initial airdrop was free in honor of International NFT Day in order to expand the community and maintain a global partner, the CoinBase NFT marketplace. The future owner only had to pay for gas on the Ethereum blockchain.
Today the floor price is 0.002 ETH.
Trades are on average in the range of 0.01 – 0.1 ETH.
Spacebots sales exceeded 17 ETH. For a brand-new collection with a free giveaway, this level of secondary sales indicates the attention from the community and the presence of prospects in the development of the project.
NFT Collection Bat Cowl as the story of Batmans fight against world evil
The NFT Collection Bat Cowl is your invitation to join the Bat Faction. The main superhero Batman is the world personification of the fight against evil. And the project calls to stand up for those who cannot defend themselves. Today, more than ever, it is important that we come together to save the world from chaos, disorder, war and enmity.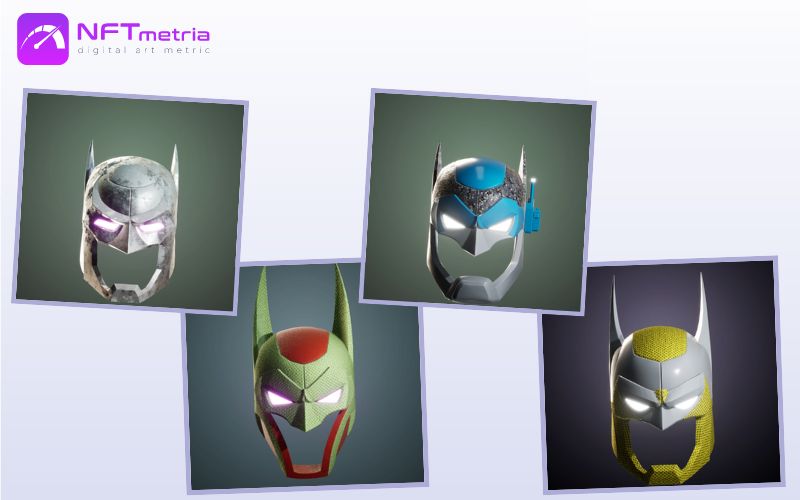 A total of 12,000 unique superhero hoods have been created, inspired by Batman's history. By purchasing this hood, you become part of a community where you get access to:
A fascinating story that is updated every 52 days, with various drops, riddles, puzzles and quests. By the way, they have their own utility – your clues and answers will improve your DC,
exclusive products and collectibles,
an exclusive collection of Bat Cowl clothing,
DC fan events.
The collection was created personally for DC Universe, which launched its own NFT platform for the development and sale of world comics.
NFT Collection Fight Back Apes in association with Atari
In the spring of 2022, Daz3 announced the launch of the Fight Back Apes collection. But this is not a new project, it has an interesting scam story, but with a successful ending.
Fight Back Apes started as an Evolved Apes project in September 2021. It sold out in just one week after building a large online community including many aspiring NFT investors. As a result, the project leaders abandoned the project and disappeared, earning millions of dollars from the launch.
After this event, the Evolved Apes community morphed into the Fight Back Apes. They created a new community to develop the future project, and no one person could control the project's funds without the permission of others. After hearing about the scam and seeing the community's enthusiasm, Daz 3D teamed up with Fight Back Apes to offer their support and resources to restore the project.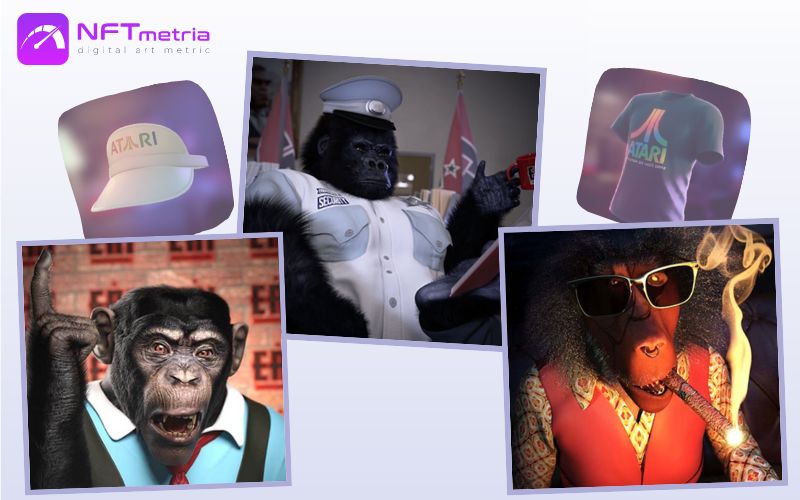 Also joining the project was Atari, an American video game publishing company that had a huge impact on the birth of the video game industry as a whole. The partner supplies NFT derivatives to the monkeys in the form of various branded paraphernalia.
The project is only being launched on a large scale on CoinBase NFT with a non-standard presale and drop. And you still have the opportunity to become a part of this amazing project.
Daz 3D collaborations and partnerships
Daz 3D began its ascent into the world of NFT in 2021 with collaborations with well-known brands, namely, performing the technical part of the projects. And in this they, of course, succeeded. Let's see in more detail what portfolio is in their achievements.
NFT collection of Coca-Cola in honor of World Friendship Day
The first appearance of the global Coca-Cola brand in the world of Web3 was with Daz 3D. In honor of the International Day of Friendship on July 30, 2021, the studio developed and released a set of unique four animated NFTs 1/1, which were sold in one lot for 217 ETH on the OpenSea marketplace.
The collection consists of:
A futuristic version of the jacket that can be worn in the Decentraland metaverse.
A stylized and semantic map of Coca-Cola friendship.
A vintage Coca-Cola fridge that also comes with a real-life Coca-Cola fridge for the winning bidder. And it will not be empty, but fully stocked with ice-cold Coca-Cola.
The Coca-Cola Sound Visualizer, in which you will hear instantly recognizable sound signals: pop when the bottle is opened, the sound of a drink being poured over ice, an unmistakable hiss and the first refreshing taste.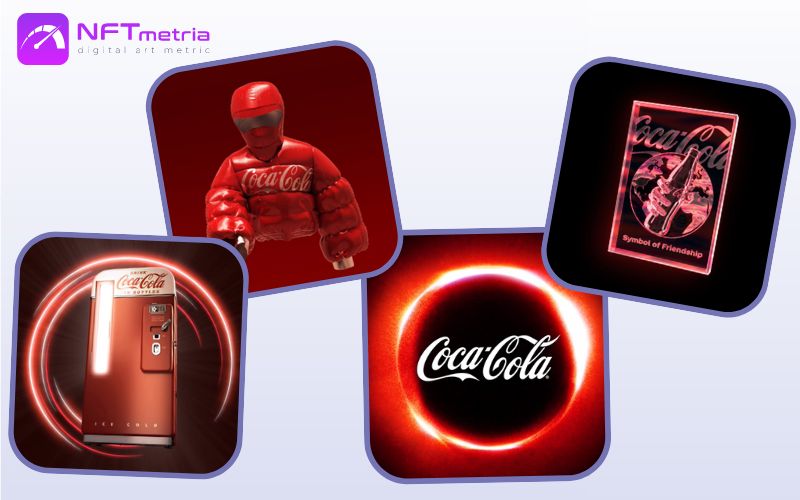 Cooperation with RTFKT as a technical partner for Clone X
In November 2021, Daz 3D and RTFKT Studio (now owned by Nike) announced their partnership to promote Clone X 3D NFT characters, which are among the best NFT collections to date. Daz 3D provides RTFKT with its Clone X Collection PFP Utility Kit: a first-of-its-kind technology suite of mobile 3D avatars suitable for gaming, video, social media, and other settings both inside and outside the metaverse.
Our approach to the Metaverse is not to dream of impossible solutions, but to work and implement the best possible vision of the Metaverse with all the tools and skills we can use today. As users of DAZ 3D, we knew that Daz was the best team to partner with to drive this vision forward and offer our collectors and creators never-before-seen tools to express themselves through their avatars. This is a dream collaboration that we hope will inspire people to see where the future is headed.Said Benoît Pagotto and Chris Le, co-founders of RTFKT Studio.
NFT collection with American sportswear brand Champion
In January 2022, Daz 3D entered into a partnership with the world-famous American sportswear brand Champion. As part of the deal, immediately following the release of the Non-Fungible People collection, the team released the NFT-derived Champion x Non-Fungible People sportswear collection. It consisted of 888 tokens divided into three categories:
Gold (sports jacket) – 71 pieces,
Silver (sports glasses) – 104 pieces,
Bronze (sports headphones) – 547 pieces.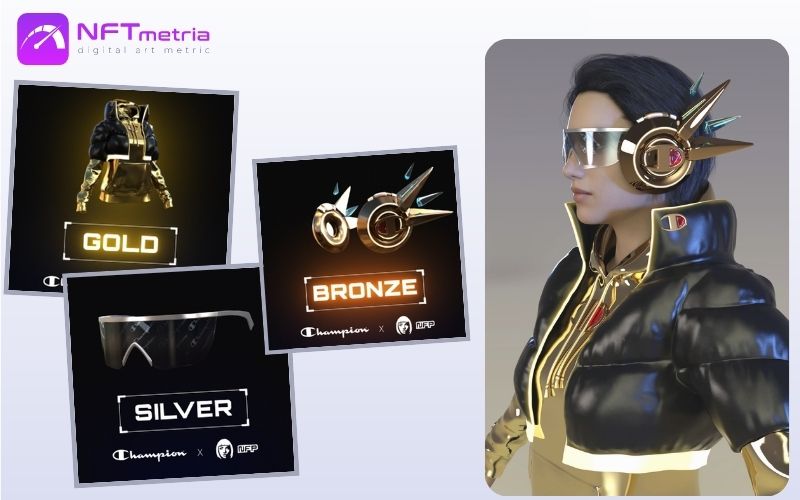 This collection is a step to support and develop your community. Therefore, there were no initial sales, and NFT Champion went to every tenth owner of Non-Fungible People as a result of an airdrop. The owners liked this idea so much that to date the volume of secondary sales has exceeded 43 ETH.
Inclusive NFT campaign with Clinique
In January 2022, Daz 3D accompanied the entry into the world of Web 3.0. Clinique, the first cosmetic brand developed by dermatologists and the first brand of the Estée Lauder Companies (ELC). In honor of this, they jointly released the Metaverse More Like Us NFT collection, consisting of 6 tokenized avatars depicting women in looks created by Clinique's professional makeup artists. So, they demonstrated the uniqueness and naturalness in appearance, emphasizing the dignity of Clinique professional care products.
These NFTs were not in the primary sale, and like Champion sportswear were given away randomly to Non-Fungible People owners in the form of 3 airdrops.
6 NFTs are presented in two circulation versions:
3 of them in the amount of 197 pieces each,
3 of them 1760 pieces each.
Over the past 20 years, Daz 3D has continuously created an inclusive representation in the digital environment and is pleased to continue this tradition with Clinique. Our groundbreaking NFT collections such as Non-Fungible People and our partnership with Clinique break down barriers and challenge the status quo. With this campaign and stunning NFT makeovers, we're proud to bring this to life in the Metaverse.Said Jessica Rizzuto, senior vice president of e-commerce at Daz 3D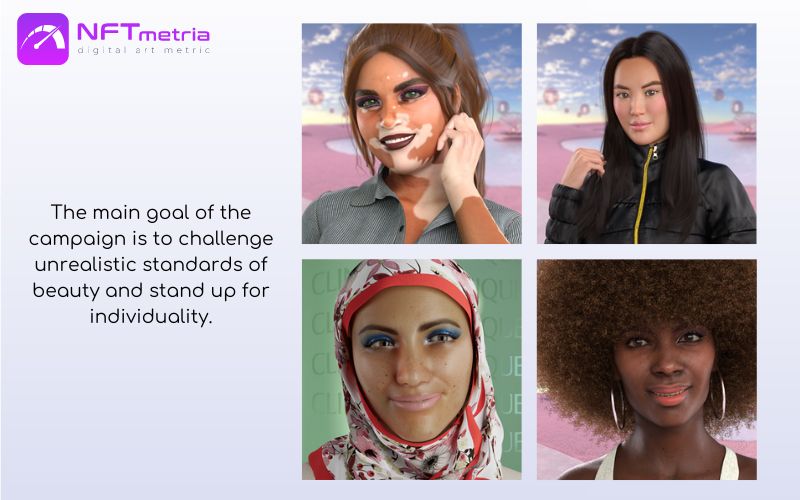 We are proud to partner with industry leaders like Daz 3D and artists who help us bring optimism through artistry," said Carolyn Dawkins, Senior Vice President of Global Marketing, Analytics and Online Marketing at Clinique
NFT collection with luxury watch manufacturer Louis Moinet
In February 2022, Daz 3D released the Louis Moinet Space Revolution NFT collection in partnership with global watch brand Louis Moinet, which produces exclusive luxury wristwatches that actually start at $10,000.
The collection consists of 1000 3D animated clocks with various attributes. The total sales volume to date has exceeded 126 ETH.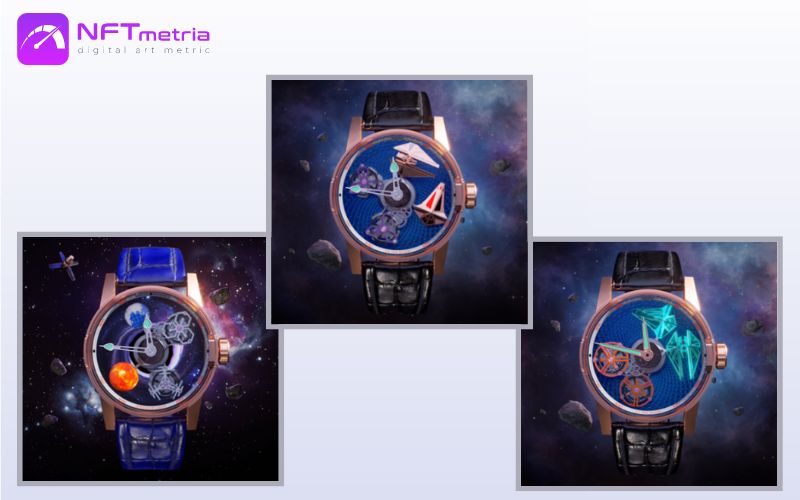 Thus, a brand with a history of more than 200 years announced its entry into Web3.0, which once again testifies to the promise of this global digital sector.
Partnership agreements with the Coinbase NFT marketplace
On April 29, 2022, Daz 3D announced the start of partnerships with the Coinbase NFT marketplace, which at that time entered the beta version. As part of this collaboration, Daz 3D released its debut Non-Fungible People collection exclusively on the platform.
We're excited to announce our newest launch partner, @daz3d! Daz is a market leader in NFTs and 3D NFT utility with some must-have collections that'll live on Coinbase NFT.

We're featuring @NFungiblePeople and more coming soon.🧵👇 pic.twitter.com/9UcukSD0VL

— Coinbase NFT (@Coinbase_NFT) April 28, 2022
NFTMetria opinion on Daz 3D
Daz 3D, through all its projects, implements its own vision for both the online and offline world with the prospect of development. What do they put in the basis of their products?
Their ideas:
Through their NFT projects, bring volume and hyper-realism to the flat world of PFP through their technologies.
These are not just live pictures. This is a global personification of the fight against phobias, fears and problems of mankind.
Each project is a living ecosystem with its own roadmap, ideas and strong community.
Thanks to the technical expertise of Daz 3D, one of the first candidates for a breakthrough in the NFT world. Namely, the implementation of multicomponent NFTs according to the ERC-1155 standard with the ability to add or remove any attributes to the main token, thereby making it multicomponent.
Given all the baggage of experience, knowledge, as well as their plans, portfolio and the level of community trust, the likelihood of further more global success of the studio in the NFT market is high. In this case, we will see the name Daz 3D in the ranks of such leaders as Larva Labs, Dapper Labs, Yuga Labs.