How often do you get scared with the latest world news lately? And how do you deal with your personal fears, for example, fear of heights, loneliness, death, illness? Agree, the topic of phobias is very extensive and affects everyone.
This issue was raised in their Scaredy Cubits Genesis project by digital artist Misoo and global 3D visualization company Daz 3D. In their collection, their cute and defenseless Cubits face their fears one by one. And in order to cope and overcome the fear of everyone, next to him there are also the same 499 hand-drawn characters, who alone are unlikely to be able to win, but all together is a powerful force.
Learn more about the deep idea of ​​the collection, professional creators and the ecosystem of the project in this review.
Official Links Scaredy Cubits Genesis
Scaredy Cubits Genesis in numbers
Collection released on July 29, 2022,
A total of 500 characters in the collection, which makes it truly unique and scarce,
The collection includes over 180 attributes with 17 characteristics.
The initial drop was 0.08 ETH and Scaredy Cubits sold out in one day.
The sales volume exceeded 53 ETH. But do not rush to say that this is not enough – keep in mind that there are only 500 characters in the collection, which creates a large deficit with such a global project idea.
Today the floor price is 0.14 ETH.
Trades are on average in the range of 0.06 – 0.25 ETH.
The most expensive WeScared #0100 was bought on August 2nd for 1 ETH.
On November 1, the long-awaited mint of the derivative collection is expected only on CoinBase NFT at a price of 0.13 ETH.
In total, the creators of Daz 3D have 6 NFT collections and more than 10 collaborations and partnerships, including Coca-Cola, RTFKT Studios (Nike), Coinbase NFT, Atari and others.
Data (including exchange rates) are given at the time of publication of the article.
What is Scaredy Cubits Genesis?
Scaredy Cubits is an NFT collection of 500 unusual 3D cube characters. ERC-721 tokens are based on the Ethereum blockchain. Each intimidated character is hand-drawn without the use of generative algorithms, which increases the value of the NFT as a digital art and as an investment.
The uniqueness of the project also lies in the scale of the idea that the creators put into the basis of these cute, charming, but frightened Cubits. Each of them is defenseless before their personal fears and fears of all mankind. These little guys know how to face things that scare them and even laugh at them. And that is why they are here – to share with all of us the fortitude, strength of character and team support. Things get scary sometimes, especially when you're a little elbow, but each new fear is another opportunity for adventurous growth and a reason to smile the next day.
But at the same time, the creators were able to maintain the exclusivity of the community by releasing a limited 500 NFTs instead of the usual 10,000 for many, as is done, for example, by CoolCats, Azuki, Moonbirds.
In addition, the collection is the debut project that marked the collaboration between Daz3 and the CoinBase NFT marketplace.
Scaredy Cubits Genesis Collection Attributes
Scaredy Cubits Genesis includes over 180 attributes with 17 stats for everyone to find their fear fighting persona. From humans to orcs, elves, cyborgs and more, you'll find Cubits equally charming and varied.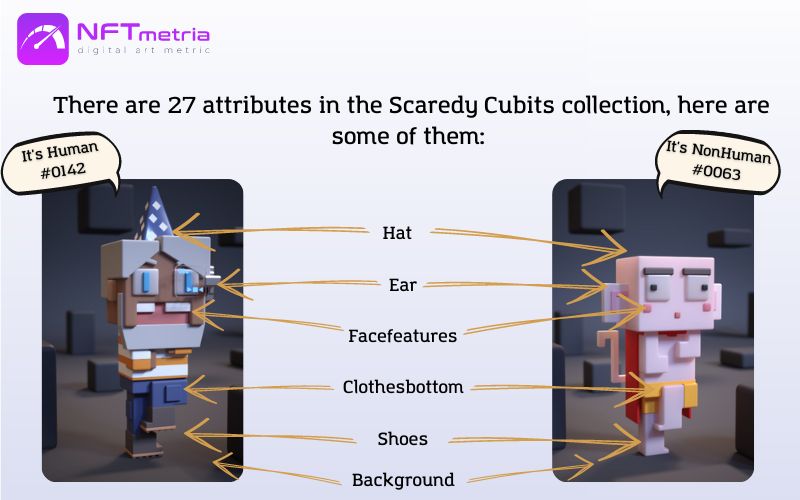 The biggest difference is character. All characters are divided almost equally:
Nonhuman (240),
Human (260).
Among the rarest attributes are:
Accessory: Fluffytail (4), Headchain (6),
Background: Gold (5),
Clothestop: Tie (1), None (1),
Eyecolors: Purple (17),
Facefeatures: Goatpatch (13),
Haircolor: None (12),
Hairstyle: Topbun (6), Mohawk (11),
Hat: Astronaut (2), Ninjia (3),
Teeth: Missing (16).
Who created the Scaredy Cubits Genesis?
The NFT project Scaredy Cubits was created in partnership with Daz 3D, a well-known digital art company, and popular Japanese digital artist Misoo. Such joint work helped to realize the depth of the idea through the creative potential of the artist using the unique technical capabilities of the best 3D visualization company.
By the way, this is not the first experience with NFT for Daz 3D: they have more than 5 own projects and more than 10 different collaborations and partnerships, including Coca-Cola, RTFKT Studios (Nike), Coinbase NFT, Atari and others. Given their weight and credibility in the mainstream visual programming market, it's no wonder they've risen to such heights in just a year.
Idea for the Scaredy Cubits Genesis collection
No matter how cute the cubes look, according to the creators, they carry very important ideas for all of humanity as a whole.
Each cute but frightened Cubit shows how much every person in our world is not protected from global world problems.
Such events of 2022 as wars, the global economic crisis, natural disasters were able to raise the fears of all mankind and each person in particular from the depths of the soul. But the pinnacle of these fears is nuclear war and its consequences, which are increasingly spoken about by the world's top political officials.
Misoo's main artist is from Japan, the first country to use a nuclear bomb. Fear, understanding of danger and monstrous consequences became the basis of this collection. She is the personification of all fears and shows the world that even small cubic creatures are very much afraid of world catastrophes. But each of us, even in such a situation, is able to find hope in a difficult situation, look fears in the eye and support a loved one.
The project is aimed at helping and empathy for those who need our and your help, do not be indifferent, lend a helping hand. Only a stable ideological society is able to withstand any test and globally influence the world situation. And the small community of Scaredy Cubits is an allegory of a close-knit family in which you will not be left alone.
Scaredy Cubits Genesis Ecosystem
The creators of the collection reward their small but strong and loyal community with the continuation of the story about the brave Scaredy Cubits.
NFT Collection Scaredy Cubit x Wu Tiger Clan Scaredy Cat
As a result of the collaboration of two teams, the Scaredy Cubit x Wu Tiger Clan Scaredy Cat collection was born. All 280 NFTs went to every Scaredy Cubit owner as a free airdrop in September 2022. This frightened cat by artist Scaredy Cubits Misoo has gained its tenth life by showing the bravery of the Wu Tiger Clan. And the whole story of his daring adventures is yet to come.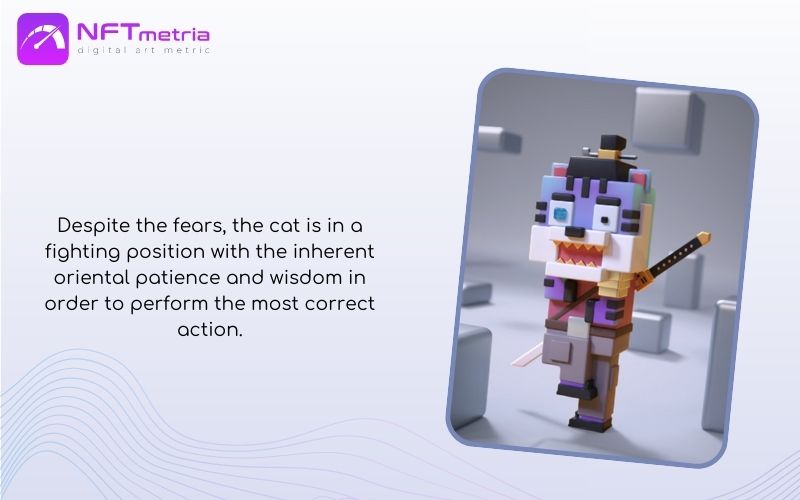 Sale Scaredy Cubit x Wu Tiger Clan Scaredy Cat
Today the floor price is 0.025 ETH,
Trades are on average in the range of 0.03 – 0.05 ETH.
Only 5% of the total are on sale.
99% unique owners, that is, the collection is maximally decentralized and ideologically belongs to the community.
NFT Collection Scaredy Cubits: What Scares Are You?
How often does it happen that what we fear the most happens? It happens, and quite often. No wonder they say that our thoughts are material. This is what happened to our Scaredy Cubits Genesis.
On November 1, in honor of Halloween, a new generation mint of the main collection awaits us. In which already native characters were so afraid of all sorts of goblins, orcs, witches and skeletons that they themselves turned into them. If you want to become stronger and overcome your fear, look it in the face. What will happen to them next, and how they live with their new face, we all just have to find out.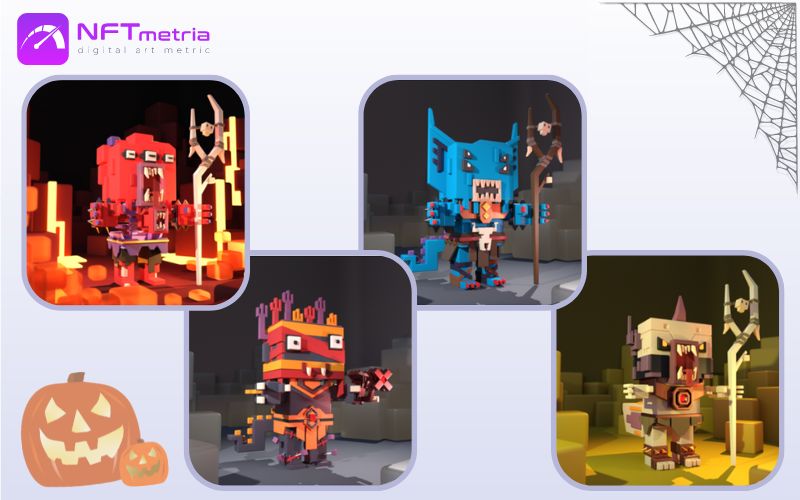 Now on Halloween night they will come out to scare us. In total, there will be 3131 intriguing characters at a mint price of 0.013 ETH. And they were drawn, by the way, by digital artist Misoo, already native to monsters.
How much do Scaredy Cubits Genesis cost?
With an initial mint of 0.08 ETH on July 29, 2022, the entire collection was sold out within a few hours. After that, sales peaked at an average price of 0.57 ETH just a few days later.
Now (October 2022) the minimum price is 0.13 ETH. On average, the latest sales are in the range of 0.07-0.3 ETH.
Most Expensive Scaredy Cubits Genesis Sales
The most expensive sale of Scaredy Cubits Genesis is WeScared #0100, bought on August 2nd for 1 ETH. He has a unique astronaut hat (of which there are only 2 pieces in the entire collection), is dressed in an astronaut suit (there are 11 of these out of 500 in total), and he is also bald and without shoes, which are also rare attributes.
The second place in this rating is occupied by WeScared #0142 was bought on August 4 for 0.988 ETH. He has a rare splithair, missing teeth, longbeard. Such attributes separately are found only in 3% of the collection, and their combination makes this purchase really rare.
WeScared #0305 was sold on August 3rd for 0.89 ETH. He is dressed in an astronaut costume (the attribute is found only in 2%), and he also has nightvision glasses, a braided hairstyle and a crown on his head (you can find such attributes separately only in 3% of the entire collection).
WeScared #0063 was sold on July 31st for 0.69 ETH. He has a superhero cape (0.08% have this trait), twoside eyes (4%), a monkey tail (4%), and no shoes (5%).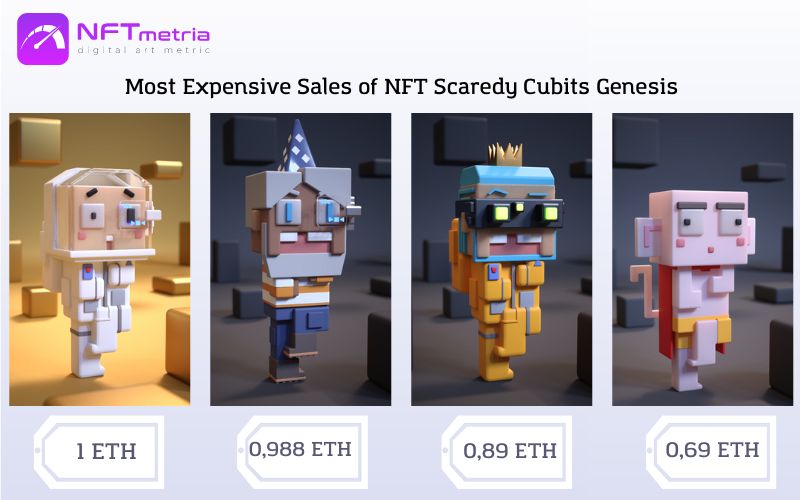 Where to buy Scaredy Cubits Genesis?
Currently, Scaredy Cubits Genesis can only be purchased from secondary markets such as OpenSea and Coinbase NFT. By the way, the latter is an official partner of the company-creator Daz 3D.
But don't forget that the Mint of the Scaredy Cubits: What Scares You? collection is about to begin, which you can purchase at no extra cost, purely at the price of a mint.
How to buy Scaredy Cubits Genesis?
Remember that initially you need to connect your crypto wallet with self-storage to the marketplace of your choice.
Next, find the official collection using the search bar on the marketplace,
Analyze and choose the NFT you want to buy; click on it and then on the "Buy" button.
Or you can bet on the token you like. Make sure you leave enough ETH for gas or transaction fees. If the seller approves your bid, the deal goes through.
The future of the project
Taking into account the issues that the authors of the project reveal, this project is more than just PFP pictures. And given the creators of the collection and their rich portfolio, there is an evolving story ahead of the project, thanks to which the value of the collection will only grow.
Look around, the world is on the brink of a global war, more and more often we hear about a nuclear war, innocent people are dying. What lies ahead for us? Perhaps further authors will reveal this topic.
Humanity has previously learned cruel lessons, so why are politicians once again putting people in a permanent state of fear of their decisions? Our project is a mouthpiece for preventing a world war and the reuse of nuclear weapons. And I, as the main artist, will bring this problem through all the further development of a promising project.Said the artist and creator of the Misoo collection
Should you invest in Scaredy Cubits Genesis?
Now is a good time to invest in Scaredy Cubits Genesis. The fact is that the ecosystem of the project is now actively expanding. And not everyone knows in such detail all the prospects that the creators promise to realize.
In addition, there are 2 factors that indicate the attractiveness of investing in this project:
There are 500 NFTs in the collection. Even relatively small incoming investment volumes can multiply the liquidity and cost of NFT,
The rate of improvement of the project is impressive due to the technical excellence of the creators of the Daz 3D project.
But in any case, do your own in-depth analysis and research when investing in NFTs, and then make your own decisions.
Conclusion
The Scaredy Cubits Genesis project is an excellent example in the NFT market, demonstrating:
the depth and scale of the idea of ​​combating the global fears of mankind, including fears of war, global cataclysms and natural disasters,
high-quality graphics, thanks to the creators of Daz 3D, who are the best in the 3D visualization market,
the creative abilities of the artist Misoo, who was able to convey his fears and the fears of all mankind in each NFT personally drawn,
a cozy little community that is the epitome of a strong shoulder when you need help facing your fears.
Things get scary sometimes, especially when you're a little Cubit, but each new fear is another opportunity for adventurous growth and a reason to smile the next day.
Give it a try and fall in love with these cute Scaredy Cubits. But you should hurry up, the listing contains only 7% of the entire collection.