With all the scale of the NFT industry, at the moment we see, unfortunately, a lot of scam projects whose creators collect large amounts of money from investors and disappear, or, as they say in cryptographic language, rug pulls of the NFT project onto themselves. Usually such projects are buried at this stage. But now we are witnessing the revival of one of the most high-profile NFT scams, namely the revolution of the Evolved Apes NFT project into the updated Fight Back Apes NFT project together with such industry giants as Daz 3D, Atari, Ledger.
And this is truly a unique case, the development of which is interesting to watch:
basic community is the same,
due to the new launch, new faces and investors are attracted,
thanks to such high-profile creators as Daz 3D, Atari and Ledger, high-quality technical stuffing, impressive visualization and large-scale development of the NFT project with interesting storytelling and proper crypto security are guaranteed.
Let's talk about everything in more detail.
Fight Back Apes Official Links
Fight Back Apes in numbers
The original Evolved Apes collection of 10,000 NFTs was created in September 2021 and sold out in just 7 days.
As a result of deception, the creator of Evolved Apes was able to steal more than 2.7 million dollars from the project's investors.
Out of more than 4 thousand investors, 4 enthusiasts were found who decided to make a revolution and regenerate the NFT project into Fight Back Apes.
All 10,000 Evolved Apes will be transformed into updated Fight Back Apes as a tribute to the entire community.
Already sold out 50% of Fight Back Apes x Atari Attributes, which give access to the main pre-sale at a reduced price of 0.09 ETH.
On November 19, 3:00 AM GMT+7, there will be a mint of the collection.
Data (including exchange rates) are given at the time of publication of the article.
What is Fight Back Apes?
The NFT Fight Back Apes collection will include unique ultra-realistic monkey avatars with 3D full body models for extended use powered by the Ethereum blockchain. But these are not just PFP pictures. This is a community driven project designed to "fight back" one of the biggest rug pulls in NFT history. And with the involvement of large partners and the introduction of various advantages of ownership, the NFT project has every chance to take a leading position in many ratings.
Stories like the Evolved Apes carpet hurt the NFT community as a whole, and it's nice to do something about it because the space is so big. We want to help Fight Back Apes bring back value to their community and I hope the new collection lives on beyond just fixing a bad situation.Said Ty Duperron, COO of Daz 3D
What will be the Fight Back Apes?
The monkeys will have a wide range of personalities created from a set of tens of thousands of possible traits, including clothing, props, looks and expressions, allowing owners to pass on one-of-a-kind digital personalities in the metaverse.
But globally, there are three factions of monkeys:
Gorillas who hold military and law enforcement positions due to their strong and intimidating demeanor.
Chimpanzees, who are scientists and artisans, laboratory and office workers, as their evolutionary partners from the past millennium.
Baboons whose families run the underworld of organized crime from the shadows.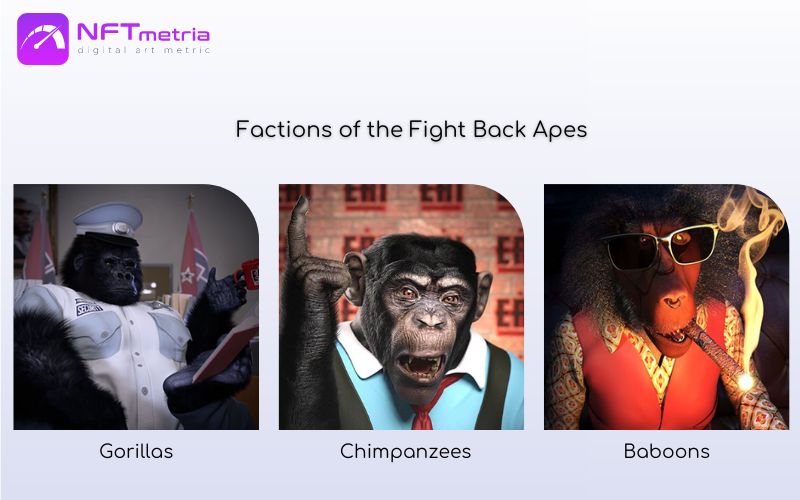 Who created the Fight Back Apes?
The creators of Fight Back Apes are former Evolved Apes victims and investors who have since turned tragedy into a resurgence of hope.
They are the Fight Back Apes (FBA), founders and leaders of the community:
After the deception of the creator of Evolved Apes was discovered by the community, these four enthusiasts took over the management of the community:
I talked to Kali, Josh and Jamie and we decided that we wanted to do something to return value to the people who had invested. Mike Cryptobull said

The strength of the community was the main motivation, so I created a TikTok page and thought I should bring the community together again. I think our four skill sets work really well together.Commented by co-founder Jamie.
Fight Back Apes Partners
The Fight Back Apes NFT project still has a small, but colossally strong support among partners. And here are some of them:
1. Daz 3D
Daz 3D a company that has made a name for itself in over 20 years with the largest 3D visualization platform. Their software is used by more than 5 million people, the platform provides an opportunity for thousands of digital artists to earn money, and their library has more than 20 million works. Daz 3D is the main partner and main support of the project, which is reflected even in the excellent graphics and visualization in every image. Having achieved stunning success in this area, they went further and began to work in the NFT market. In just 2 years of work, their portfolio includes 5 own collections and more than 10 partnerships, including Coca-Cola, Clinique, Louis Moinet, RTFKT (owned by Nike) and Warner Brothers.
Our community has been through a lot and it only strengthened our determination to develop an exceptional collection. The collaboration with Daz 3D allowed us to take this NFT project far beyond what we had imagined. The further we go in development, the more I am sure that the dedication of our community in difficult times was worth it. Fight Back Apes will be the final winners. epic battle we fought.Mike Cryptobull, founder of Fight Back Apes said.
2. Ledger
Ledger a leader in hardware wallets providing state-of-the-art security for blockchain projects. Minters will receive a monkey avatar with Ledger attributes such as hats, t-shirts, digital images of Ledger wallets, and more. This collaboration adds an important safety element to an all-new project built from the wreckage of the highly publicized Evolved Apes NFT project.
3. Atari
Atari an American company that produces and publishes computer games. Atari had a huge impact on the emergence of the video game industry as a promising economy in the 1970s, and until 1984 held a leading position in the video game market. Since then, the company has experienced several ups and downs and today has taken a confident place among the leaders in the production of games and various components. Now she actively comprehends the NFT market and has become the main partner of Fight Back Apes. Their branded attributes such as t-shirts, caps, mugs and so on will become an integral part of the cool monkeys.
The original NFT project Evolved Apes
Fight Back Apes started as an Evolved Apes NFT project in September 2021.
Evolved Apes is a collection of 10,000 unique monkey NFTs. The project was widely advertised in the NFT community, the creator and developer of Evil Ape announced a fighting game based on it, which, however, never came out. Thanks to strong marketing, the collection sold out in just one week after building a large online community including many aspiring NFT investors.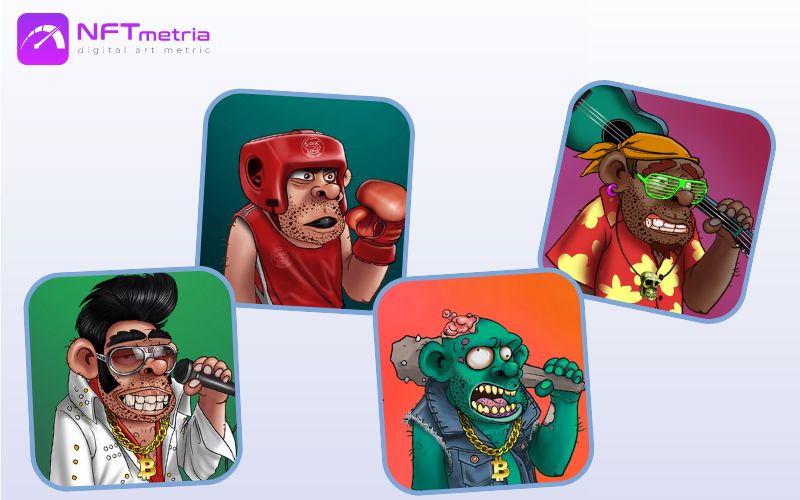 Before rug pull happened, the community was very active. We had a buzz in the group about how quickly the collection sold out and how fast the floor was growing. This was the most active discord I've ever been on before the mint. So, everyone there was very excited.The co-founders of the project remember
But after all the Evolved Apes were minted, the hype slowed down as it neared a series of red flags. Collection leaders disappeared for several days, leaving holders afloat as the community slowly declined.
As a result of their own investigations, it turned out that the Evolved Apes NFT project failed. All investments, along with investors' hopes for the NFT project, were siphoned into a wallet controlled by one of the founders: Evil Ape with a fitting name. It had only been a week since the original release and the Evolved Apes collection was dead. Evil Ape made over $2.7 million at launch.
Project Evolved Apes Revolution in Fight Back Apes
The Evolved Apes rug pull has become one of the biggest NFT scams in 2021. That is why it is very important when assessing the investment attractiveness of an NFT project to pay great attention to the creators – their authority in society, commitment to decentralization, social activity, previously created NFT projects, contact with the public, and so on. This is an important criterion for evaluating an NFT project, we just wrote about this in the article Investment valuation NFT: how to evaluate an NFT project?
Having made a mistake once, the Evolved Apes community decided to do everything right, and they transformed into Fight Back Apes. The organizers have created a new community to develop the future project. After hearing about the scam and seeing the community's enthusiasm, Daz 3D teamed up with Fight Back Apes to offer their support and resources to restore the NFT project. As a result of the transformation, all old holders of Evolved Apes will receive updated NFTs.
Unlike Evolved Apes, in which the creator of the Evil Ape NFT project had exclusive access to the project's wallet, Fight Back Apes will operate with a multi-signature wallet, which requires multiple people to agree on spending funds from the project's fund.
Features and benefits of owning Fight Back Apes
Of course, as in any other subject of digital investment, potential investors pay attention to the opportunities and advantages of ownership.
So, what's in store for you with Fight Back Apes?
When released in 2022, Native Developed App NFT app owners will be able to release a Free Fight Back NFT app for every gas-only source.
Additional Fight Back apps will be created to expand the community beyond the owners of the original developed apps.
The 3D models included with each NFT will be usable in Daz Studio, making fully rigged models available for art, animation and customization.
Exclusive Daz 3D rewards including premium assets
Using your face-tracking monkey on the augmented reality platform ARKit
Ape Staking token for XP growth with additional benefits
Opportunity to earn various sets of Daz assets worth up to $800.
Fight Back Apes Comics from the makers of Void Trip and Hive Mind, which will also be in an NFT reward format for dedicated community members.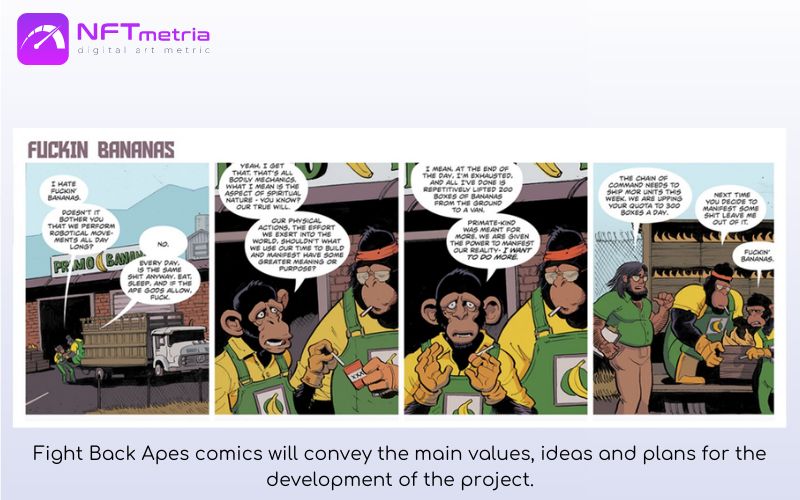 Fight Back Apes Roadmap
The creators of the Fight Back Apes NFT project are on the right track and enable potential investors to understand their vision and plans for the development of the project. And for this, of course, Roadmap is ideal. By the way, it is one of the key criteria for assessing the investment attractiveness of an NFT project.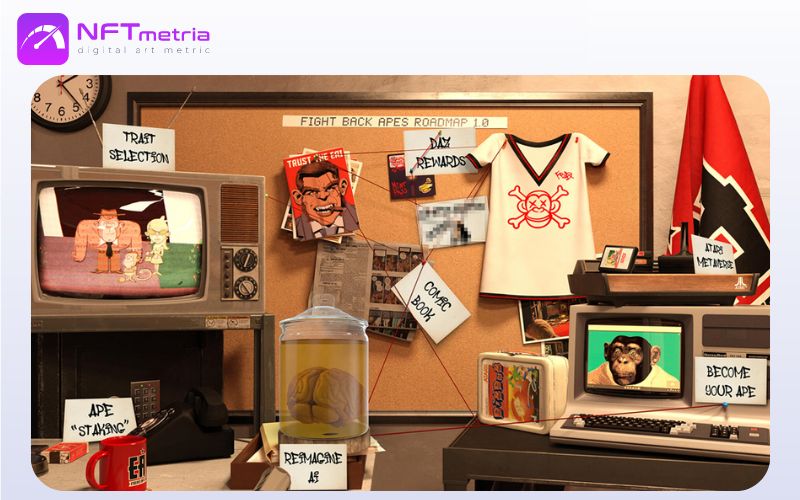 And let it be mysterious and not verbose, but it gives us a general idea. But we, having some insiders, will form their plans:
First, a full-scale launch of the collection,
Community expansion and increased information capture of the market,
New promising partnerships,
Ape-currency staking for community members to earn money,
Launch of comics that will broadcast the ideology, thoughts and plans of the community,
Creation, together with Atari, of a metaverse in which the Monkeys will be the masters of the world,
Let the rest be a surprise for you for now.
Derivative collection Fight Back Apes x Atari Attributes
Atari, a partner in the NFT project before the global sale of the Monkeys, set up a mint of branded trappings for powerful characters. Atari attributes include some of Atari's most iconic hardware and games, including cartridges, joysticks, and t-shirts. In the future, this attribute will be integrated with the main monkey tokens, which no NFT project has been able to do before.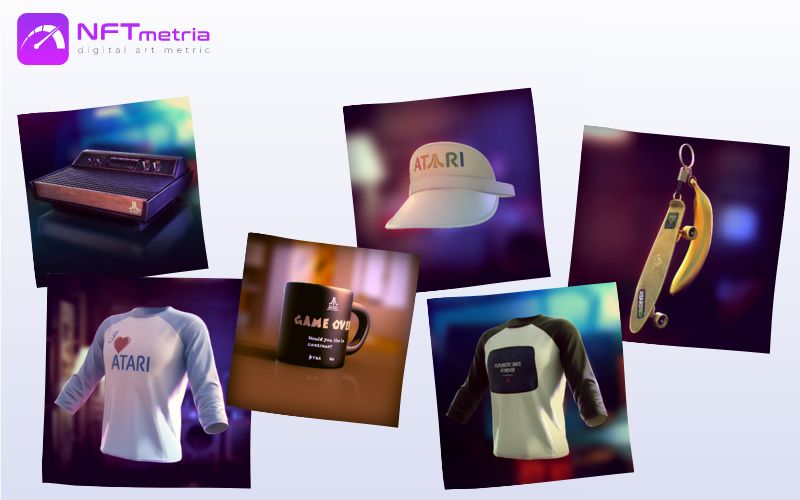 From October 5, you have the opportunity to purchase an Atari attribute absolutely free (only by paying for gas), automatically receiving a Fight Back Apes Mint Pass for the main loot on November 19. To date, 1.3K of 2.6K of these NFTs are available to the minute. And the price on the secondary market is already jumping from 0.07 ETH to 50 ETH. You should hurry to have time to get it for free.
How much do Fight Back Apes cost?
As of today, the upcoming Fight Back Apes mint will set you back 0.09 ETH during the closed presale and 0.1 ETH during the public mint.
Given the excitement around the collection, we can predict in the near future the price increase in the secondary market up to 20 X's.
Where to buy Fight Back Apes?
Now you have a rare opportunity to acquire both primary and secondary NFTs, which will go down in the history of the industry as the first NFT project to revive after the scam. Let us mention that today only Fight Back Apes x Atari Attributes are available for sale, which give a subscription to the main coinage on November 19th.
So where can you buy Fight Back Apes?
In the primary market, mint is traded only on the partner site CoinBase NFT.
How to buy Fight Back Apes?
You can buy Fight Back Apes in 2 ways:
Presale
Starting October 5, users will be able to purchase the Atari x Fight Back Apes Attribute NFT with Atari Guaranteed Attribute. Owners will receive a Fight Back Apes Mint Pass for the main loot (November 19, 3:00 AM GMT+7). Hurry up on November 19 for a minute at a special price of 0.09 ETH.
Main sale
An open mint for everyone else will start on November 19 at 3:00 AM GMT+7 at a price of 1 ETH.
The future of the project
The future of the Fight Back Apes NFT project is promising:
Thanks to the new mint, the community will increase not only in quantity, but also in quality,
NFTs will have the technical ability to add, buy and sell various attributes that will be embedded in the main token.
Expanding their network with new tools and technologies that their partners have,
Their symbol, the golden banana, can be seen everywhere as a sign of the movement of the whole growing world,
Maximum decentralization as a symbol of an independent community,
New collaborations and partnerships capture the informational NFT market,
Monkeys are the masters of the Atari Metaverse,
Addictive PVP game with the ability to fight.
When the wider NFT community sees these new monkeys, we hope they will be excited about them. The Fight Back Apes community and founders were so passionate about each other and really cared for each other that it inspired us to create something unlike anything we've seen in this space. We hope to help Fight Back Apes build a stronger collection with new holders and new value and help it go beyond the promises of the original. That's why we decided not to carry over the style or traits from the originals. Evolved Apes was the starting point, but they should not define this community in the future. Supporting Fight Back Apes is a passion for our team and we hope it inspires people to see others doing positive things for positive reasons.Said Ty Duperron, COO of Daz 3D.
Should you invest in Fight Back Apes?
To date, there is no similar nascent NFT project in terms of the strength of the team spirit and the purposefulness of the actions of all members of the community. While the investment value of NFT Fight Back Apes is not obvious to everyone, investors reading this article have a potential opportunity to enter a promising NFT project at a price of 0.09 ETH.
Of course, no one can rule out risks when investing, just like in any other NFT project. But having such strong and well-known partners next to them, the team potentially reduces these risks as much as possible.
But in any case, do your own in-depth analysis and research when investing in NFTs, and then make your own decisions.
Conclusion
The Fight Back Apes NFT project revived from the scam with the support of Daz 3D, Atari and Ledger at its very start, but now there is an understanding of the strength of the community, competent leadership and development prospects. With such strong partners, they have practically no chance of becoming an ordinary collection and getting lost among the rest.
Now is your chance to be part of the greatest comeback story the NFT space has ever seen. Monkeys are ready to show that in life there are always several options for the path. They fight back against deceit and injustice. Will you join the battle on November 19th?