In addition to the news that Yuga Labs has announced a Second trip at Otherside, in today's NFT News Digest for the past week of December 24-30, you'll find:
Axie Infinity launches a new version of the game Homeland,
China launches regulated national NFT marketplace.
Yuga Labs announces Second trip at Otherside
Otherside, a metaverse project from Yuga Labs (famous creators of BAYC, MAYC), has announced its second trip for the end of March 2023. This year's First Trip of Otherside allowed the first 5,000 people to see the Metaverse. Along with BAYC mascots Curtis and Blue, they had to fight the massive Koda. Yesterday Yuga Labs announced that the Voyagers will continue their journey to Otherside with additional adventures, chances and encounters.
The Otherside is waking up. pic.twitter.com/zIMj1ETynm

— Othersidemeta (@OthersideMeta) December 22, 2022
What will happen in Second trip in Otherside?
According to the official announcement, there will be new environments, new mechanics, and an even higher level of concurrent user access than what everyone experienced in First Trip.
Second Trip will be a huge step for Otherside and will be more gamified and energetic. The introduction of these new spaces and mechanics will make the game experience much richer and allow you to open the space much more often.
According to the team, there will be more ways to make the game more enjoyable and energetic. Users will be able to go to Otherside, link their wallet and start playing. People with Bored Ape Yacht Club, Mutant Ape Yacht Club or Meebits should have no problem playing as their own unique avatars in the near future.
In addition, Yuga Labs has also teamed up with Improbable to level up their avatar experience in their Otherside Development Kit (ODK). This is a set of tools that allows creators to create and customize their avatars. In addition to avatars, the ODK will also allow users to modify, create and interact with their environment in an innovative way. The toolkit is also based on several different game types. The introduction of these new mechanics and tools will allow the Other Side to open much more frequently.
What's next for Otherside?
Starting in the first quarter of 2023 and throughout the year, a series of activations will take place on the network, introducing users to some of the other inhabitants of the Other Side. This is an important milestone in Voyager's journey. There will be ways to follow and play along. Some of these events will take place inside Otherside, while others will be playful, interactive, site-based, and designed to help build your armory of rights before Otherside goes on the mainstream.
More details about entering the metaverse via custom NFTs have yet to be revealed, although Yuga Labs has stated that the game will also have the ability to fly.
Axie Infinity launches a new version of the game Homeland
NFT gaming giant, Sky Mavis, has announced the alpha release of Axie Infinity: Homeland, which is available to all landowners. This is the latest development from Axie Infinity after a tumultuous 2021-2022. Then Axie Infinity allowed many people to earn while playing, thanks to which it entered the TOP of the best NFT games.
1/ It's here.

We're thrilled to introduce the alpha release of Axie Infinity: Homeland, our flagship land-based experience!

Guide your axies as they harvest, craft, battle, and build their way towards a stronger, more beautiful homeland.

📜| https://t.co/EF7HcUeptS pic.twitter.com/C8VUvDgFE2

— Axie Infinity | #AxieOrigins (@AxieInfinity) December 28, 2022
That being said, this release is meant to collect feedback, so there are currently no rewards. Game developers will open feedback portals so that players can report bugs they find or suggest improvements to the game.
What is Axie Infinity: Homeland?
Homeland is a version of Axie Infinity built on the NFT land platform, where players who own Earth will be able to farm here to get more resources to develop their land.
Currently, the only in-game mechanic on the web is the use of NFT Land lots and the ability to place NFT Land items.
How to start playing Axie Infinity: Homeland?
The alpha version is available through Mavis Hub for Mac and PC users. However, for now, only landowners, that is, owners of gaming Lands, can participate in the promotion. To participate, users simply visit the Mavis Hub, install the client, and then start building immediately.
What can you do in Axie Infinity: Homeland?
While playing Axie Infinity: Homeland, you can guide your axies as they harvest, produce, build, and push the boundaries of technology as they explore their lands. Equip Lunacian adventurers with gear and supplies as you battle waves of monsters. Your progress in both of these areas will be tracked on the leaderboard.
The most successful players of this alpha will learn how to master the following interconnected game loops:
Harvest and store natural resources with professional precision.
Optimize the assignment of tasks and workflows of your work axes for maximum efficiency
Build structures that allow you to store, produce items and increase the population of your settlement.
Craft supplies, weapons, armor and items to help local adventurers in their battles.
Trade with both local adventurers and other landowners for in-game currency.
Equip local adventurers with the best gear and send them into battle against waves of monsters.
Compete on the leaderboard against other owners in both the maturity of your land and how well your armed adventurers have performed in combat.
Showcase your creativity and style by designing and decorating your yard.
Explore the world and marvel at the growth of Lunation in real time as players upgrade and upgrade their lands.
What's next in Axie Infinity: Homeland?
Axie Infinity: Homeland is in the early stages of a 5-year roadmap.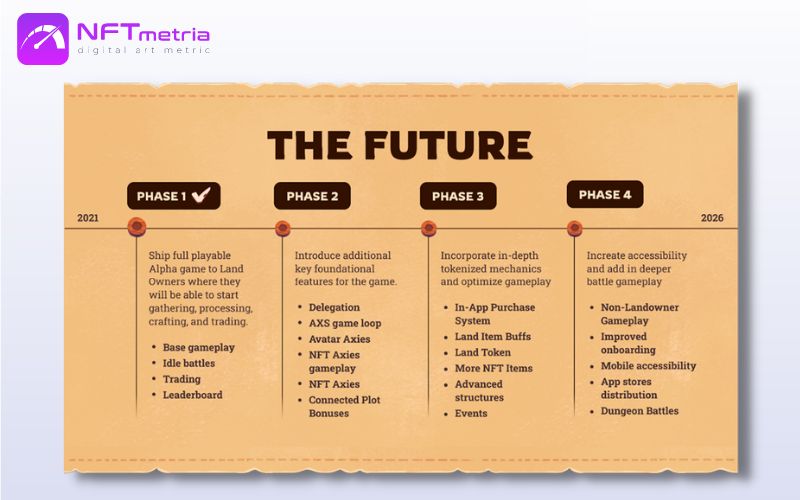 This release officially marks the start of Phase 1 and Alpha Season 0. Alpha Season 0 is planned to last 4 weeks, with more Alpha Seasons to follow. At the same time, the best players will receive special in-game titles for achieving the highest positions on the leaderboard during Season 0.
To get an idea of the long-term roadmap and integration of native Web3 features, check out Philip La's presentation at AxieCon in Fall 2022.
China launches regulated national NFT marketplace
Local news source Sina News reported on Dec. 28 that China will open its first regulated platform "China Digital Asset Trading Platform" on January 1, 2023 for trading non-fungible tokens (NFTs).
This platform will act as a secondary market for the NFT exchange. The platform will also allow the exchange of copyrights associated with digital assets. The goal of the project is to regulate and avoid excessive speculation in the secondary NFT markets.
The ceremony dedicated to the event will take place on January 1, 2023 in Beijing. Beijing says it will become an official "secondary market for digital assets that comply with national regulations."
The launch of the platform is part of China's national culture digital transformation strategy as it aims to use blockchain and NFT as the underlying technology to develop the country's cultural industry.
How will the NFT marketplace be organized?
The platform, as indicated by the government, will be tasked with "implementing" China's efforts to "digitize culture" and "develop cultural projects and industries through technical assistance and innovation."
The site will be managed by two state-owned enterprises – China Technology Exchange and Art Exhibitions China, as well as a private company Huban Digital. It is also known that the platform is based on a blockchain called China Cultural Protection Chain.
What is the current situation with NFTs and cryptocurrencies in China?
Since 2021, cryptocurrency trading has been banned in China, which means that NFTs were officially banned as well. However, cryptocurrency is considered virtual property protected by law. The Hangzhou Internet Court, a Chinese court that specializes in Internet-related legal disputes, ruled on November 29 that NFTs are virtual property. That is, it is protected by law, and has the characteristics of an object of property rights, including value, rarity, manageability, and tradability. A similar status for bitcoin was determined by the authority back in 2019. In May, a court in Shanghai made a similar decision.
Forecasts for the development of the Chinese NFT marketplace
As a result of this Chinese government approach, the market will face heavy government regulation and will not necessarily operate in the same vein as sites like OpenSea. For example, it will help facilitate the trading of NFT-related copyrights.
From an industry oversight and regulation perspective, digital assets represent a new form of commerce, and much remains to be clarified regarding laws, regulations, and oversight policies. Therefore, there is some uncertainty. Platforms have clear responsibilities for the listing and trading of digital assets. Compared to intellectual property rights and digital copyrights, digital assets face a greater risk of regulatory violations. Yu Jianing, a major specialist on digital assets and metaverse developments in China
In essence, this stance aims to avoid the problems that often arise with speculative NFTs, which China has historically viewed with suspicion.