In addition to the news that Donald Trump has successfully released his first NFT collection, in today's NFT News Digest for the past week of December 10-16, you'll find:
Aston Martin launches first ever NFT collection
Yuga Labs launches a public Bug Bounty program.
Donald Trump successfully releases his first NFT collection
On December 15, late Thursday night, former American President and billionaire Donald Trump announced the launch of his first NFT collection called "Trump Cards", saying they could "make a great Christmas present."
Donald Trump announced his new NFT collection with a commercial.

Here it is: pic.twitter.com/yBLpn1Zb0f

— unusual_whales (@unusual_whales) December 15, 2022
So, he posted a promotional video for the cards on his social platform Truth Social. The clip shows an animated version of the former president in front of New York's Trump Tower ripping his shirt open to reveal a superhero costume emblazoned with the letter T as lasers are fired from his eyes. The former president has long been enamored with the idea of portraying him as Superman. And this time, he is also pursuing his dream, saying in his video that "America needs a superhero."
What is the NFTs from Donald Trump?
Trump's NTF collection consists of 45,000 cards that include the 76-year-old former US president in a boxing ring, race car driver, astronaut, superhero and more. Each card is stamped with his presidential number 45.
There are hundreds of different cards featuring President Trump, each with their own rarity. In this case, there are no more than 20 copies of one card. And the famous illustrator Clark Mitchell developed all the images.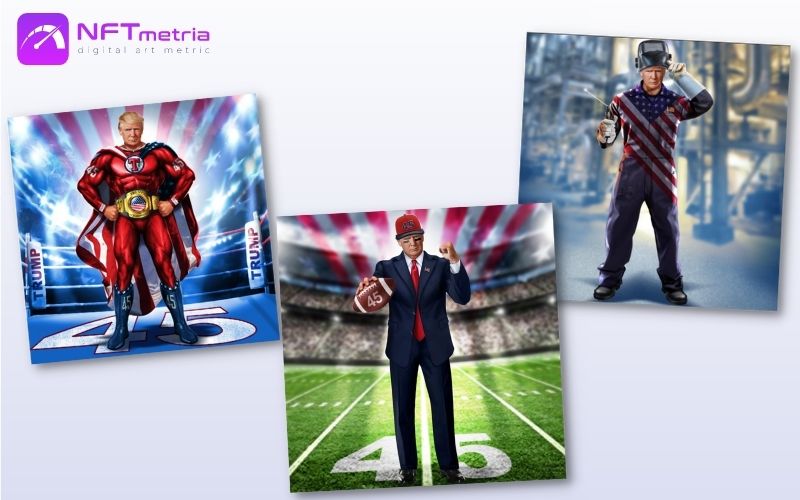 The cost of the NFTs was $99 each. And they could be purchased for fiat money from a credit card or for cryptocurrency (WETH) through the official website of CollectTrumpCards.com. NFTs are minted on the Polygon blockchain.
What utility will you get from buying the NFT from Donald Trump?
The official website promises that card buyers will enter the lottery "for a chance to win 1000 incredible prizes and meet the one and only #45!"
And here are the prizes you can win:
Personal meeting with Mr. Trump,
Dinner in Miami with a billionaire,
Meet for cocktails at a luxury private resort in Paml Beach,
Playing golf on the course in one of his houses,
Hand-signed memorabilia,
Buyers who purchase 45 cards can receive a ticket to the Trump Resort Gala in South Florida.
I will also be hosting Zoom calls, one-on-one meetings, signing memorabilia autographs, and more. Donald Trump announced in his official video
The fine print on the site states that the total value of all prizes is $54,695. Also, the winners of head-to-head meetings will have to cover their own travel and accommodation expenses.
How are the NFT sales from Trump going?
NFTs from Donald Trump were sold on the Opensea marketplace, which could be accessed through the official website. Despite much ridicule online, former US President Donald Trump's 45,000 digital trading card collection sold out in just 12 hours.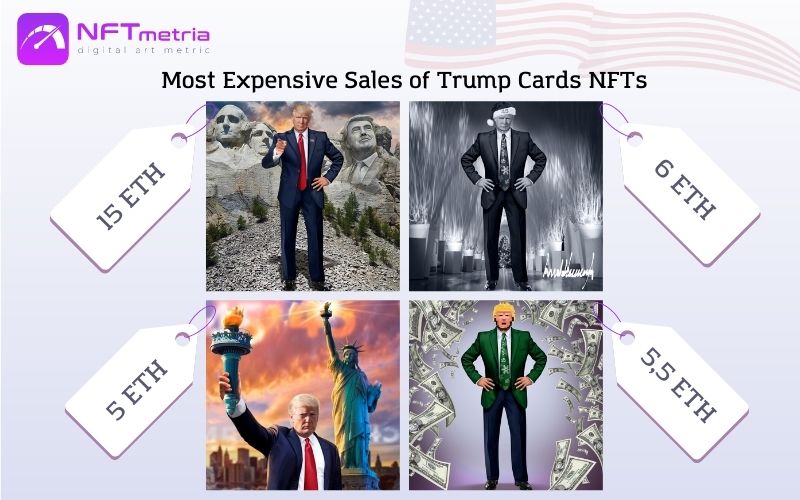 What are the current numbers:
Total initial sales amounted to $4.5 million,
The total volume of secondary sales exceeded 2.5k ETH (more than 3 million dollars at the moment),
More than 15k transactions have already been completed on the secondary market,
The minimum price in the secondary market is 0.291 ETH,
7% of the entire collection is put up for sale,
The most expensive Trump Digital Trading Card #12777 sold for 15 ETH ($17k).
Is NFT from Donald Trump a good investment?
Despite all the criticism surrounding this news, Donald Trump's NFT collection is generating significant interest from collectors and investors. Many see the collection as a unique opportunity to become the owner of a piece of political history. Others expect to see the potential profit that limited edition cards can bring.
It remains to be seen how successful Donald Trump's NFT collection will be, but it's clear that the former president continues to excite everyone in the world of politics and technology. Love it or hate it, the Trump Cards collection is a controversial and exciting addition to the NFT world.
Aston Martin launches first ever NFT collection
Following other automakers (including Lamborghini, Porsche and Chevrolet), now Aston Martin is entering the NFT world and launching its first NFT collection, designed in collaboration with The Tiny Digital Factory. A total of 3,000 NFTs will be available starting December 18 this year.
What is the NFT collection of Aston Martin?
Aston Martin NFT's first collection includes the current Vantage V8, the Vantage GT3 race car and the 1980 Vantage V8 also featured in the 15th James Bond film Live Daylights. Each NFT will look just like its real-world counterpart.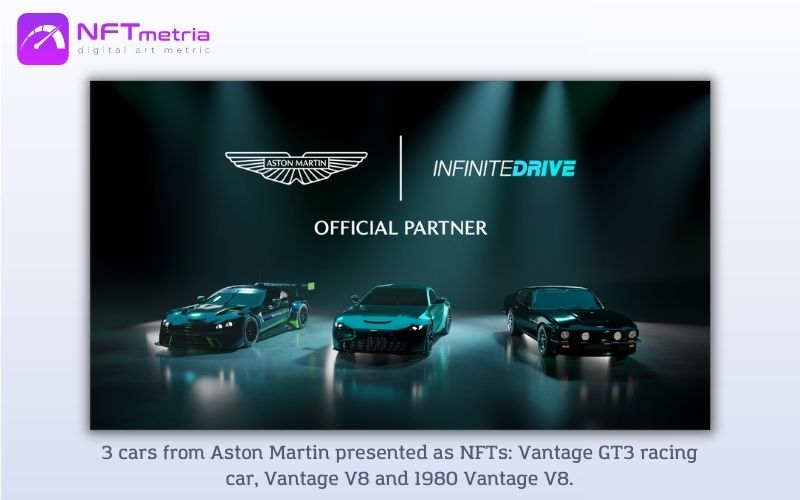 The first wave of NFT vehicles will include a total of 3,000 units that will go on sale starting December 19th. All three vehicles will be available on the Polygon blockchain. So, all owners will have the opportunity to race in the mobile metaverse Infinite Drive, which was created by Tiny Digital Factory.
What is the Infinite Drive Metaverse?
The Infinite Drive Metaverse is developed by Tiny Digital Factory. For now, this project is in alpha testing. But now, after purchasing NFT from Aston Martin, owners can use these virtual cars in the closed alpha version of the Infinite Drive metaverse for iOS and Android. In the alpha version, NFT owners can view their collections and compete against each other on officially licensed tracks.
The full game will be free to play on iOS and Android starting in 2023. It will feature an NFT market, seasonal events, and a place where players can rent their cars to other players.
Who is The Tiny Digital Factory?
Tiny Digital Factory is the developer, publisher, and creator of Infinite Drive. It is the first mobile NFT racing platform and a metaverse for car enthusiasts that allows you to collect cars from the most popular and respected brands in the industry. With a new partnership with the British manufacturer, the company will bring three impressive vehicles to the mobile universe.
Yuga Labs Launches Public Bug Bounty Program
Yuga Labs, one of the largest developers in the NFT market and owner of the largest NFT collections (BAYC, MAYC, Otherdeed for Otherside), announced its bug bounty program through HackerOne on Wednesday. The program will offer a reward of up to $50,000 to those who discover vulnerabilities and problems in the company's platform, social accounts and communication channels.
We are excited to announce the public launch of our bug bounty program. Security is a top priority for us and we want reward to those who help find and report bugs for us to squash. Learn more here: https://t.co/EfT2kEHkO0

— Yuga Labs (@yugalabs) December 14, 2022
We care deeply about the security of our community, which is why we run this program by invitation only, and a network of over 800 responsible hackers has been helping us identify and fix security vulnerabilities since July. Said Yuga Labs
What will be the payouts for Bug Bounty from Yuga Labs?
The payout structure will be broken down into the following categories:
Low severity issues: $250-$1,000.
Moderate problems: $1,000-$5,000.
High severity issues: $5,000-$25,000.
Critical Issues: $25,000-$50,000.