There are not so many high-profile projects on the NFT market that have been able to gain trust, loyalty, a strong community and wild sales from the first minutes of minting. As a rule, such projects are led by influencers and celebrities who are an advertising person and a sales engine. But today we are going to talk about married couple Betty and Psych, who first learned about the NFT in 2021 and immediately launched a crazy project with over $80 million in secondary sales. And it's all about Deadfellaz.
Who are the Deadfellaz?
Deadfellaz is the most popular NFT project and their founders, a creative union of a married couple who work under the pseudonyms Betty and Psych. They live in Australia. Betty has extensive experience in a creative production agency. Psych is a digital artist and a member of the Ultra DAO community of crypto art collectors and creators. Has been in the industry for over 14 years.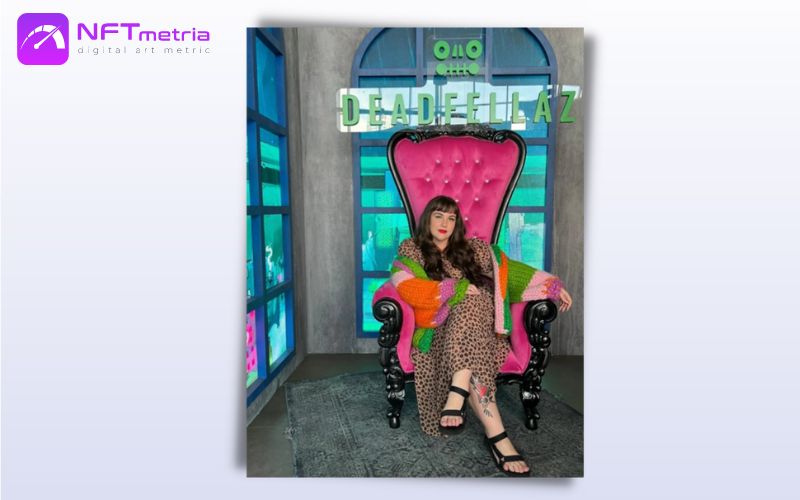 Previously, the couple was completely anonymous. For Betty in particular, the decision to remain anonymous was driven by a desire to work without the male gaze and all that comes with it. In addition, she wished to maintain a certain degree of security for herself and her three children. But in 2022, after 9 months of anonymously managing the Deadfellaz project, co-founder Betty, also called the "Mother of the Horde", revealed her face at the Veecon 2022 conference and is now openly communicating with a large community.
Some @Deadfellaz moments from @veecon 🧟‍♂️💚👏 share yours with us! 👇 pic.twitter.com/a69XTyfIZx

— Deadfellaz (@Deadfellaz) May 23, 2022
I've decided to give up on myself now because I value personal interaction. But at the same time, I also value my privacy, the privacy and the safety of my children. That is why I will maintain a certain level of detachment from my personal life and my work. Betty said
Deadfellaz Official Links
The creative path of the creators Deadfellaz: from the difficulties with work during Covid-19 to NFT
The founders of Deadfellaz are a married couple with the creative names Betty and Psych. Prior to the project, she was co-director of a creative production agency she co-led with her husband Psych, an artist and co-founder of Deadfellaz. In addition, Betty has been organizing in the community, as well as performing and supporting various LGBT communities, dark women, etc.
People first need to work on removing all their internal "biases" in the real world. After all, what happens in the NFT space, or any other virtual space, is a reflection of the real world. Counts Betty
Much of the work the couple did was not immune to the worldwide Covid-10 pandemic, so they lost a lot of very large contracts in 2020. And the specifics of their work are that sometimes one project is equivalent to a year's work. Therefore, in the period 2020-2021, the family experienced financial difficulties, having 3 daughters under the age of 6 years. In addition, during the pandemic, the couple was busy with "boring" work that did not saturate their creative minds.
Deadfellaz in the NFT world
The idea to create a collection for a creative couple came during the general quarantine of Covid-19. Around the same time, Psych was doing art for various DAOs and events. He also began to get opportunities to make art for other collections. In January 2021, some artists and comrades from the Psych art collective were working with NFT. They explained to him what they were, and he explained it to his wife. Then they looked at the entire market of that time, and realized that nothing attracted them. And so, began their journey as the founders of a large digital brand.
And I was just amazed – the launch and management of the NFT project was really in our wheelhouse. We both have these skills when we work together. And so, it just made sense for me to do it. Betty says
And already in August 2021, they launched their Deadfellaz project. While the idea of creating 10,000 green zombies came about in about five minutes, the collection's astounding success is the result of years of effort and collaboration between the pair, who work "symbiotically" to bring their ideas to life.
The night we were deployed, I remember walking through the grocery store. Went out to buy food to stay awake. And I had coins in my hands, and that was all the money I had. And then, just hours later, there was more money than I've ever seen in my entire life. More than anyone in my family has ever seen in their entire lives. Remembers Betty
They now have the support of celebrity collectors and influencers of the NFT market. Among them are rapper Lil Baby, DJ and music producer Steve Aoki, actress and producer Reese Witherspoon and many other famous people. And the most star family now has their own house, which, according to Betty, she never expected. She paid off her family's debts and was able to give money to her friends and siblings.
We are building an empire. It's really exciting because I see NFT at this unique intersection of entertainment, media, technology, innovation and creativity. But there is also the potential to use them for social change, complex structures and destruction of things, and empowering people to do things that they could not do in the world before. Talking to Betty about the DeadFellaz project in the NFT world
DEADFELLAZ LETS GOOOOOOOOOOOOOOOOOOOOOOOO pic.twitter.com/dz4ttYJB6L

— andrew (@andr3w) October 30, 2021
The artist is also a significant figure in this market as a loud voice of the community. So, she is an active defender of sexual minorities, a fighter against gender inequality and the infringement of women in society. At the Gateway 2022 NFT Festival during Art Basel Miami, Betty took the stage with celebrity personality and NFT influencer Matt Medved to talk about how the NFT space can better approach different issues. In particular, at that time the issue of abolishing royalties to the creators and artists of the NFT was actively discussed.
We really want to secure a pop culture mainstay in the real world that is being used as a vehicle for social change. We are all talking about Web3. But I don't think we're actually there. I think we are building Web3 and Web2 right now. I want Deadfellaz to be a part of it. Everything we do, we do with this and the development of space in mind. Betty said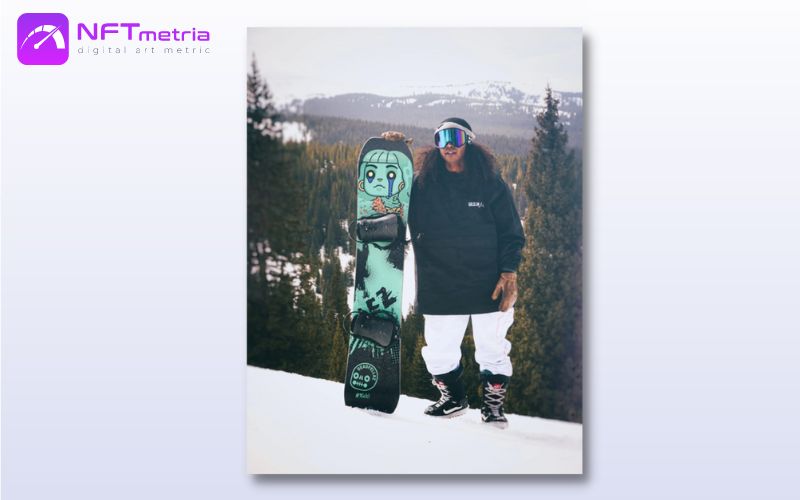 Features of NFT works from DeadFellaz
DeadFellaz's work has a distinctly distinct style that is unparalleled. Green monsters that seem to have died a long time ago and began to decompose. The bright green color draws attention to these dead people. A randomly generated combination of traits, outfits makes each NFT unique. Reanimated corpses are distinguished by scars, blood stains of rot, a variety of jackets, beacons, and hats. Some of the monsters are already wearing dilapidated outfits, and some are lucky: they have whole flawless clothes. The uniqueness of the eyes, mostly yellow and white, with or without pupils, is surprising.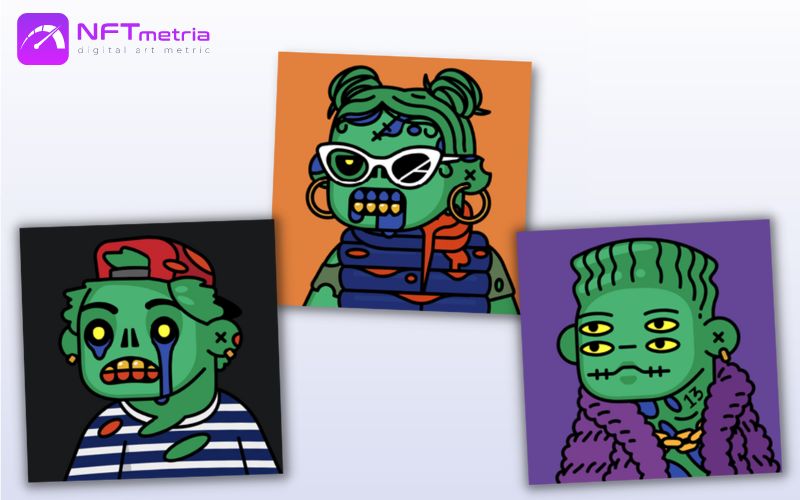 And most importantly, all zombies are gender-neutral. At that time, there were no projects yet, and this topic resonated very much for Betty. She wanted to get away from any gender manifestations as much as possible, whether it was women's beads or a men's baseball cap.
The most famous NFT collection from the creators DeadFellaz
Our goal with Deadfellaz is to create a pop culture brand in the real world and a crypto brand in the metaverse. We want to build both of these worlds in parallel. Betty said
Deadfellaz NFT Collection
A collection of 10,000 zombie monsters was created in August 2021. This is the first collection of authors in the form of green men – zombies. This collection hit the market like a bomb and their tokens sold out in minutes. At the heart of the project behind PFP images is utility, perspective, and a strong community of like-minded people. And among the owners (who are usually called the "horde" in the community) are such celebrities as Reese Witherspoon, Lionel Richie, Pussy Riot, Steve Aoki, Alexis Oganian, Gary Vee and others.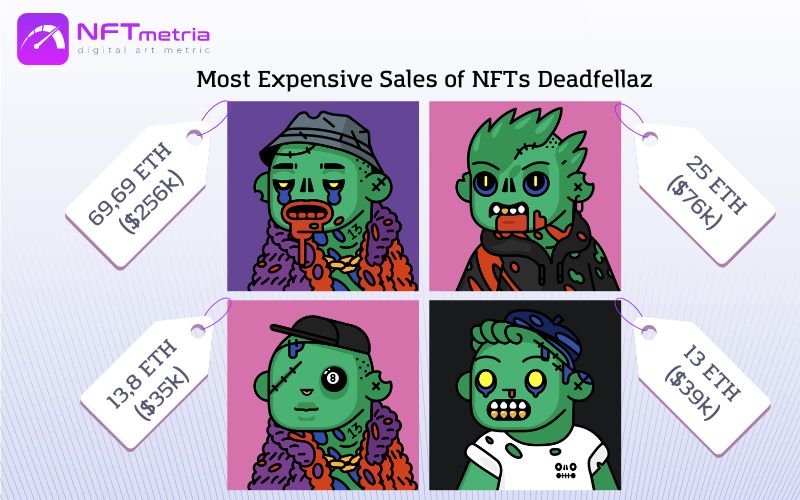 A few figures about the collection today:
The total volume of secondary sales exceeded 31k ETH (about $80 million),
The minimum price is 0.87 ETH,
The most expensive DeadFellaz #1054 was sold on December 31, 2021 for 69.69 ETH (approximately $256k).
DeadFrenz NFT Collection
DeadFrenz is a derivative of collections from DeadFellaz. It consists of about 11 thousand monsters – 13 types of animals. The focus of the collection was on creating games.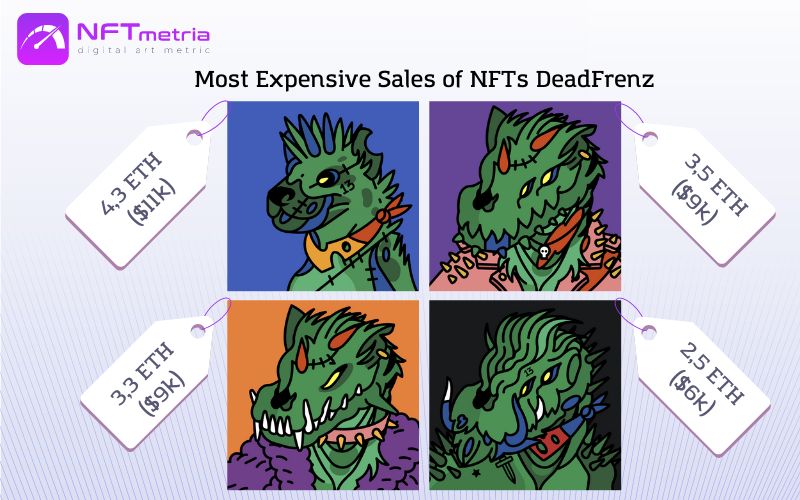 A few figures about the collection today:
The collection was created in February 2022,
The total volume of secondary sales exceeded 2.4k ETH (more than 6 million dollars),
The minimum price is 0.075 ETH,
Total sales of 2.4 thousand ETH.
Where can you buy NFT works from Deadfellaz?
Now NFTs from the creators of Deadfellaz are available only on the secondary market, namely on such marketplaces as OpenSea, Rarible, LooksRare, CoinBase. In addition, you can follow the future news on Twitter and Instagram of the creators of the Betty and Psych project.
Opinion of NFTMetria
In order to be successful, you have to keep doing and not stop. Says project founder Betty
And she and her husband really have no plans to stop. They put a lot of effort into the development of the already global Deadfellaz project. The professional skills of each in a pair, a common vision in the same direction, the generation of popular ideas, high efficiency – this is the key to the success of Betty and Psych, who are the founders of the Deadfellaz project with resales of more than $ 80 million.
With each new round of development, the project is getting stronger, scaling up and attracting more and more new NFT investors. Seeing the contribution of the founders, the painstaking and useful work of the team, famous and strong personalities among the owners of these tokens, this investment is promising and potentially profitable.