How often do you visit fashion boutiques? Did you know that NFT fans can now get cool accessories for their top digital assets from the comfort of their own homes? Meet 10KTF virtual store, an innovative project in the New Tokyo metaverse. It has become popular because of its stunning visuals, engaging legend and partnerships with brands like Puma and Gucci, as well as all the blue chip NFT projects.
What can you get from this digital shop, who runs it, and what is the history of its creation? We'll cover these and other questions in our review today.
10KTF Official Links
What is 10KTF?
10KTF is a digital store located in the New Tokyo metaverse. Its manager is Wagmi-san, a skilled craftsman with worldwide fame. According to the legend, he actively fights to keep his store from being shut down by the Toad Mafia, whose representatives are called Boss Toadz.
In his store Wagmi-san offers first-class accessories and quality merch for tokens from the top collections:
CrypToadz by GREMPLIN,
Forgotten Runes Wizards Cult,
Gutter Cat Gang,
Wolf Game,
Any item here is for NFT parent owners and is a 1-of-1 digital product made according to the ERC-721 token standard.
Welcome to the new 10KTF Shop. pic.twitter.com/lR5ak10M3R

— Wagmi-san (@10KTFshop) May 20, 2022
To obtain a 10KTF item, you must own the parent NFT. For example, only Bored Ape Yacht Club holders can produce an Ape High Top item. Only 1 Ape High Top can be minted for each of the 10,000 Bored Ape Yacht Club.
The Wagmi-san shop has two collections of materials:
Stockroom (23 items): a set of materials and accessories that may be useful for crypto enthusiasts in future adventures (e.g. hoodie, helmet, special sword);
Combat Crates (691 items): warrior crates that contain Level 2 combat equipment to successfully complete missions on the Battle.town platform.
All visitors to the Wagmi-san shop should remember that they can use Blanks. These are special digital items created by the Wagmi-san himself. With the magical powers of the 10KTF store Blanks can be turned into digital art items with the art of your favorite NFT. To do so, you must own the parent NFT, and it must be in the same wallet as the Blank.
10KTF in numbers
The launch of the digital store took place on September 17, 2021.
There are currently more than 23.5k NFT items in the store's collection, which are equipment, attributes and accessories for 16 top NFT collections.
The total volume of secondary sales exceeded 15k ETH (more than $26 million at the current exchange rate).
Floor price is 0.33 ETH (about $550).
Average sales range from 0.31 ETH to 0.4 ETH.
The most expensive Mutant Daypack #9527 was sold on April 24, 2022 for 36.69 ETH ($107k at the time of sale).
Total 4,460 unique holders (30%). In this case, this can be explained in a positive way. The collection acts as an addition to the top best NFT projects on the market. Accordingly, holders, including the whales of these collections, are also actively involved in this project.
Only about 2% of the collection (313 pieces out of 23,501) are for sale, among them the offers range from 0.33 ETH to 5 ETH. This shows that almost all holders see the project as a great investment prospect and are not in a hurry to part with their assets at a lower price.
Data (including exchange rates) are given at the time of publication (March 1, 2023)
10KTF types and attributes
In the 10KTF collection you won't find standard types and attributes like in the other collections. Here you will find only 500 parent names, 96 kinds of backgrounds, 6 kinds of properties, 6 kinds of items and other features.
Among them, it is worth highlighting the types:
Bag (10,536 pieces),
Shoes (5,324 pieces),
Outerwear (2,334 pieces),
Headgear (2,256 pieces),
Footwear (2,058 pieces),
Socks (1,032 pieces),
Daypack (24 pieces).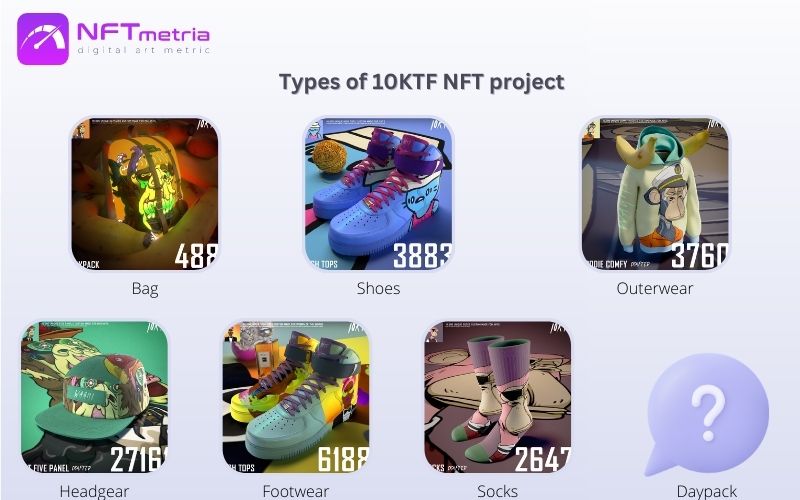 Who created 10KTF?
The creator of the 10KTF project is WeNeW @wenewlabs, a company specializing in modern technologies. One of the co-founders of the platform is the legendary digital artist Mike Winkelmann, aka Beeple.
WeNeW actively cooperates with the clothing brand Louis Vuitton. The result of this partnership was a game, where the victory could bring LV NFTs tokens. This is how Louis Vuitton made a triumphant entry into the metaverse.
Louis Vuitton enters the #NFT metaverse: designer label Louis Vuitton is to release its own game with embedded NFTs, allowing users to explore the ever growing amalgamation of fashion and gaming. In celebration of their 200th birthday, the game is to be released on August 4th. pic.twitter.com/nwcpxQe1nB

— Non-Fungible Labs (@NF_Labs) August 2, 2021
WeNeW is also known for releasing a series of NFTs commemorating Andy Murray's 2013 Wimbledon victory. The rarest copy of this collection was sold at auction for $177,000:
WENEW in @espn: '@andy_murray's @Wimbledon NFT fetches $177k at auction'https://t.co/nSmbpdLLrI

— WENEW Labs (@wenewlabs) July 9, 2021
The WENEW team includes creative staff:
Michael Figge @mfigge, co-founder. The former creative director of POSSIBLE, a company specializing in the visual image of celebrities. He has experience working with Paul McCartney, Ariana Grande, Justin Bieber and other stars.
Guy Oseary @guyoseary, co-founder. Madonna's manager and producer of the acclaimed Twilight series. Guy is also known for managing baseball player Alex Rodriguez and helping him win the World Series.
Tim Smith @bitvargen, co-founder. Former manager of such successful artists as Limp Bizkit, Rob Zombie, Linkin Park, etc.
Randy Chung @designrandy, CTO. Previously served as chief architect for Treez Inc. which is valued at more than $250 million.
Paul Billings @paulmbillings, CCO. He has significant experience in the music industry.
Lisa Kang, Vice President of Operations. A specialist with extensive experience in music, arts and technology development. For more than three years she supervised League of Legends global sporting events.
Nikki Jahanforousz. Vice President. He's known for his collaboration with HBO. Nikki served as creative director of Gucci and New Balance, worked with prominent musicians Calvin Harris and Robert Glasper.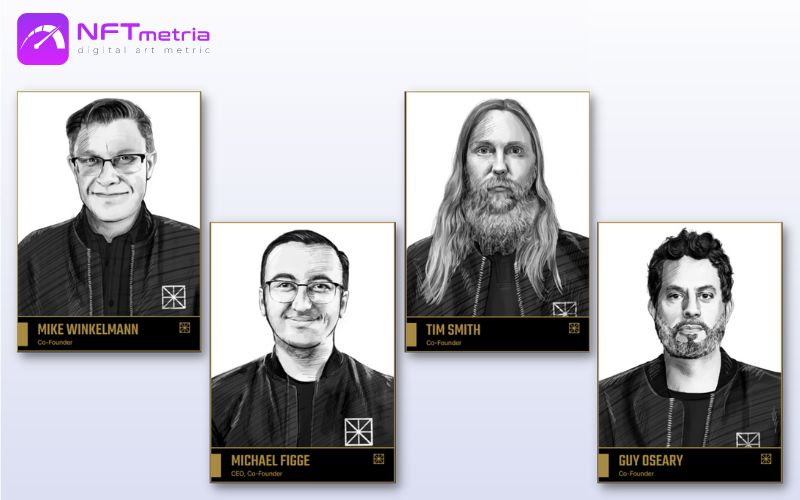 Since November 2022, the full owner of 10KTF, as well as of the WeNeW studio itself, is Yuga Labs, the market leader and owner of such top collections as BAYC, MAYC, and Otherside metaverse.
Today, we are excited to welcome the @wenewlabs and @10ktfshop team to the Yugaverse. Together we will push the boundaries of where the metaverse meets reality through creative storytelling and immersive experiences. Read more about the news here: https://t.co/6NPJgmzxck

— Yuga Labs (@yugalabs) November 14, 2022
Since WeNeW came under the wing of Yuga Labs, Beeple has become a consultant to Yuga Labs, and Michael Figge is now the Chief Content Officer at Yuga Labs. In addition to Figge, about 20 of the studio's employees have moved to Yuga Labs.
10KTF Idea
What is the main purpose of the digital store run by the respected and charismatic Wagmi-san? The authors of the 10KTF project decided to provide the user with a unique experience. What is an ordinary store? You go there, choose the product you want and buy it. Everything is quite trivial.
And in the virtual store 10KTF you can create your own unique product! It is very simple:
Wagmi-san crafts Level 1 Blank and accessories, as well as Level 2 combat gear.
In the Stockroom section there are tools (Tools) and materials (Materials) that can be used for Blanks of shoes, clothes, etc.
Isn't that cool? In addition, the special atmosphere is created by the owner himself. Wagmi-san is a wise, friendly and skillful craftsman, and he always has something to please the true connoisseurs of digital art.
Why is 10KTF popular?
Collaboration with top brands Gucci and Puma. After successfully entering the metaverse, Gucci partnered with 10KTF, which resulted in an NFT Gucci Grail drop. Gucci Grail tokens granted rights for future drops and other goodies.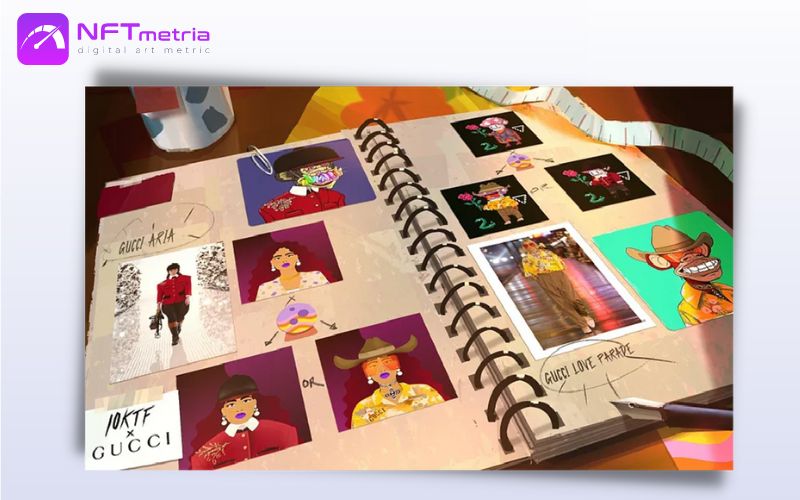 Puma released a special line of sneakers in cooperation with 10KTF
News | @Puma sees digital goods as an extension of physical products that can add a new level to the experience through digital perks, but it's entering a competitive sneaker landscape as sports brands go big on the #metaverse. https://t.co/Q7yB7BZEkV

— Vogue Business (@voguebusiness) June 24, 2022
10KTF has also partnered with Animoca Brands, an industry leader that distributes digital property rights to gamers and Internet users. The co-branding was to result in a game for 10KTF/Otherside.
Possibility to get physical merchandise. In order to receive such an IRL product, you must first become the owner of the corresponding NFT via the airdrop.
A focus on anime culture. The New Tokyo metaverse, in which the store is located, is very reminiscent of the atmosphere of the famous fantasy Spirited Away by Studio Ghibli. And Wagmi-san himself looks like a character from an anime work. Since the Japanese theme is trending in the NFT community right now, it's no wonder that 10KTF is extremely popular.
10KTF Roadmap
The official website of the project does not have an up-to-date roadmap. As of mid-2022, the team's plans included the following:
Launch of the Battle for New Tokyo game on the Battle.town platform. It was supposed to include several missions. To receive rewards, players had to complete certain tasks and load their avatars with 10KTF items.
The release of physical merch.
Supposed use of items in the Otherside universe.
It is also safe to expect that the acquisition of 10KTF and WeNeW studio by the leader of the NFT market Yuga Labs guarantees growth, scalability and new prospects for the project.
10KTF Ecosystem
The 10KTF ecosystem includes the following collections:
Battletown
Battle.town is a 10KTF platform where the events of Battle for New Tokyo take place. Here players can use their tokens to join various missions.
Combat Gear
Combat Gear is a limited collection of 9,086 Level 2 NFT items from Wagmi-san, including helmets, Kevlar vests, weapons, and special boots. With Combat Gear, players level up and gain more points on the Battle.town platform.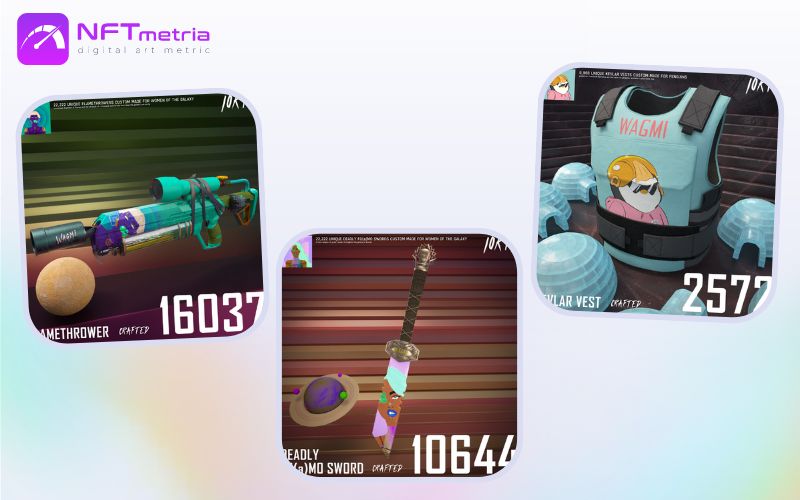 To date, the volume of secondary sales has exceeded 800 ETH, and the floor price is 0.24 ETH.
Gucci Grail
Gucci Grail is a derivative collection of 4,253 fashion characters that, according to legend, came out after Gucci creative director Alessandro Michele took a trip to New Tokyo and met the esteemed Wagmi-san.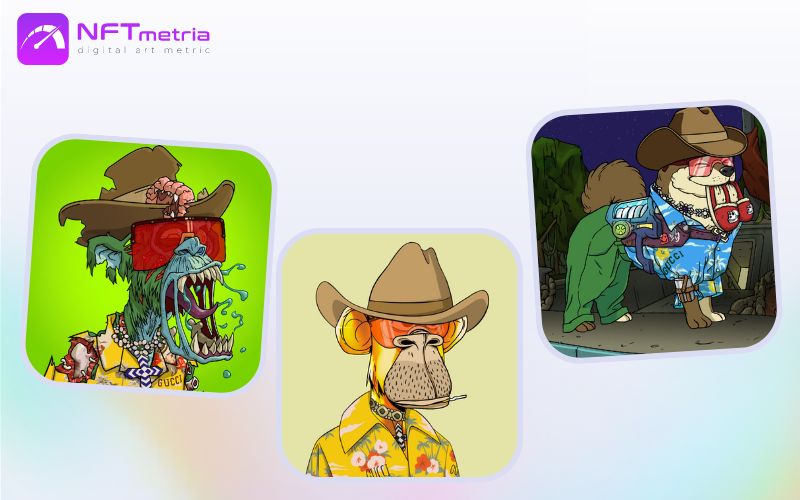 Gucci Grail
To date, the volume of secondary sales has exceeded 5.2k ETH, and the floor price is 0.45 ETH.
Kagami
Kagami is the key to owning the physical part of 10KTF history. 893 items were carefully designed and crafted by Wagmi-san.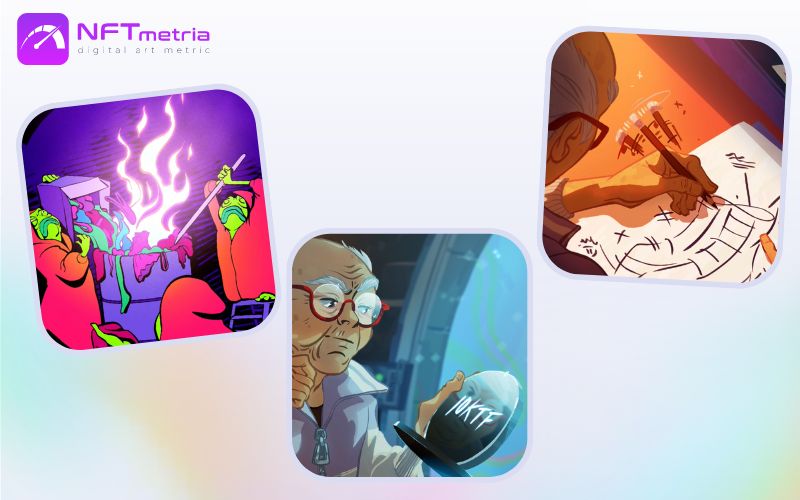 To date, the volume of secondary sales has exceeded 1.1k ETH, and the floor price is 2.5 ETH.
Stockroom
Stockroom is a collection of 33k Materials, Tools and Blanks for shop customers. It also includes limited edition items.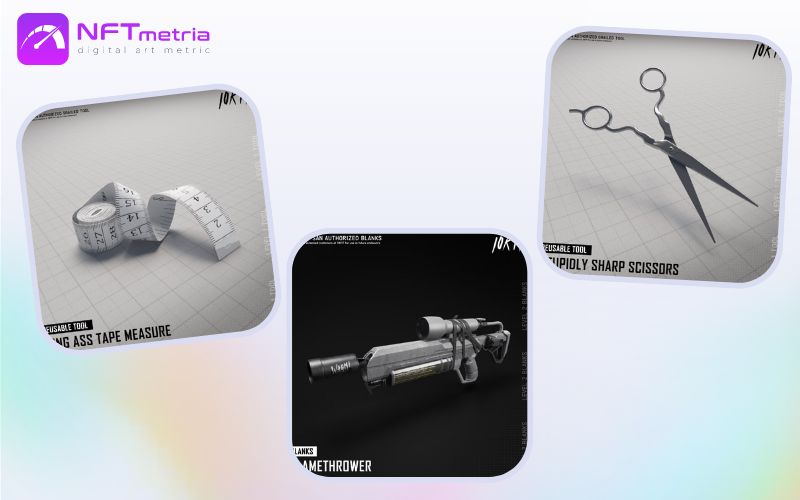 To date, the volume of secondary sales has exceeded 15.3k ETH, and the floor price is 0.07 ETH.
Combat Crates
Combat Crates are 690 Level 2 Combat Gear crates for Battle.town missions. Once opened by the owner, the empty combat item will become part of the 10KTF Stockroom.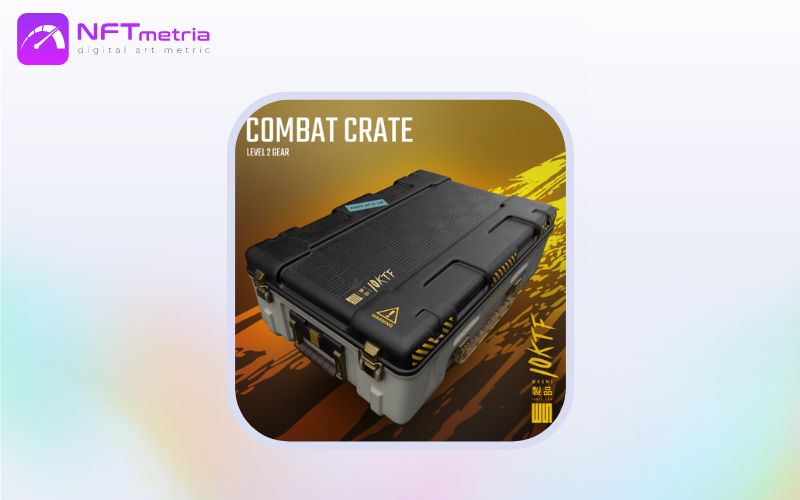 To date, the volume of secondary sales has exceeded 1.2k ETH, and the floor price is 0.64 ETH.
$NTD (New Tokyo Dollar)
$NTD (New Tokyo Dollar) is an in-game ERC-20 token that allows you to make purchases in New Tokyo.
How much is 10KTF worth?
The launch of the digital store took place on September 17, 2021. Since then, the project has steadily supported the interest of the market, which is reflected in both the cost and sales volumes.
To visualize the price dynamics, we made a slice of the average price for 1 NFT:
in October 2021: 0.2 ETH,
in January 2022: 0.3 ETH,
in April 2022: 1.3 ETH,
in October 2022: 0.4 ETH,
in December 2022: 0.5 ETH.
Now (March 1, 2023) the minimum price is 0.33 ETH. On average, the latest sales range from 0.31 to 0.4 ETH. And the total volume of secondary sales amounted to more than 15k ETH (about $26 million).
The Most Expensive 10KTF Sales
The most expensive sales are led by the following NFTs from the 10KTF collection:
Mutant Daypack #9527 was sold on April 24, 2022 for 36.69 ETH ($107k at the time of sale),
Kennel Daypack #9527 was sold on February 10, 2023 for 30 ETH ($45k at the time of sale),
0N1 High Tops #473 was sold on April 15, 2022 for 13 ETH ($39k at the time of sale),
0N1 High Tops #6346 was sold on February 8, 2023 for 10 ETH ($17k at the time of sale).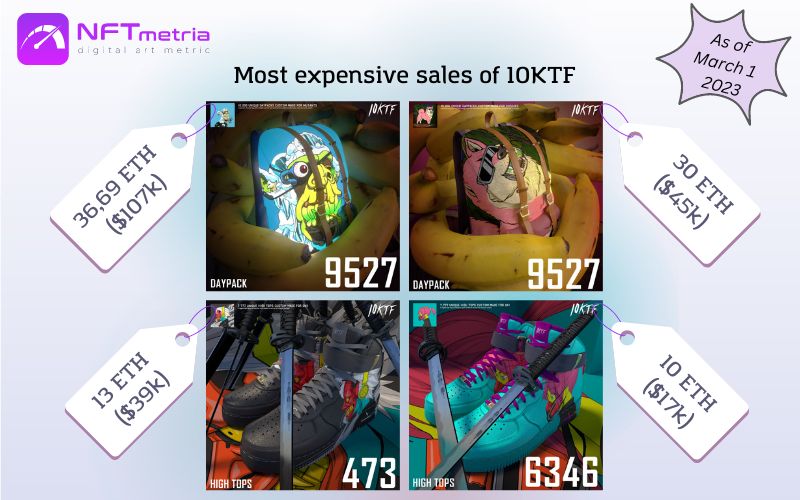 Where to buy 10KTF?
Currently, 10KTF can only be purchased on the secondary market, on marketplaces such as OpenSea, X2Y2 and LooksRare.
How to buy 10KTF?
Remember that initially you need to connect your crypto wallet with self-storage to the marketplace of your choice.
Next, find the official collection using the search bar on the marketplace.
Analyze and choose the NFT you want to buy; click on it and then on the "Buy" button.
Or you can bet on the token you like. Make sure you leave enough ETH for gas or transaction fees. If the seller approves your bid, the deal goes through.
Should you invest in 10KTF?
The 10KTF project can attract a potential investor with profitable prospects:
the ability to receive rewards from holding Genesis items, including currency such as New Tokyo Dollars;
an exciting gaming experience on the Battle.town platform;
participation in future projects of the Otherside metaverse;
airdrops and other pleasant surprises from the 10KTF team;
further promising development under the auspices of such an authoritative Web3 giant as Yuga Labs.
In any case, do your own in-depth analysis and research when investing in NFTs, and then make your own decision.
Opinion of NFTmetria
The 10KTF virtual shop is not just a place that offers NFT products. It's a digital world in miniature with the good genius Wagmi-san. Everyone who goes there immediately falls under the power of his charm and charisma. The fascinating process of minting new tokens based on the original top NFTs captivates true crypto enthusiasts. They also get unique access to adventures and hot battles on the Battle.town platform. All this together makes the 10KTF project to be promising and worth attention.