WeNeW (WNW) is one of those companies that not only believes in the possibilities of Web3, but also realizes its potential with bold initiatives. The result is promising projects and effective collaborations. And the stellar composition of the founders is impressive – well-known and successful entrepreneurs – Beeple, Michael Figge, Guy Oseary and Tim Smith took part in the creation of WNW.
Each WeNeW product is designed to show the real value of non-fungible tokens and advance the NFT industry as a whole. The ecosystem created by this company is an impressive second reality that more and more true crypto fans want to master.
What is WeNeW Labs?
WeNeW Labs is a tech studio building Web3 through NFT innovation and creative storytelling. The company was founded in 2021 in Los Angeles. Backed by investors such as Polygon, Ripple, Ventures, Animoca Brands, FTX, the studio has quickly become an iconic player in the NFT field.
The studio has put a lot of effort into promoting the unique NFT content certification technology. The WeNeW Moments project, having allowed to reconsider the relationship between creators and collectors, attracted such cult brands as Wimbledon, Louis Vuitton, Gucci, Playboy, Puma to the company.
Created by the WeNeW Labs team, the 10KTF collection has not only become a blue chip, but also brought attention to the top NFT collections, allowing members of their communities to purchase unique digital accessories for their PFPs. The professionalism and creativity of the creators of 10KTF has been highly appreciated by the community, as evidenced by the words of Greg Solano, co-founder of Yuga Labs:
Figge, Beeple, and the WENEW team have found a way to create a captivating serialized story for Web3, while also managing to tap into the passion people have for their digital avatars and customization. Greg Solano said
On November 14, 2022, Yuga Labs announced the acquisition of WeNeW and its 10KTF collection. Beeple became a consultant for Yuga Labs, and Michael Figge took over as director of content on the Yuga team. In addition to Figge, about 20 WeNeW Labs employees moved to Yuga Labs.
WeNeW Labs Official Links
Who are the founders of WeNeW Labs?
We owe the appearance of this project to the four crypto enthusiasts, each of whom has an impressive track record: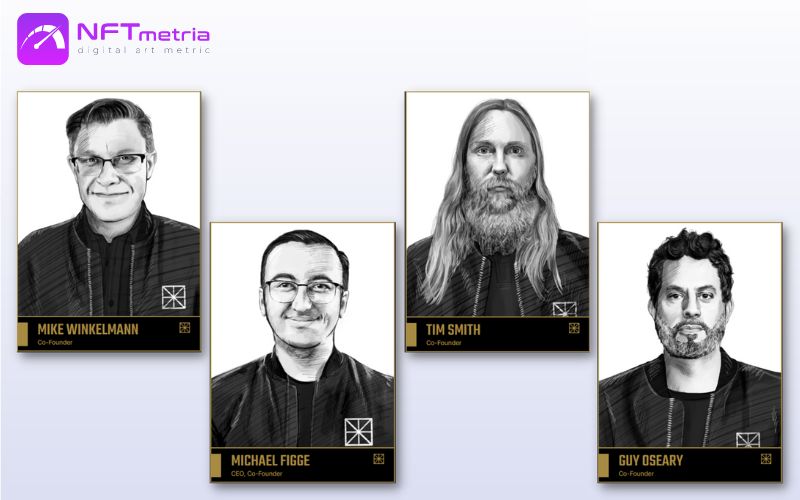 History of WeNeW Labs
According to Beeple, he made the decision to create WeNeW Moments (the studio's start-up project) after he was approached by several popular musicians seeking to collaborate with projects:
I quickly realized they didn't need me because they'd already created moments, a bunch of cultural connections with their fans. Making it somehow possible to collect those epic musical moments was, I thought, a very different take on NFTs. Beeple said
According to him, WeNeW was conceived as a project that goes beyond the creation and sale of NFTs. This platform was supposed to be the "temple of memory of the metaverse", adding value and context to tokenized "history moments". Not surprisingly, such giants of the cultural sphere as TIME, IMG, Endeavor, Warner Music Group, Universal Music Group became partners of the new platform.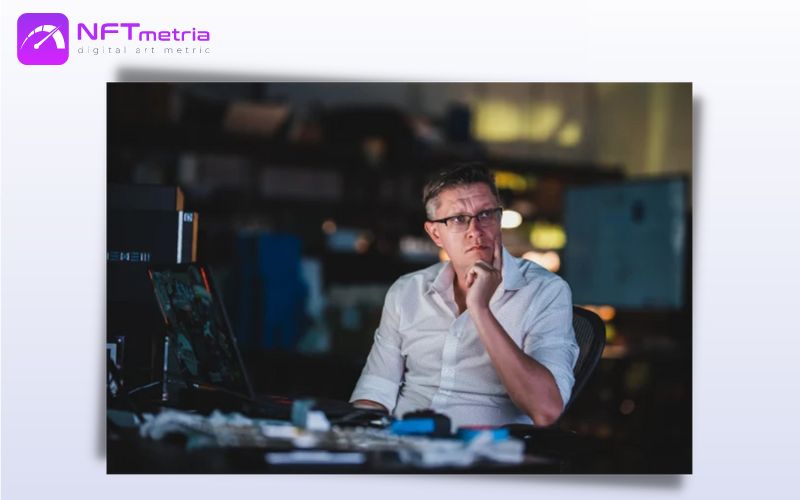 Projects of WeNeW Labs
Three key projects brought fame to the company:
WeNeW Moments platform,
Collection 10KTF,
Crypto storage Warm.
WeNeW Moments NFT Platform
WeNeW Moments is a unique online platform designed for more than auctions and NFT direct sales. It is designed to perpetuate significant milestones in the history of sports, music, art, and fashion on the blockchain. This first WeNeW project proved to be extremely successful, bringing in $500 million in just the first 6 months.
By allowing creators to earn hefty royalties on their tokenized creations, it has enabled fans to discover the true value and history behind each token being sold. At the same time, each NFT series assumed an IRL experience for the buyer
Ryan Schreiber, the founder of the popular music site Pitchfork, was appointed as the chief editor of the project. Under his leadership, professional journalists created captivating stories about digital items being auctioned off.
We're definitely looking at this as sort of immortalizing these moments of human achievement for collectors. Schreiber told in the interview
The first series to be included in the WeNeW Moments catalog, which included over 600 tokens, captured the triumph of Scottish tennis player Andy Murray at the Wimbledon Championship in 2013. It includes historical pictures and speeches of the athlete. These artifacts were put up for auction, which took place from July 2 to July 5, 2021. The cost of virtual lots ranged from $49 to $4999.
More expensive digital items came bundled with physical items – a replica cup, an autographed poster, Wimbledon 2022 tickets, a tokenized photo display. According to Reuters, the most valuable image of Andy Murray's winning moment was bought by crypto enthusiast Pranksy for $177,777, along with the opportunity to play the famous tennis player for 30 minutes.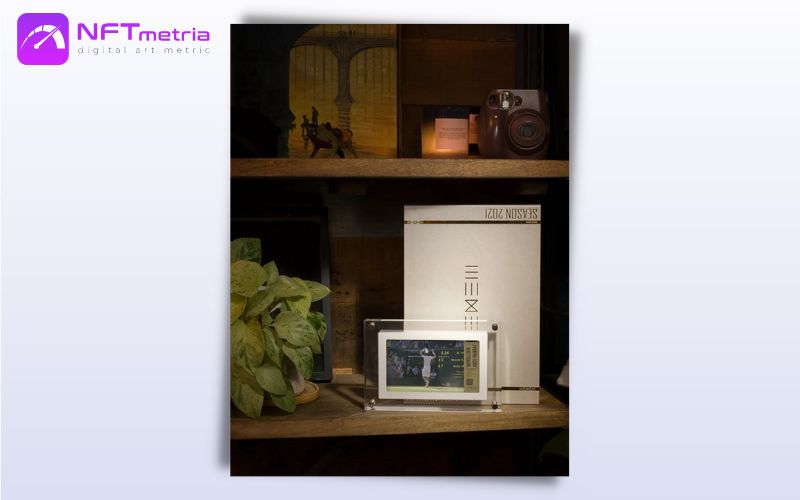 The Wenew Moments project also collaborated with Louis Vuitton. In honor of the 200th anniversary of the founder of the luxury brand and other important milestones in the history of the fashion house, an NFT collection Louis Vuitton Moments postcards was released. Beeple also created a series of videos depicting Louis Vuitton in futuristic cities. In addition, the partnership between WeNeW and the fashion brand resulted in the LOUIS THE GAME project, which could have been won by LV NFTs.
10KTF NFT collection
The 10KTF Narrative Core Collection is a story about a fictional craftsman Wagmi-san living in New Tokyo. Wagmi-san is the owner of the 10KTF store, which sells blanks and tools for creating digital objects.
Wagmi-san at 10KTF store
Buyers of this store can become owners of PFPs from the best NFT collections:
Chimpers
Forgotten Souls
Super PUMA
Forgotten Runes Wizards Cult
Wolf Game
Using tokens from these collections as a basis allows the creation of 1:1 derivative token. Created in this way, 10K True Friends are the heroes who must save Wagmi-san and his shop from the encroachments of the toad mafia. You can do this by completing missions in the battle game Battle.town.
To participate in missions, you must have at least one digital item created from blanks. Snapbacks, combat boots, socks are offered as blanks. You will also need supplies such as scissors, tape measures, and thimbles.
Remember: the rewards in Battle.town are $APE tokens, the distribution of which depends not only on the successful completion of tasks, but also on the effectiveness of your hero's equipment.
Gamified staking offers the holder of 10KTF a profitable way to earn money. Any instrument – be it scissors, roulette and thimble – can participate in staking and earn $NTD tokens depending on the size of the stake (~16, 32 and 64 $NTD per day, respectively)
$NTD (New Tokyo Dollar) is an ERC-10 10KTF in-game token. It opens access to materials, tools, Gucci Grail items, physical rewards and adventures at the next stage of the game. The accumulated $NTD can be given to the user in $APE in a certain proportion.
Users who do not have NFTs from supported projects and have chosen empty avatars can also participate in missions (in this case, game rewards will be much lower). But you still have to purchase at least one item from the Combat Crates or Gucci Grail collection.
After Yuga Labs acquired 10KTF in November 2022, the value of the collection has increased significantly. OpenSea recorded a 656.24% increase in sales in 3 hours. In one day, the minimum price of 10KTF rose from 0.165 ETH to 0.48 ETH.
Kudos to Yuga for keeping the 10 KTF news entirely silent. Everything started pumping post-announcement as it should

Gotta give credit where it's due, Yuga's become institutional-level.

Pumped to see this acquisition play out. pic.twitter.com/3Dd7aaxppd

— NFTstatistics.eth (@punk9059) November 14, 2022
Ecosystem 10KTF
The 10KTF ecosystem includes 6 key collections:
10KTF is a genesis collection of over 26k art NFTs launched on the Ethereum blockchain on September 17, 2021. These are accessories that allow users to experience a unique experience – to create their own digital item for Level 1. Total volume – more than 17.5k ETH, floor price – 0.14 ETH.
10KTF Stockroom is a collection of 35.4K NFTs (Category – Art) created on the Ethereum blockchain in October 2021. 23 unique NFTs were released in a limited edition. These tokens are tools and materials for Level 1. Total volume is over 21k ETH, floor price is 0.0448 ETH.
10KTF Gucci Grail is a collection of 4253 NFTs (Category – PFPs) created in March 2022. The items are avatars inspired by Gucci's vision and style. Total volume over 6k ETH, floor price – 0.36 ETH.
10KTF Combat Crates is a collection of 672 NFTs (Category – Art) created in August 2022. Total volume over 1.8k ETH, floor price – 0.4778 ETH. These are Level 2 combat gear: Helmets, Kevlar Vests, Boots, flamethrowers, guns, and riffles. To get any of these items, you need to mint a crate.
10KTF Combat Gear is a collection of 9,301 NFTs (Category – Gaming) created in August 2022. The items included in this collection – Helmets, Kevlar Vests, Boots, and Weapons – will allow you to get higher points on the Battle.town (Level 2) platform. Total volume over 1.3k ETH, floor price – 0.15 ETH.
10KTF Kagami is a collection of 893 NFTs (Category – PFPs) created in October 2022. These tokens must be burned and exchanged for related physical art items by November 2, 2022. Total volume over 1.5k ETH, floor price – 1.75 ETH.
Warm crypto storage
Warm is an on-chain store of wallet links created in August 2022. It is an open source solution that allows NFT ownership to be extended from a cold to a hot wallet. Warm allows you to keep the most valuable NFTs safe in a cold wallet by performing send transactions from a hot wallet acting on behalf of a cold wallet.
Warm Benefits:
Reducing the number of transactions that put NFT at risk: Warm will never ask for approval of tokens, so it has no control over them;
Linking a cold storage hardware device to a hot wallet allows you to block the hot wallet, which will prevent the creation of additional links to another cold wallet.
Possibility to connect several cold wallets to one hot wallet;
Compatibility with all wallets, including hardware ones, working with Wallet Connect and Metamask.
At the moment, the number of Warm users is about 10,000. Of these, more than half (6,250 people) are active users.
Prospects for WeNeW Labs
It is difficult to talk about the plans of WeNeW Labs after the collaboration with Yuga Labs. I would just like to quote a short tweet from Otherside on November 14, 2022:
Welcome to the Otherside, Wagmi-san. pic.twitter.com/cNCNTqOd44

— Othersidemeta (@OthersideMeta) November 14, 2022
This invitation to the Otherside metaverse clearly marks the beginning of a new phase in the history of the 10KTF ecosystem.
Opinion of NFTmetria
The WeNeW brand showed the community that NFT is not only a Web3 phenomenon, but also a part of human culture. By creating unique technologies, developing creative storytelling and helping us to remember beautiful moments in music, fashion, sports, this project has become a memorable milestone in the history of the blockchain.
Mike Winkelmann (Beeple), the founder of WeNeW, one of the crypto enthusiasts who brought the term "non-fungible token" into our everyday vocabulary, believes in the potential of the concept and considers it the basis of our future:
It's going to be something like email, where you don't decide whether you like it or don't like it, you just have to use it because it's how you prove ownership of a bunch of different things in your life. Beeple says
The collaboration between WeNeW studio and market leader Yuga Labs is a global step that should bring Web3 to the forefront and multiply the achievements of the NFT industry.