In addition to the news that Google is paving the way for NFT apps and games on the Play Store, today's NFT News Digest for the past week of July 08-14 includes the following:
Cool Cats is preparing three NFT game projects,
StepN game creators launch new NFT game Gas Hero,
NFT-Fractionalization will allow Banksy's "Love is in the Air" to tour Europe.
Google is paving the way for NFT apps and games on the Play Store
Media giant Google is trying to keep up with fresh trends. In a recent Play Store policy update, the company announced its intention to add apps and games that utilize NFTs to the platform.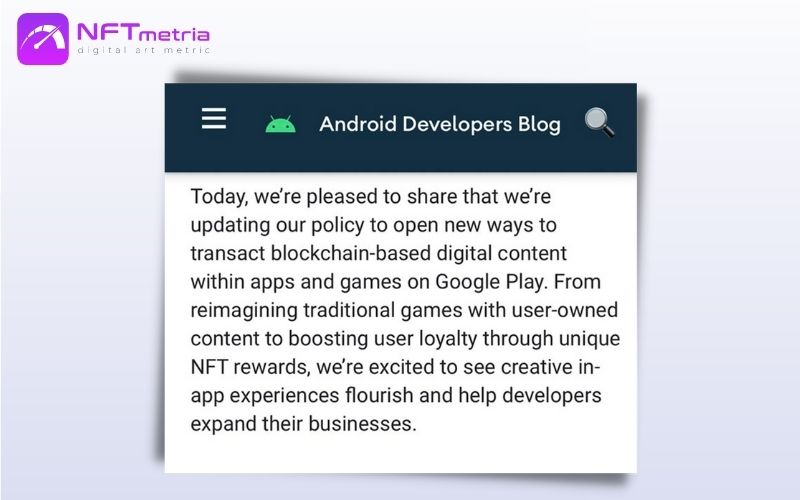 According to the new rules, developers of games with NFT assets will have to clearly indicate that their software has blockchain elements. Thus, Google is strictly making sure that users do not violate the rules of responsible use of Google Play and do not make profits from the NFT hype. Another restriction was the prohibition of using loot box mechanisms in such games.
The Reddit platform, which has gained widespread popularity in the NFT space due to the recent announcement of Avatars Gen 3 NFTs, has undertaken to help Google implement the innovation.
We partnered with Google to help update their policy, aimed at creating a level playing field that promotes user trust and responsible usage of blockchain technology. Here's what Matt Williamson, Senior Engineering Manager at Reddit, had to say about the partnership with Google
Background to the introduction of NFT capabilities in the Google Play Store
It's worth noting that Google previously didn't allow crypto asset mining apps and banned them. The company's policy changed recently, and this shift was marked by adding ArDrive Mobile, a decentralized data storage app, to the Play Store. In addition, the listing of the blockchain game Axie Infinity: Origins was spotted in select markets.
And in April 2023, Google Cloud announced an initiative to help Web3 developers accelerate the creation of startups based on Polygon protocols.
As for NFT games and apps on the Play Store, it is likely that the first of them will appear on the platform this summer, but a little later. Judging by the fact that Google has opened the doors to NFTs and is actively shaping policies on their responsible use, it is beginning to realize the potential of blockchain, which could have revolutionary implications for Google services.
Cool Cats is preparing three NFT game projects
Cool Cats Group, a leader in the Web3 and NFT world and creator of the top-notch Cool Cats collection of digital collectibles, has formed an alliance with three game developers:
Sync Studios,
iCandy,
nWay (the latter two are parts of the Animoca Brands ecosystem).
This collaboration will result in a triad of games featuring Cool Cats characters. The game products are still in the production phase. They are scheduled to launch in late 2023 / early 2024.
What do the new Cool Cats games represent?
It is no coincidence that three partnerships have been concluded. Cool Cats will release a different game with each partner:
In collaboration with nWay – developer of games such as Legacy Wars and ChronoBlade with Power Rangers characters – Cool Cats will create a multiplayer competitive arcade game.
In collaboration with iCandy – a leading name in the PC gaming industry in Southeast Asia and Australia – an endless runner will be created. The release of this browser-based 2D game is possible as early as September 2023.
In partnership with Sync Studios – the creator of game projects for Hasbro, Warner Brothers, and Paramount Studios – it is planned to launch a mobile game application in match3 format. Participants of this game will have to match three elements in a row, just like in Candy or Crush Bejeweled.
Cool Cats' confident push into the mainstream
Cool Cats Group's new partnership marks the blue-chip company's confident push into the mainstream. The company recently entered into a strategic partnership with Futureverse to build AI community apps, and also announced a strategic investment from Animoca Brands.
Gaming is an immersive content distribution platform that builds [an] emotional connection with the characters and story through engaging gameplay. Our new games are critical to our ongoing mission of developing Cool Cats into a globally recognized character brand and a robust storytelling and content company. With nWay, iCandy, and Sync Studios, we are partnering with three innovative leaders to provide immersive gaming entertainment to engage our current fans and introduce our brand to the broader global audience. Stephen Teglas, CEO of Cool Cats, said in a press release
The launch dates of new game projects from Cool Cats, their titles and promos are expected soon.
However, the scope of Cool Cats Group's activities goes far beyond gaming. To expand the target audience, the company has outlined a number of actions. Cool Cats will take part in Macy's Thanksgiving Day Parade in November, and in July this year it will exhibit a booth at the international pop culture festival Comic Con.
Web3 takes over Comic Con!

Excited to represent with our friends @pudgypenguins and @0n1Force next week 🤝 pic.twitter.com/un9d1ngLkF

— Cool Cats (@coolcats) July 14, 2023
StepN game creators launch new NFT game Gas Hero
For all fans of Web-3 experience, Find Satoshi Lab, the creator of the previously popular and hype game StepN, has prepared a new entertainment, a competition called Gas Hero. The authors call this project the first Web3 social game. Players are given the opportunity to create unique Genesis Heroes NFTs. And the winners will receive not only 2% royalties from trades, but also utility tokens $GMT, which is the base token in the sensational Move-to-earn game StepN. Another feature of this exciting contest is that it is being held before the official launch of Gas Hero.
We're delighted to announce #GasHero, the first Web3 social game from #STEPN creators @FSLWeb3 🎮

The game will invite users to collect Gas Hero NFTs and battle for fame, wealth and power 🤺

Let the games begin! ⚔️ 1/5
➡️https://t.co/X5brPDddiY pic.twitter.com/2oLqcmlHso

— Gas Hero Official (@GasHeroOfficial) July 10, 2023
Gas Hero's plot
Gas Hero is a social Web3 strategy game where participants must control the characters of Gas Heroes. The action takes place in a post-apocalyptic world after a super-powered artificial intelligence has caused the outbreak of a nuclear war. The task of Gas Heroes is to build virtual bases and fight with other players.
Our first venture, StepN, highlighted how possible it is to bring millions of users into the Web3 space, and we hope Gas Hero will have the same impact as we continue to grow the FSL ecosystem. Yawn Rong, co-founder of Find Satoshi Lab, shared his opinion on the future of the multiplayer game
Stages of the competition and reward system of the Gas Hero NFT game
According to the creators' plan, the game competition should be held in three stages during three months: from July 10 to October 9, 2023. The first stage will end on August 8. The main task of this round is to submit designs for character code names, among which you can find Combat Queen, Ape Commander, Lone Werewolf, Ascetic Monk and others. The Gas Hero Official team has provided details on this stage on Twitter in a Q&A format:
To celebrate the launch of #GasHero we're running a UGC Genesis #NFT Contest with a total prize pool of over 2,000,000 $GMT! 🦸

Here's everything you need to know…

1. General Questions:

Q: Are there any restrictions on the tools I can use to create my design?

A: No, you… pic.twitter.com/yvYYMELTXI

— Gas Hero Official (@GasHeroOfficial) July 14, 2023
At the end of the competition, 20 lucky winners will be awarded for each code name. A total of 320 winners will be chosen at each phase and 960 winners will be chosen at the end of the Gas Heroes competition. The luckiest participants will receive royalties from Genesis Hero NFTs, $GMT tokens and a Gas Hero and FSL co-branded T-shirt as prizes. The winning designs will also be featured on Gas Hero's official website.
NFT-Fractionalization will allow Banksy's "Love is in the Air" to tour Europe
The iconic work "Love is in the Air" by anonymous street artist Banksy will tour prestigious European museums thanks to NFT-Fractionalization, a project of the Particle Foundation. The tour will begin in the UK next month. After that, the painting will be housed in Amsterdam and Barcelona for six months each.
10,000 NFT fragments of the masterpiece
Sending the iconic painting on a global tour was decided as a result of a general vote of its co-owners. Recall that the famous work "Love is in the Air" worth $ 12.9 million was divided into 10,000 NFTs in December 2021.
So far, 2,500 people have become co-owners of the expensive work of art, including such NFT-influencers as Beeple, Kevin Rose, Paris Hilton. Each of them, together with their fragment, received the right to participate in the management of the masterpiece.
A grand journey through the exhibition halls of the world
The vote of the co-owners of "Love is in the Air" also decided in which museums and galleries the painting will be exhibited. The starting point of the grand tour will be Great Britain. Here, in Newmarket, Banksy's work will decorate the street art exhibition "The Urban Frame: Mutiny in Color". After its debut, the painting will be shown at MOCO Museum (Modern Contemporary Museum) in Amsterdam (Netherlands) and Barcelona (Spain).
This exclusive tour reflects the growing interest of museums around the world in digital art. Previously, the LACMA Museum in Los Angeles has showcased the generative art of Cozomo De' Medici (Snoop Dogg), works by Monica Rizzolli, Dmitri Cherniak, Matt DesLauriers, and Cai Guo-Quiang. What's more, Centre Georges-Pompidou in Paris has recently acquired works by such masters of digital art as Jonas Lund and Sarah Meyohas.