In addition to the news that DeLabs has launched a new DeGods site and is canceling the roadmap, in today's NFT news digest for the past week of July 1-7 you'll find:
Dior launches new line of sneakers for men with NFT authentication,
The NFT collection from Credit Suisse breaks new ground for women in soccer,
EXIT Festival guests will be given Coca-Cola NFTs.
DeLabs has launched a new DeGods site and is canceling the roadmap
Representatives of the NFT world continue to follow their tradition of intriguing fans. The other day DeLabs, known for DeGods and yoots, launched a new DeGods website, de[labs], which looks like an early Facebook.
The evolution of the @DeGodsNFT roadmaps.

V1- simple boring word doc
V2- complicated map with multiple East Eggs
V3- old style website with even more Easter eggs and interactive features pic.twitter.com/FHjM58bIw8

— Baer (@BaerEvo_) June 30, 2023
DeLabs founder Rohun Vora proudly called the new product performance art. He also noted that the site will serve as a new approach to traditional roadmaps. "Roadmaps are stupid" is the statement found on the new platform under About.
What to expect from the new DeGods site and what about the roadmap?
The launch of the delabs site has become a significant newsworthy event in the NFT world. The DeGods fans immediately started looking for hidden hints of future benefits and all sorts of "Easter eggs". It's worth noting that the start of the DeGods new site was held in anticipation of the launch of the third season of DeGods and the new yoots2 feature.
After carefully studying the available hints on the de[labs] web platform, users came to the conclusion that they can expect the following novelties in the future:
Introduction of female characters to DeGods Season III;
Modification of the gamified DUST token;
A new IP rights model that provides a chance for NFT holders to become official brand license holders.
We didn't come this far just to come this far.

July 2023. pic.twitter.com/yzoMQ9GwSJ

— de (@delabsxyz) June 30, 2023
We can say that this is the author's presentation of the roadmap, from which the team carefully refuses.
The idea behind the new DeGods site
During the Twitter Spaces Q&A, Rohan Vora shared his thoughts on the launch of the new DeGods site. He stated that he is committed to "nostalgic branding".
There's something about the early Facebook days. The creator of DeGods said
Back when Facebook, the brainchild of Mark Zuckerberg, was just gaining momentum, social media was really just about connecting with people in your network.
Rohan Vora also noted that as the Internet has grown, social connection has been lost. He explained why the decision was made to make the new site look like the old Facebook. Even though constant development offers many opportunities for creatives to make money from good content, Vora expressed his belief that maintaining a social connection is crucial.
I think that NFTs help you find your tribe on the internet. As a kid that grew up on the f*cking internet, I've always wanted a tribe. We're going to try to build what we've always wanted here. Rohan ("Frank") Vora says
Dior launches new line of sneakers for men with NFT authentication
Fashion brand Dior continues to conquer the NFT space, not about to fall behind Adidas and PUMA. It introduced a new line of men's sneakers B33 linked to the Ethereum blockchain. They are part of the "Fall 2023" collection for the stronger sex. The design of the new product was developed by Kim Jones, who is the creative director of Dior HOMME.
The 'B33' sneakers from #DiorMenFall 2023 by Kim Jones are finally here! Discover them https://t.co/B4mhCSTv9f and watch the video to learn how to unlock special features with their encrypted key. pic.twitter.com/Y2eRnHXwUm

— Dior (@Dior) July 6, 2023
The main feature of these Dior sneakers will be the accompanying digital NFT twin minted on the Ethereum blockchain for each pair. Each physical sneaker will include an NFC chip tied to the NFT and acting as a certificate of authenticity. The chip will be connected to an encrypted key, which will give the wearer of the sneaker pair access to a personalized online platform. There will be digital certificates of authenticity for sneakers on that platform, as well as exclusive services, about which there is no information yet.
The first issue of sneakers was priced at €1,200 and limited to 470 pairs. Next, three additional designs are planned, but they will be sold for €990. Then, another three designs of new sneakers from Dior are expected at a price of €890, but it will not be a limited edition. It is worth noting that Dior's pricing policy for B33 is about the same as in the case of traditional sneakers.
What is the NFT potential of physical sneakers from Dior?
There is no explicit mention of Web3 or NFT in the description of the new Dior product. There is speculation that NFTs associated with the B33 sneakers will open up certain dedicated services to owners. At the same time, Dior does not commit to any specific rewards. What is certain is that owners will be able to verify the authenticity of the sneakers, learn details about the manufacturing process, and receive notifications about future launches of the sneakers. Ideally, B33 owners would also be expected to take whitelist spots for new Dior exclusive drops, but the company has not yet provided any information on this.
The NFT collection from Credit Suisse breaks new ground for women in soccer
On July 11, Credit Suisse together with SFA is launching a unique NFT collection designed to support women's soccer.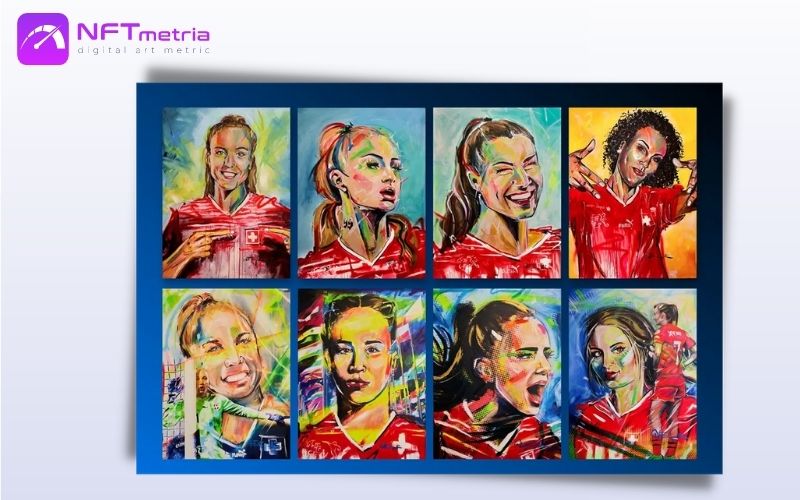 Opportunities for women NFTs from Credit Suisse
Credit Suisse, the largest Swiss financial conglomerate, has created 756 NFTs on the Ethereum blockchain. The collection includes images of prominent female soccer players from the SFA (Swiss Football Association).
The works of digital art will be available on the CSX platform. Depending on the level, their value ranges from $167 to $11,000.
Collectible tokens will delight their owners with exclusive rewards, from autographed player T-shirts and physical works of art to contacts with soccer stars.
From the world of sports to the world of digital art
The profits from the sale of NFTs will be used to support women's soccer, its development and prosperity. The collection should contribute to the development of a culture of respectful competition, drawing attention to women's issues in sports and other spheres of public life.
Bringing together the sports industry and blockchain is a step toward a unified digital future. It is worth noting that many measures have already been taken in this direction. Some soccer teams, such as Brazil FC, Arsenal FC, and Manchester FC already practice using NFTs to attract fans and sell tickets. And FC Barcelona honored Alexia Putellas, a two-time Ballon d'Or winner among women, with tokens from the World of Women collection.
EXIT Festival guests will be given Coca-Cola NFTs
Participants of the EXIT Festival that will be held in Novi Sad, Serbia, on July 6-9, will have a unique NFT experience. Thanks to cooperation between Coca-Cola and SolSea, guests of the festival will be able to receive exclusive Coca-Cola and NFT merchandise.
🎉Festival day is here!

Follow us for real-time updates: behind-the-scenes action, live hoodie signings, and more.
See the exclusive SolSea x @CocaColaSrbija NFT hoodies in action! 📸

Don't miss out! #FestivalVibes @ExitFestival #ExitUniverse pic.twitter.com/l8iA7zw9Fe

— SolSea (@SolSeaNFT) July 6, 2023
Tech surprises, branded merch and NFT gifts at EXIT Festival
The Coca-Cola Multinational Corporation has partnered with SolSea, an NFT marketplace on the Solana blockchain, to participate in the music EXIT Festival-2023. The basis of this partnership is the activation of the digital installation Magic Mirror created by the NFT protocol All.Art. At the festival, Magic Mirror will be located in the "Coca-Cola Serbia" area, providing an innovative relationship between visitors, products, and brands.
Everyone who walks up to the Magic Mirror will be dressed in a randomly selected 3D virtual outfit. Capturing this moment will be as easy as scanning a QR code, creating an instant souvenir to remember the festival. Using SolSea technology, Coca-Cola created not only a unique collection of 3D T-shirts, but also 100 exclusive hoodies paired with matching NFTs.
Coca-Cola's landmark giveaway of merchandise and NFTs coincides with the dates of the EXIT Festival – July 6 to 9. Individual batches of NFTs from Coca-Cola, as stated by a SolSea spokesperson, are for holders of expensive tickets.
In addition to unique digital assets, guests will get to meet music stars at this annual celebration like Eric Prydz, Skrillex, Ben Böhmer, Alesso, and Dimitri Vegas and Like Mike DJ duo.
NFT as an innovative way for brands to engage with consumers
Collectible tokens provide a unique opportunity for brands to engage an audience that is familiar with Web3 culture. Coca-Cola is increasingly using this opportunity as a means to dig deeper into the digital world, improve consumer engagement and discover new revenue streams.
In 2022, the largest beverage maker used non-fungible tokens for charity during Pride Month, launched an NFT collection for the World Cup and partnered with OpenSea to raise funds to support Special Olympics International.
Now that the summer music festival season is in full swing, EXIT Festival guests have an exclusive opportunity to get their hands on branded merchandise and rare Coca-Cola NFTs. Don't miss out on your chance to own a piece of Coca-Cola's digital legacy!