In addition to the news that Yuga Labs has announced the launch of Legends of the Mara, in today's NFT News Digest for the past week of March 25-31, you'll find:
Art Blocks launches its own NFT marketplace,
An NFT dress embellished with BAYC avatars made a splash at Metaverse Fashion Week.
Yuga Labs announces the launch of Legends of the Mara
On Tuesday, March 28, Yuga Labs announced the upcoming opening of the Legends of the Mara next chapter of the online saga Otherside. The new blockchain game is called Legends of the Mara (LOTM.) It will be a collectible 2D strategy game (featuring the Otherside Koda and Mara collections) with gameplay and story that is closely related to Otherside.
Introducing Legends of the Mara, a 2D experience with its own companion collection. Claim your Vessel, discover its potential, and forge your path.

Otherdeeds with a Koda will be able to decouple in advance of the game launch.

Step into https://t.co/PL6spHFERp and the 🧵 below pic.twitter.com/inu3s4sVdq

— Othersidemeta (@OthersideMeta) March 27, 2023
What is Legends of the Mara?
The start of Legends of the Mara (LOTM) is planned right after the second stage of Otherside. As a reminder, on March 25, invited players took part in this live test of the persistent world created by Yuga Labs. The community, divided into four teams, explored the metaverse, testing themselves in various competitions and experiments.
The Legends of the Mara new episode of the online saga will focus on the history of Otherside and its main guardians Kodas. Since Kodas are present on certain Otherdeed NFTs, each holder of these tokens (Voyager) will be able to claim Vessel NFTs.
Since Yuga Labs keeps the intrigue by not revealing the details of Legends of the Mara, there is a lot of rumors and speculation around it. There is speculation that Legends of the Mara is designed in the style of classic 2D strategy games such as Warcraft II, Age of Empires or Command and Conquer. Like it or not, we will find out in a few weeks: the release is scheduled for May, and the game itself starts in June.
What are Vessel NFTs?
Vessel are NFTs, the use of which, according to legend, will help protect Otherside. In addition, Vessels can eventually turn into Maras – creatures that perform one of three functions: Farming, Hunting or Sorcery. In turn, Maras can evolve into Kodamaras, who have more creative skills.
It is worth noting that Maras are ERC-721 tokens with a new contract different from Vessels. LOTM will also use ApeCoin.
The application period for Vessel NFTs will open in April. Note that immediately after the announcement of Yuga Labs, the cost of Vessel increased by almost 20%. This is the best indicator of increased enthusiasm among the Otherdeed community. Get your Vessel NFT and carve your own path in Otherside!
Art Blocks launches its own NFT marketplace
Top generative art platform Art Blocks has unveiled a specialized aftermarket that is friendly to creators of digital collectibles and aims to significantly change the NFT industry.
Art Blocks – what was it like before?
Established in November 2020, the Art Blocks project has provided a platform for artists to develop ETH blockchain algorithms that can be used to mint unique NFTs. Chromie Squiggle by Snowfro, Ringers by Dmitri Cherniak and Fidenza by Tyler Hobbs are the most famous collections generated on Art Blocks and have made a splash in the generative NFT art market.
Art Blocks has generated more than $1.4 billion in generative art sales since its launch. Many works have sold for over $1 million.
All transactions were conducted on external secondary markets such as OpenSea. At the same time, the royalties amounted to 5-10% of the sale price, and traders with a share of more than 0.5% were exempted from royalties.
What will happen on the Art Blocks NFT marketplace?
Creating a new marketplace, the Art Blocks platform announced it as "friendly to the creators." The leaders of the Art Blocks Corporation announced a number of innovations:
No fees for transactions in the new secondary market;
Compliance with the amounts of royalties specified by the artists
We are here to support artists and their practice. Art Blocks Founder and CEO Eric "Snowfro" Calderon
Providing authors with the opportunity to demonstrate their work after minting;
Rewarding collectors who pay royalties for a long time and regularly (as Art Blocks CTO Jake Rockland said, the corporation strives to use "more carrots than whips";
Providing security for collectors and artists on the platform (checking the authenticity of each work of art put up for sale on the secondary market; identifying and eliminating fraudulent projects);
Aggregating NFT listing data from other major aftermarket platforms such as Blur, X2Y2 or OpenSea (this will allow digital art lovers to view all works whether they are published on the Art Blocks marketplace or hosted on external marketplaces).
In this way, Art Blocks aims to give more rights to NFT creators, provide safety and fair prices to collectors, and draw attention to talented projects.
The creator economy is empowering the creator with control over their own creation. And I do think that the most compelling thing that's going to happen is a creator that eventually provides a meaningful reward. Counts Calderon
NFT dress embellished with BAYC avatars made a splash at Metaverse Fashion Week
This year's second Metaverse Fashion Week at Decentraland started on Tuesday, March 28th. Representatives of large fashion agencies who gathered there were presented with virtual clothes that dictate virtual fashion.
One of the advantages of virtual fashion is the ability to attract a huge audience without attracting real resources. In addition, virtual fashion can truly surprise with its fantastic solutions.
BAYC Avatars Decorate Exclusive NFT Dress
This time, the NFT outfit, created by fashion designer Vivienne Tam with the support of the technology team of the Brand-New Vision (BNV) online portal, was in the spotlight. The one-of-a-kind NFT outfit was originally created on the Polygon blockchain as a photorealistic image.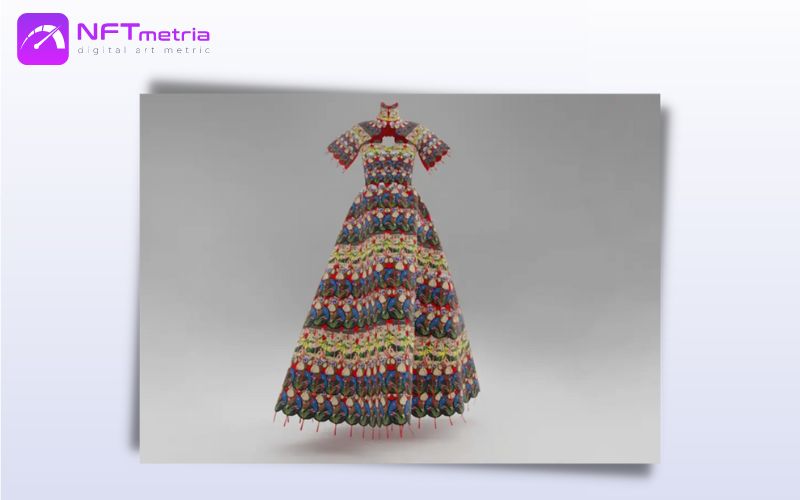 Since Vivienne Tam was born in China and lives in New York, her digital masterpiece combines the traditions of Eastern and Western cultures. The creative NFT outfit is a Chinese national dress (qipao) decorated with three avatars from the iconic Bored Ape Yacht Club (BAYC) NFT collection in the form of a sacred mandala pattern.
It's not all about novelty. Being a link between the analog and the digital, the East and the West, nature and technology. It's amazing to be able to offer harmony, heritage, and my history to something so fresh. Fashion designer Vivienne Tam talks about her creative work
How did Vivienne Tam come to Web3?
Vivienne Tam has been known in the fashion industry for almost 30 years. The East-West style has become a recognizable hallmark of the Tam brand. Some of Vivienne Tam's designs are in the archives of the Fashion Institute of Technology in New York and the Andy Warhol Museum in Pittsburgh. In addition, Vivienne Tam has been designing for BAYC fashion shows on real catwalks, and has also managed to conquer Decentraland's virtual catwalks.
The occasion for Tam's Web3 debut was a grand event – the 60th anniversary of the Council of Fashion Designers of America's. In addition to Tam, top designers such as Diane von Furstenberg, Willy Chavarria, Tommy Hilfiger, Michael Kors, Coach, Carolina Herrera were invited to take part in it.
Who purchased the exclusive NFT dress?
The fashionable NFT masterpiece is owned by Cathy Hackl, Web3's chief strategist, who curated Metaverse Fashion Week last year. Cathy Hackl calls herself "godmother of the metaverse."
According to her, the exclusive NFT dress is the embodiment of virtual fashion as the heir to high real fashion, inscribed in the Web3 ethic. Virtual fashion for Cathy Hackl is not a mass market, it is "unique products that stand out in the world of online fashion".
NFT outfit in Decentraland aesthetic
BNV helped Hackl turn her acquisition into a digital outfit compatible with Decentraland's more pixelated and cartoonish functional area. After the transformation, the virtual product became not so clear and somewhat changed in color perception. But Hackl approved of the work of the BNV team.
The goal is for people to interact with the clothes. Said the owner of the digital dress
Hackl hopes that virtual high fashion will become more democratic and accessible to a wider audience in the future.