In addition to the news that Gitcoin Presents NFT collection Vitalik Buterin-linked hits sales records, in today's NFT News Digest for the past week from 4 to 10 March, you'll find:
Amazon launches its own NFT marketplace on April 24,
TwelveFold BTC NFT from Yuga Lab successfully sold out.
Gitcoin Presents NFT collection Vitalik Buterin-linked hits sales records
Unexpectedly for the entire NFT market, on March 8, a collection related to Vitalik Buterin, the creator of the Ethereum blockchain, appeared. A collection of NFTs called Gitcoin Presents of the popular Web3 funding model The Quadratic Funding. This model was developed by Ethereum blockchain creator Vitalik Buterin, Harvard economist Zoe Hitzig, and RadicalxChange founder Glen Weil.
✨Quality Drop 01✨

The Quadratic Funding Record by @VitalikButerin @zhitzig @glenweyl @notscottmoore @owocki @gitcoin

> 9,209 editions collected
> 12 signature editions sold out
> 390 ETH in sales
> $781,274 for public goods
> https://t.co/0vyrF6rP97https://t.co/7ot17FKyNt

— Metalabel (@metalabel_xyz) March 8, 2023
The collection itself was created by Metalabel in collaboration with the Web3 Gitcoin funding platform. Despite the fact that the collection was released without warning, it has already raised millions of dollars.
What is Gitcoin Presents NFT Collection?
Gitcoin Presents is an open NFT collection containing a white paper called "Liberal Radicalism". It was released in 2018 and explains a never-before-seen concept in the Web3 world: quadratic funding, which we'll cover next.
Known as a "record", each NFT in the collection resembles an album cover and contains a digital version of the 2018 white paper "Liberal Radicalism: Flexible Design for Compliance Charities". It was signed by Buterin and his co-authors, economists Glen Weil and Zoe Hitzig.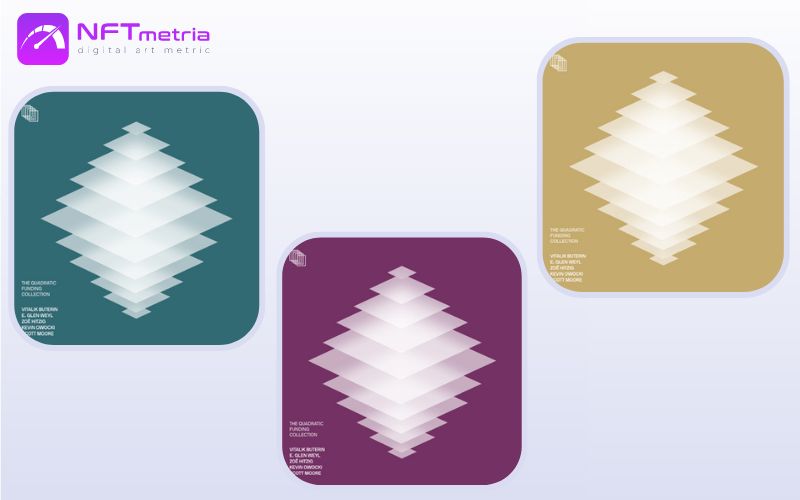 Buying an NFT gives collectors a digital copy of the article, as well as two essays by the founders of Gitcoin commenting on the success of the funding mechanism.
Twelve tokens in the collection were special "Signature Edition" records and were reserved for collectors to mint at 10 ETH, or more than $15,000, and brought buyers a copy of the original white paper signed by the three co-authors.
What are the sales of the Gitcoin Presents collection?
In less than a week, collectors generated 9,221 tokens at a minimum price of 0.5 ETH (around $770). That is, the initial sales brought the project more than 7 million dollars. And secondary sales to date have amounted to more than $15 million at the current floor price of 0.13 ETH.
Thus, in just 4 days, the project generated more than 22 million in revenue. But this is not surprising – this is the first official project associated with one of the main figures in the entire global crypto space, Vitalik Buterin.
How will funds from NFT trades in the Gitcoin Presents collection be used?
All funds received from Gitcoin Presents (Quadratic Funding NFT) will be distributed to fund further public goods in three projects:
Gitcoin (70%),
Plurality Institute (20%),
Metalabel (10%).
What is the Quadratic Funding model?
Quadratic Funding is a specific model used in the matching process for crowdfunding campaigns. The model is estimated to have impacted more than $21 million to date. The essence of this model is that it is more decentralized.
Introduction to quadratic voting / funding / attention payments.https://t.co/UyrV6FCmkC

— vitalik.eth (@VitalikButerin) December 8, 2019
Mathematically, the model prioritizes project funding depending on the number of people who have contributed. Thus, some whales cannot determine how the corresponding funds are distributed depending on how much they contributed.
Amazon launches its own NFT marketplace on April 24
Amazon Corporation, the world's largest e-commerce company, is preparing to launch its own NFT marketplace called "Amazon Digital Marketplace" on April 24.
Amazon's NFT initiative has been in development for several months, and the company has taken incremental steps to incorporate more Web3 features into its platforms. In January, Amazon Web Services partnered with Ava Labs in an effort to accelerate the adoption of blockchain technology. With the launch of the NFT marketplace, Amazon is taking another step into the Web3 ecosystem. It joins other giants such as Meta and Google.
We're joining forces with @Amazon to help enterprises and governments build compliant blockchain solutions. #AWS makes it easier to launch and manage #Avalanche nodes, giving the network more strength and flexibility for developers.https://t.co/vgabB5c6Ya

— Ava Labs 🔺 (@avalabsofficial) January 11, 2023
The platform will be available on the American giant's website through the Amazon Digital Marketplace tab. At first, this tab will only be available in the US. Gradually it will be opened to the rest of the world. The launch was delayed twice due to the collapse of FTX. If there are no force majeure events, then April 24 will be the final opening date.
What will happen on the Amazon NFT marketplace?
Next month, 15 NFT collections will be available right after launch. NFT collections can be found on Amazon by going to the Amazon Digital Marketplace section of the website. All NFT purchases will only be made through an Amazon account and with a credit card.
I expect NFTs to continue to grow very significantly. Perhaps we are still far from the introduction of crypto assets as a payment mechanism, but I believe that over time there will be more cryptocurrencies. It is possible that Amazon will implement crypto payments. As early as last year, the CEO of the company, Andy Jassi, claimed
What is special about the Amazon NFT marketplace?
One of the most interesting features of this marketplace is the ability to link NFTs to physical goods delivered to users' doorsteps. Collectors can use their credit cards to purchase NFTs and receive their items at home just like a regular purchase.
The initiative aims to make NFT purchases easier and remove the natural complexities of the crypto world by allowing users to experiment with the technology without understanding its mechanics.
TwelveFold BTC NFT from Yuga Lab successfully sold out
On March 6, Yuga Labs launched a new bitcoin-based generative NFT project, TwelveFold, as part of a 24-hour auction.
The auction for TwelveFold has begun and will conclude on the block immediately prior to 3pm PT tomorrow, March 6th, 2023. Good luck.https://t.co/gvl8IHpekC pic.twitter.com/xGWU9jdCoO

— Yuga Labs (@yugalabs) March 5, 2023
The TwelveFold collection, which consists of 300 unique works of generative art, caused a great resonance. These unique artworks are inscribed on the Bitcoin blockchain using serial numbers, a new method of transferring art to Bitcoin. Each piece is a 12×12 grid combining 3D graphics and hand-drawn elements.
As a result, the project received more than 3,000 applications within 24 hours. In the end, 288 winning bidders spent a whopping $16.5 million in BTC to purchase items from the limited collection.
The TwelveFold auction has ended. Congratulations to the top 288 bidders – you will receive your inscription within one week. Valid bids that did not rank in the top 288 will have their bid amount returned to their receiving address within 24 hours.

— Yuga Labs (@yugalabs) March 6, 2023
What is known about TwelveFold BTC NFT sales?
The highest bid was 7.1159 BTC (roughly $160k) and the lowest successful bid was 2.2501 BTC (just over $50k). The top 288 bidders will receive their signatures within a week. All other participants will receive a full refund.
What is the criticism of the TwelveFold collection from the NFT market?
However, the bidding process was not without controversy, with some observers criticizing the process chosen by the creators for this sale. The fact is that the limited capabilities of Bitcoin smart contracts make it impossible to organize an open market where creators can sell their creations. This is one of the differences with Ethereum, on the basis of which various NFT trading platforms are created.
The process required those interested in the collection to send Bitcoin (BTC) to a Yuga Labs deposit address and place bets. However, this drew criticism from various quarters given the risk involved. No one doubts the integrity of the largest NFT studio. However, community members have suggested that scam projects may adopt this model, only to disappear along with the bidders' funds.