The development of Web3.0 gives society not only the possibility of a decentralized expansion of all possibilities, but an open, free market that is globally built in the Virtual NFT Worlds. It currently provides the following options:
Valuable investment assets,
Provision of services and sale of goods (for example, the 10KTF collection from WeNeW Labs is generally a digital goods store for top NFT projects),
Lease of land for the needs of tenants,
Various kinds of advertising,
Opening of virtual representations for offline brands,
Holding various events (for example, Decentraland hosts the annual Metaverse Fashion Week, where various global offline fashion brands perform, such as Dolce & Gabbana, Tommy Hilfiger, COACH, adidas, DKNY. And earlier, Ozzy Osbourne held his own concert there).
Additional privileges for holders of various NFT projects (for example, owners of Lazy Lions can participate in various interactive activities on their own island in The SandBox and receive prizes for this),
Gaming experience that is limited only by the imagination of the developers,
Own tokenomics and the possibility of various earnings for participants,
An indicator of social status (in the metauniverses there are districts of different prestige and themes, and proximity to a famous person automatically raises the value and rank of your digital asset).
And these are just the opportunities that are open to the market at the moment. But in the future this list will only expand.
What is Virtual NFT Worlds?
Virtual NFT Worlds are digital assets representing the ownership of real estate, goods and avatars in various virtual worlds.
Sometimes tokens of this type do not have a limited supply. For example, clothing in the form of NFT for avatars in some virtual worlds may be minted by each user several times or once for a new user. But at the same time, the lands in the metaverses are limited in emission. For example, in The SandBox, the maximum number of parcels reaches 166464.
Main idea and applicability of Virtual NFT Worlds
The main idea behind the Virtual NFT Worlds is to:
Offer a new level of digital ownership in the virtual realm,
Create a digital market for goods and services that works like physical markets.
Virtual NFT Worlds are applicable to blockchain-based Play-to-Earn games, facilitating in-game transactions between players and developers, as well as providing a new revenue stream for creators content through a diverse audience and attracting new users.
The projects also seek to create a more attractive infrastructure for user-generated content, which makes Virtual NFT Worlds not only an investment, passive income, but also a full-fledged tool for developing online business with decentralized finance and gaming processes.
History of Virtual NFT Worlds
Over the years, Virtual NFT Worlds have undergone a significant transformation in terms of their look and feel, from simple pixel art to highly detailed 3D models. However, their value lies not so much in their appearance, but in their uniqueness, as they can act as a profile picture, subject to bidding, or used in other projects.
The first NFTs of this type appeared between 2017 and 2018 and continue to evolve both in terms of economy and application: developers provide the ability to stake certain NFTs, create collaborations with other projects to use tokens in another project, and much more.
Who buys Virtual NFT Worlds?
Virtual NFT Worlds primarily attract gamers, collectors and investors who see this type of token as both a good investment and passive income. The audience buying this type continues to grow with the rise in popularity of blockchain-based games and virtual worlds.
Best Virtual NFT Worlds
Today, the digital market is actively developing, but there are global leaders who set trends and set a high bar for other participants. Among the best NFT collections of this type are:
Otherdeeds for Otherside,
Decentraland,
The Sandbox.
These collections have gained immense popularity in the gaming community and many investors are looking to purchase exclusive tokens from these collections.
Otherside
Otherside from the famous Yuga Labs is a virtual free world with its own economy and its own $APE token. Each user can own a land called OtherDeed with certain resources, artifacts and characters. At the same time, this project is a consolidation of many significant collections at once:
Some more figures about Otherside:
At the moment there are over 61,900 NFTs involved in the metaverse (total emission is assumed to be about 200k lands),
Secondary trading volume is over 602k ETH,
Floor price is over 1.29 ETH,
The most expensive NFT in the metaverse Otherside – #59906 was sold for 625 ETH.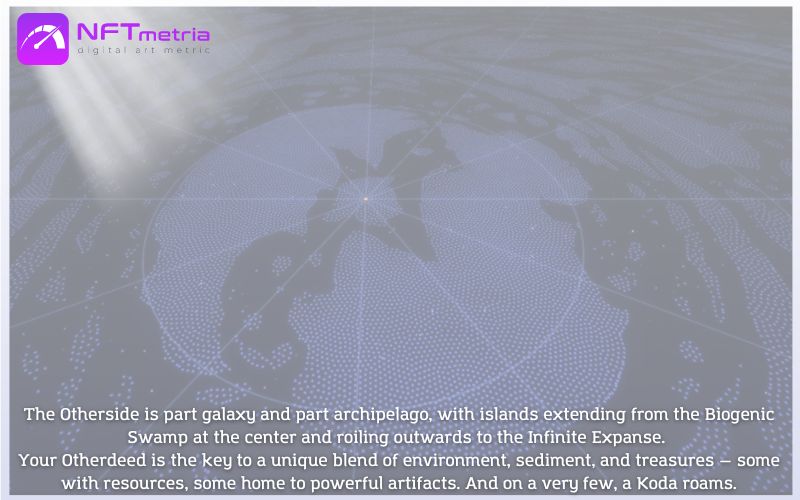 Decentraland
Decentraland is a decentralized virtual reality platform built on the Ethereum network. In this metaverse, users can create and monetize content, play games, chat, and more. The project has its own token – $MANA.
In total, over 97,000 NFTs are currently active in the metaverse,
Total secondary trading volume is over 60k ETH,
Floor price is over 0.53 ETH,
The most expensive NFT – 12600 m2 lot was sold for 2,772,000 MANA (about $430,760 at the exchange rate of that time).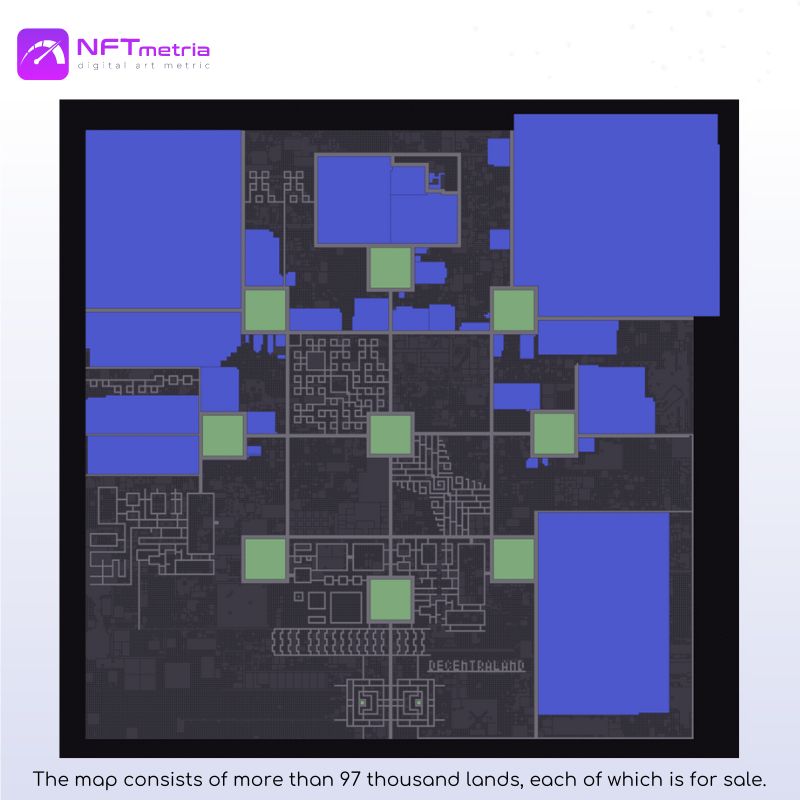 The Sandbox
The Sandbox is the largest and most versatile metaverse on the NFT market. The project is such a large virtual world that the lands are assigned coordinates for easy retrieval. It is represented by a wide variety of game mechanics from collecting to crafting items, extracting resources and building buildings. It is considered the oldest metauniverse on the blockchain: The Sandbox dates back to 2012, when a game for the Android OS was released in two-dimensional space. In 2018, the game was completely transferred to the blockchain in three-dimensional space.
Have your own $SAND,
There are currently more than 124k NFTs in the metaverse (total emission is assumed to be about 166464 lands),
Total trading volume on OpenSea is over 160k ETH,
Floor price is over 0.5 ETH,
The most expensive NFT – Wave 2 / Summer Jam Sale – 24×24 Estate XL [12,156] was sold for 3,644,834 SAND (about $889k at the exchange rate at the time of purchase).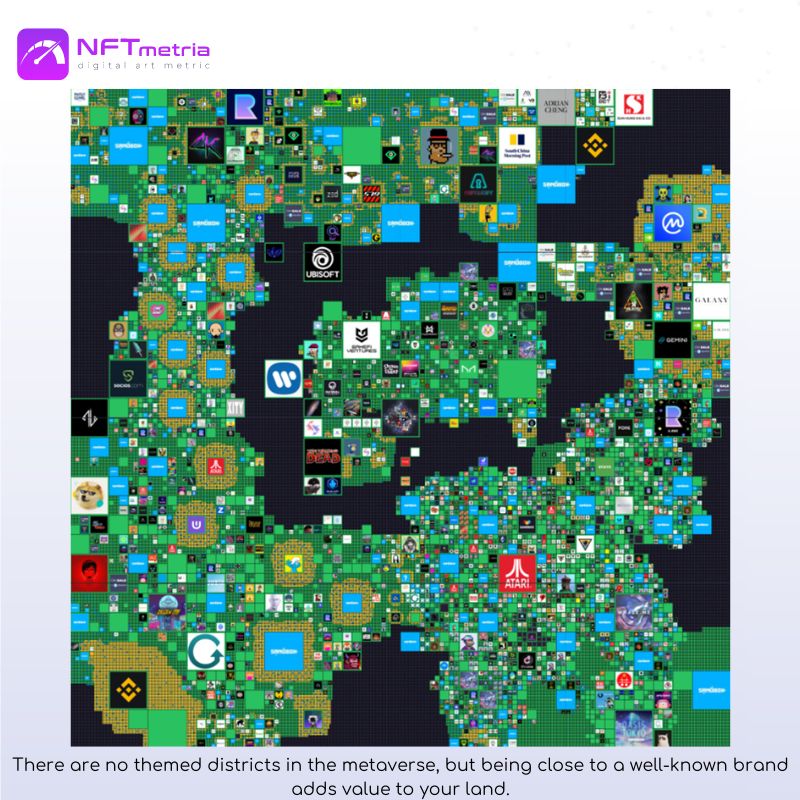 What are the prospects for using Virtual NFT Worlds?
The prospects for using Virtual NFT Worlds are huge. This is due to the potential of blockchain technology to revolutionize the gaming industry, creating a new experience for users and increasing the income of developers.
In the future, this will allow the construction of huge decentralized virtual worlds with intertwining game genres, where the value of game items will be transparent and managed by the community, and not by the method of centralization on the part of the developer company.
Opinion of NFTmetria
Virtual NFT Worlds are unique digital assets that offer a new level of ownership in the virtual realm. They are highly applicable in blockchain-based games, attractive to all sections of the crypto community. In the coming years, the Virtual NFT Worlds market will grow exponentially due to more and more community involvement in the NFT and crypto market.