In addition to the news that Pudgy Penguin Toys are at the top of Amazon Marketplace, today's NFT news digest for the past week of May 20-26 includes the following:
Binance introduces ETH lending against NFT,
Solana Foundation integrates ChatGPT into its network,
Bitcoin ranked second in NFT sales after Ethereum.
Pudgy Penguin Toys are at the top of Amazon Marketplace
Recently, there was a lot of frenzy on the Amazon Marketplace. There were posted cute Pudgy Penguins toys, which caused a wow effect with users and an avalanche of purchases.
About 20,000 funny penguins were instantly purchased from Amazon Marketplace, and the total amount of revenue for 48 hours amounted to half a million U.S. dollars. Toy Pudgy penguins topped the sales charts, leaving behind such giants as Barbie, Disney, Lego, Transformers and Pokemon.
this cute little bowl cut mfer is outselling Disney, Pokemon, and Transformers to be the #1 best selling new toy/game. day 1 and these beasts have already been slayed. gj @pudgypenguins 🐧 pic.twitter.com/K6ULRWN51c

— tropoFarmer 🍌 (@tropoFarmer) May 19, 2023
There was also a pre-release, which has caused quite a stir. According to the Pudgy Penguins team, they are now looking for ways to use IP rights.
We quickly realized that licensing NFTs from the community was the way to go, and we announced the beginning of Pudgy Toys. The project team comments
What are Pudgy Penguins Toys?
The line of Pudgy Penguins Toys ranges from stuffed penguins to figurines. Each toy comes with a QR code that gives you access to the virtual Pudgy World, where you can pump up your penguins, make new friends, play games and have an unforgettable metaverse experience.
Today is the beginning of a new era for Web3.

We're happy to announce that Pudgy Toys and Pudgy World are now available. pic.twitter.com/UKbkIAJzvS

— Pudgy Penguins (@pudgypenguins) May 18, 2023
What do Pudgy Penguins Toys owners get?
New Pudgy Penguins Toys owners receive a special birth certificate that gives them access to the so-called Pudgy World first season trait box. Upon opening the box, users can find there a set of 4-6 traits that rank from ordinary to epic. This feature allows them to equip and upgrade the Forever Pudgy Penguin however the owner wants. But that's not all! By creating a penguin according to your preferences, you can mint it on the blockchain as a dynamic NFT token.
With this unique offering, a bright world of possibilities opens up to Pudgy Penguins fans. You get not only a physical toy, but also access to a fantastically exciting online world where you can interact with like-minded people, get creative and explore the limitless possibilities of Web3.
Aside from the various utilities, these toys simply elicit rapturous emotions from both young and adult owners alike:
People on twitter debating the value of @pudgypenguins IP.

Meanwhile… pic.twitter.com/pLlv1f6EV8

— Tecmo Bo ☕️🫂🐧 | | (@tecmo_bo) May 24, 2023
Binance introduces ETH lending against NFT
World-renowned cryptocurrency exchange Binance has added a lending option for its NFT marketplace.
Binance enters NFT lending space, starting with ETH loans https://t.co/8iYGGtXnA2

— The Block (@TheBlock__) May 25, 2023
Representatives of one of the crypto trading flagships announced the other day that they will begin offering ETH loans secured by NFTs from major collections:
For now, only ETH is available as a loan, but Binance plans to expand the range of supported crypto assets and collections in the future.
The current interest rate for cryptocurrency lending on Binance is 3.39% per annum. The ratio of borrowed funds to the price of NFT has so far ranged from 40% to 60%. Ethereum will not charge a gas fee on such transactions.
Benefits and features of NFT lending from Binance
Commenting on the innovation, Binance said the cryptocurrency lending feature will allow it to offer DeFi benefits to its community.
We already have low fees and the Binance peace of mind, now NFT Loans will add a new form of liquidity for NFT holders, allowing them to participate in the market without having to let go of their precious NFTs. Mayur Kamat, Head of Products at Binance, comments
The new option from Binance appeared as a response to the popular trend of the crypto loans secured with NFTs. As experts believe, Binance is also trying to keep up with the Blur marketplace, which in early May launched Blend, a perpetual NFT-loan protocol.
What is the difference between NFT lending at Binance and Blur?
It's worth noting that there is a significant difference between the lending tools of these two platforms:
Blur's Blend engages a P2P platform that allows lenders and borrowers to identify and complete credit transactions,
Binance's Lending function resorts to a peer-to-pool mechanism. This model involves borrowers and lenders interacting with a common pool that determines interest rates algorithmically, without the involvement of intermediaries, which significantly reduces costs.
Solana Foundation integrates ChatGPT into its network
Solana Foundation has integrated ChatGPT into the Solana network. The use of the AI plugin will simplify many user tasks, including selecting NFT collections by floor price, listing, buying and transferring collection tokens, and checking transactions. The integration of ChatGPT into the Solana blockchain can be considered a turning point in the deployment of AI technology in the DeFi sector.
1/ @SolanaLabs' ChatGPT plugin, which makes it the first layer 1 blockchain to integrate with AI, is now available via a Github download. https://t.co/Q0euNNhduH

— Solana (@solana) May 23, 2023
What preceded the integration of ChatGPT into Solana?
Ever since OpenAI's first ChatGPT virtual interlocutor launched in November 2022, artificial intelligence has been a hot trend in the digital asset environment. Microsoft partnered with OpenAI to start working on intelligent programs with dialogue-keeping capabilities. Alphabet Inc. launched Google Bard, the first competitor of ChatGPT. Binance Academy recently introduced its own ChatGPT-based AI chatbot.
Now Solana Labs, a Web3 company that builds products and tools on the Solana blockchain, has entered the game.
Basic implementation of ChatGPT in Solana Network: technical features
Solana Labs announced an AI plugin in its April 25 tweet, presenting it as "an open-source reference implementation for a ChatGPT". The plugin, the tweet said, would allow users to interact with Solana Network directly from ChatGPT.
(1/2) Solana Labs has created an open-source reference implementation for a ChatGPT plugin that lets users interact with the @solana network directly from ChatGPT.

Users will be able to check wallet balances, transfer tokens, and purchase NFTs once ChatGPT plugins are available. pic.twitter.com/08z1IX76zJ

— Solana Labs (@solanalabs) April 25, 2023
Solana Labs has also assured developers that they can run and test their own versions of the ChatGPT plugin by forking its code on GitHub.
According to Tal Tchwella, Product Manager at Solana Labs, the AI plugin is capable of reading blockchain data from various sources and transmitting it to users interacting with the AI chatbot.
Solana products will become more convenient and accessible with ChatGPT
For now, ChatGPT is focused on the NFT realm of the Solana ecosystem, but in the future, the smart service will be integrated into many other Solana products. Tchwella believes that extending AI to Web3 products will broaden newcomers' understanding of the crypto industry
According to Tchwella, "the blockchain space is way too technical. The introduction of the super-popular ChatGPT into the Solana ecosystem "offers a new opportunity for people to engage with it and understand what's really happening".
Thus, by incorporating the AI model into its platform, Solana has become the first blockchain to embrace customer-centric products that are accessible and easy to use.
Additional AI innovations from the Solana Foundation
In addition to AI integration, the Solana Foundation has decided to expand its AI-focused accelerator program 10-fold, increasing the amount of funding from $1 million to $10 million.
According to Solana, more than fifty AI-focused projects have applied for the strategic grants program. The program provides ongoing funding for both new startups and current projects. Some of the applicants have already received support from the Solana Foundation.
The most notable results of these efforts have been as follows:
Ask Solana U chatbot, which helps users understand Solana developments by pointing to relevant documentation,
Solana Audits AI, which improves the security of Solana applications.
Bitcoin ranked second in NFT sales after Ethereum
Bitcoin ranked second in NFT sales, posing a serious challenge to its longtime crypto rival, Ethereum.
Bitcoin star rising in the NFT sky
Bitcoin has recently stepped up in its battle for supremacy in the NFT space, which is still dominated by Ethereum. As more and more members of the BTC community become committed to NFT technology, Bitcoin has become the second-largest network in terms of secondary market turnover. CryptoSlam data from the past 30 days shows impressive growth in NFT sales on the BTC network, amounting to $167.47 million.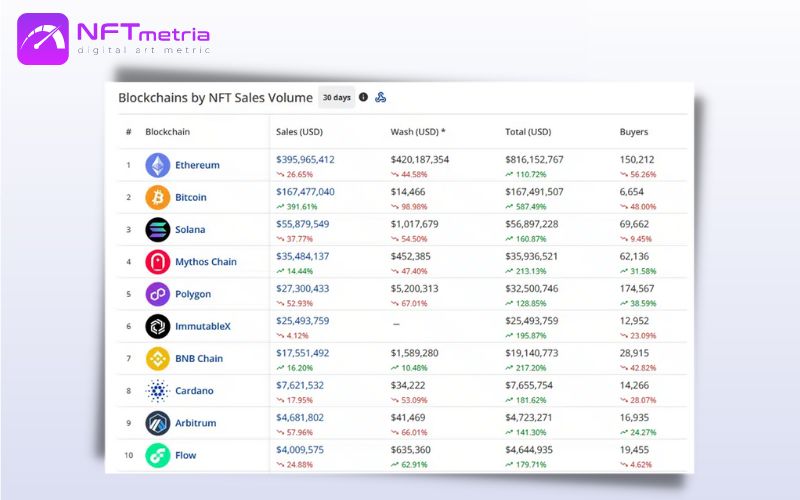 As we can see, Bitcoin is steadily ahead of its closest rivals Solana and Mythos Chain, which had sales of $55.8 million and $35.4 million respectively over the same period. However, Ethereum remains the leader in this cryptocurrency race with sales of $395.95 million.
Ordinals Protocol is the driver of Bitcoin NFTs success
The Ordinals Protocol seems to have been the guarantor of Bitcoin's success, allowing it to change the rules of the game and create a new NFT landscape. As a reminder, the Ordinals Protocol is a mechanism designed to perpetuate satoshis, the minimum BTC units, by populating them with extended data such as JPEGs.
Despite community skepticism about this revolutionary technology, Yuga Labs recently launched a TwelveFold collection based on the Ordinals Protocol. The NFT giant's bold move and the sensational growth of Bitcoin NFTs have made the community appreciate the Ordinals Protocol.
What are Bitcoin NFTs?
Let's take a closer look at the collectible digital assets that have taken root on the BTC blockchain. The Ordinals Protocol designed by software engineer Casey Rodarmor allows developers and users to assign ordinals (serial numbers) to each of 100,000,000 satoshis. To simplify the process of generating NFTs on the blockchain, these BTC micro-units carry all the key information, including smart contract data. Thus, the Ordinals Protocol is a valuable tool for NFT designers, allowing them to create collection tokens directly on the BTC blockchain.
In conclusion, let's name the best-selling Bitcoin blockchain NFT projects in the last 30 days. The palm belongs to Bitcoin Ordinals: they earned a sensational $26.3 million. This achievement allows the collection to firmly entrench itself in the fourth position in the ranking of all successful blockchain projects for the specified period. The remarkable Space Pepes are ready to compete for the leadership with Bitcoin Ordinals, having accumulated an impressive sales volume of $12.24 million. Bitcoin Frogs also draw attention, with sales reaching $9.43 million.
Thus, such technology of the very first blockchain in history has caught up with the entire NFT market in just a few months and managed to surpass all competitors except Ethereum. Definitely, in the future, Ordinals Protocol will develop, and large projects will increasingly pay attention to this segment, which initially was not perceived as a serious competitor.