Solana is a blockchain that is gaining popularity in the market due to its efficient and fast Proof of History (PoH) technology. Blockchain has become attractive primarily for GameFi projects and Collectibles NFTs – in the past two years, the blockchain has seen a rapid growth in the NFT market. During this time, more than 7,000 NFT collections of various categories have been created on Solana. In addition, on the basis of this blockchain, a profile and one of the largest NFT marketplace Magic Eden was created. Such a surge in NFT on Solana is due to the network's high scalability and low transaction fees.
What is Solana Blockchain?
Solana is an open source blockchain that aims to provide fast and secure transactions. The architecture is designed to process thousands of transactions per second, making it one of the fastest blockchains to date. It uses the Proof of History (PoH) algorithm, which allows nodes to agree on time without performing expensive calculations, and also minimizes the need for communication between nodes, resulting in faster transaction processing.
Solana offers robust smart contract functionality, making it suitable for a wide range of decentralized applications and DeFi use cases. Moreover, this blockchain is attracting significant attention from investors, developers, and the community at large due to its exceptional speed, low transaction fees, and ease of use.
Solana as a project first appeared in 2017 under the leadership of two former Qualcomm employees – Anatoly Yakovenko and Greg Fitzgerald. In 2020, the beta launch of the blockchain took place.
Native Solana blockchain token
The native blockchain token is $SOL, the current exchange rate of which is about $20. The market capitalization of $SOL today is more than $8.76 billion, which is the 10th largest among all cryptocurrencies.
How does the Solana blockchain work?
The Solana blockchain uses a unique consensus mechanism known as Proof of History (PoH).
PoH works by generating a cryptographic timestamp for every transaction, which is then verified by other nodes on the network. This helps achieve strong synchronization guarantees and faster validation times compared to other blockchains. Solana's implementation of optimistic concurrency control allows validators to process transactions long before voting on their validity, resulting in virtually no latency and easy rollback if needed. This means that technically the blockchain does not send a block.
This technique can be applied to a blockchain architecture where a cluster (a set of validators in one ledger) votes on a hash representing a complete ledger up to some block height. Solana implements this using the PoH hash of the last entry. At the moment, the current block time in the blockchain is set to 800ms.
Transactions on the network are conducted as follows:
Transactions are accepted by the current elected leader (the validator who is appointed by the scheduled ledger);
The leader validates valid transactions;
The leader alone performs valid transactions, updating its state;
The leader packs transactions into records based on its current PoH slot (its current timestamp);
The leader passes the records to the validator nodes;
Validators retransmit records to peers in their set and subsequent downstream nodes;
Validators validate transactions and execute them in their state;
Validators calculate the hash of the state;
At a certain time, the validators pass the votes to the leader;
The leader executes votes like any other transaction and broadcasts them to the cluster;
Validators read and validate all votes from the cluster.
With this approach of processing transactions by validators and their registry (cluster), their parallelization is achieved: several transactions are performed at once, and not sequentially – one after one, as in the Ethereum and Bitcoin networks.
NFT smart contract standards for the Solana blockchain
There are three main NFT smart contract standards for Solana:
SPL is the most basic and widely used standard that defines the structure of NFTs and the contracts used to transfer them.
Metaplex offers advanced features such as royalty, metadata management and fractional ownership.
Candy Machine simplifies the NFT creation process by allowing images and metadata to be uploaded via HTTP.
What consensus mechanism does the Solana blockchain use?
Solana uses a consensus mechanism called PoH (Proof of History), which is a new approach to creating a time-stamped sequence of events. PoH allows the blockchain to process transactions more efficiently and quickly, which has been a problem for other blockchains. Thanks to PoH, the blockchain can confirm transactions without requiring a lot of computing power or a lot of energy, as is the case with some other consensus mechanisms. This makes blockchain a greener and more cost-effective option for both blockchain developers and users.
In addition to PoH, Solana also uses PoS to distribute block rewards and protect the network from attacks. Validators on the network must stake $SOL tokens in order to participate in block production and validation. If the validator tries to attack the network, he risks losing his tokens, which incentivizes him to act in the interests of the network.
What are the main applications of the Solana blockchain?
Solana's areas of application are as follows:
Games;
DeFi;
Collectibles;
Gambling;
NFTs;
Social;
Web 3.0.
The list doesn't end there. Above are the most popular applications of this blockchain.
Solana Blockchain Ecosystem
The Solana ecosystem consists of more than 160 dApps of different categories:
Games,
DeFi,
Social,
Casino,
Marketplaces and others.
Popular dApps on the Solana blockchain
The most popular dApps on Polygon are:
Marinade Finance,
Saber,
Sharky,
Larix,
Mercurial.
What is Solana NFT?
Solana NFTs are NFTs created on the Solana blockchain. This blockchain is most often used for Gaming NFTs, Collectibles NFTs due to lower gas fees, speed and ease of creating NFTs.
Top Solana NFT Collections
The most popular NFT collections on Solana are:
DeGods,
y00ts,
Okay Bears.
Degods
DeGods is a collection of 10,000 NFTs. This project brings together communities from ordinary users to developers, artists and investors. The NFT collections are in the style of PFPs and are also profile status pictures of early Solana users. In March 2023, the collection switched to the Ethereum blockchain, after which demand and popularity skyrocketed.
To date, total secondary sales have amounted to more than 20k ETH (over $35M to date) on Ethereum and over 3.5M SOL (over $68M to date) on Solana.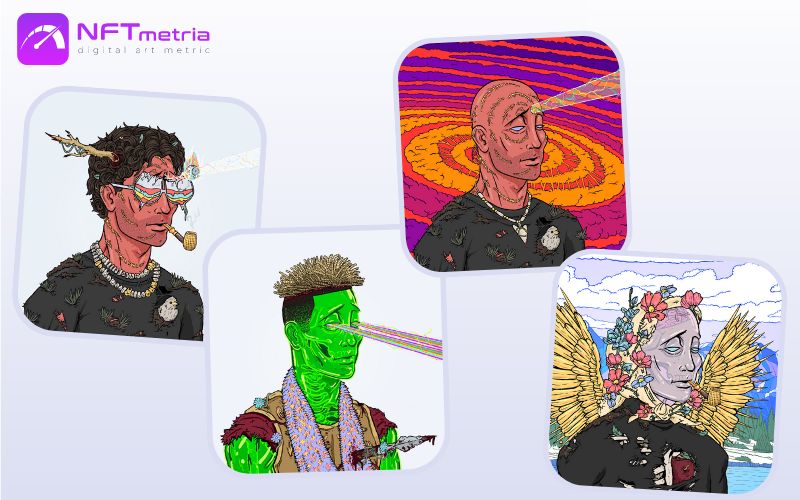 y00ts
y00ts is the second most popular NFT collection and an ecosystem project from the DeGods collection. y00ts is a 15,000 NFT generative art project. The project also has a curated community of users, developers and investors. The total volume of the collection in the secondary markets exceeds 4 million SOL (about 83 million dollars at the current exchange rate).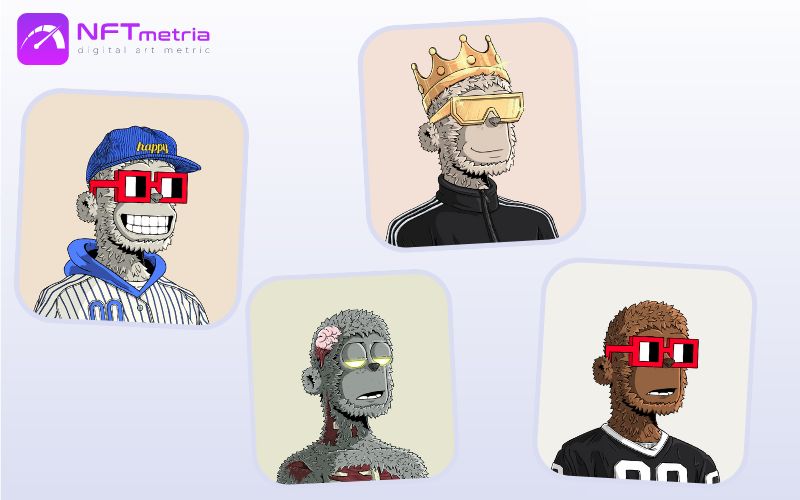 Okay Bears
Okay Bears is the third most popular collection of 10,000 diverse bears (PFP NFT type). The project also raises funds for donations to various organizations that are included in the UN list. At the moment, trading volume in the secondary markets exceeds 3.1 million SOL (about $64 million at the current exchange rate).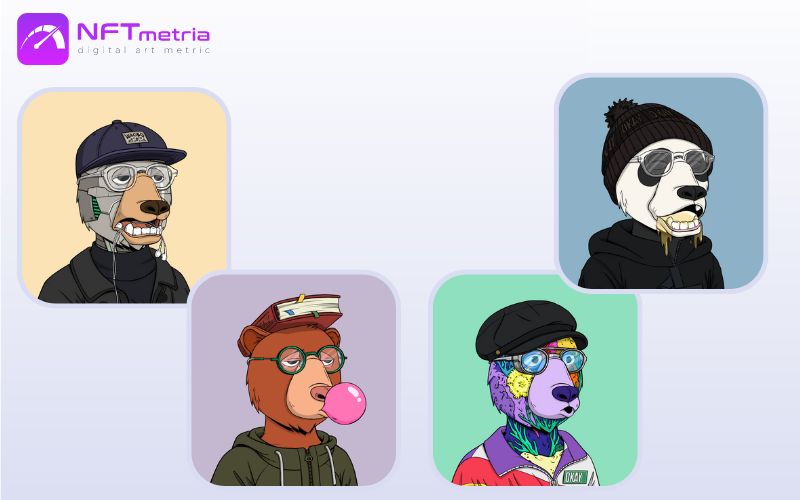 Which wallets are suitable for holding Solana NFTs?
Most crypto wallets are suitable for storing Solana NFTs. The most popular wallets are:
Trust Wallet,
ledger,
Phantom,
SafePal.
How to buy Solana NFTs?
You can buy Solana NFTs on NFT marketplaces, as well as on centralized exchanges with their subsequent withdrawal to the wallet. For this you need:
Register and pass identity verification.
Install a wallet that supports Solana NFTs, such as Trust Wallet. It has the ability to buy $SOL directly from the wallet using a bank card (it is worth considering that not all regions are supported by providers, as well as different commissions depending on the region).
Using P2P trading, buy $SOL and purchase NFTs in a special section of the centralized exchange.
Where to buy Solana NFTs?
You can buy Solana NFTs on marketplaces. The most popular among them: