Magic Eden is a great choice for both beginners just getting into the NFT market and professionals looking for a marketplace with advanced features.
For the first ones, the site will become the best guide to the exciting world of NFT transactions with an accessible interface, free listing, high liquidity and low transaction costs.
The latter will appreciate cross-chain technologies that allow you to buy, sell and mint digital assets of different blockchains, as well as partnerships with key players in the NFT sphere: Paradigm, SEQUOIA, Electric Capital, Variant, Kindred Ventures, Greylock, Coinbase Ventures, Solana Ventures, Lightspeed.
An important factor in the success of the project is the growing trust in it – the main Web3 value. More than 100,000 wallet connections are registered here daily; the platform attracts more than 22,000,000 unique visitors every month.
What is Magic Eden NFT Marketplace?
Magic Eden is a decentralized application (dApp) originally designed for trading NFTs created on the Solana network. Today, in addition to Solana, the platform supports blockchains such as Ethereum, Polygon and Bitcoin.
On this multi-chain platform, you can hold, buy and sell non-fungible tokens, as well as launch your own NFT projects and use digital assets in Web3 games. Moreover, users of each network have equal access to all types of support, including minting tools and whitelisting.
NFT guarantees the creators of Magic Eden royalties from all local listings and a simplified minting process on the specialized service Launchpad. At the same time, the trading platform accepts only 3% of minting applications, placing only the best NFT projects.
The team helps investors to quickly make a profit. Using the "Popular Collections" feature, they can find out which NFT projects are in the most demand at the moment. And the "Buy Now" feature allows them to purchase trending NFTs or the entire hot collection without participating in the auction.
The marketplace provides traders with the opportunity to purchase NFTs in several ways. In addition to SOL, ETH, MATIC and BTC cryptocurrencies, they can use fiat currency to buy NFTs through the third-party app Moonpay.
Therefore, Magic Eden does its best to optimize the services offered to all users as much as possible. In addition, he is constantly working to improve his service, taking into account the suggestions and feedback from platform participants.
Magic Eden Official Links
Magic Eden in numbers
Collections over 8,000;
Daily wallet connections over 100,000;
Volume 24h more than 130k SOL (about $3 million);
Volume total over 60 million SOL (about $1.3 billion);
Secondary trading volume over $1.9 billion;
Solana's NFT market share over 90%;
TPS Solana Network over 4k;
Unique monthly visitors over 22 million;
Over 14.56K unique active wallets (UAW).
Who created the Magic Eden NFT marketplace and how?
Magic Eden was launched on September 17, 2021. It was founded by four Australian-born friends with backgrounds in the crypto industry, DeFi, consumer internet service, and management consulting. After analyzing the existing NFT markets, they decided to create something new.
Instead of exploring the already saturated Ethereum market with the dominant titan OpenSea, it was decided to start with the Solana blockchain. The San Francisco-based company capitalized on Solana's functionality and scalability to ensure fast transactions, low costs, and ideal opportunities for developing popular blockchain games.
Magic Eden co-founders: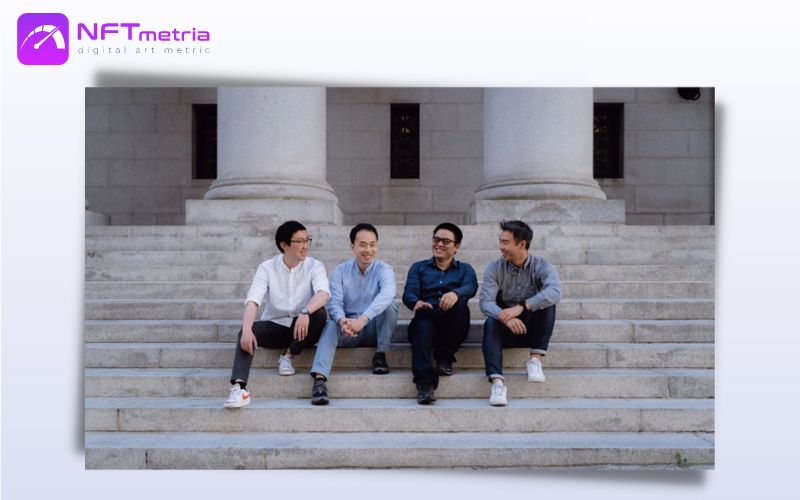 Features of Magic Eden NFT Marketplace
Magic Eden has a decent set of unique qualities. Here are its main "chips":
Cross-chain compatibility that allows you to create a diverse portfolio of digital assets;
Low transaction costs, reducing costs when investing in collectible NFTs;
A system for providing royalties set by the NFT creators themselves;
The ability for users to create their own NFT collections using the exclusive Launchpad service with convenient and secure tools;
Careful quality control of placed NFTs aimed at detecting cases of fraud and counterfeiting;
Large selection of collections with the presentation of both popular projects and new ones;
Access to a gaming service that provides access to 50+ blockchain games using NFT.
Magic Eden Interface
The user interface of the platform is simple, intuitive and user-friendly for both traders and NFT creators. With a clear navigation menu (on the left side of the main page), you can quickly navigate to various services:
Marketplace (Popular collections / Drop calendar / Auctions);
Insights (Stats / My watchlist);
Launchpad;
Magic Eden List (Whightlist / About / Create a whitelist);
Games;
Creators;
Support.
In the upper right corner of the main page there is a wallet connection button, and right in the middle there is the most important information for the user:
Trending announcements;
Popular collections;
Launchpad drops;
New Collections.
Commission fees on Magic Eden NFT marketplace
Both listing and delisting of NFTs are free services on this platform.
For the transaction for the sale of NFT, a 2% commission is taken in favor of the service, as well as royalties in the amount set by the author of the digital collectible item. There are no commission fees for sending price offers when buying tokens.
Utility Token Magic Ticket
The most active and deserving users of Magic Eden have a chance to receive a Magic Ticket during the drop process – one of 30,000 tokens, which opens access to MagicDAO. With limited powers of control, this Discord community makes some decisions regarding social programs and rewards. In particular, voting in MagicDAO determines:
NFT projects placed on the main page of the trading platform;
How the MagicDAO treasury fund is spent;
Different platform operation rules.
Magic Eden or OpenSea – which is better?
Outperforming Opensea in terms of trading volume, Magic Eden captured more than 90% of the share of the promising Solana NFT market, which is characterized by faster and cheaper transactions. Following the rise of NFT Solana, the Ethereum-based OpenSea platform announced in April 2022 that it was adopting the Solana blockchain and became a direct competitor to Magic Eden.
Magic Eden accepted this challenge. In September 2022, it announced the transition to a multi-chain service, integrating the Ethereum network providing "coverage of the Top NFT ecosystem", as well as the Polygon and Bitcoin blockchains.
To decide which of these competing platforms to choose, pay attention to the following points:
Total trading volume: on OpenSea – $24.07 billion, on Magic Eden (including sales in the primary and secondary markets) – $3.2 billion;
24-hour trading volume: OpenSea – $5.2 million, Magic Eden – $2.9 million;
Cross-chain compatibility: OpenSea supports 9 blockchains (Ethereum, Polygon, Solana, Avalanche, Arbitrum, Klaytn, Optimism, BNB Chain), Magic Eden supports 4 blockchains (Solana, Ethereum, Polygon, Bitcoin);
Crypto wallet support: OpenSea supports a wide range of Ethereum wallets (including MetaMask, WalletConnect, Coinbase Wallet) and several Solana wallets (such as Phantom and Glow); Magic Eden supports a wide range of Solana wallets (including Phantom, Slope, Solflare), multiple Ethereum wallets (including MetaMask, WalletConnect, Coinbase, Crypto.com), as well as multi-chain wallets such as Clover, MathWallet and Ledger;
Number of unique wallets: OpenSea – 18.01K, Magic Eden – 14, 56K;
Transaction fees: OpenSea 2.5%, Magic Eden 2%.
Additional Features: Magic Eden offers a playground and an exclusive Launchpad service for launching NFT projects with a Drop calendar feature. OpenSea does not provide such features.
After analyzing these factors, make your choice. Focus on personal preferences, security guarantees and current analytics.
Opinion of NFTmetria
The Magic Eden platform has been and remains the unrivaled leader in Solana blockchain solutions. The introduction of cross-compatibility with the Ethereum, Polygon and Bitcoin blockchains has attracted even more new users and popular collections.
Simplified minting process, reliable liquidity, quality control of launched NFT projects, loyal commissions, gaming opportunities – all this pleases the community and promotes trading activity on the platform.
In the face of fierce competition, Magic Eden remains a reliable, safe and promising platform for NFT enthusiasts.
Our priorities for 2023 include growing on-chain popularity, developing services for NFT creators, and exploring new use cases such as rewards and social experiences. The company's commitment to the community can be seen in the words of Jack Lu, CEO and Co-founder of Magic Eden