In addition to the news that the tweet of Elon Musk boosted Milady Maker sales, today's NFT news digest for the week of May 6-12 includes:
Binance NFT marketplace adds Bitcoin Ordinals NFT,
Because of the Blend lending protocol, the volume of NFT loans on Blur is breaking records,
Pudgy Penguins received a $9 million investment for IP development.
The tweet of Elon Musk boosted Milady Maker sales
Epathetic entrepreneur Elon Musk is known for his brash antics, which tend to have far-reaching consequences. This Wednesday, he posted a tweet meme with an image of a Milady NFT from the Milady Maker collection and the caption "There is no mem. I love you." In less than an hour, the tweet was viewed by about 4 million people. As a result, the value of the token skyrocketed, with sales jumping up to 500% in the last 24 hours.
— Elon Musk (@elonmusk) May 10, 2023
Reactions to the tweet of Elon Musk about Milady Maker
After the publication of Elon Musk the Milady Maker collection confidently took the top position on the OpenSea marketplace, and its floor price reached a record level of 7.3 ETH (about $13,700) at one moment, and then fell back to 5.6 ETH. OpenSea representatives announced a powerful surge in trading, as 600 NFTs went to their owners in just one hour, and the amount of sales totaled $6.9 million.
"Old-timers" of the digital market, of course, could not help feeling a sense of "deja vu". About the same frenzy happened with the cryptocurrency Dogecoin after the publications of the famous businessman.
Was there a conspiracy involving Elon Musk and Milady Maker?
Some analysts intrigued by the story found a curious coincidence. Just an hour before Elon Musk's Twitter post, someone created a cryptocurrency wallet and transferred 25 ETH from Binance there. This user spent 9 ETH of this amount to buy a lot of Milady Maker, and the price of one NFT was only $0.000000005652. No other transactions were detected for this wallet.
Individual members of the cryptocommunity began to suspect that this wallet belongs to Elon Musk. They are opposed by supporters of the entrepreneur, arguing that such a rich man would unlikely go for such a scam. To date, it is known that thanks to the rabid sales three whales managed to earn money. Later, representatives of Milady Maker added three top cryptocurrency wallets to the blacklist without explaining the reason for their decision.
What is Milady Maker?
Milady Maker is a controversial project that took the theme of Japanese anime art as its starting point. Its token prices collapsed last May. It happened after the creator of the collection Charlotte Fang (aka Charlie Fang or Charlemagne) admitted to maintaining a Twitter account and posting scandalous and offensive tweets. After this, Charlotte left the project.
Binance NFT marketplace adds Bitcoin Ordinals NFT
Representatives of Binance, the largest cryptocurrency exchange by trading volume, said it plans to add Bitcoin Ordinals inscriptions to its NFT marketplace. Thus, the platform appeared eager to enter the market, which has already gained a lot of popularity. In March of this year, Binance NFT marketplace expanded its lineup of supported networks to include special collections of NFTs from Polygon on its platform.
We are thrilled to announce that @binance has added support for deposits & withdrawals of BEP2 MATIC token!

Users are able to select their preferred networks to deposit or withdraw MATIC tokens – both ERC20 and BEP2 versions.https://t.co/FLan8sdeXZ pic.twitter.com/EBfsTqon1d

— Polygon (Labs) (@0xPolygonLabs) October 21, 2019
What does the inclusion of Bitcoin Ordinals NFT mean for Binance users?
This initiative from Binance allows all exchange members to trade Bitcoin Ordinals directly. At the same time, there is no need for a separate bitcoin wallet, according to the company's statement.
Bitcoin is the OG of crypto. We are super excited to bring Bitcoin Ordinals to Binance NFT. Binance product head Mayur Kamat doesn't hide his optimism about it
Previously, Binance released a tweet describing the benefits of Bitcoin Ordinals in simple terms:
#Bitcoin Ordinals, made simple.

By using the Ordinal protocol, you can now inscribe data directly on the Bitcoin blockchain.

Similar to NFTs, this has allowed people to inscribe images as collectibles. pic.twitter.com/kkp8iLefat

— Binance (@binance) April 24, 2023
What are Bitcoin Ordinals NFTs?
Bitcoin Ordinals are unique NFTs that are based on the Bitcoin blockchain and use satoshis, the smallest denomination of BTC. They first appeared in late 2022 and immediately caused a furor in the market, despite the unconventional technical approach. To date, more than 5 million of them have been minted. Experts estimate that 996.23 BTC (about $27.6 million) were received as a result of Bitcoin Ordinals transaction fees. The popularity of the technology reached its peak when Yuga Labs released the TwelveFold NFT collection (Bitcoin Ordinals NFT)  in March 2023.
Binance overload due to Bitcoin Ordinals NFT
Binance's announcement came to light after some users began noticing glitches in Bitcoin transactions. The platform attributed this to network congestion, but its competitors did not have similar problems. It is worth noting that at the same time, Bitcoin transaction fees increased sharply, and the mempool network began to slow down a lot (transactions are checked there). Cryptocommunity assumed that transactions with BRC-20 tokens were the reason for the overload, but the exact cause of the malfunction remained unknown.
Because of the Blend lending protocol, the volume of NFT loans on Blur is breaking records
The volume of NFT loans on the Blur marketplace hit a six-month high in a week, soaring to $67 million. Most of the loans, 74%, were made through Blend's perpetual lending protocol, surpassing $50 million. As a result, the newly created Blend platform outpaced its more experienced NFT lending competitors BendDAO, NFTfi and Arcade.
Weekly NFT loan volume saw a 6-month high, with over $67M in weekly volume.

74% of the week's volume occurred on @blur_io's newly launched lending protocol, Blend, seeing over $50M in loan volume.@DuneAnalytics dashboard by @ivnktski pic.twitter.com/p0lEtlmKml

— NFTgators 🐊 (@NFTgators) May 9, 2023
Through Blend, users can obtain loans secured by one of 4 participating NFT collections:
They also allow users to purchase new NFTs with a small down payment.
Features of the Blend lending protocol
Blend, a perpetual peer-to-peer NFT lending protocol, was launched at Blur on May 1 with the support of venture capital company Paradigm. This innovative protocol is designed to provide a greater degree of liquidity and flexibility in the NFT sector
As early as a week after launch, Blend was offering over 500% APY on loans secured by DeGods NFT. At the time of writing, the annualized rate of return was not as high, but still impressive – 150% APY on loans secured by Milady NFT.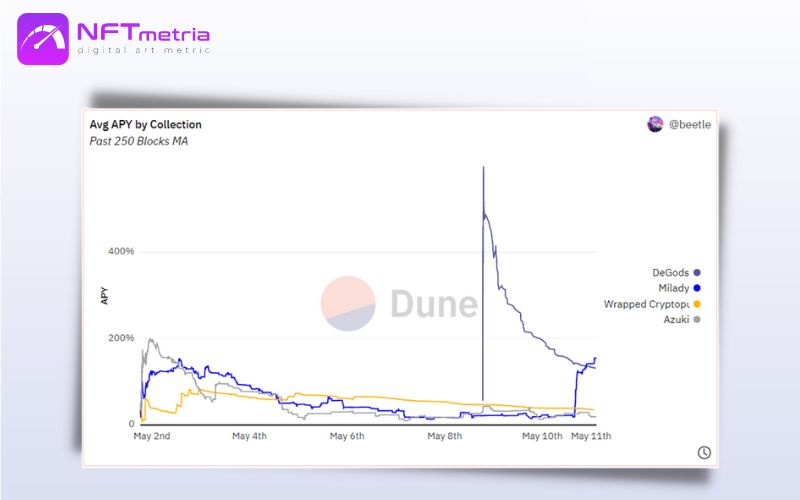 Blend's total loans since its inception amounted to 55,700 ETH ($101 million) resulting from 3,426 loans by 960 lenders. On average, there were 16.3 ETH per borrower and 3.6 loans per lender.
The top four on the Blend platform
Let's take a look at demand as for the Blend lending protocol for collections based on which loans are available:
The Azuki NFT project generated the most interest on the Blend platform. It accounts for 54% of Blend protocol volume and 45% of all transactions. The Azuki collection attracted 31,200 ETH from 3,300 transactions.
The second one is the Wrapped CryptoPunks collection with a volume of 16,300 ETH.
The third place belongs to Milady NFT with 7,700 ETH.
DeGods NFT is in third place with 2,100 ETH.
Such staggering figures indicate an increased interest in NFT, forcing market participants to make more and more loan decisions.
Protocols like Blend play a leading role in providing liquidity and increasing confidence in the non-fungible token market.
Pudgy Penguins received a $9 million investment for IP development
In the final round of initial funding the new Pudgy Penguins team managed to raise $9 million. 1kx, Big Brain Holdings, Kronos Research, creators of LayerZero Labs, Old Fashion Research and CRIT Ventures were the main investors in the NFT project. According to Pudgy Penguins press release, the funds will be used to expand the IP, strengthen the team and develop new offerings for the community.
We are happy to announce our $9M seed round, led by 1kx. pic.twitter.com/ozzA8rwL4H

— Pudgy Penguins (@pudgypenguins) May 9, 2023
The rise of Pudgy Penguins after their decline
The funding came more than a year after the former founders of Pudgy Penguins left the project under community pressure. They were found in default and embezzlement of public funds.
Entrepreneur Luca Schnetzler (Netz) became the new rights holder and CEO of the collection in April 2022. He promised to expand the brand and hastened to back up his words with deeds.
Already in December 2022, despite the bearish trend, the minimum price of Pudgy Penguins NFT reached a historic high. This was largely due to licensing agreements, social media campaigns and the development of the Web3 ecosystem initiated by the new team.
Pudge Penguins brand development plans
Today, the Pudge Penguins brand offers collectors new ways to use tokens and generate revenue, as well as live events, and focuses on its own physical items such as toys and books.
Pudge Penguins recently partnered with showbiz giant WME (William Morris Endeavor). This partnership gives the adorable Penguins access to a wide audience by using the NFT project's intellectual property in the development of video games, movies and television series.
Pudgy Penguins just announced their partnership with @WME. Some of you may have heard of them, but for those who haven't:

-Who are they?
-What do they do?
-Who are some of the people they represent?
-What does this mean for @pudgypenguins?

🧵👇 (1/6)https://t.co/C4Ga1baQfm

— pp 🐧 (@ppmctweets) May 5, 2023
Vi Powlis, Pudgy Penguins head of investor relations, noted the following in the press release:
Today's milestone is a testament to the vision of our strategic partners, who recognized that Pudgy Penguins is not only a Web3 brand for crypto-natives, but also an accessible IP for everyday consumers around the world, as well as our incredibly talented team. Vi Powlis said
The investor attention and alliance with WME marks a new phase in the history of Pudgy Penguins, which is steadily heading towards global recognition.