CryptoSkulls is one of the most precious gems among such NFT legends as CryptoPunks, My Curio Cards, MoonCats, Ether Rocks. Launched on May 18, 2019, the collection of pixelated skull images did not have a fast start (minting of CryptoSkulls NFTs lasted until August), but has since experienced its "rebirth."
The proof is that on January 11, 2022, the project topped OpenSea in daily sales (4,350 ETH) and set a record for the number of personal sales (10,206). And it's all thanks to the attention of several major NFT investors at once, which served as a trigger for the viral success of CryptoSkulls. It was at this time that Gary Vaynerchuk, one of the most influential American businessmen and influencers of the crypto world, entered the project. Back then, his investment in the project amounted to 100 ETH (about $300,000).
Since then, the Web3 community's interest in CryptoSkulls has not waned. Should we expect a new explosion of the project's value in the near future? Will CryptoSkulls become not only a successor, but also a competitor of CryptoPunks, as NFT enthusiasts assure? Our expert review will help answer these questions.
CryptoSkulls Official Links
What is CryptoSkulls?
CryptoSkulls are 10,000 NFT avatars (ERC-721 token standard) created in a pixel art style. Originally generated on the Ethereum blockchain, these collectible tokens now live on Polygon as well.
The image of the skull, the traditional symbol of confrontation with death, is associated not only with Halloween and heavy metal, but also with such charismatic characters of the metaverse as the Punisher. At the same time, each token in the CryptoSkulls collection is a generatively assembled digital work endowed with unique attributes, whether it be a mohawk, burning eye sockets, or a bandana fluttering in the wind.
In addition, each NFT is a gamified token that provides preferences in the future Gold of Skulls game.
CryptoSkulls in numbers
A collection of 10,000 pixel skulls was launched on May 18, 2019.
The total volume of secondary sales exceeded 22k ETH (over $39 million at the current exchange rate).
Floor price is 0.27 ETH (about $500).
Average sales range from 0.25 ETH to 0.5 ETH.
The most expensive #70 was sold on January 15, 2022 for 100 ETH (about $333k at the time of sale). By the way, Gary Vee owns it.
Total 3,919 unique holders (39%).
Only about 2% of the collection (229 pieces out of 10,000) are for sale, among them the offers range from 0.27 ETH to 7 ETH. This shows that almost all holders see the project as a great investment prospect and are not in a hurry to part with their assets at a lower price.
Data (including exchange rates) are given at the time of publication (March 20, 2023)
CryptoSkulls types and attributes
The CryptoSkulls project uses a feature ranking system called the Uniqueness Index. The smaller the UI, the rarer the trait is. Uniqueness Index 1 is assigned to 10 legendary NFT Skull Lords (all of them are hand-drawn and have their own names):
#9 (Terminator);
#19 (Thor);
#20 (Catrina);
#24 (Don Salvador);
#27 (Morpheo);
#36 (Old Jack);
#41 (Captain Flint);
#42 (Lilith);
#43 (Slayer);
#70 (La Llorona).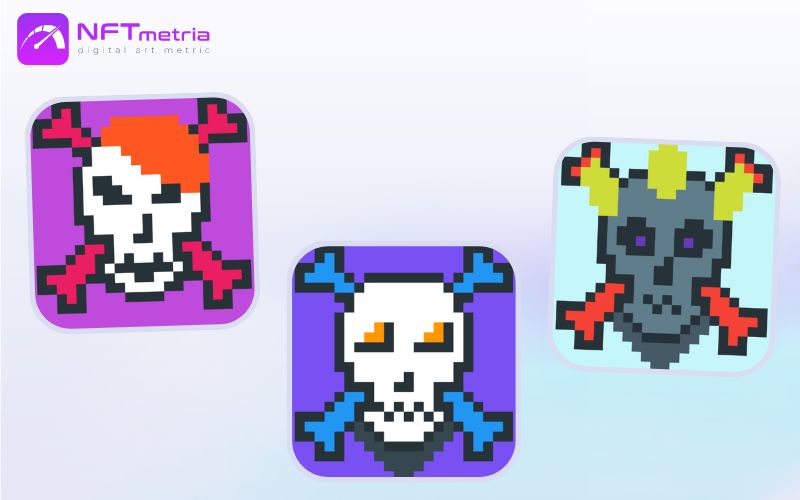 Most Skull Lords are represented only by static PFP images, while 3 of them – #19 (Thor), #20 (Catrina) and #42 (Lilith) – have "calling cards" in the form of short music-animated YouTube videos.
Who founded CryptoSkulls?
The creator of CryptoSkulls is the artist and developer Alex Slayer @alex__slayer. According to his confession, he generated most of his artistic works with the help of artificial intelligence. He was inspired to create the CryptoSkulls collection by the CryptoPunks project. Besides, for Alex Slayer, a big fan of the computer game Diablo and heavy metal, the skull has always been a very powerful symbol.
My response to the misinformation surrounding @Crypto_Skulls. 👇 pic.twitter.com/vj4sLcQsch

— Alex Slayer (@alex__slayer) October 7, 2022
Alex Slayer hired a team of programmers and artists who cooperated with Disney Studios to work on the project. It was decided to use the money from the sale of 1,500 CryptoSkulls tokens to create a DAO for financing the community initiatives.
Why is CryptoSkulls popular?
CryptoSkulls is steadily gaining popularity among users.
The main reasons of unflagging interest to CryptoSkulls NFTs are as follows:
The appeal of vintage projects to true connoisseurs of collectibles.
The mass and credibility of the community run by the DAO.
Granting holders full licensing rights. When an NFT is sold or transferred, all copyrights are transferred from the previous owner to the new owner.
Attention to the collection of famous investors like influencer and marketing guru Gary Vee, world famous DJ and NFT investor Steve Aoki, NFT influencer GMoney, Fvckrender, futuristic tech-digital artist, cult graffiti artist ThankYouX @ThankYouX, renowned digital artist Pplpleasr, businessman and NFT investor Matt Medved.
Airdrops, draws, charity auctions on Halloween with 1:1 works made by the creator of the original collection.
☠️ Charity Auction ☠️

CryptoSkulls will be auctioning off this 1:1 Halloween piece (by the original skulls Artist!) on October 31st.

The winning bidder will also get a custom CryptoSkulls hall of fame skull joining @LeonidasNFT @garyvee and @mattmedved (true CS legends)! ☠️🎊 pic.twitter.com/7ar22rVz5u

— CryptoSkulls ☠️ (@Crypto_Skulls) October 21, 2022
The opportunity to become a participant in the exciting game Gold of Skulls, which is being developed by the project.
CryptoSkulls Idea
CryptoSkulls is positioning itself as an NFT innovator focused on creating a unique and engaging gaming ecosystem. The main purpose of this ecosystem is to attract Web2 and Web3 users to unite both communities and expand the boundaries of modern gaming space. By the way, the starting point in the work on the collection was the plan to release the virtual game Gold of Skulls.
CryptoSkulls Roadmap
The roadmap includes many surprises. They all have to do with the announced October 2020 merging of the art project with the multiplayer game Gold of Skulls.
This decision is quite revolutionary, as on the Gold of Skulls playground, participants' uniqueness will for the first time be determined by the uniqueness of their collectibles. And 1,000 NFTs marked with an additional Game Token identifier will give players additional features.
In addition to characters from the CryptoSkulls and Demonic Skulls collections, characters created off the blockchain will also participate in the game. However, owners of "immortal" CryptoSkulls and Demonic Skulls heroes will have advantages.
The game has not yet been released, although it was planned to be launched in the winter of 2021. However, the $GSK coin of ERC-20 standard was released, with a total supply of 10 million pieces. Its future purpose is for development grants, in-game rewards, etc. Currently, $GSK can be purchased with ShibaSwap and used to trade and buy CryptoSkulls NFTs on OpenSea from the project account.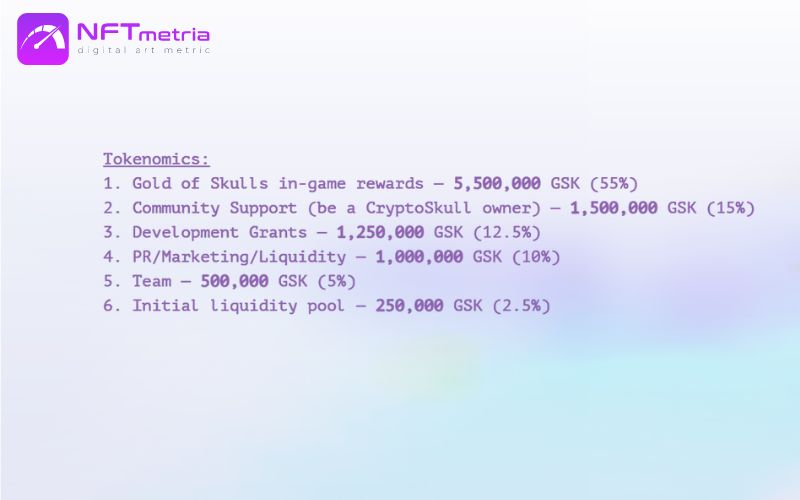 CryptoSkulls Ecosystem
In addition to the original collection, the CryptoSkulls ecosystem includes the following:
CryptoSkulls DAO
The community supported the implementing of DAO with more than 1,000 votes. Skull Council has created special DAO channels in Discord that only community members who are verified Skulls holders can see.
Demonic Skulls Alchemy Lab
According to the authors of the project, the Demonic Skulls Alchemy Lab is a lab where you can "demonize" your Skulls tokens with the presented tools.
Demonic Skulls V2-collection
Demonic Skulls are 12,650 ERC-721 standard 2D cartoon-style NFTs with updated Skulls vision (darker and more demonic).
Demonic Skulls is the perfect entry into the CryptoSkulls universe for new investors and enthusiasts, as 1 Demon = 1 vote in CryptoSkulls DAO. In terms of participation in airdrops and games, Demonic Skulls tokens have the same value as the original CryptoSkulls collection. The owner of a pair of NFTs (OG CryptoSkull + Demonic Skull) has the opportunity to receive exclusive rewards and benefits in the future.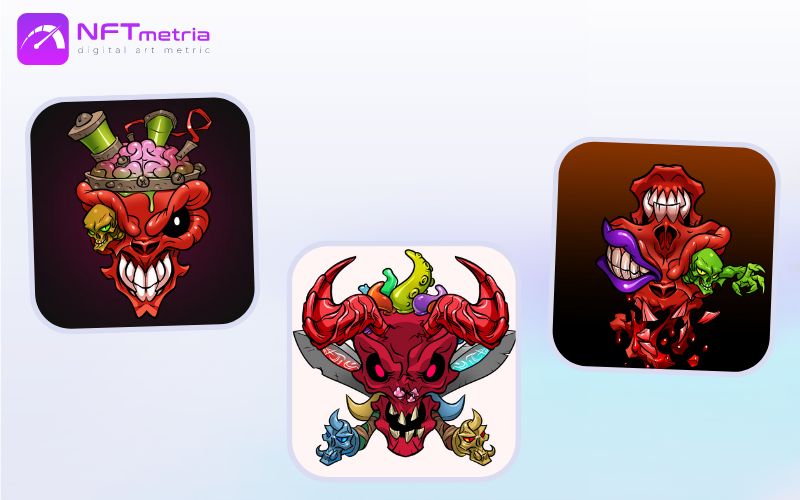 To date:
There are 2,027 NFTs in circulation out of 1,650 pieces,
Total volume of secondary sales amounts to 41 ETH,
Floor price is 0.014 ETH.
How much do CryptoSkulls cost?
The CryptoSkulls collection was released on May 18, 2019. At that time, the collection of pixelated skull images did not have a fast start (minting lasted until August), but it subsequently experienced its "rebirth" in January 2022 thanks to influencers. And how are things in terms of price dynamics?
For clarity, we made a slice of the average price for 1 NFT:
In October 2019: 0.007 ETH;
In March 2020: 0.008 ETH;
In October 2020: 0.06 ETH;
In March 2021: 0.05 ETH;
In October 2021: 0.04 ETH;
In January 2022: 1.6 ETH;
In June 2022: 0.6 ETH;
In October 2022: 0.6 ETH;
In January 2023: 0.5 ETH.
At the moment (March 20, 2023) the floor price is 0.27 ETH. On average, the latest sales range from 0.25 to 0.5 ETH. And the total volume of secondary sales amounted to more than 22k ETH (about $39 million).
The most expensive sales of CryptoSkulls
The most expensive sales are led by the following NFTs from the CryptoSkulls collection:
#70 was sold on January 15, 2022 for 100 ETH (about $333k at the time of sale). By the way, Gary Vee owns it.
#43 was sold on June 7, 2022 for 25 ETH (about $45k at the time of sale),
#36 was sold on January 24, 2022 for 25 ETH (about $61k at the time of sale),
#8262 was sold on January 18, 2022 for 16.92 ETH (about $42k at the time of sale).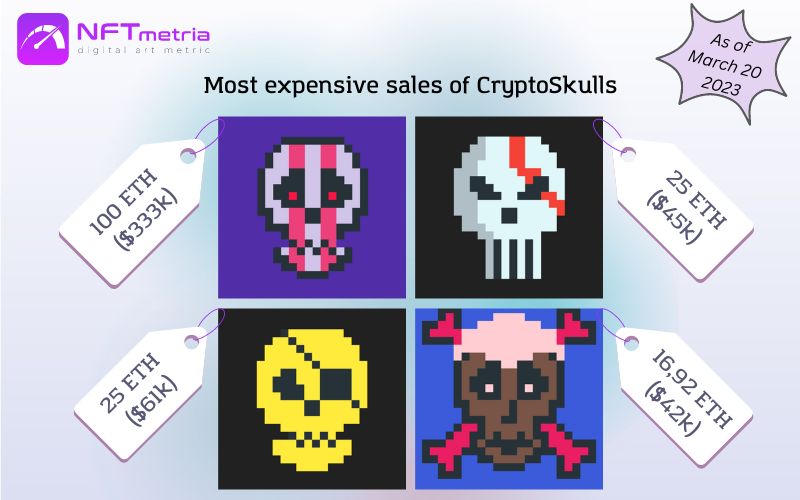 Where to buy CryptoSkulls?
Currently, CryptoSkulls can only be purchased on the secondary market, on marketplaces such as OpenSea, X2Y2 and LooksRare.
How to buy CryptoSkulls?
Remember that initially you need to connect your crypto wallet with self-storage to the marketplace of your choice.
Next, find the official collection using the search bar on the marketplace.
Analyze and choose the NFT you want to buy; click on it and then on the "Buy" button.
Or you can bet on the token you like. Make sure you leave enough ETH for gas or transaction fees. If the seller approves your bid, the deal goes through.
Should you invest in CryptoSkulls?
The following facts will help you make a decision about investing in the CryptoSkulls NFT project:
Many large investors have already exchanged their CryptoPunks for CryptoSkulls, counting on the great income. Among them you may find such known collectors as Leonidas (for whom the project became "an amazing find"), EmilySnow (who saw "something special" in NFT skulls).
Collectors who have at least one CryptoSkulls NFT in their wallets (and there are currently 3,919 of them) can use their art assets to make money from merchandising, selling derivatives and other commercial activities.
The relative availability of collectibles on the secondary market, although many enthusiasts are willing to shell out big sums for them.
Impressive growth in trading volume and floor price stability.
In any case, do your own in-depth analysis and research when investing in NFTs, and then make your own decision.
Opinion of NFTmetria
No doubt, CryptoSkulls deserves your attention if only because it is one of the earliest NFT projects in history. Moreover, CryptoSkulls surpassed many historical projects by becoming the second (after CryptoPunks) PFP collection on Ethereum blockchain with 10,000 pieces on offer and affordable prices. The release of such a project is always cause for excitement in the NFT space.
Following in the footsteps of CryptoPunks, CryptoSkulls quickly gained its fans and became a new style icon in the sphere of pixel art. The fact that the developers of the project actively trade CryptoSkulls and develop the unique game Gold of Skulls, which in the future will become a large-scale infrastructure, is also not unimportant.