Often, in the general sense, an NFT artist is a creator who creates various art works. But artist Pplpleasr pushes the boundaries. She works on the border of fine art in art, 3D technologies and visualization, understanding DeFi and DAO. At the same time, thanks to her career, she is actively involved in charity work, popularizes the crypto industry and develops the field of blockchain art.
How she managed to become a successful member of the digital community, work with Uniswap, create a cover for Fortune magazine and earn over $5 million in tokens, we will tell in this article.
Who is Pplpleasr?
Emily Young, known in the crypto world as Pplpleasr, is a multidisciplinary artist who specializes in DAO, DeFi, and NFT. She made a name for herself with colorful art, which went viral in the crypto community and featured on the cover of Fortune magazine.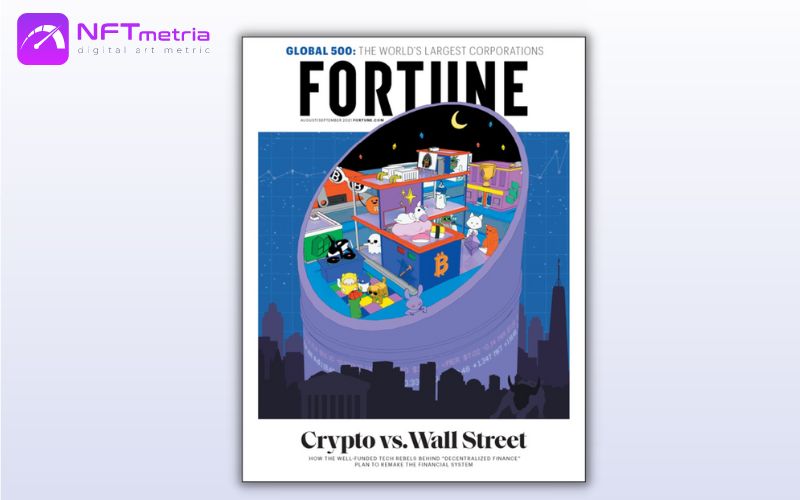 Her x*y=k work inspired the creation of PleasrDAO, which has already donated over $1.5 million and helped define the aesthetics of the decentralized finance movement. In addition, she is the founder of the decentralized film platform Shibuya, which is valued at approximately $50 million. And celebrities such as Paris Hilton and Kevin Durant invested in it in the amount of about $ 7 million.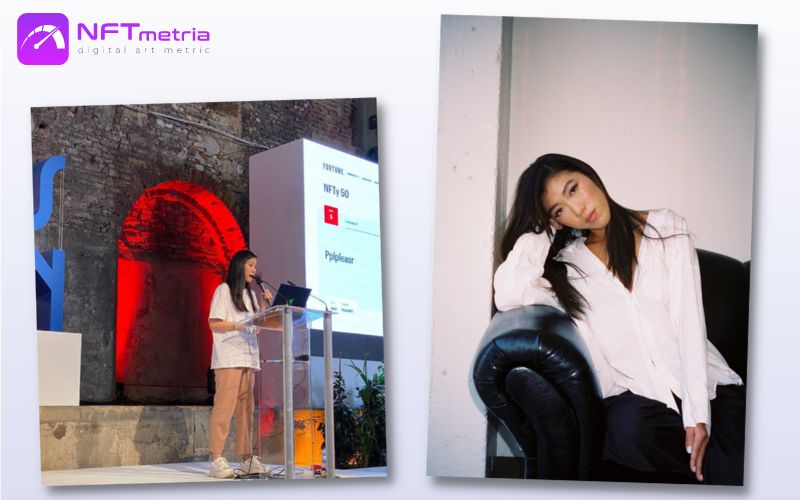 Back in 2020, due to the pandemic, the girl had no idea how to earn a living. And now the artist Pplpleasr, who lives in New York, is one of the most influential people among people under 30 in the digital world of NFT art, an active participant in the crypto market and a welcome guest at all specialized exhibitions, conferences and festivals.
Pplpleasr Official Links
The creative path of the artist Pplpleasr: from 3D animation to NFT
Emily Yang graduated from elementary school in Canada, however, even before graduating from high school, her family returned to Taiwan, where the future artist was born. But she did not stay at home, after school the girl entered the University of California at Los Angeles to get a degree in design and media art. It was at the university that she discovered her love for creating 3D animation by looking at the art of Pixar and Disney studios.
Emily Young has worked as a visual effect's artist for several studios since she graduated in 2015. She has occasionally created visual graphics for motion pictures such as Batman v Superman for Moving Picture Company and Wonder Woman for Double Negative, as well as commercials for the video game Diablo IV for Blizzard Entertainment.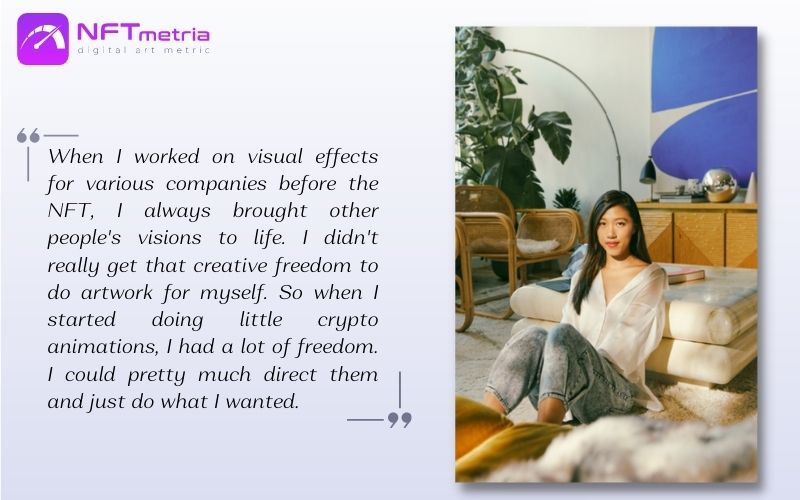 After graduating from university, Pplpleasr began her career as a digital artist creating visual effects for films such as "Batman v Superman", "Wonder Woman", "Star Trek. Beyond", as well as videos of Blizzard games and promotional sketches. In 2020, she received an offer for the position of a digital artist from Apple, which was subsequently canceled due to the pandemic. And relations with previous studios have already come to an end. Trying to seize on any job, Emily Young everywhere received only a refusal. Then the artist began to create her own art during this period solely to pass the time.
Pplpleasr in the NFT world
Pplpleasr has known about cryptocurrencies for a long time, since 2014, but then it did not have money to invest. And in 2017, she began to make small passive investments in cryptocurrency, studying the topic on Reddit. However, in 2018, there was a cryptocurrency bear market, so she put the issue on the back burner. Pplpleasr began her main path in the NFT world in 2020 by creating animated videos for various DeFi projects.
Starting to work in the world of blockchain art, I noticed 2 things. First, the community, the meme culture, and sense of humor resonated strongly with my own. Secondly: there were not enough creative talents to advance in space. Emily Young says
Having financial need, the artist began to work hard on the creation of animated videos, and the fame of her as a professional in the community quickly spread. Then, after about 20 orders, at the beginning of 2021, Uniswap evaluated her work and offered to create an advertisement for their V3 launch. Seeing new opportunities, Pplpleasr knew this was her chance to make a name for herself in the industry. In the end, she released and sold the x*y=k NFT video at the Foundation auction for 310 ETH.
Cryptocurrency has changed my life not only because of the money and investment opportunities it has opened up for me, but also because of the welcoming community of passionate people. I am in a unique position at the intersection of DAO, NFT and DeFi. I feel a certain responsibility to spread the word about cryptocurrencies in a positive and eloquent way.
At the same time, her friends created their own PleasrDAO, through which they and other fans of her art could support creativity.
Our mission is to collect digital art that represents and funds important ideas, movements and causes that have been immortalized online as NFTs. Such a mission is indicated in the introduction of PleasrDAO participants
Since then, her life has changed dramatically for the better.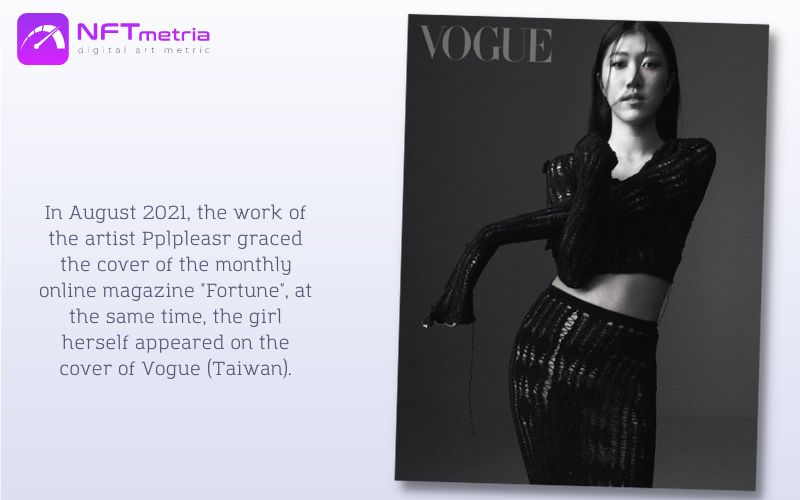 In September 2021, she partnered with Fortune to create the Fortune Journalism PleasrFund. The artist did not stop there. In May 2022, Emily Young worked with the Cannes Film Festival for whom she created 75 tokens for their 75th anniversary of the festival. Tokens were an entrance ticket to certain closed events.
In March 2022, Emily Young launched Shibuya, a decentralized film platform that is a cross between Netflix and Kickstarter.
it's been a while since i've released anything new, but after working on this since september i'm proud to say we're releasing the beta of @shibuyaxyz today 😭

read my first medium article (ever lol) to learn about ithttps://t.co/udlGyPNL5R

— pplpleasr (@pplpleasr1) March 1, 2022
The aim of the project is to create a Web3 service that will allow filmmakers to finance and distribute films. The main feature is to rely on the fans and not on the system of Hollywood studios. To this end, Shibuya's first project was the first-ever interactive short film Web3 "White Rabbit" in NFT history.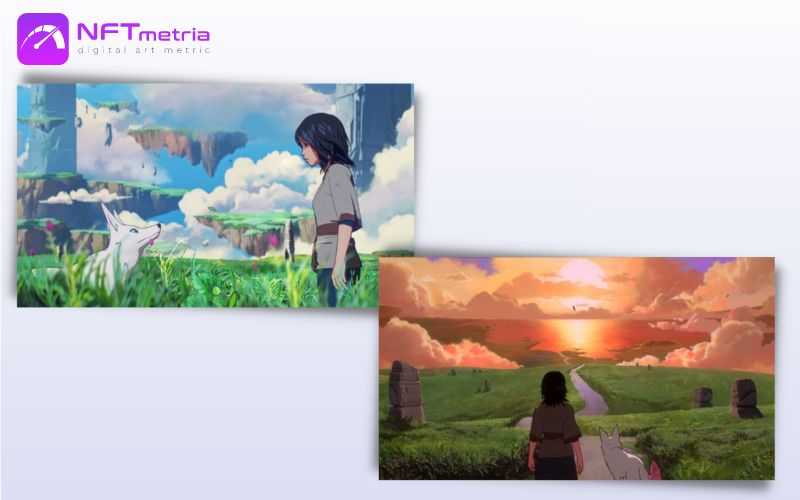 In December 2022, film platform Shibuya announced that it had raised a $6.9 million funding round led by venture capital firms a16z Crypto and Variant. The round, which also included celebrity investors such as Paris Hilton and Kevin Durant, valued the company at $50 million.
Features of NFT works by Pplpleasr
Whimsical animations and illustrations by artist Pplpleasr show a new way of looking at space, attracting new audiences and investments. So, she shows that non-fungible token does not have a specific target audience – anyone can take part in the movement with the appropriate tools and initiative.
I like to make artwork that looks cool to the average non-crypto person. And then for those who understand cryptography, they will see the easter eggs or the meaning of my works, because they reflect my own life in some way. I am a creative person, but cryptocurrency has changed my life and shaped many aspects of who I am today.Emily Young speaking
Pplpleasr's work style is influenced by animated films, the underground music scene, video games, and traditional Chinese and Japanese art. She developed her own cartoon shader that creates the illusion of 2D illustrations of 3D elements inspired by Mobius art.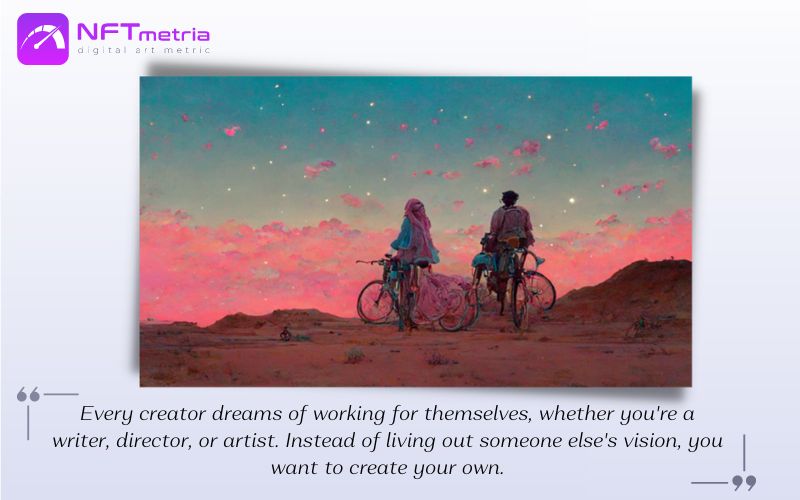 In addition to digital renderings, pplpleasr often incorporates hand-drawn elements into her work, as the artist is intimately familiar with traditional media such as painting. Her work strives to find the perfect balance between extremes: to be recognizable, but new and not boring.
The most famous NFT works by Pplpleasr
While Pplpleasr is neither the first nor the last to enter the non-fungible token space, its meteoric rise to fame is unique. While she hasn't released many NFT papers, they are currently valued at over $5 million in total.
x*y=k NFT
x*y=k is the debut and most famous work of the artist. And all thanks to the Customer of this video, Uniswap, who turned to her with an advertising request to launch a system update. x*y = k shows the price curve function underlying Uniswap. In it, the artist depicted a unicorn walking through a colorful forest in search of the wonderland of Ethereum.
"x*y=k" was sold at the Foundation auction on May 27, 2021 for 310 ETH (about $900k at the time of sale).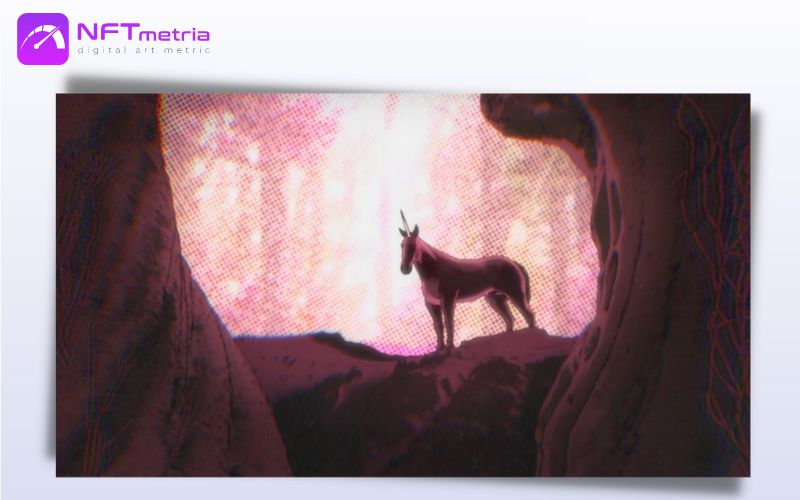 Serendipity NFT
Serendipity is a 30 second video created by Pplpleasr and global DJ and NFT influencer Steve Aoki. This work tells the story of the synergy of two opposite characters, as well as the evolution of cycles. The cycle begins in a more traditional manga style and becomes more modern and exciting as the sky changes. This means that everything happens in cycles, but beauty can be found in each stage. The shooting star runs right through the characters' eye lines, reflecting the convergence of views on this collaboration. Serendipity sold at Sotheby's on September 30, 2021 for $138k.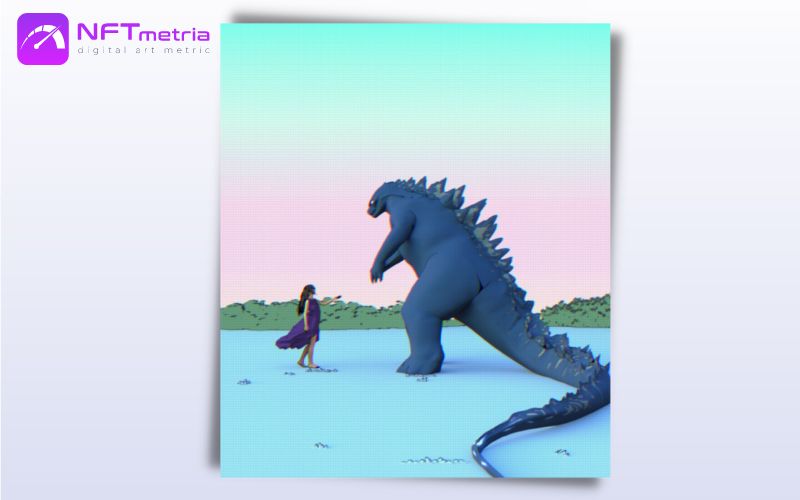 Apes Together Strong NFT
Apes Together Strong is Pplpleasr's version of the commemorative non-fungible token for the virtual NFT Summit hosted by a16z x Stanford Center of Blockchain Research Proceeds. The work is dedicated to charitable organizations that support the protection of autism.
The work "Apes Together Strong" was sold at the Foundation auction on May 6, 2021 for 36.4 ETH (about $140k at the time of sale).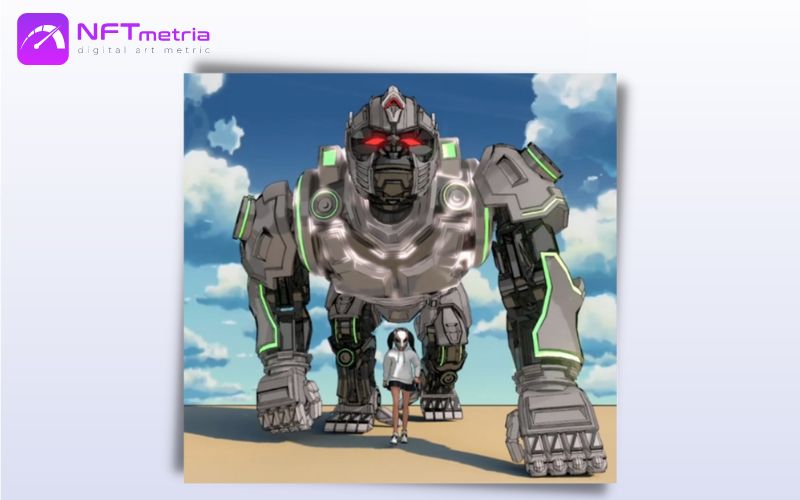 Where can you buy NFTs by artist Pplpleasr?
Now non-fungible tokens by Pplpleasr is available only on the secondary market, namely on such marketplaces as OpenSea, Foundation. In addition, you can follow the artist's Twitter and Instagram for future updates.
Opinion of NFTMetria
Like other success stories in the NFT industry, artist Pplpleasr's fame is the culmination of years of creative work and constant adjustment to circumstances.
What is interesting about Pplpleasr is her deep understanding of the crypto world and its future. Emily is quite a subtle and progressive thinker, as evidenced by her launch of the Shibuya platform and PleasrDAO, which have a great impact on the space as a whole, and also bring great benefits to all participants. Pplpleasr is able to find new ways to satisfy the audience by pushing the limits of NFT.