The future belongs to artificial intelligence, have you heard that? Indeed, today more and more areas and areas are introducing artificial intelligence technologies into their work. But what if you use it on a large scale in art? Neural networks, machine learning can be converted into amazing interweaving of colors and textures.
Today we will talk about one of the leading representatives of digital art – Refik Anadol. The artist squeezes the maximum out of modern technologies in order to visualize his thoughts, ideas, feelings and convey them to the general public. We can say that neural networks are the brushes of an artist. Refik Anadol cooperates with world famous organizations such as Google, NASA, Microsoft and many others. And his digital works of art are exhibited at world auctions and go under the hammer for millions of dollars. And this only once again confirms the scale of his personality and his work.
Who is Refik Anadol?
Refik Anadol is a well-known digital artist, director of RAS (Refik Anadol Studio), a pioneer of machine intelligence aesthetics. Refik Anadol's work consists of machine learning algorithms that embody abstract, vibrant, and incredibly beautiful environments.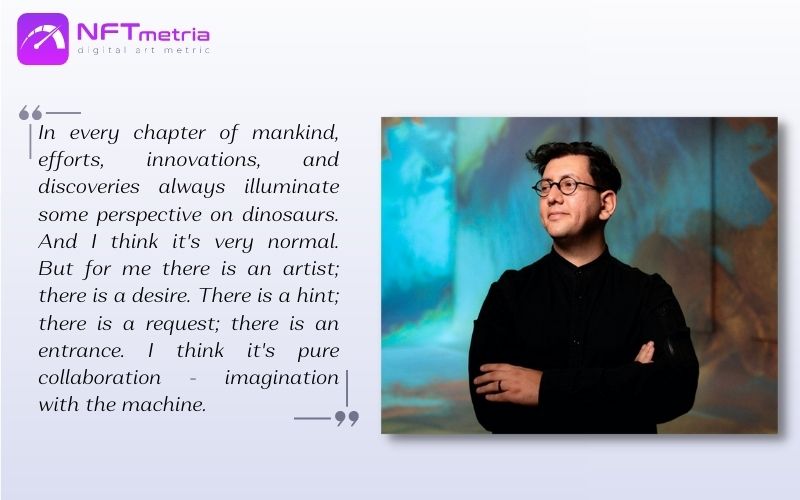 The artist is known not only for his significant influence in the field of NFT, but also for large-scale architectural and digital projects that have received a number of awards and prizes.
Refik Anadol is focusing on the way data is perceived and made sense with the advancement of technology in the future, applying seismic, geographic, meteorological, cultural and other kinds of data that can come to mind. In many of his projects, in addition to visual, he also successfully uses auditory data.
Refik Anadol lives and works in Los Angeles. There is his working studio, where he is engaged in research and development of "new ways of describing data and artificial intelligence."
Refik Anadol Official Links
The creative path of Refik Anadol: from artificial intelligence to NFT
Refik Anadol was born on November 7, 1985 in Turkey. His love for computers began when his parents gave him a Commodore 64 computer for his eighth birthday, allowing him to immerse himself in the world of video games. In the same year, the future artist saw the film Blade Runner for the first time, which changed his idea of the future of mankind.
As a child, I did not strive to see optimism in life. I found much more optimism in this film. I think that's how I started to connect imagination and calculation in my mind. Because for me, games were a place where we could escape or find new meaning, like create a new world around the mind of a machine. The artist says
He received his education at Istanbul Bilgi University, where he studied visual communication design. During his student years, Refik Anadol met a professor at Aalto University in Finland, who taught him visual programming in Pure Data.
It was then that I first saw the potential of programming invisible data signals. It was a beautiful signal, turning into black and white dots, dots and lines. And that's how I got the idea to think of data as pigment, and that algorithms could be our brush. Remembers Refik Anadol
In 2009, he graduated from Bilgi University and was awarded the "Lorenzo il Magnifico Yaşam Boyu Başarı Ödülü" award. It is awarded to artists who contribute to the development of contemporary art within the framework of the Florence Biennale. Anadol then continued his studies at the University of California at Los Angeles, where he received his master's degree.
As a lecturer at Bilgi University in 2014, he won the Microsoft Research Award for The Aether Project prepared as part of the lecture. This is the first art project to receive such an award.
In 2016, Refik Anadol takes part in the Google Artists and Machine Intelligence program and begins to use artificial intelligence as a tool for his work.
Refik Anadol also created a visual installation in the Walt Disney Room that would respond to the sound dynamics and playing tempo of the Los Angeles Symphony Orchestra and change the image accordingly. The artist successfully coped with this task.
Sevgili dostlar, değerli @fazilsaymusic ile gerçekleştirdiğimiz çok ses getiren projemizin heyecanlı teknik arka planını sizlerle hızlıca paylaşmak isterim zira çok merak eden olmuş ve hatta eş zamanlı AI çalışması olmadığını düşünenler bile olmuş.Detaylarını payalaşalım; 1/7🧵 pic.twitter.com/stA1fgdfgu

— Refik Anadol (@refikanadol) September 21, 2022
2019 was marked by the development of the audiovisual installation "Machine Hallucination" for presentation in the digital art space "Artechouse". The project used data patterns from publicly available images of New York City.
Since 2021, Refik Anadol has been teaching at the School of Design Media Arts at UCLA. In the same year, the artist designed an installation for the Italian brand Bulgari, celebrating the unique creativity behind the Serpenti collection. The project was billed as the first piece of artificial intelligence art created for a luxury brand.
Thank you so much for the wonderful reaction for our new immersive AI installation — Metamorphosis @Bulgariofficial . Opened yesterday in Saatchi Gallery, London and unfortunately all booking slots are currently completely booked. We will add new hours asap! pic.twitter.com/GT6PVvh9a4

— Refik Anadol (@refikanadol) November 26, 2022
The culmination of his philosophy is the "Unsupervised" exhibition at MoMA (New York), which opened on November 19, 2022 and will run until March 2023.
"I am trying to find ways to connect memories with the future and to make the invisible visible." — @refikanadol

Now open! See #Unsupervised, an installation using AI to interpret and transform more than two hundred years of art at MoMA → https://t.co/t29c8KgQkh pic.twitter.com/kx0Im2SvyR

— MoMA The Museum of Modern Art (@MuseumModernArt) November 19, 2022
Refik Anadol in the NFT World
In the NFT industry, Refik Anadol is one of the most prized and respected NFT artists. His first NFT works were presented in November 2020. And it was the Machine Hallucinations collection that made a splash in the digital art industry. And in October 2021, 8 out of 828 works became part of a large Sotheby's auction. Works went under the hammer for a total amount of more than 5.3 million dollars. And in total, the artist has released more than 1,500 works, the cost of which exceeds a total of $ 20 million.
This is an incredible technology that will hopefully bring many inclusive discussions. First of all, I think NFT is just a technology, a tool. But I think that what we do with it, what we create, gives value to the art itself. But the technology is incredibly open and very welcoming to everyone, technically, in the world. And this openness, the egalitarian side of things, is incredibly exciting. Artist's opinion on NFT technology
Together with his RAS team, the artist also founded Dataland. This is the world's first multi-sensory project of the Metaverse, redefining the relationship of b/w perception, presence and sensations. While the project is in development, a large-scale launch is expected in 2023.
NFT corporate identity by Refik Anadol
Refik Anadol works are built on the principle of a constantly changing image structure.
I discovered that artificial intelligence is an extension of my consciousness. This is an extension of my imagination. I see artificial intelligence becoming this extension of the human mind. When I did Boston Wind, I told people that the data here becomes pigments, and the algorithm can become a kind of brush. Data is still pigment, but now the brush can think. The artist meditates
The artist is convinced that there will be no non-digital realities in the future, so he introduces media art into architecture. So, he creates large-scale projects that amaze with their graphic diversity and architectural component. Visualization of an alternative reality through architecture and digital technologies immerses the viewer in a multi-variant environment that lives according to its own principles.
Absolutely amazing, @refikanadol !! 👏👏👏❤️❤️❤️ pic.twitter.com/BWfkV5HYQp

— Keith A. Grossman 🟣 (@KeithGrossman) May 8, 2022
Refik Anadol is committed to the idea that architectural structures have great potential as canvases for digital art. He believes that specialists who can work with such a "canvas" will be in demand more than ever in the foreseeable future.
The most famous NFT works by Refik Anadol
Look at any NFT work by artist Refik Anadol, from the first in 2020 to his magnificent large-scale works in 2022. Each of them is a work of digital and intellectual art. To date, the artist has released over 1.5k NFTs, among which there are especially significant and well-known in his art.
Machine Hallucinations NFT Collection
Machine Hallucinations is the author's first and one of the most famous collections. The artist started working on it in 2016, its first issues appeared in November 2020, and the last series is dated November 2021.
This project includes several series, each of which has its own individual style and meaning:
"Unsupervised – MoMA Fluid Dreams" is the result of the machine processing of 138,151 paintings from the extensive collection of the Museum of Modern Art (MoMA). The project includes 13 NFTs of 100 copies each. Initial sales ranged from $1k to $100k.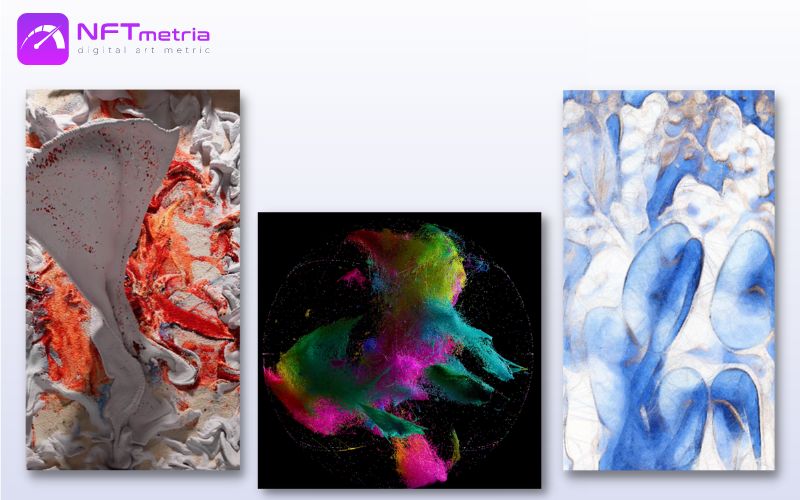 "Coral" is the result of machine processing of 300 million data and 1.7 million open source coral images. The project includes 10 NFTs, 4 of which are in single copies, and the rest in quantities from 100 to 500 copies. Recent sales have gone from $500 to $851k for a unique piece.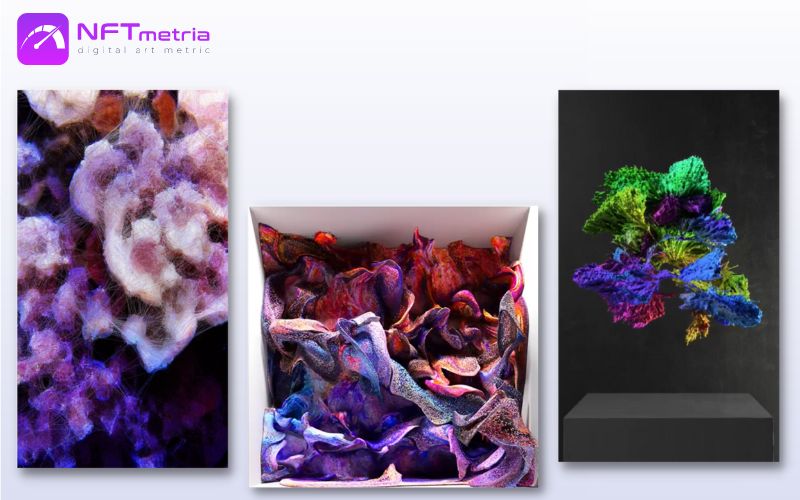 "New York (NYC)" is a collection of 1000 images of New York City. The total sales volume exceeds 368 ETH, and the minimum price is 1.7 ETH.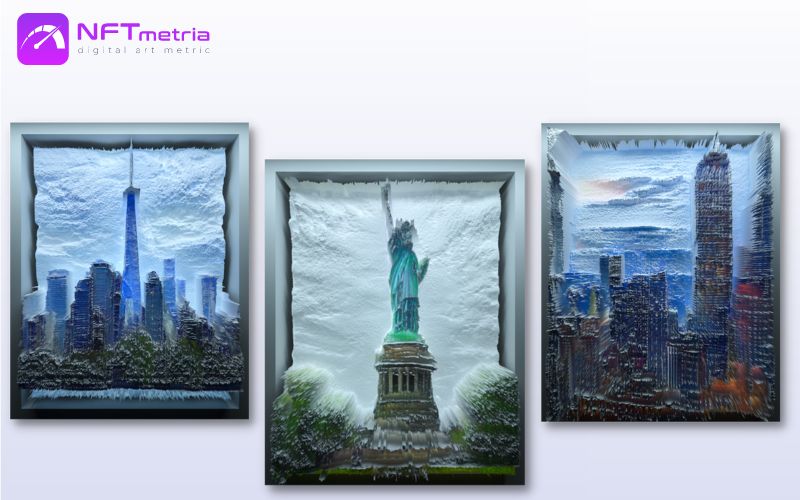 "Space: DAFA" is the most famous technically complex series in the "Machine Hallucinations" project, which consists of only 3 NFTs, each of which is presented in the amount of 96 copies. They are the result of more than 2 million images of space that have been machine-edited in collaboration with NASA since 2018. In October 2021, 8 out of 828 works became part of a large Sotheby's auction. Works went under the hammer for a total amount of more than 5.3 million dollars.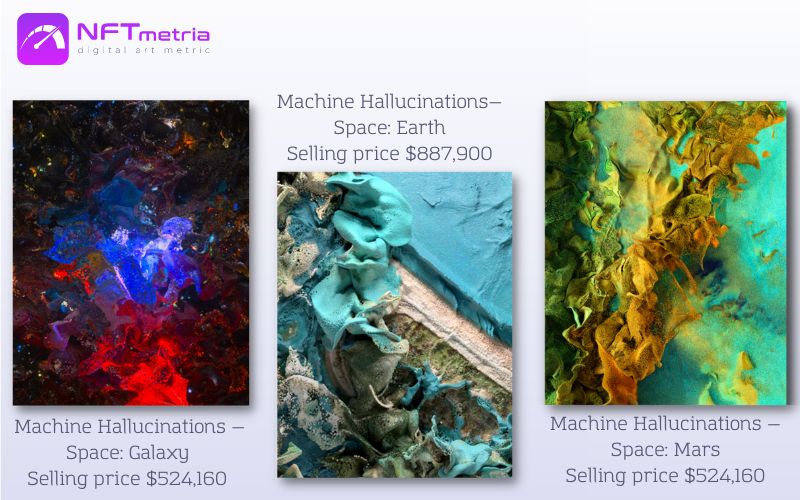 "Space: Metaverse" consists of 8 NFTs and is a continuation of the previous series "Space: DAFA". The most expensive NFT was sold at Sotheby's for $2.39 million. And in total, this series was sold at auction in the amount of over $ 5 million.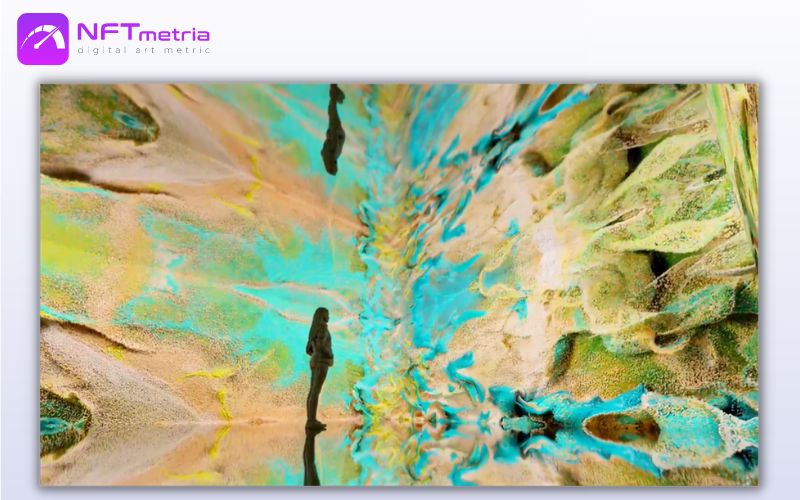 The remaining series "Hubble Dreams", "Mars Landscapes", "Mars: AI Data Paintings", "Renaissance/Sculpture", "Nature Dreams – Last Memory" also have their own individual meaning and are created using artificial intelligence.
Synthetic Dreams NFT collection
The entire collection consists of 1,000 machine-derived images of over 200 million raw landscape images from around the world, including US national parks. The project is the result of a collaboration between the artist and the Google Quantum AI team. The total volume of secondary sales is more than 1.6k ETH (more than 7 million dollars at the exchange rate for November 2021).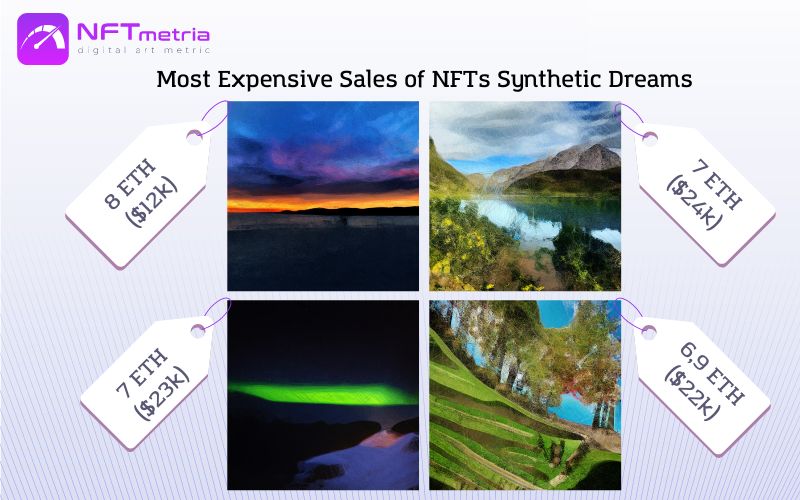 Casa Batllo: Living Architecture NFT
Titled "Casa Batllo: Living Architecture", created by redesigning the façade of Gaudí's iconic Casa Batllo building, the NFT was sold at Christie's on May 10, 2022 for $1.38 million.
Programmed to read climate data from Barcelona in real time, the artwork depicts the façade of the House and now has the status of the first UNESCO World Heritage Site to be sold as a digital token in an auction house sale
Refik Anadol connects the past, present and future, reminding us of the innovative, humanistic and visionary Gaudí. Noted by a spokesman for the House of Batlló named Gary Gauthier
Where can you buy NFTs by Refik Anadol?
Now NFT artist Refik Anadol is available only on the secondary market, namely on such marketplaces as Nifty Gateway and OpenSea. In addition, you can follow the artist's Twitter and Instagram for future updates.
Opinion of NFTMetria
Refik Anadol has made a great contribution to the development of creativity through the work with artificial intelligence, combining algorithms, advanced technologies and deep aesthetics through his large-scale animated works. His art is recognized by the global community, from NASA, Google, auction houses to the crypto industry. If you are looking for digital assets that are in demand, priced and aesthetically pleasing, then this is the case.