My Curio Cards NFT collection released in 2017 was the first NFT project to appear on the Ethereum blockchain in a collectible digital art format. Its birth took place at the dawn of the crypto industry, when NFT marketplaces did not yet exist, and the legendary CryptoPunks were not even released. At that time, this project did not cause such a stir yet, since the market had not yet been formed.
But in 2021, during the NFT boom, the project got a second wind. In October 2021, Christie's auction house held the sale of collection items. As a result, a series of 31 NFTs was sold for 393 ETH. It is now stored in The Arctic World Archive along with 21 terabytes of open source code on GitHub. The archive is designed for 1,000 years, and that is how long the My Curio Cards collection items will be stored there. Impressive, isn't it?
Before earning millions of dollars at one of the most reputable auction houses, the collection was neglected for some time. What brought it out of this state and elevated it to the NFT Olympus? Let's talk about it today's review.
My Curio Cards Official Links
What are My Curio Cards?
My Curio Cards is a collection of 30 unique NFT cards created by 7 different artists. Its original goal was to use the space of the Ethereum system to create a new digital art ownership model. Ultimately, the idea of the authors led to the emergence of what we know today as the NFT.
All Curio Cards NFTs are classified according to certain number sequences and have a fixed supply of digital tokens, the number of which ranges from 111 to 2,154 pieces. In 2017, 29,700 Curio Cards were minted, of which about 4,000 are currently lost or somehow destroyed.
If you look at the Curio Cards NFT collection, you can see the following order:
Cards with simple objects like an apple, an acorn, a bowl of fruit, book stack.
Next, we can see tokens that resemble crypto versions of Wacky Packages. In these cards, they make play with logos of famous brands from the point of view of the crypto industry, resulting in an interesting mix.
Next, we even see the co-founders of the project as superheroes!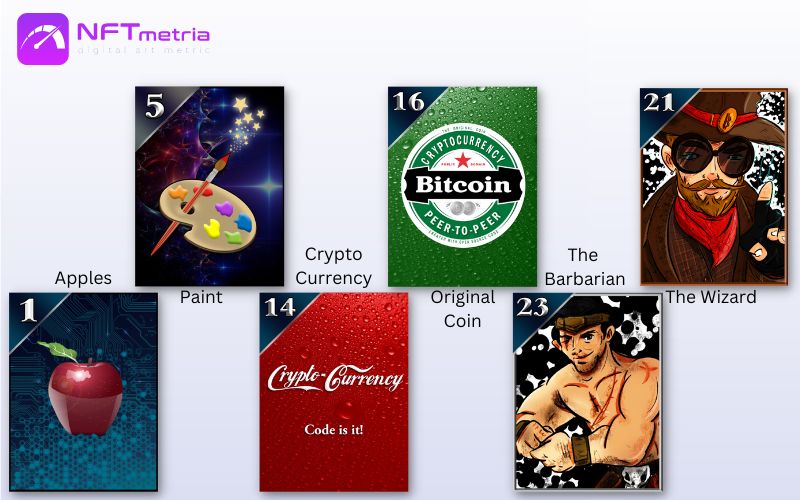 Despite such creativity, after the initial sale of the cards, no one was really interested in the project for a long time. The collection was given a second life by NFT archaeologist Adam McBride @adamamcbride, who looks for NFT projects of the past and finds hidden value in them. It was thanks to him that the project became the subject of public attention again.
My Curio Cards in numbers
The project was started on May 9, 2017.
The price of a mint ranged from 25 cents to $1 per card.
Each of the 31 cards is issued in a circulation of 111 to 2,154 pieces, and the total circulation is 29,700 pieces.
The project is ranked 45th among the best collections in terms of sales of all time on the largest NFT marketplace OpenSea.
The total volume of secondary sales exceeded 40k ETH (more than 69 million dollars at the current exchange rate).
Floor price is 0.25 ETH (about $430).
Average sales range from 0.2 ETH to 2 ETH.
The most expensive sale was card #29 (Yellow) which was bought in September 2021 for 150 ETH (about $456k at that rate).
Total 4,981 unique holders (25%). This is a rather ambiguous indicator in terms of investment attractiveness. A sufficient amount of NFT is concentrated in the hands of whales, which can affect the liquidity of the project and the floor price, thereby managing the project from the inside.
You can purchase any of the 31 cards, each of which is currently for sale.
Data (including exchange rates) are given at the time of publication of the article (February 16, 2023)
Who created My Curio Cards?
My Curio Cards NFT collection was born thanks to three partners:
Travis Uhrig, software developer @travisformayor,
Thomas Hunt, famous YouTuber @Madbitcoins1,
Rhett Creighton, a nuclear physicist with a career in acting.
In 2016, the guys met and decided to discuss the prospect of creating digital art and a market for it.
The idea of the three crypto enthusiasts was only brought to life in 2017, when they organized an online art exhibition on May 9. In fact, this event was the impetus for the development of My Curio Cards project. In an interview, Travis Uhrig admitted that they were inspired by the Rare Pepe card collection.
It is worth mentioning a funny story that occurred during the collection making. When Rhett Creighton was working on the smart contract for card #17, something went wrong and he had to reissue the card. This is how 17b token appeared, which for some reason was considered an outsider, but nevertheless, now it's an official part of the collection.
Many of you already know the story of the accidentally deployed Card 17b… but back in 2017, when the Curio developer Rhett was creating Card 17, he accidentally deployed it twice.

— Curio Cards (@MyCurioCards) October 26, 2022
Curio cards are old enough to work with modern technical NFT standards and be traded on marketplaces. Therefore, Travis Uhrig and his colleagues created special "wrappers" for them. It's a kind of software that takes Curio and wraps it into a new card. Thus, Curio Cards are placed in a new contract, allowing them to be traded on secondary markets such as OpenSea.
The wrapper is released! https://t.co/TKlHgiJQQr Thanks to everyone who helped, lots of cool features 🧵👇 pic.twitter.com/i95DDI8ht8

— Curio Cards (@MyCurioCards) March 28, 2021
Who drew My Curio Cards?
On My Curious Cards tokens, we can see the work of seven artists who have made a name for themselves in the digital community:
Cryptograffiti @cryptograffiti (#11, #12, #13)
Cryptopop @helloluis (#17, #18, #19, #17b)
Daniel Friedman @InferenceActive (#24, #25, #26)
Marisol Vengas @maximusmaximus (#27, #28, 29)
Phneep @phneep (#1, #2, #3, #4, #5, #6, #7, #8, #9, #10, #14, #15, # 16, #20)
Robek World @robek_world (#21, #22, #23)
Thoros of Myr (#30). This artist is still completely anonymous.
All licensing rights for the use of their art objects, including commercial ones, are established by each artist. My Curio Cards project does not have a single license.
My Curio Cards Idea
The key goal of My Curio Cards was to bring digital art to the blockchain. In fact, it was the first NFT project presented as a gallery of digital art objects. Back then, crypto creators could receive royalties for their work without intermediaries.
As planned by the authors, 100% of the initial sales were to go to the artists' accounts. At the end of March 2021, the community voted for art creators to receive a 1% royalty from OpenSea sales.
The #CurioCards @OpenSea Artist Royalties community vote is live! It will run for 3 days to give everyone a chance to participate https://t.co/twtra2Nb5h pic.twitter.com/XMF5wx6upW

— Curio Cards (@MyCurioCards) March 28, 2021
My Curio Cards can also be considered one of the first business donation platforms. In an interview, Thomas Hunt said he saw the project as a kind of Patreon model for patrons to support their favorite digital artists. To date, the development of the project is largely facilitated by Curio DAO.
Why are My Curio Cards popular?
Despite the fact that My Curio Cards is one of the oldest NFT projects, interest in it has not weakened even today. There are good reasons for this:
The idea of creating a collective digital art gallery, where each work has its own history, its creator, its circulation, and its own license.
The tokens are detailed and of high artistic value.
The historical value of My Curio Cards tokens, which creates an intriguing atmosphere around them and contributes to increased demand.
The authors of the collection regularly delight community members with pleasant surprises. Here is an example:
Curio Cards has partnered with @unstoppableweb!

We want to give fans and holders throughout Web3 easier access to their cards, collections and the Curio experience. So, owners of a UD address can now look it up directly on the Curio website!

To celebrate, here's a giveaway ✨

— Curio Cards (@MyCurioCards) December 19, 2022
My Curio Cards Roadmap
The project does not have an official roadmap. Nevertheless, the team regularly notifies its followers on Twitter about all significant events.
My Curio Cards Ecosystem
Curio DAO can be considered the center of My Curio Cards ecosystem, the main goal of which is to coordinate the work of the community. There have been many discussions on Discord on how this control center should be organized. Finally, they agreed that it was necessary to create a system of guilds, which was done.
There are currently three guilds in My Curio Cards ecosystem:
Outreach Guild supports external activities such as merchandising, partnerships and marketing;
Writers' Guild coordinates its work with Outreach Guild but has its own organization; oversees documentation, content, educational activities and creative marketing;
Mint Guild mints new art pieces, delivers them to community members via airdrops, and establishes business relationships with new artists.
To join Curio DAO, you need to confirm that you are a cardholder. To do this, enter !join in #bot-commands on the Discord channel and confirm in Collab Land. After that, you can check out the #curio-club channel. To join Curio DAO, follow the steps above and then go to the #dao-start-here Discord channel.
How much do My Curio Cards cost?
In May 2017, the price of a mint ranged from 25 cents to $1 per card.
And how are things now? To visualize the price dynamics, we made a slice of the average price of 1 NFT over the past 2 years:
in March 2021 – 0.2 ETH,
in June 2021 – 0.03 ETH,
in September 2021 – 2 ETH,
in December 2021 – 0.8 ETH,
in March 2022 – 0.7 ETH,
in June 2022 – 0.8 ETH,
in September 2022 – 0.5 ETH,
in December 2022 – 0.8 ETH.
Now (February 16, 2023) the minimum price is 0.25 ETH. On average, the latest sales are in the range of 0.2-2 ETH. And the total volume of secondary sales amounted to more than 40k ETH (about $69 million).
Most Expensive My Curio Cards Sales
In September 2021, card #29 (Yellow) was sold for 150 ETH (nearly $456,000 at the then exchange rate). Yellow is the second rarest card in the collection with only 200 issued pieces. The rarest item is card #26 (Education). There are only 106 pieces of it.
Around the same time, card #22 (Bard) went to its owner, who paid 75 ETH (about $229,000) for it. The unique feature of this card is that its number is located in the upper right corner.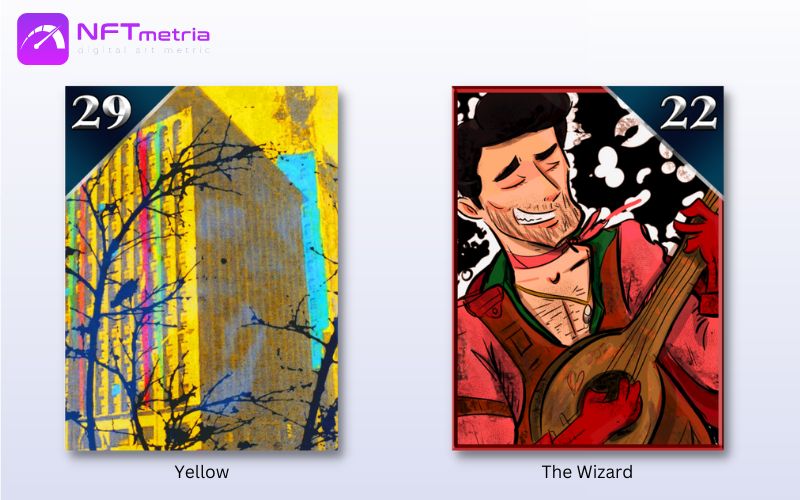 Where to buy My Curio Cards?
Currently, My Curio Cards can only be purchased on OpenSea marketplace.
How to buy My Curio Cards?
Remember that initially you need to connect your crypto wallet with self-storage to the marketplace of your choice.
Next, find the official collection using the search bar on the marketplace.
Analyze and choose the NFT you want to buy; click on it and then on the "Buy" button.
Or you can bet on the token you like. Make sure you leave enough ETH for gas or transaction fees. If the seller approves your bid, the deal goes through.
Should you invest in My Curio Cards?
Owning tokens from the My Curio Cards collection opens up many interesting possibilities:
Access to communication in the exclusive Discord channel of token holders,
Profitable sales of Curio Cards on the NFTX vault platform,
Use of NFTs in the metaverse game Isotile.
Creating your own legend (lore) about your token on the Hyype website.
Owning an investment asset with historical value, which is tantamount to owning an antique that will increase in value over time.
In any case, do your own in-depth analysis and research when investing in NFTs, and then make your own decision.
Opinion of NFTMetria
I believe blockchain-based collectibles will be very big in the future. Thomas Hunt, one of the founders of My Curio Cards collection, in an interview in 2017
Indeed, many NFT ideas have proved to be quite successful, and My Curio Cards is one of them. Its creators revolutionized the way people own digital assets when NFT technology was not yet mainstream. Today, this is not just a collection of rare cards, but also a promising project aimed at developing digital creativity and building a friendly and creative community.