The cyberpunk style has gained more and more momentum over the years. Those artists who previously made this style their signature style is now recognized by society. And now we are talking about Dangiuz, a practically anonymous young digital artist who has been fond of graphic design since childhood.
From the age of 20, he began to forge a successful career as a graphic designer, and in 2021 he made his debut on the NFT scene. During this time, he was listed as one of the top NFT artists by sales of all time on SuperRare with over $4 million in sales. And this figure consists of almost 40 works.
Who is Dangiuz?
Dangiuz (real name – Leopoldo D'Angelo) is a contemporary digital artist, crypto-artist, specializing in futurism, science fiction and cyberpunk themes. He was born on July 11, 1995 in Turin, Italy. Dangiuz remains a rather private person who shares only his professional activities.
His portfolio includes work with such well-known companies as Adobe, Arte Tracks, Corriere della Sera, Juxtapoz Magazine, Maxon, Wallpaper, NVIDIA Studio. His work has also been shown at various art museums and galleries around the world: MetaVanity Vanity Fair, CryptoArtFair UAE, Milano Art Week, Museo della Permanente, NFT NYC and Art Basel.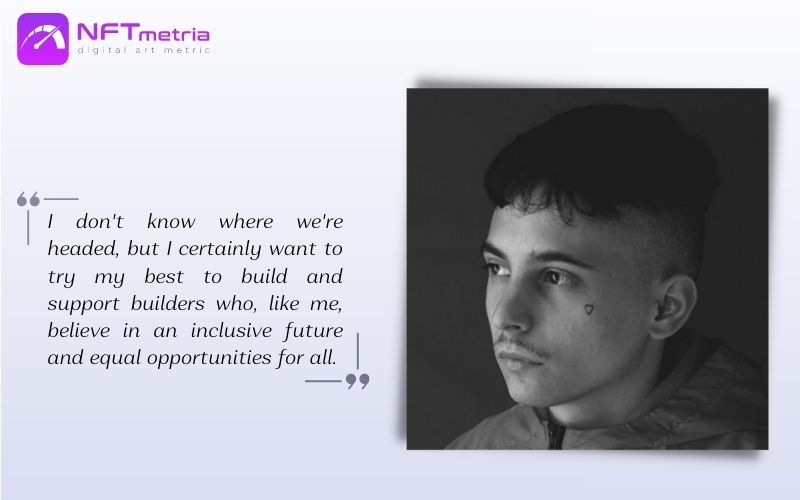 As of January 2023, the artist is one of the top 10 NFT artists by sales of all time on the SuperRare site, aligning with big names like XCOPY, Hackatao, Coldie, Robbie Barrat and more. His total sales exceeded $4 million, and he sold his most expensive painting for about $300k.
Dangiuz Official Links
The creative path of Dangiuz: from graphic designer to NFT
Like many digital artists, a passion for technology haunts Dangiuz from an early age. Then he started drawing in Microsoft Paint. And in 2014 he graduated from the school of graphic design. So, he became a graphic designer and started doing small graphic design commissions and collaborated with various graphic studios in his hometown. Dangiuz has set itself the goal of reaching commercial orders from large companies and brands. He decided to go to his goal through the constant publication of his work in social networks. In parallel, he studied 3D computer graphics at a professional level.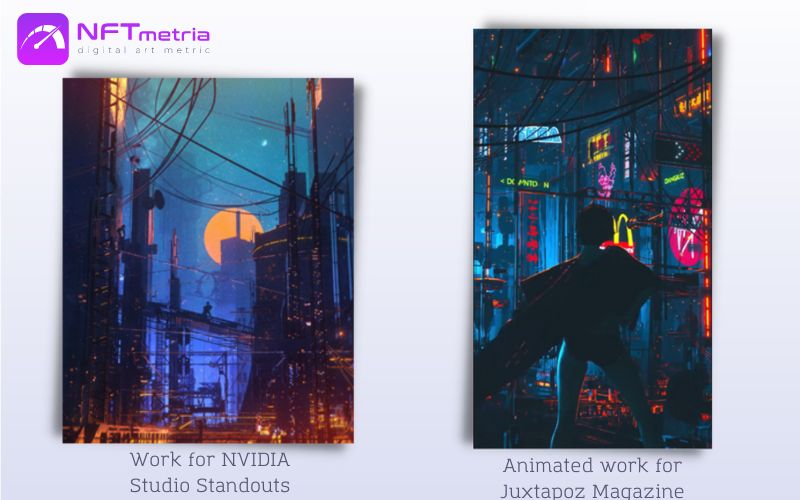 Thanks to his long and painstaking work, the artist managed to attract the attention of such major brands as Adobe, Arte Tracks, Corriere della Sera, Juxtapoz Magazine, Maxon, Wallpaper, NVIDIA Studio. His work has also been shown at various art museums and galleries around the world: MetaVanity Vanity Fair, CryptoArtFair UAE, Milano Art Week, Museo della Permanente and Art Basel.
Dangiuz in the NFT world
Boosted social networks, a reputation as an experienced and successful graphic designer among major brands, and general fame in the media space allowed the artist Dangiuz to successfully continue his creative path in the field of NFT.
In June 2020, Dangiuz was approached by a guy who followed his work and advised him to pay attention to the NFT industry. At that time, the artist was already in the field of cryptocurrencies, but had not yet heard anything about the NFT. Due to existing family circumstances, then the artist could not immediately begin to act, but began to look closely at a new field for himself.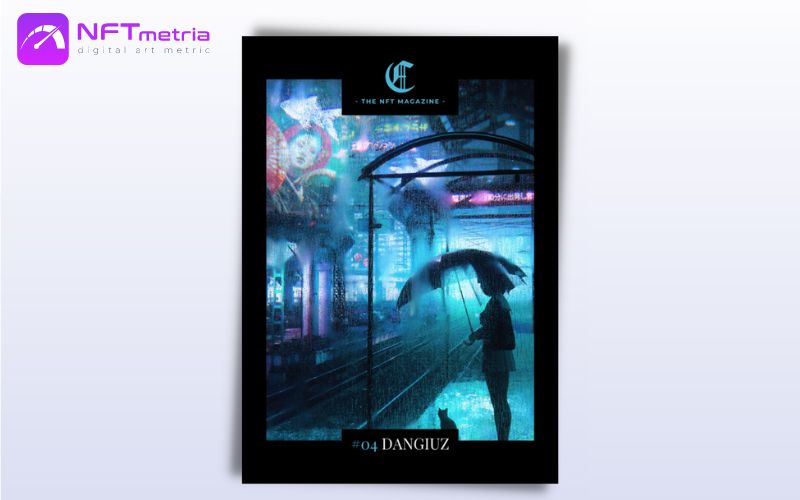 Dangiuz made his debut as an NFT artist in February 20021 on the SuperRare site with the painting "Grand Challenge", which was sold for 10 ETH (about $18k). Since then, the artist has released about 40 NFT-works, the average purchase price of which ranged from 20 to 80 ETH.
Since I came into this space, I have found only friendly faces and people willing to help me. And I immediately "married" this idea and began to be open to communicate with others, to get to know them, to help people. Dangiuz claims
Thanks to his background and high-quality graphic design work, his works are bought at auctions by the most famous influencers and collectors in the industry: Bharat Krymo, VincentVanDough, Jonathan Little, 33vault, 6529 and others. Leopoldo D'Angelo has also joined the gallery's NFT artists and the Art of This Millenniu (AOTM) publishing house, which specializes in contemporary digital art.
In June 2022, he took part in a Christie's charity auction, all proceeds were donated to the American organization MAPS, which is engaged in the study of psychedelic substances. The first part of his work "The Enchanter" was put up for auction and sold for $44,100.
On the popular SuperRare marketplace, the artist is in the TOP 10 best NFT artists of all time with total sales of over $4,000,000.
Features of NFTs by Dangiuz
Almost all of Dangiuz's works are created in the style of cyberpunk and the modern future, which is one of the main trends. In fact, not many NFT artists create paintings on this subject, which only adds to the uniqueness of Dangiuz's work.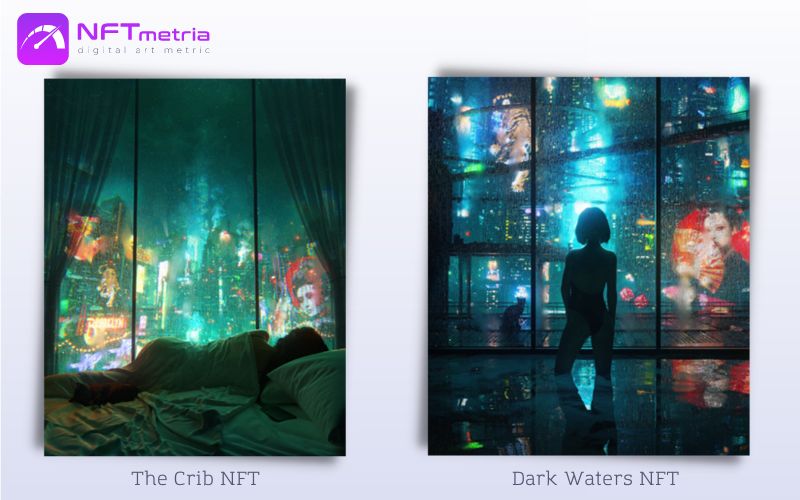 His compositions depict dystopian scenarios with references and nods to Blade Runner, Akira and Altered Carbon. He creates his creations slowly, painstakingly and carefully, using programs such as Cinema 4D and Octane Render for this.
I think of my art as a mixture of sci-fi/fantasy/cyberpunk and romanticism. I try to portray all sorts of human emotions; sadness, loneliness, happiness… and all sorts of futuristic, overloaded cities and scenarios. This is how the artist describes his art
Dangiuz also mentions Vincent van Gogh, Syd Mead and Beeple as his biggest influences.
A strong passion for technology led him to experiment with graphics software. In this way, the artist creates digital works with precise aesthetics, reflecting the complexity of modern man, inserted into a cyberpunk-futuristic context. And all this is seasoned with undeniable references to the 80s.
The descriptions of many of his illustrations are short, as if coded, laconic telling the story of the work. And they, on the contrary, are visually complex, rich in details. Here is such an interesting mysterious balance.
The most famous NFTs by Dangiuz
Dangiuz personally noted that on average it takes him 15 to 20 days to complete one job. Like a classical artist, this is a moderate and painstaking process of selecting elements and details that will fit together and present a harmonious picture. Let's take a look at the crypto-artist's NFT-works, which are of the most interest to the industry.
Grand Challenge NFT
Grand Challenge is the artist's debut NFT painting. It was minted on February 15, 2021 at SuperRare. During the auction, it was sold on February 17 for 10 ETH (about 18k USD).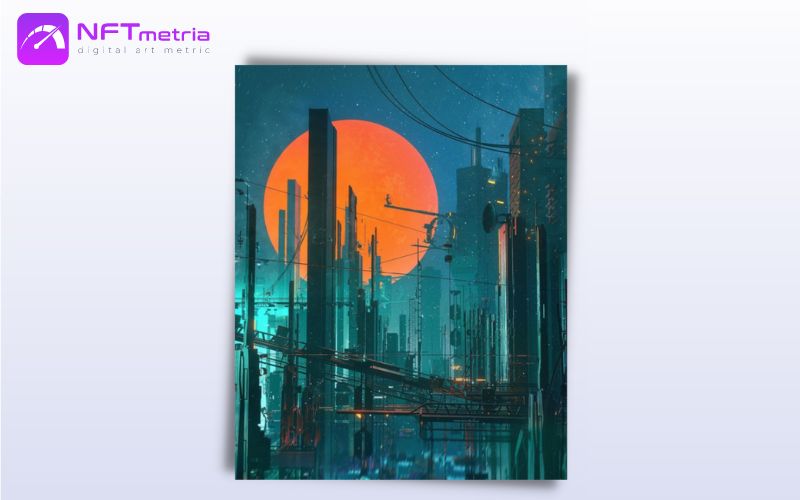 The Grand Challenge is a celebration of the success of self-made people. The legendary samurai, standing atop one of the skyscrapers in the overcrowded metropolis, symbolizes that peace and tranquility is achievable even in such a chaotic scenario.
Leap of Faith NFT
Time for some nighttime parkour with my best friend. Brief description of the painting from its author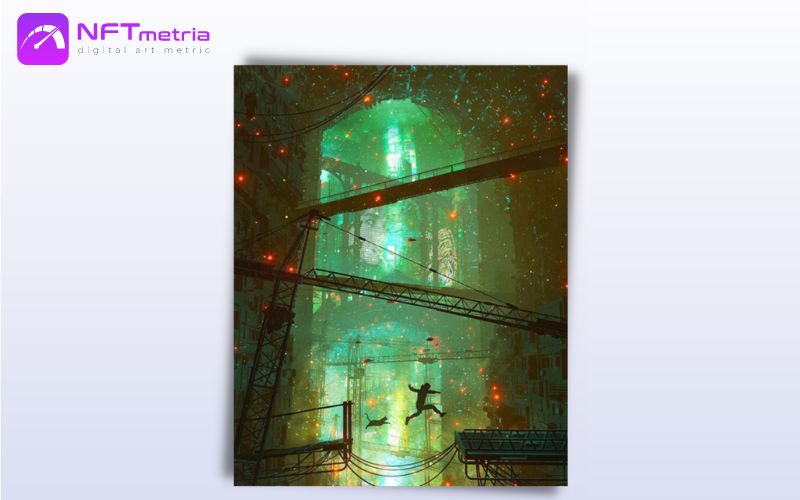 Leap of Faith is Leopoldo's most expensive NFT painting at $276,000. Minted on November 17, 2021 at SuperRare and sold on the same day for 66 ETH to collector 33vault.
Flyswatter NFT
The Flyswatter painting is an image of a man who spends time at work, a cat as a companion and a bustling metropolis in the background. The composition touches on the theme of loneliness, which is relevant today.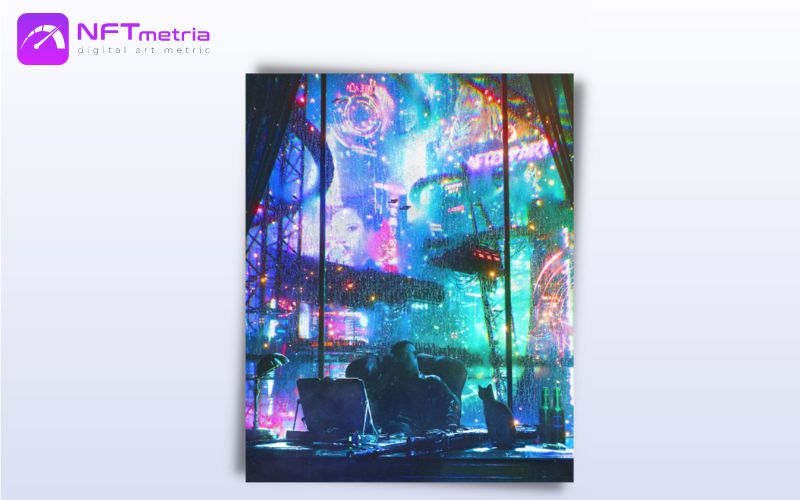 The painting was minted on June 28, 2022 on SuperRare and sold on the same day for 75 ETH (about $89k at the time).
High Grounds NFT
The High Grounds painting is one of Dangiuz's most expensive works to date. Minted on the SuperRare marketplace on January 10, 2022 and sold on the same day for 75 ETH (about $236k at the time of sale).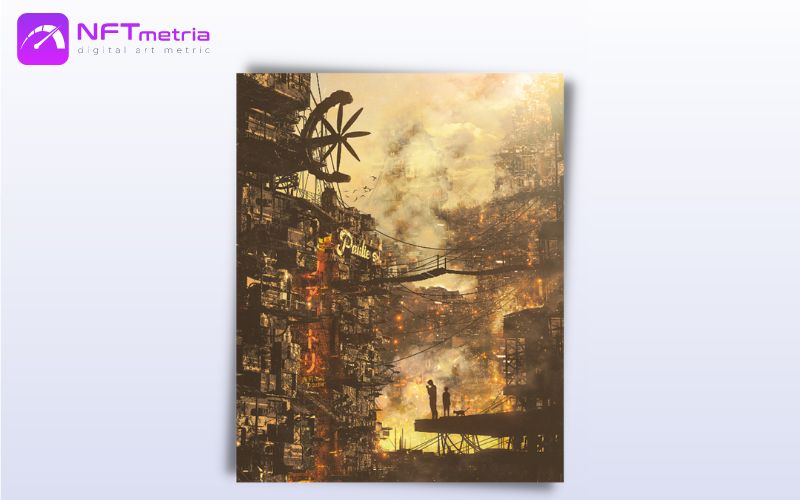 The picture depicts a man in the midst of a huge metropolis in flaming colors. Any of us will always be surrounded by problems and obstacles that he must overcome. And at such moments, there should always be someone nearby for support.
Where can you buy NFTs by Dangiuz?
Now NFT artist Dangiuz are available only in the secondary market. He releases 1/1 works only on SuperRare. In addition, you can follow the artist's Twitter and Instagram for future updates.
Opinion of NFTMetria
Considering Dangiuz's discussions in the media about his plans for the future, outrun, retro, cyberpunk and futuristic styles remain a priority for him.
Scenarios of the future are always great metaphors for the present. Given the current trends in films, photography, the world of computer games, book plots, advertising posters, etc., the cyberpunk theme will only gain momentum and remain relevant for many years to come. Therefore, from a commercial point of view, the acquisition of Dangiuz NFT works will be an excellent investment decision. Moreover, his big name in the NFT space will only further add value to such investments in the future.