Not so many names of modern digital artists rattle the entire information space. However, Coldie is the kind of artist you can't help but hear about if you're even slightly interested in digital art and the NFT. Currently, Coldie is a relatively anonymous artist who is distinguished by his progressive view of art, unique style of mixed media.
Who is Coldie?
Coldie is a pioneering American artist born in California in 1982. During his life he received many awards for works of art made in mixed media. His stereoscopic 3D style work has featured in art exhibitions and crypto events including Bonhams&SuperRare, CryptOGs, The Pioneers.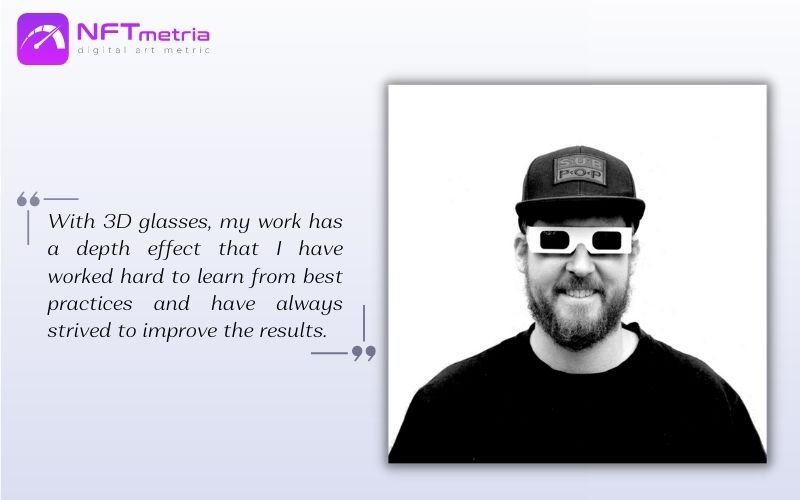 To date, Coldie can be attributed to one of the most recognizable and highly paid crypto artists. His blockchain-themed work, including the Decentral Eyes series of portraits, provides a great insight into the revolution in the digital and blockchain industry.
Some of the brightest facts about this person:
He was one of the first to successfully enter the NFT space in 2017.
In 2019, he was part of a group of early NFT artists who helped establish the 10% royalty that is now standard practice on marketplaces.
His inventiveness and unique, recognizable style have resulted in amazing 3D paintings.
Thanks to his high-profile creativity, one of the industry's most famous influencers and world-famous rapper Snoop Dogg took the attention of him to release a collaborative NFT. And it was this image that circled all the news portals, and this illustration was viewed by more than 20 million people.
His work has been acquired by many famous collectors and influencers, including one of the most famous VincentVanDough and 6529.
He created a collaboration with XCOPY, one of the most successful NFT artists with millions of dollars in sales.
Coldie Official Links
The creative path of Coldie: from a designer at IKEA to NFT
Coldie started doing digital art back in the 90s, since elementary school. Then he learned to make collages from huge collections called "Art Explosion", which included 100,000 pictures. And in high school, the artist became addicted to design and layout, which allowed him to become a publisher and designer of the game day program for the school basketball team, in which, by the way, he was also a member and played.
After high school, Coldie received a Bachelor of Fine Arts degree from Cal Poly Pomona. The acquaintances that began at the educational institution led him to the first design work at IKEA and LA Weekly, at that time he was 24 years old. He was especially delighted with the work at LA Weekly, which allowed him to create and realize the most daring fantasies, and at the same time earn money. One of the most creative designs was the cover of Jack Black's comedy group Tenacious D, which was drawn with mustard.
Every week I drew magazine covers and hundreds of thousands of people saws my work. I had the most important task: if the cover does not attract attention, no one will buy the magazine. Coldie remembers
It was at that moment that the artist realized how important it is to be able to stand out and understand how to properly attract the public in order to achieve his goals. This understanding and skills helped him to become a well-known mixed art author in the future.
At the same time, Coldie began to work closely with digital art, not limiting himself to design. He becomes more and more interested in stereoscopic 3D depth illusions. From the literal legends of 3D comics and photography, Coldie learned how to create anaglyph 3D graphics by hand as well as digitally. But at that time, his art did not enjoy such wide popularity, and they could be viewed only with the help of red-blue 3D glasses. By the way, his formative years as an artist have already passed in Los Angeles.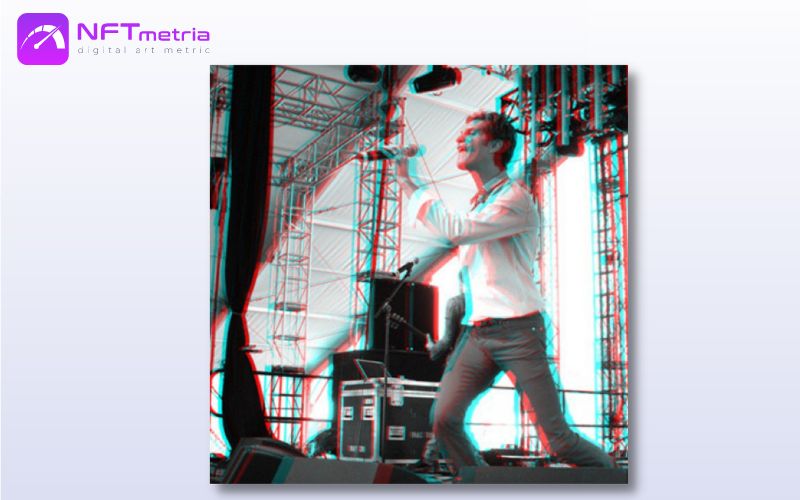 The following years he spent in creative work: participating and selling his works at local art fairs, participating in exhibitions, doing concert 3D photography and developing his skills in stereoscopic 3D art.
Coldie in the NFT world
Coldie entered the NTF space in 2017 at age 35. At that time, only a small number of artists appeared in it, and the NFTs were practically not in demand due to the lack of an ecosystem. However, the artist himself saw a great future for NFT, and in his own small town, where he lived at that time, he, as a genius, was cramped.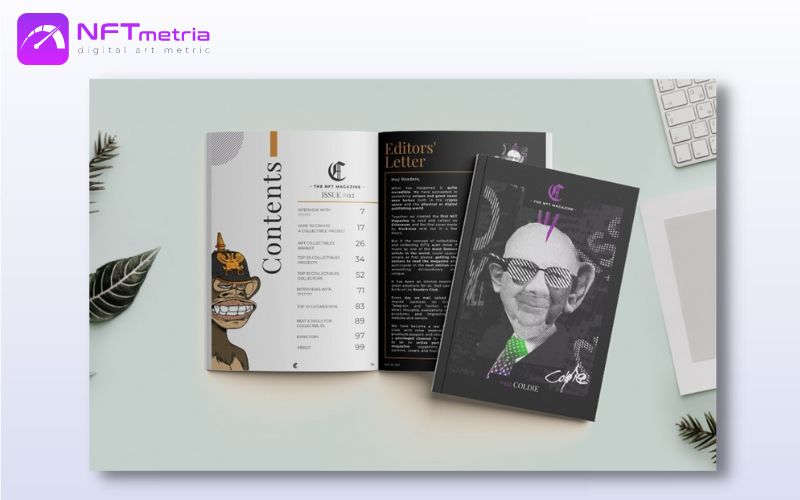 Coldie became the first artist to tokenize stereoscopic 3D art and 3D concert photography in NTF space. His work has been featured in various exhibitions around the world, including the 12th Axis Gallery National Exhibition, the Austin decentralized art exhibition SXSX, the Ethereal Summit charity art auction in Brooklyn and the iDAF in Manchester.
As the blockchain and crypto art ecosystems continue to evolve, I hope the art I create will help track the pulse of the movement in your own way. Coldie reflects on the development of the crypto industry
Currently, the artist is working on series related to decentralization, blockchain, cryptocurrency and has established himself as the creator of NFT in a single copy.
In addition, he is also famous for his fruitful friendship with Snoop Dogg, with whom they co-minted the token. Coldie himself notes that it was a unique and interesting collaboration.
great read on the legend that is @Coldie ⚡️ https://t.co/L29xkDALuP

— Cozomo de' Medici (@CozomoMedici) January 3, 2023
NFT corporate identity by Coldie
Coldie has been studying stereoscopic 3D graphic design and photography for quite some time now. From the legendary 3D comics, he learned how to create anaglyph 3D graphics both manually and digitally.
My process revolves around my passion for stereoscopic 3D illusions. This determines the author's style of the artist
To maximize the popularization of his art, he creates in two formats:
Animated GIF: Two stereoscopic images are combined into a GIF animation loop to provide a perspective shift and a simulated 3D effect.
Anaglyph: Stereoscopic 3D flat print using red/cyan 3D glasses.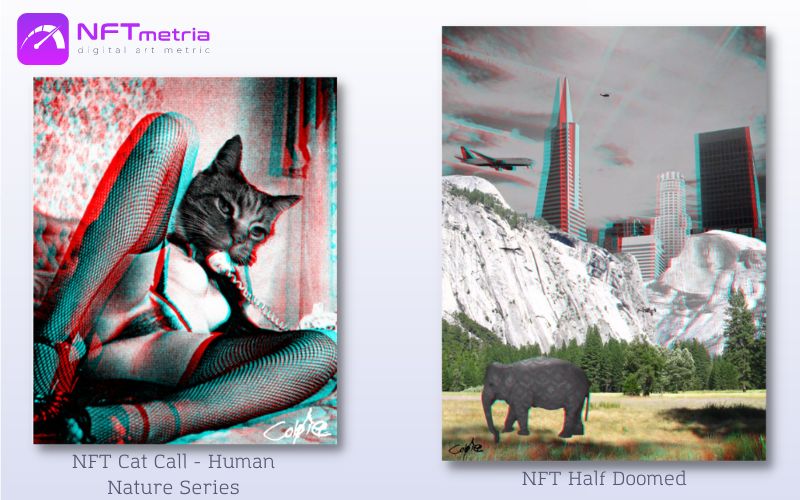 Coldie uses a variety of tools to create his artwork, including a homemade dual-lens DSLR camera, several retro 3D film cameras, Photoshop, After Effects, Illustrator, a photocopier, an art history/design reference library.
The most famous NFTs by Coldie
Known for his 3D art and playfully witty political creations, Coldie has sold over $7 million worth of digital art. In total, he released more than 2000 NFTs, including many 1/1 works, as well as several collections:
Decentral Eyes, in which the 10 most famous faces of the blockchain industry,
DecentralEyesMashup with over 600 paintings,
Talking Heads, which consists of 250 paintings,
DEyes Assembled Collection of 22 images,
Market psychology from 1000 images,
Undead, created in collaboration with the Bauhaus and consisting of 32 editions,
Human Nature, created in collaboration with Roger May and consisting of 3 images,
GANdinsky, based on the paintings of the artist Wassily Kandinsky using GAN and consisting of 3 paintings.
Decentral Eyes NFT Collection
Decentral Eyes is an acclaimed collection of 10 NFT portraits featuring blockchain industry influencers such as:
Vitalik Buterin,
Snoop Dogg,
Alan Turing,
Warren Buffett,
Julian Assange,
Tyler & Cameron Winklevoss,
Edward Snowden,
Dalai Lama,
John McAfee,
Andreas Antonopoulus.
The artist released works gradually during 2018-2019.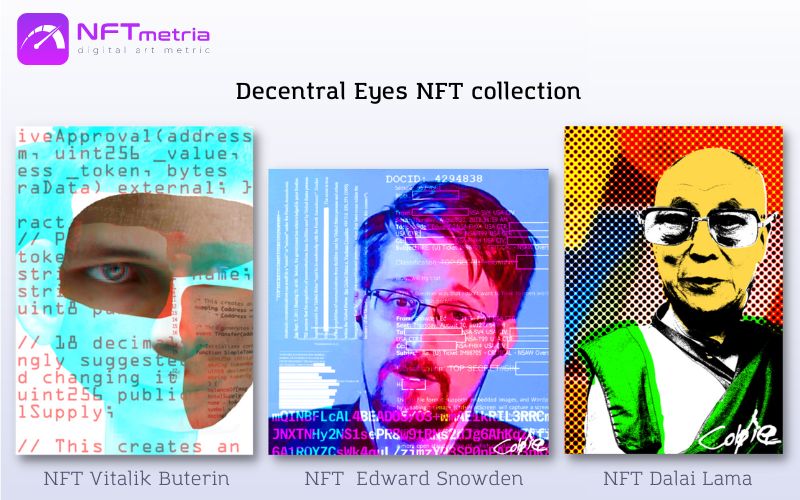 Each work is made in proprietary stereoscopic 3D technique and is created by collaging more than 10 images. The collection became so popular and recognizable that Coldie later released several more versions of each original work. And subsequent versions were sold even more expensive than the primary original.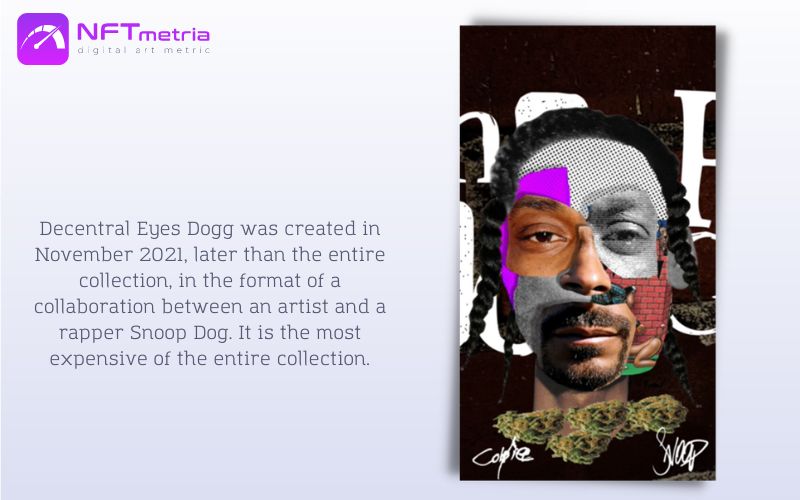 DystoPunk 3D NFT
DystoPunk 3D is a collaboration with one of the most famous NFT artists, XCOPY, which is a collage of XCOPY art and new elements designed to create fragmented, crazy VR punk.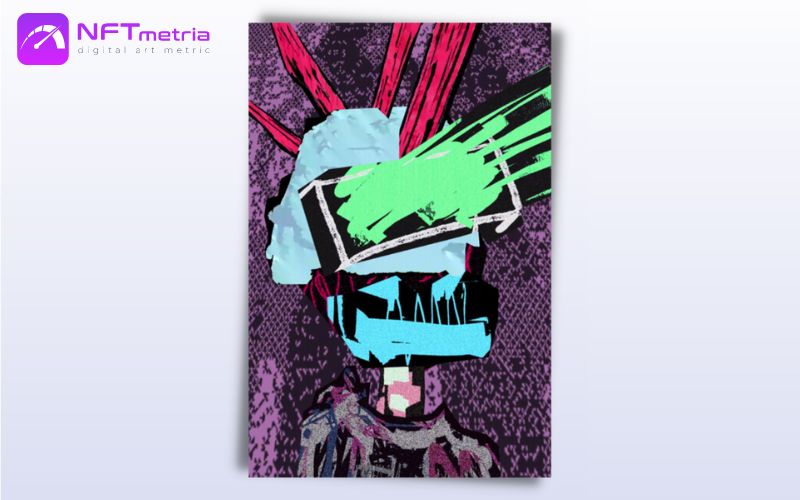 DystoPunk 3D was minted on SuperRare in January 2018, and the first sale took place only on January 23, 2020 for 40 ETH ($6.4k at that time). At the same time, now it is estimated at a minimum of 300 ETH.
Proof of Work NFT
Proof of Work is a revival of one of the very first artist tokens, the original of which was "burnt" in 2019. The work is inspired by the parallels between the 19th century Gold Rush in his native California and the current crypto mining craze.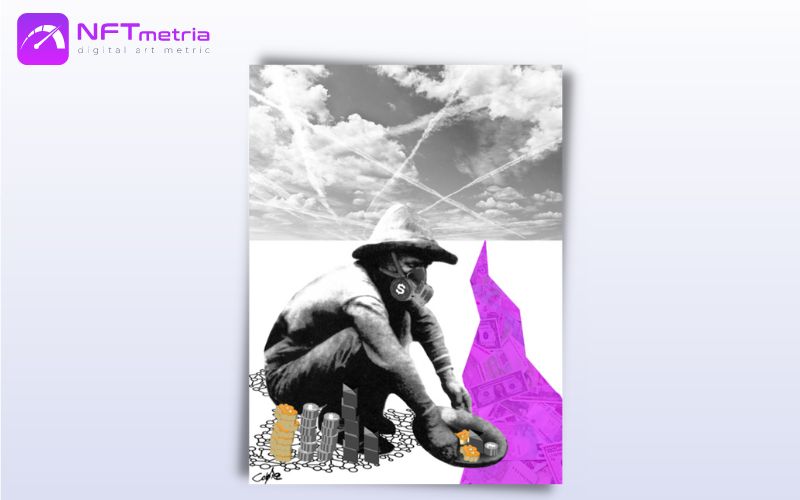 Proof of Work was minted on August 20, 2018 at SuperRare. The first sale took place only on November 13, 2019 for 4 ETH (about $7,000 at that time). At the same time, now the work is estimated at 500-600 ETH.
GANdinsky 3D NFT Collection
GANdinsky 3D is a collection of 3 paintings based on paintings by the artist Wassily Kandinsky. This project is Coldie's first experience with generative art and collage fusion. The collection was created in September 2019.
Kandinsky is one of my favorite artists of all time and it is an honor to work with his art in a new way using technology not available during his era. The whole time I was creating this art, I made decisions that I believed Wassily would agree with, as if he was sitting with me the whole time collaborating. Talks to Coldie about the GANdinsky 3D project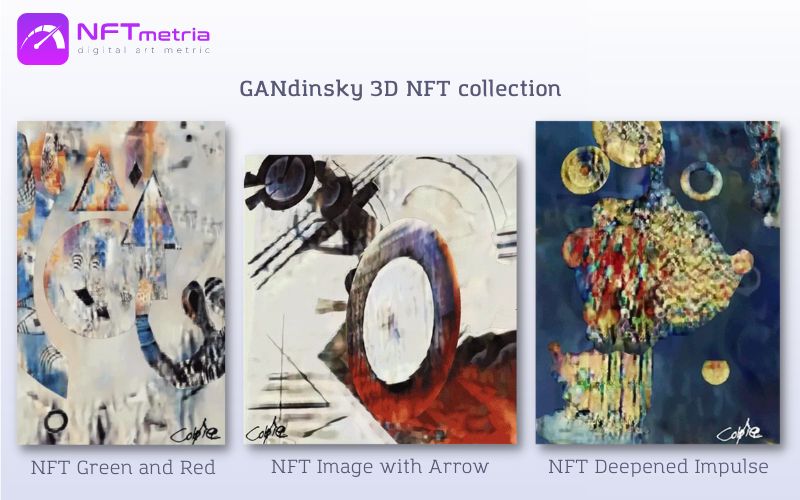 Where can you buy NFTs by Coldie?
Now Coldie's NFTs are available only on the secondary market, namely on such marketplaces as SuperRare, OpenSea, Nifty Gateway. In addition, you can follow the artist's Twitter and Instagram for future updates.
Opinion of NFTMetria
Coldie is one of the brightest representatives of blockchain art. His unique mixed media style has made the artist a unique figure whose work is recognizable and prestigious.
Coldie has established himself as a thinker, collector and curator of events in the NFT world. He doesn't just create works of art. He is an innovator in space, and many investors are hunting for his work, since the artist mints tokens only in a single copy. Coldie's early exposure to the crypto art has cemented his status as a thought leader.