In addition to the news that Reddit and NFL release NFT Super Bowl LVII collectible avatars, in today's digest of NFT news for the past week from 04 to 10 February you will find:
Polygon NFT sales on Opensea outnumber Ethereum NFT,
Hermès wins MetaBirkins NFT legal case.
Reddit and NFL release NFT Super Bowl LVII collectible avatars
On February 6, Reddit and the NFL launched the Super Bowl LVII x Reddit Collectible Avatars NFT project  in honor of the upcoming NFL American Football Championship in season 2022, which will be held on February 12.
Super Bowl Avatars have been offered for free to all Reddit users who can claim one of four unique avatar styles for free, including one for the Kansas City Chiefs and the Philadelphia Eagles. Collectible Reddit avatars are minted on Polygon, an Ethereum sidechain network that enables cheaper and faster transactions.
Ready to score? We're teaming up with the @NFL to bring you #SBLVII Collectible Avatars. And they're free. Get yours today: https://t.co/EklR8sMJi3 pic.twitter.com/8IwYNBmyci

— Reddit (@Reddit) February 6, 2023
How do you get the NFT Super Bowl LVII collectible avatar?
If you're a Reddit user and an NFL fan, you can get a collectible avatar from your favorite team for free until February 12 when the Super Bowl kicks off. Each collectible will be available in the "Your Stuff" section of the personal profile of the Reddit app.
NFTs are free and, like previous Reddit releases, provide owners with unique benefits on the platform. Users can choose between four types of NFTs to mint:
collectible Eagles,
Chiefs,
The Champs,
LVII Super Fans.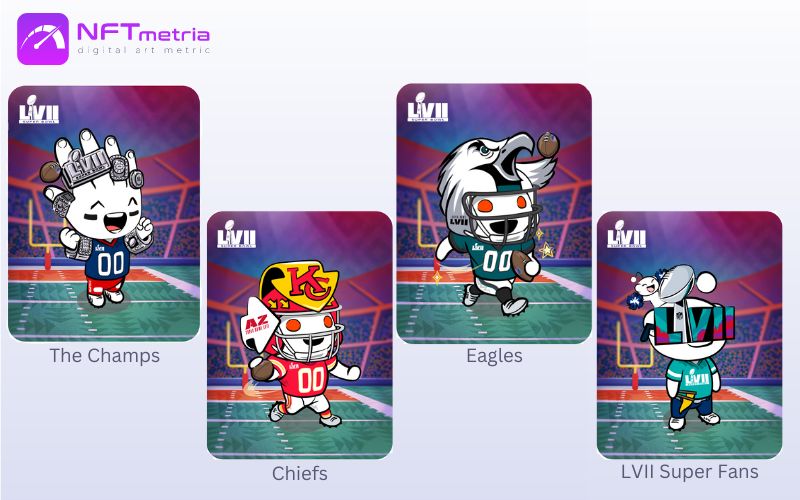 However, users are limited to creating one avatar per account.
What is activity of the NFT Super Bowl LVII Collectible Avatar?
To date, the excitement around the project is colossal. In total, over 1.3 million avatars have been minted. Since collectible avatars are free, Reddit's Super Bowl NFTs don't generate a lot of trading action. Secondary market prices start at just 0.17 MATIC ($0.2) on leading NFT platform OpenSea. Since launch, the platform has transacted around 5 ETH ($7,600) worth of trades for the NFL collection.
What are Reddit Collectible Avatars?
Reddit's "Collectible Avatars" project is an example of a bright entry into the Web3 space. Despite the fact that they are officially called "Collectible Avatars", all signs and underlying technology indicate that these are non-fungible tokens.
The free collectible avatars were based on the mascot of the social media platform, Snoo. And they were developed by both independent artists and the creators of Reddit. Avatars gave users certain platform benefits, including a unique profile animation, and provided owners with something like a CC0 license to use the avatars as they saw fit.
The great advantage of the NFT Reddit program is the accessibility of the project even for users who are far from the subject of NFT. Reddit users can simply click a button, select the desired avatar from the collection, choose a password for the newly created wallet, and you're done. If desired, avatars can be transferred to an external wallet, and then exchanged or sold.
Back then, the project exploded in the NFT space, generating over $12.5 million in sales and becoming one of the biggest Web3-related events in blockchain history. The marketing story also played a role with the rejection of any terminology in the press related to the NFT.
Super Bowl LVII x Reddit Collectible Avatars in a nutshell
As part of the project, the Reddit platform has provided millions of free NFTs to its users in recent months. And with a new collaboration with the NFL on the free NFT Super Bowl, Reddit is about to reach another milestone.
Polygon NFT sales on Opensea outnumber Ethereum NFT sales
Sales of unique NFTs in the Polygon network increased significantly in terms of quantity on the most popular NFT marketplace, OpenSea. Thus, they took the lead and outperformed Ethereum NFT in 2 months of trading:
In January 2023, OpenSea made over 1.5 million NFT sales on the Ethereum Polygon sidechain. And at the same time, the own Ethereum network in the same market sold just over 1.1 million sales.
In December 2022, 1.3 million NFTs were traded on Polygon via OpenSea compared to 1 million Ethereum NFTs.
Why are Polygon NFT sales on Opensea outperforming Ethereum NFTs sales?
Ethereum has long been considered the leading blockchain for NFTs. Therefore, it hosts most high-value projects such as CryptoPunks, BAYC, Azuki, Moonbirds, WoW and other blue-chip projects. But success also has a downside – a high commission for gas, which can sometimes exceed the base price of the asset itself.
At the same time, Polygon continues to conclude major deals with such well-known brands as Meta, Starbucks and Reddit, and also connects new game projects. In doing so, the network offers exponentially lower user transaction fees, therefore becoming an increasingly affordable network to host NFT collections.
And what is the volume of sales in the Polygon and Ethereum networks?
While Polygon has outperformed Ethereum in total sales, overall Ethereum's value is still significantly higher. Ethereum's total trading volume on OpenSea in January was around $446 million, while Polygon NFT sales were only $15.4 million. With approximately 1.5 million NFT sales on Polygon, the average sale price is around $10.
What does it say?
This increased activity on Polygon on OpenSea is a testament to the growing popularity of NFTs and the Polygon network. As more users move to the platform for faster and more affordable NFT transactions, the Polygon network continues to show its potential as a major player in the NFT space.
Such statistics show the high interest of the market in the more affordable Polygon network due to the low cost of gas and the attraction of large players and companies. But as long as all the top NFT projects are on the Ethereum network, trading volumes will certainly exceed it there.
However, it is worth noting that well-known projects are starting to look at other blockchains besides Ethereum. For example, Doodles last week announced the launch of Doodles 2 on the Flow blockchain. And in December 2022, Donald Trump released the NFT 45,000 "Trump Cards" collection on the Polygon network. Such moves demonstrate the scalability and diversification of the market, where there is healthy competition and strong underlying platforms.
Hermès wins MetaBirkins NFT case
Finally, the high-profile lawsuit between luxury brand Hermès International SA and Mason Rothschild, artist and founder of the MetaBirkin NFT project, has come to an end.
Hermès International SA, a French luxury goods company, has won a lawsuit against the creator of unauthorized MetaBirkin NFT collectibles. The company claims they were made without permission and infringe its trademark for Birkin bags.
The MetaBirkins NFT collection is likely to cause consumer confusion and confusion in the public mind. Claimed Hermès in his original complaint in court
What is MetaBirkins NFT?
The MetaBirkins NFT is a collection of 100 MetaBirkins Fur Digital Bags NFT presented by artist and creator Mason Rothschild at Art Basel Miami in December 2021. In the beginning, each NFT was worth 0.1 ETH, or about $450.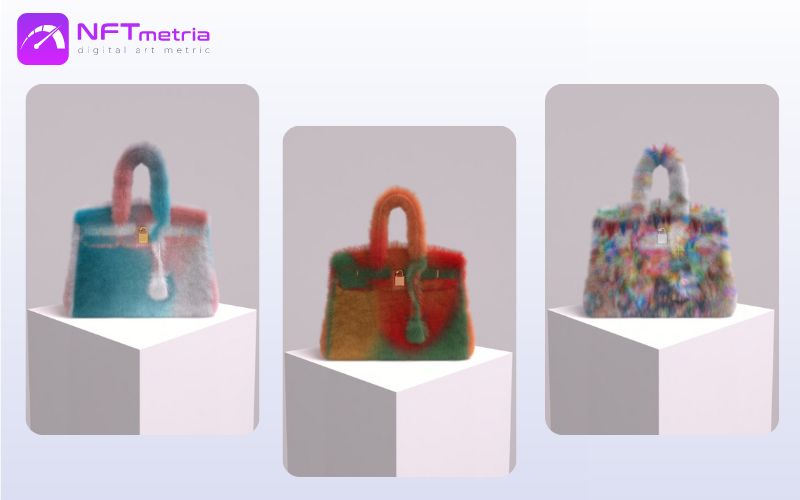 The project was an extension of "Baby Birkin", a one-of-a-kind NFT artwork that sold at auction in May 2021 for 5.5 ETH, or about $23,500.
Hermès immediately reacted negatively to such a project, which, in their opinion, completely violates trademarks and commercial rights to use a registered trademark.
Rothschild believed that his new collection was "inspired by the acceleration of 'fur-free' fashion initiatives and the use of alternative fabrics."
A statement in response to: Hermès International, et al. v. Mason Rothschild. pic.twitter.com/pil6brfGTl

— MetaBirkins (@MetaBirkins) January 17, 2022
On December 16, 2021, Hermès sent a letter to Rothschild asking him to stop. After that, OpenSea and other marketplaces removed the collection from sale in January 2022. But even then the collection was sold for more than $1 million.
What is the lawsuit between Hermès and Mason Rothschild?
On January 14, 2022, Hermès International sued Rothschild for trademark infringement following the release of MetaBirkins, a collection of 100 NFT wallets covered in faux fur that bore a striking resemblance (name and image) to the French fashion house's famous Birkin bags.
Last week, Mason Rothschild said in court that the MetaBirkin bags were "an artistic experiment." He said he received about $70,000 in royalties from the second digital bag sale, on top of the $450 in ETH he received from each NFT sale.
On Wednesday, February 8, a 9-member Manhattan federal jury ruled in favor of Hermès. The founder was fined $110,000 for intellectual property infringement and another $23,000 for domain hijacking. They also stated that 100 MetaBirkin NFTs of digital artist Mason Rothschild minted on Ethereum are not protected by the First Amendment.
Share it. If you believe in blockchain, web3, NFTs or Freedom of Speech/Artistic Expression, share it.https://t.co/u2d5QgQmqK

— Mason Rothschild 🫠 (@MasonRothschild) February 8, 2023
A luxury brand's victory over unauthorized digital bag maker Birkin could set a precedent for intellectual property protection in the NFT world. The case will set the tone for future IP law cases, which now apply to Web3. And creators, who frequently launch derivative NFT collections in response to established brands, should think carefully before launching or purchasing new NFTs.