In addition to the news that NYX by L'Oréal's launches DAO GORJS and 1,000 FKWME NFTs, in today's NFT News Digest for the past week of January 14-20, you'll find:
NFT team PROOF signs a contract with the United Talent Agency,
Rarible announces the launch of the Zero Fee Marketplace Builder for Polygon NFT.
NYX by L'Oréal launches DAO GORJS and 1000 NFT FKWME
L'Oréal-owned brand NYX Professional Makeup announced on January 20 that it is launching an online beauty incubator in the form of a DAO called GORJS and 1,000 NFTs "FKWME Pass".
📢 THE SECRET IS OUT 📢

The FKWME Pass is your key to join the GORJS DAO and get early access to all the bad AF work that GORJS creators will soon bring to life. pic.twitter.com/GrcpZtMDbK

— NYX Pro Makeup US (@NYXCosmetics) January 19, 2023
And it will be the world's first decentralized autonomous beauty organization. So, NYX Professional Makeup is exploring the potential of Web3 to reach more people around the world and redefine beauty across the metaverse.
At NYX Professional Makeup, we invite artists to join our "Create the Gorjs Metaverse" movement and develop their artistic creativity beyond physical and genetic features. With our first collection of FKWME NFT, GORJS is elevating 3D creators in the industry and driving growth, equity and innovation in the community and ultimately paves the way for them to succeed in the Web3 ecosystem. Ian Gioffredo, global brand president of NYX Cosmetics said
What is DAO GORJS?
GORJS is the world's first beauty DAO focused on promoting the development of the 3D artist community and their evolving approach to metaverse makeup. GORJS will serve as a launching pad for 3D creators from across the industry with the intention of fostering growth and innovation in the community, enhancing digital makeup abilities, and ultimately career success as an artist. GORJS will help redefine what beauty is in the metaverse and lead the cultural dialogue around the values of diversity, inclusion and accessibility.
At the launch of the GORJS DAO, the NYX team is collaborating with nine digital artists already known to the market:
We're excited to officially introduce TEAM ALPHA, the GORJS Genesis Creators.

Register at the link below to get on the allowlist for early access to the art these creators will be bringing to life 👀

👉https://t.co/qpW4CQlL3o#TheFutureIsGORJS #LFG #BeautyDAO pic.twitter.com/mhYOOI91yG

— NYX Pro Makeup US (@NYXCosmetics) January 19, 2023
Also, within the project, an advisory board was created, consisting of experienced specialists from different areas of Web3:
Sebastien Borget, Co-Founder The Sandbox metaverse,
Timmu Tõke, CEO of Ready Player Me,
Amber Ward, Co-Founder Invisible North,
Evelyn Mora, Founder Digital Village,
Brian Trunzo Metaverse Lead, Polygon Labs,
Ashley Smith, Web3 Specialist, Daz 3D.
What is FKWME Pass NFT?
FKWME Pass NFT is the key to enter the GORJS DAO and get early access to all the work that the creators of GORJS will bring to life soon. NFT is issued on Ethereum according to the ERC-721 standard.
In total, 1000 FKWME passes are available for minting, which have many advantages, but first of all, FKWME holders become members of the DAO and mint GORJS, governance tokens, daily.
Interesting Fact: FKWME stands for "F*ck With Me", which is a random phrase used when you want others to share the same vision as you. So, NYX wants everyone who buys the FKWME Pass to share the same vision of redefining beauty in the Metaverse.
How to get FKWME Pass NFT?
The permit list registration started yesterday and will end on January 30th. The winners of the permit list will be able to mint FKWME passes starting at 21:00 on January 31st, with general sales starting on February 1st.
The minting price of FKWME Pass is 0.19 ETH. Individual wallets can mint a maximum of 3 FKWME Pass(es). You can register for the whitelist through the official link. Hurry up, there are only 400 places on the white list, and the remaining 600 tokens will be available for public sale.
What are the benefits of owning an FKWME Pass NFT?
Each FKWME Pass NFT holder receives the following benefits and perks:
Ownership of the FKWME pass will grant individuals the authority to manage GORJS.
Early access (list of permissions) to NFT projects of creators participating in GORJS using GORJS tokens.
400 GORJS tokens, which can be claimed after minting for immediate management when voting systems are launched.
4 GORJS tokens per day for each day you retain ownership of the pass, providing ongoing DAO management, voting, whitelisting and airdrops.
12+ airdrops from DAO artists over the next 3 years of GORJS DAO (approximately 1 airdrop per quarter). Moreover, except for the owners of these NFTs, no one else will be able to participate in airdrops.
Tokenomics DAO GORJS
According to the project's Litepaper, after staking, a total of 100 million GORJS tokens will be created, and the distribution will be as follows: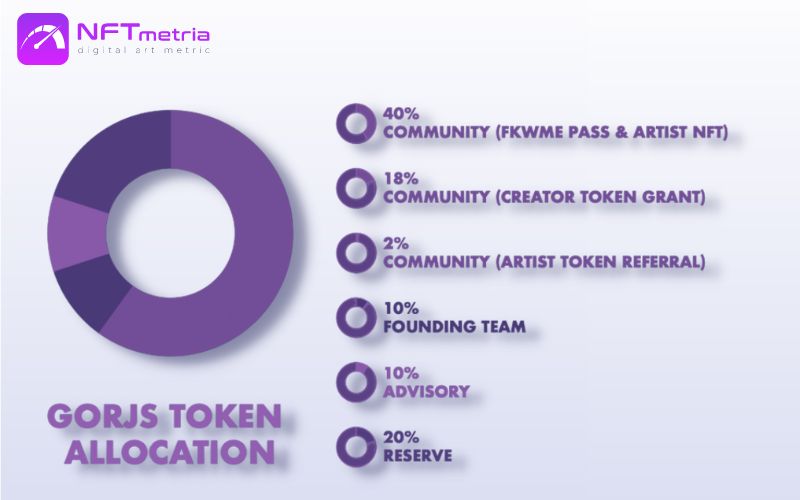 Members of the GORJS community include 2 groups:
NFT holders,
creators, NFT artists.
For NFT holders, GORJS tokens are generated through a yield mechanism associated with the GORJS FKWME pass as well as future artist NFTs developed in GORJS.
FKWME passes generate more daily income than NFTs developed by creators participating in the DAO. GORJS aims to reward early DAO members by giving FKWME Pass holders more voice in the early stages of the DAO's life. FKWME Pass holders who participated in the NFT Primary Sale will receive an initial token distribution of 400 tokens per pass after minting, in addition to the 4 tokens received daily for each FKWME Pass held.
Roadmap DAO GORJS
NYX by L'Oréal has prepared extensively for the launch of the GORJS DAO by creating an extensive and detailed LitePaper as well as a roadmap for the project. It consists of 8 points, three of which they have already completed to date.
According to the roadmap, the following events await the project ahead:
Directly the FKWME NFT airdrop itself,
The first season of GORJS GENESIS drop from the team of creators for the very first holders of the FKWME Pass,
Launch creator DAO. The first prototypes will be made available on the GORJS Member Portal in preparation for Season 2 DAO features.
GORJS suggestion system. It will be a fully developed author submission system combined with token voting, airdrop, whitelisting and NFT project launch mechanisms.
Expansion of the functions of the DAO, including the development of tools for authors and a system of proposals for managing users.
NYX's move to Web3 is in line with parent company L'Oréal's interest in cryptocurrencies. L'Oréal is already involved in the metaverse and the creation of digital communities. Its venture arm Bold has invested in a metaverse startup called Digital Village. It's also not surprising that NYX joined Web3, as L'Oréal filed 17 trademark applications last year to use NFT and blockchain for its brands, including NYX, Kiehl's and Urban Decay.
NFT collective PROOF signs a contract with United Talent Agency
PROOF NFT CEO Kevin Rose announced at the Consumer Electronics Show (CES) in Las Vegas that the United Talent Agency (UTA) has signed a contract with PROOF, the company behind the popular Moonbirds NFT project.
We will focus on partnerships that will expand Moonbirds far beyond our existing Web3 audience, building Moonbirds into a global brand. Kevin Rose said
How will United Talent Agency help PROOF?
PROOF will receive help from UTA, one of the top three talent agencies in Hollywood. Assistance will be provided in the form of various partnerships, brand partnerships, merchandising, licensing, sponsorships, as well as creating new opportunities in film, television and publishing.
UTA is currently the leading talent agency in film, television, video games, the visual arts and other industries.
As a reminder, this is not the first UTA deal in the NFT space. In April 2022, the NFT project Deadfellaz signed a contract with the United Talent Agency.
The collaboration shows that trust has not been lost on the part of the show business sector, including Hollywood. Despite various public criticisms regarding the NFT sphere, the largest players from related areas of real offline business still see prospects in cooperation with this industry.
Rarible announces the launch of the Zero Fee Marketplace Builder for Polygon NFT
Leading NFT marketplace Rarible recently announced its marketplace builder for NFT collections based on Polygon. Any collection of Polygon-based NFTs can use the new self-service tool to create their own marketplaces. What's even better is that the creator is available for free!
Is your collection on @0xPolygon?

Starting TODAY you can use our free self-serve tool to build an on-brand community marketplace — without writing code. Plus no fees, custom royalties, and endless design possibilities. 👀

Try it today! 👇https://t.co/RdFfJqb43X

— Rarible (@rarible) January 18, 2023
Rarible emphasizes that this tool provides many customization options, including royalty customization, and does not require coding. The goal is to provide flexibility and personalization for users who wish to sell their NFTs. Through this tool, Rarible provides an opportunity for artists and projects to showcase their "unique brand identity" in the NFT marketplace.
The community marketplaces will be the gateway for new users to enter the NFT. They are changing the experience of buying and selling NFTs, making it much easier, which in turn makes it easier for new users to join. Told Alexey Falin, co-founder and CEO of Rarible
The marketplace builder is designed for Ethereum ERC-721 and ERC-1155 collections, allowing creators to use different blockchains.
And unlike the current trend of other NFT marketplaces that give users the option to pay no royalties, Rarible-powered community marketplaces will require royalties on all transactions. Recall that earlier in the industry there were loud disputes and discussions about the need for royalties for artists and creators of the NFT.