Independence, self-expression and autonomy of women,
Empowerment, inclusion of women and LGBT communities,
Hyper-realistic 3D graphics,
Technologies for adaptation and use of NFT in metaverses, video games, streams, video streaming and so on,
And that's all we're talking about the debut NFT collection Non-Fungible People from the top company in the 3D visualization market Daz 3D.
Packed with metaverse-centric utilities, NFP avatars can be used virtually anywhere 3D characters are supported, including those used in real time, from popular video game engines to augmented reality and streaming software.
In this review, we will reveal all the subtleties, technological features, ideological values, high-profile partnerships of the project and much more.
Non-Fungible People Official Links
We are grateful for such an amazing community that has grown so quickly around the NFP. Without them, we would not have been able to achieve our goals. Their enthusiasm is a great indicator of how ready the community is to embrace NFP. We believe this collection will change how people think about the future of NFTs.Said Jessica Rizzuto, senior vice president of e-commerce at Daz 3D.
Non-Fungible People in numbers
This groundbreaking collection includes 8,888 unique female and non-binary PFP avatars, artistically rendered in a hyper-realistic style.
The collection sold out on December 27, 2021 at a public offering price of 0.2 ETH.
The launch was enthusiastically received by a rapidly growing community of over 40,000 members who joined the official Discord channel and over 19,000 on Twitter.
Total sales exceeded 1700 ETH.
Just over 3K unique owners in total.
Floor price is 0.016 ETH.
Average sales are in the range of 0.015 – 0.05 ETH.
The most expensive NFP #1408 (Temptress) sold for 17 ETH on January 19, 2022.
Only 2% of the entire collection on the listing, which is a good investment indicator that characterizes the value of tokens, the prospects of the project and the low level of speculation.
In total, the creators of Daz 3D have 6 NFT collections and more than 10 collaborations and partnerships, including Coca-Cola, RTFKT Studios (Nike), Coinbase NFT, Atari and others.
Data (including exchange rates) are given at the time of publication of the article.
What is Non-Fungible People?
Non-Fungible People is a collection of 8888 PFP Non-Fungible Tokens created on the Ethereum network according to the ERC-721 standard. In the images, you will see powerful, self-expressive women and non-binary people from all walks of life. This collection emphasizes that no character is alike. Each of them has its own unique qualities and characteristics, which are perfectly embodied in hyper-realistic 3D non-interchangeable tokens.
This collection depicts powerful, self-expressive women with hyper-realistic 3D graphics that are more than just a gorgeous PFP image. Our non-fungible people are ready to be used in streams, videos, games, etc. As a member of the NFT community, I know that both women in tech and NFT utility are rare and that's why I'm so enamored with this collection. Non-Fungible People is focused on the empowerment of women and the continued usefulness of the NFT throughout the metaverse. Said Jessica Rizzuto, senior vice president of e-commerce at Daz 3D.
The collection has been designed for people who want to embed their unique 3D model into games, apps, movies, animations, software and more across mobile, desktop and VR/AR.
https://www.youtube.com/watch?v=DMgmtwDTqf8&list=PLF3LSR7D48MeX1tDqkxU7NCNjYSO1GHJi
In addition, NFP is a project attempting to simplify the process of learning how to use 3D characters in the metaverse through software development kits (SDKs), informational videos, and written documentation.
Collection attributes
Each avatar in the collection has been algorithmically generated from a pool of over 30,000 different characteristics, making the NFP collection one of the most unique collections ever created.
In total, there are 18 traits in the collection, among which you can find:
Background,
Character,
Expression,
Eye color,
Headwear,
Outfit,
Tattoos & makeup,
And much more.
At the same time, among the 8888 images, there are truly 15 unique NFTs, characterized by an exceptional style with the appropriate background, character and expression. These are such personalities as The Fighter, Psycho Fairy, Judging One, Kalas Visions, Weed Witch, Joan of Arc and others.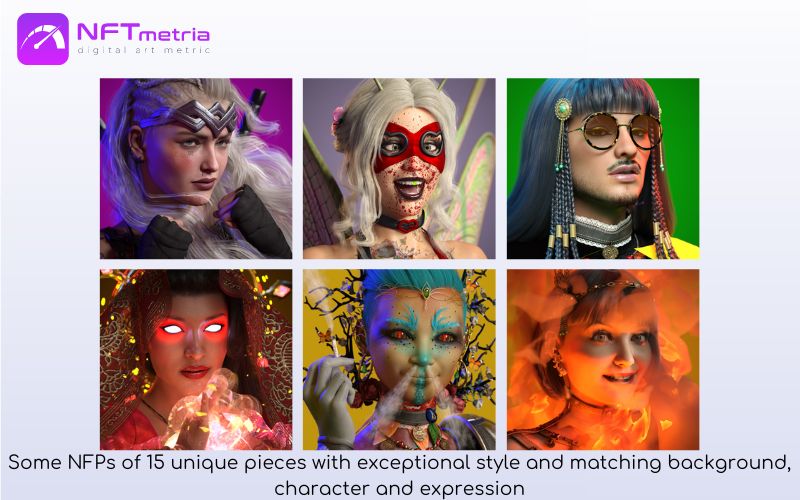 Who Created Non-Fungible People?
Daz 3D, one of the largest 3D modeling studios in the industry, is responsible for the project. Their product, Daz Studio, lets you create your own scenes and characters in seconds. As a result, they may become the market leader in creating resources for the metaverse.
The team also consists of members of Tafi, the parent company of Daz3D. Tafi is a 3D avatar maker that can be integrated into multiple tools such as games, apps, VRChat, Samsung Galaxy AR Emoji store, and Daz3D character assets in Unity.
Thus, the creators of Non-Fungible People are not an ordinary team with amateur developers and newcomers to the community. Instead, this team has the best of the best for 3D modeling.
Idea for Non-Fungible People collection
Daz 3D consulted with a wide range of ethnic and cultural experts and organizations to improve the presentation, eliminate unconscious bias, and adhere to more inclusive avatar standards. Since only 16 percent of the NFT art market is made up of women, this collection adds a lot of variety to the space.
For Daz's first collection, 3D chose to focus on female and non-binary avatars, highlighting Daz's vision of the metaverse as a way for people to celebrate their uniqueness while encouraging an open, inclusive metacommunity as the metaverse continues to evolve.
Everyone is welcome in the metaverse, and PFP avatars allow all people to create their digital identity in any way they want. For us, NFP is more than just a collection of NFTs — NFP helps realize our vision of a diverse and inclusive metaverse. Said Ty Duperron, COO of Daz 3D.
Benefits of Owning Non-Fungible People
Each NFP comes paired with a full body 3D model for seamless use in Daz Studio, using the same advanced technology that powers the portable utility featured in the RTFKT Clone X collection.
Using the model on popular 3D platforms such as Unity, Unreal, Blender and others
Using a character during a conference call in Zoom and other streaming formats.
Full intellectual and commercial rights to use NFT except for the sale of its individual 3D components.
Roadmap Non-Fungible People
A serious and far-sighted approach of any NFT project is characterized by the presence of an open roadmap, which can be used to judge the team's plans and project prospects. This is one of the most important criteria for evaluating the investment attractiveness of a project, which we also wrote about in the article Investment valuation NFT: how to evaluate an project?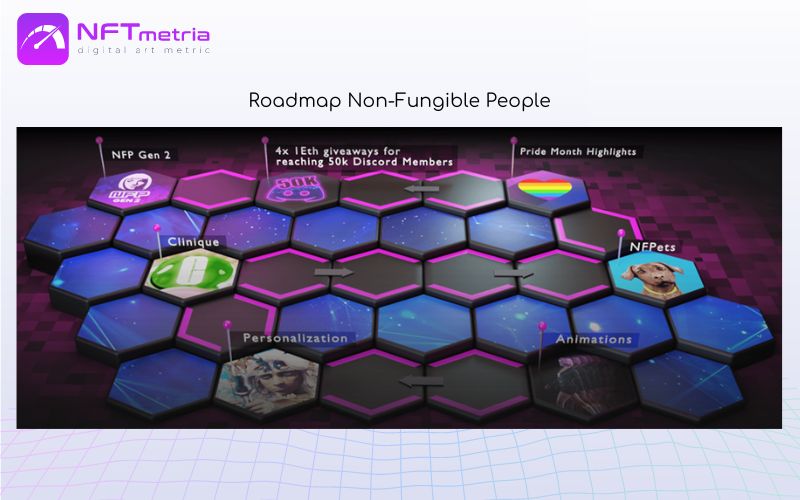 So, what can Roadmap Non-Fungible People tell us?
To date, implemented animation and personification of NFP,
In January 2022, the presentation of the inclusive campaign took place together with Clinique,
In April 2022, the derivative collection NFPets was released exclusively for NFP holders. To get their pet, owners could mint a regular Sparky (Golden Lab) for free, or mint a Super Sparky for 0.025 ETH.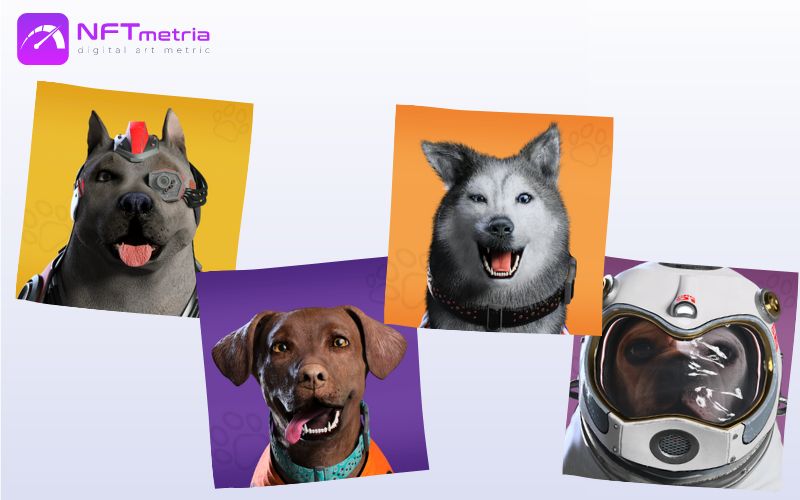 Coming soon LGBT support, limited edition fun merchandise for purchase, 4 x 1 ETH giveaways for 50,000 Discord members, 3rd release of 3D source files for additional 3D software or game engines, NFP 3D printing, and more NFT collection 2nd generation.
Non-Fungible People Partnerships
In addition to cool technical stuff, a strong idea and a community, any project needs competent marketing. One of its components is collaborations and partnerships. Just look at what famous personalities and brands the project managed to work with.
Partnership with Virtual Icon Ruby 9100M
In December 2021, Daz 3D announced a partnership with trans man Ruby 9100M, a digital avatar and virtual fashion icon that was originally created using proprietary Daz Studio software.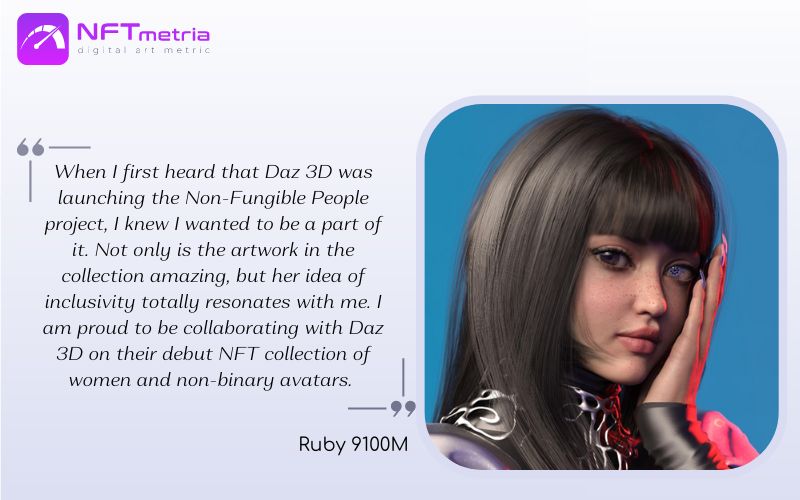 Since its digital inception, the Ruby 9100M has become known for its collaborations with fashion brands such as Adidas, FENDI and Nike. She is represented by digital culture agency CLUB MEDIA, featured in publications such as Vice, Madame Figaro and Vogue, and has over 80,000 Instagram followers.
Ruby 9100M represents what we wanted to achieve when we started this collection. We believe that in the metaverse, using the technologies we offer with these NFTs, people will finally be able to safely and confidently express their true selves through their imaginary digital avatar. Said Morgan Milovich, NFP partnerships manager.
Ruby 9100M is a testament to the fact that alter-personas and digital avatars such as NFP will play an important role in the realization of the metaverse. Daz 3D believes the NFP Collection will help bring this vision to life.
NFT Campaign "Metaverse More Like Us" with Clinique
In January 2022, Daz 3D partnered with beauty brand Clinique to launch the Metaverse More Like Us NFT Collection for NFP wearers. The collection consists of 6 tokenized avatars depicting women in looks created by Clinique's professional make-up artists. So they demonstrated the uniqueness and naturalness in appearance, emphasizing the dignity of Clinique professional care products.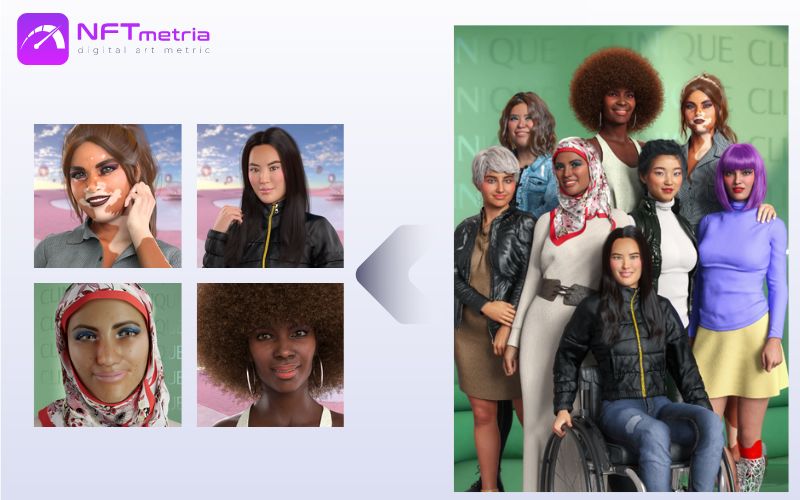 These NFTs were not in the primary sale, and like Champion sportswear were given away randomly to Non-Fungible People owners in the form of 3 airdrops.
6 tokens are presented in two circulation versions:
3 of them in the amount of 197 pieces each,
3 of them 1760 pieces each.
Over the past 20 years, Daz 3D has continuously created an inclusive representation in the digital environment and is pleased to continue this tradition with Clinique. Our groundbreaking NFT collections such as Non-Fungible People and our partnership with Clinique break down barriers and challenge the status quo. With this campaign and stunning NFT makeovers, we're proud to bring this to life in the Metaverse. Said Jessica Rizzuto, senior vice president of e-commerce at Daz 3D.
Partnership with American sportswear brand Champion
In January 2022, Daz 3D entered into a partnership with the world-famous American sportswear brand Champion. As part of the agreement, immediately following the release of the Non-Fungible People collection, the team released the Champion x Non-Fungible People NFT-derived sportswear collection, consisting of branded headphones (Bronze status), glasses (Silver status), and jacket (Gold status).
But, in addition to this, the cooperation was reflected in the main collection. Namely, all NFPs out of 8888 have Champion attributes:
NFP #4015 has 3 attributes at once (headphones, glasses, jacket),
NFP #5217 wearing a Champion signature jacket,
NFP #7160 wears Champion signature sunglasses,
NFP #5378 wears Champion headphones.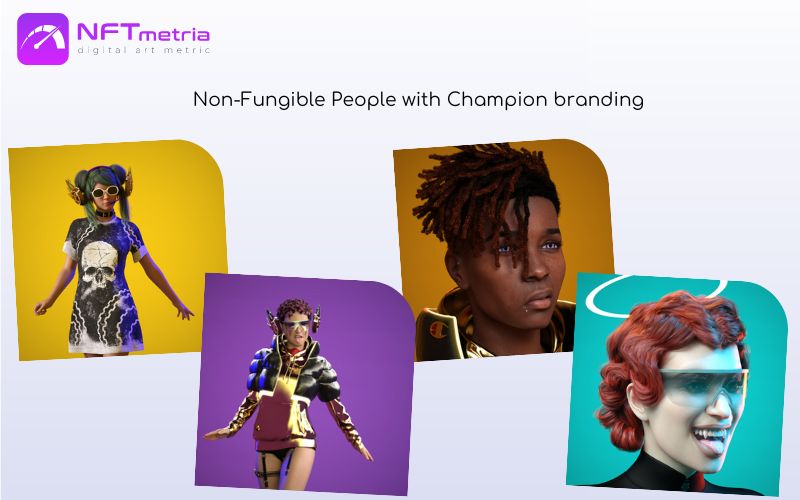 Partnership with luxury watchmaker Louis Moinet
In February 2022, Daz 3D released the Louis Moinet Space Revolution collection in partnership with global watch brand Louis Moinet, which produces exclusive luxury wristwatches that actually start at $10,000.
But, apart from this, the collaboration was reflected in the main NFP collection. Namely, 15 characters out of 8888 have such a trait as Louis Moinet, that is, they have branded watches in their arsenal.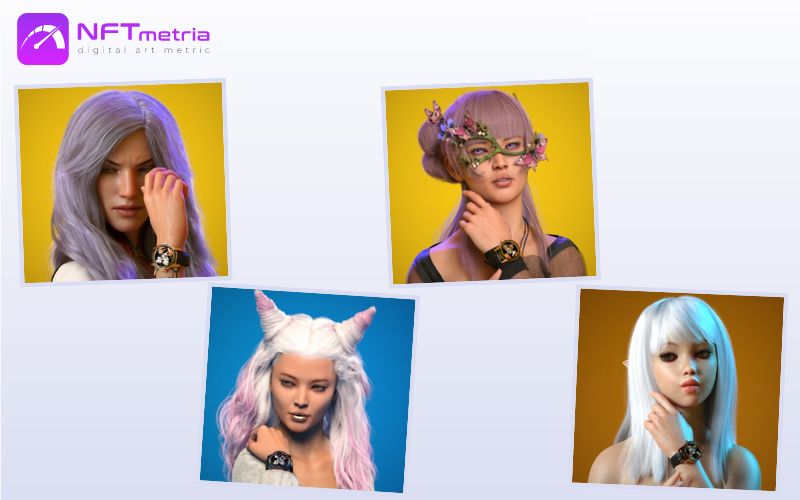 How much do Non-Fungible People cost?
The Whitelist pre-sale took place from December 21 to 22, 2021 for 36 hours.
The details were:
Price: 0.05 ETH and 0.08 ETH (depending on which WL you are on) + gas fee,
Quantity: 2 per wallet,
Daz/Tafi NFT holders: 2 for each Daz/Tafi NFT owners.
On December 27 at 2:00 pm EST, a public sale took place. Details:
Price 0.2 ETH + gas fee,
Quantity: 3 per wallet.
To date, Non-Fungible People you can buy at a price of 0.016 ETH. And on average, trades go within 0.015 – 0.05 ETH.
Most Expensive Non-Fungible People Sales
NFP #1408 – Temptress was sold on January 19, 2022 for 17 ETH ($58K at the time of sale). This is one of the 15 unique NFTs with the exclusive traits of the mysterious Temptress.
NFP #575 – The Dark Side was sold on January 20, 2022 for 15 ETH ($45K at the time). This otherworldly girl is also among the rarest tokens.
NFP #1777 sold on January 20, 2022 for 3.1 ETH ($9.3K at the time of sale). Serious futuristic girl looks soberly into the future.
NFP #8871 was sold on February 7, 2022 for 3 ETH ($9.4K at the time). A sophisticated girl with dragonfly wings characterizes the lightness of the moment.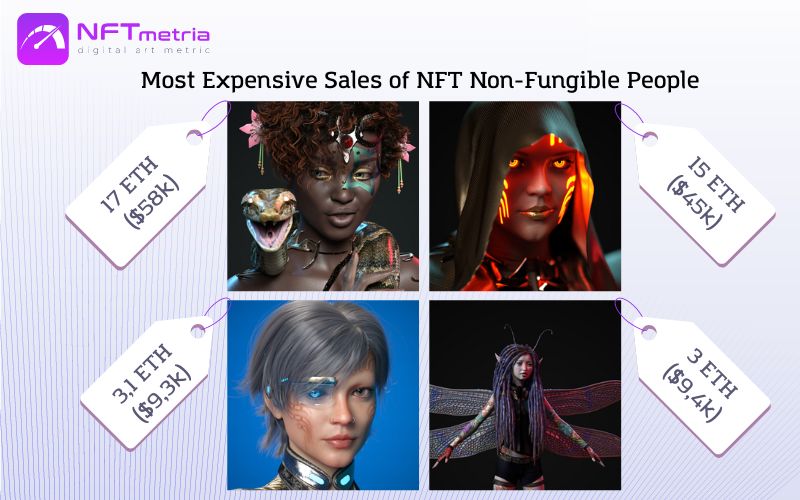 Where to Buy Non-Fungible People?
Currently, World of Women can only be purchased from secondary marketplaces such as OpenSea, Rarible, Coinbase NFT and NiftyGateway.
How to Buy Non-Fungible People?
Remember that initially you need to connect your crypto wallet with self-storage to the marketplace of your choice.
Next, find the official collection using the search bar on the marketplace,
Analyze and choose the NFT you want to buy; click on it and then on the "Buy" button.
Or you can bet on the token you like. Make sure you leave enough ETH for gas or transaction fees. If the seller approves your bid, the deal goes through.
The future of the project
Given the growing utility of Daz 3D's 3D NFTs, the project has a great future ahead of it. These predictions are not based on promising plans, but on the idea, technology, community and a strong team.
At a minimum, we are waiting for the second generation of Non-Fungible People, which will be released in the near future (I wonder what else the authors will be able to surprise us with?) with an improved software development kit (SDK) for adaptation in various metaverses, including such well-known ones as Decentraland and The Sandbox.
But the team also does not forget about its loyal community, promising to release branded merchandise in the near future, organize events for LGBT communities and hold various cash draws.
Should You Invest in Non-Fungible People?
If you are not chasing high-profile hype and low-profit speculation, but are looking for a long-term technological project, then you have reasons to look at Non-Fungible People as an investment.
And that's why:
A strong Daz 3D team that has been in the 3D modeling market for over 20 years and is a leader. We add that when choosing an NFT project for investment, it is the assessment of the team that is one of the decisive factors, since this is the entire driving force. And we just wrote about this in the article Investment valuation NFT: how to evaluate an project?
Technologies of the future and through them the growing usefulness of each NFT in the collection
Perspective roadmap of the project,
The idea of ​​inclusiveness and equality of rights in society, which underlies the entire project, resonates sharply in society today, and in the coming years this issue will only gain popularity. Thus, ensuring the demand for and liquidity of the tokens.
In any case, do your own in-depth analysis and research when investing in NFTs, and then make your own decisions.
Conclusion
In less than a year of the project's existence, the Daz 3D team has made a quality product based on technological advantages over other collections. The full utility of 3D models that can be brought to the metaverse far exceeds the PFP collections. Therefore, the creators focus and prioritize not on hype and fast noisy marketing, but on the technology of the future.
The Non-Fungible People (NFP) is a next-generation project that shows huge growth potential within the metaverse. 3D NFT is the next wave that will find its way along with the explosive growth of the metaverse.