The popularity of the NFT industry has been growing rapidly for several years now. And we constantly hear about massive drops, high-profile sales, multi-million-dollar purchases and investments in NFT art. Digital artists who have managed to succeed in this area receive not only recognition and fame, but also very decent incomes. After earning a fortune in cryptocurrencies, most artists withdraw money into fiat currencies. But in every state, there is a legislative system that regulates such transactions. What is the reverse side of such a process in reality?
Today we will talk about an NFT artist who managed to create crypto pictures during 2021 with total sales of over 11 million euros. In connection with reaching such a high level of income, Shvembldr attracted the attention of the Latvian tax authorities, which later froze all the funds of the artist and opened a criminal case against him. Such an event set a unique precedent for the entire community, and so far, the entire field is closely following the course of events.
Who is Shvembldr?
Shvembldr (real name Ilja Borisovs) is a 39-year-old NFT artist from Riga, Latvia. He began his working career in music and for many years remained working in this direction of creativity. And only at the age of 34, Ilja decides to change her priorities and begins to look for herself as an artist-generator.
Since 2018, Shvembldr has devoted a lot of time to learning the basics of digital art, practicing on his own paintings and trying to regularly distribute his work to his fellow artists and the global population. But at that time, it was like a hobby for him, and he worked at a recording studio.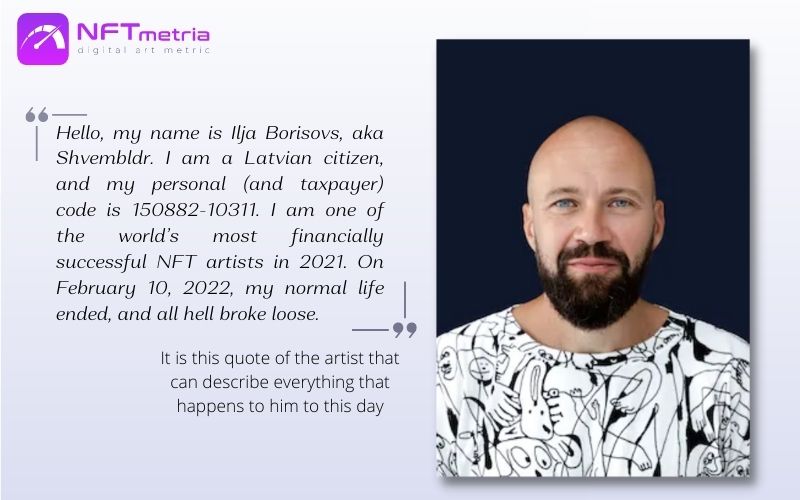 In March 2021, Ilja Borisovs sells his debut NFT painting for several tens of euros, and by the beginning of 2022, the total income from creativity was 4006 ETH (about 11 million euros at that rate). And from that moment on, the artist has been a defendant in a high-profile lawsuit on money laundering and the arrest of all funds.
Shvembldr Official Links
Creative path of Shvembldr: from music to NFT
In the autumn of 2018, Ilja Borisovs starts his creative career as an artist-generator. This type of art involves the construction of graphic paintings using program code. Fascinated by this direction, Shvembldr is actively experimenting with his compositions in order to understand how this area of works.
At that time, Shvembldr was an unknown person. In parallel with his passion, he works as a hired employee. At the same time, there were no acquaintances in Ilja's personal environment who were engaged in something similar, so it was decided to exhibit his first works and look for like-minded people on the social networks Instagram and Reddit.
Sometime later, Shvembldr was invited to the Generative Artists Club, a closed community of artists-generators, where art colleagues can work together and share their experience. At the club, he met famous digital artists: Dmitri Cherniak, Matt DesLauriers, Piter Pasma, Thomas Lin Pedersen, Ben Kovach. It was they who inspired Ilja the most.
Over the next two years, the artist experiments with a huge number of works, publishes them on the Internet, and prints them on various materials: paper, wood, metal, acrylic and glass.
In 2020, Shvembldr is focusing on how generative art can be used to print illustrations on clothing. Then he develops his own form and design, orders ready-made clothing samples to see the final result. Soon, Ilja creates his own small store, but from the point of view of building a business, he did not delve into this topic seriously and therefore it never came to the development of something larger.
After such painstaking work, such an occupation was still a hobby and did not bring the proper income, so Ilja thought about how to turn his hobby into a full-fledged job. It is during this period that the NFT trend gradually begins to gain momentum.
Shvembldr in the NFT world
In 2021, the NFT trend has not bypassed Shvembldr. By this point, Ilja already had some experience in social networks and a formed audience that liked what he was doing as an artist. Now his main goal was to become a successful NFT artist, promote his Twitter profile and make his work marketable. The advantage in the form of an accumulated solid arsenal of completed and unfinished works, techniques and ideas makes it easier to cope with such tasks than other crypto-artists.
Working with the hicetnunc.xyz platform
At first, Shvembldr published his digital compositions on the hicetnunc.xyz platform (now inactive). After all, publishing your projects on it was much cheaper than on the Ethereum blockchain. On March 12, 2021, Ilja minted the first two works and set a price for them at 10 Tezos (about 30 euros). The compositions were purchased the very next day after its release.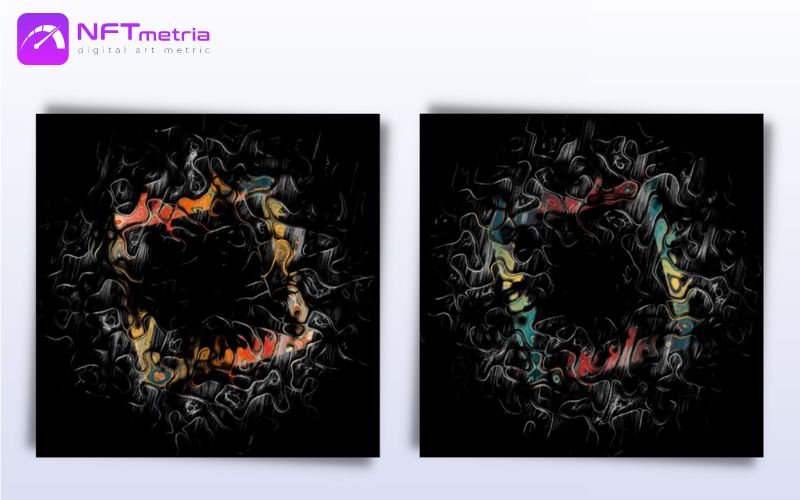 From that moment on, Ilja believed that he could make money on this and began to work intensively on his illustrations, trying different methods to build a full-fledged picture.
Working with the Art Blocks platform
Even before joining the NFT space, Ilja learned about Art Blocks, a high-ranking platform for artist-generators, which published the work of top NFT artists. To get there, Shvembldr filled out a form and stood in line to register. At the end of March 2021, the platform founder Eric Calderon (SnowFro) contacted the artist. Thus, began a large-scale career as an artist.
Getting started with Art Blocks was difficult. There were many technical requirements to meet the platform standard. Therefore, Ilja spent a lot of time studying all the technical aspects.
May 28, 2021 on the Art Blocks platform releases its first collection "The Blocks of Art" in the "Curator" section. For this work, Shvembldr received 44.91 ETH, at that time the amount was about 100,000 euros. This amount was four times Ilja's income from releases on the Tezos blockchain, given that he was in the top 20 best NFT artists on the former hicetnunc.xyz.
Creation of TBOA own club
Seeing the demand for their art, at the beginning of July 2021, Shvembldr establishes the "TBOA" club with an internal TBOA token ERC-20 standard. He took such a step to unite fans of his work and give them priority in the mint of new works. Such a format is technically possible on Art Blocks, and with the help of this, the artist has successfully implemented his own club of 20 people.
In addition, the author expressed his recognition and respect for his small community by creating small collections (ONY, ONY2, GYRE, Formulas and Veritable), from which collectors chose any work and received it for free in their wallets.
Shvembldr's professional growth in the NFT industry
In parallel, a period begins when the popularity of the NFT sphere spontaneously gathers around itself a stir around the world, and sales volumes increase many times over. Shvembldr candidly admitted that he worked on his projects for 16 hours a day almost every day.
Shvembldr is going back to his old art pieces and refining them for release as tokens. For the release, the crypto-artist chooses one of the popular Foundation platforms. On July 18, on this site, for the first time, he publishes the picture STRW01, which he sells through a 24-hour auction.
From that moment on, the artist's business went only uphill. He successfully released several more collections and many 1/1 works. 2021 has been an incredibly successful year for Ilja Borisovs as an artist. The artist has been able to make a name for himself in the world of crypto art, realize almost all of the art he has created in his career, build a vast community and make a lot of money.
At the beginning of 2022, Shvembldr has earned a total of 4253 ETH from his own NFT creativity. He converted the cryptocurrency into fiat funds and placed 8.7 million euros on an account in one of the Latvian banks.
Criminal case against Shvembldr for his income from NFT creativity
Ilja Borisovs is a citizen of Latvia. When he started earning income from crypto art, he got acquainted with the legislation in order to know how to legalize his income. By the end of 2021, I called VID (Latvian State Revenue Service), called the bank and filled out tax reports. After that, Shvembldr was summoned to the Latvian Security Service, where he fully confirmed how he earned his money.
On February 10, 2022, all property and all accounts of Ilja Borisovs were arrested by the Latvian police. Shvembldr has since lost the ability to pay bills, earn money, pay taxes, and make purchases. For three months, the authorities did not comment on the issue of the accusation. In the course of further proceedings and the work of a lawyer, on June 30, 2022, the decision to seize the funds was canceled. But this victory was only the beginning of a nightmare.
The very next day, all the artist's funds were again frozen. And he himself was informed that he was the object of criminal prosecution on charges of money laundering through an illegal scheme. And at the same time, his tax debt to the state is 2.2 million euros.
Since then, the criminal case has been ongoing, Ilja Borisovs is still involved in an "illegal money laundering scheme", and all his earned money in the amount of 8.7 million euros has been frozen. This is the first and, therefore, unprecedented case in the global crypto community, which demonstrates a lack of understanding and rejection by government agencies of earnings in the crypto industry.
Features of NFT artwork by artist Shvembldr
Shvembldr works in the genre of generative art. This direction refers to art that is created by a fully or partially autonomous system. In the most common cases, this is the program code that generates the image. At the same time, some parameters are set in advance by the artist himself, and some are random within a range that is also determined by the creator of the picture.
In the case of generative art, the subject of art is the algorithm itself and the result of its execution (images, videos, interactive art). Such an algorithm can generate a large number of images with sufficient variability while maintaining a logical concept.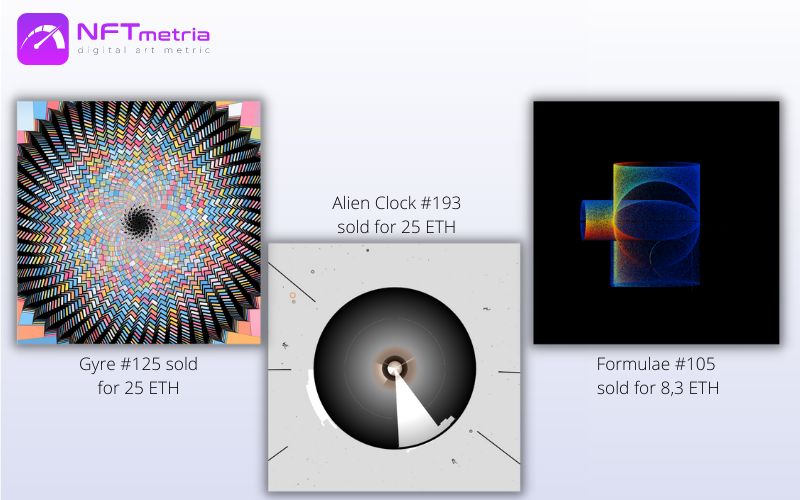 Ilja Borisovs also contributed to this area:
came up with the function "every click = new image", when with each subsequent click the user sees a new frame.
developed his own digital memory cell for NFT compositions
created more than 700 works of crypto art.
Shvembldr made a series of a huge number of interactive drawings with a full storyline dedicated to the Art Blocks site.
He has a huge five-year experience in this subject. The artist creates both single-frame and many animated works.
The most famous NFTs by Shvembldr
As of the beginning of 2023, Ilja Borisovs has released more than 100 single paintings in the period from March to December 2021.
In addition, Shvembldr has released the following collections:
The Blocks of Art
Alien Clock
Alien Insects
444(4)
N.Y.
ONY2
GYRE
Formulae
Veritable
And each of these collections was sold for very impressive sums. Secondary sales alone amounted to a total of more than 11,500 ETH (about 28 million euros at that rate). And Ilja Borisovs himself received from this amount about 4600 ETH (about 11 million euros at that time) minus all commissions of the organizers and venues.
STRW01 NFT
STRW01 is the debut NFTs 1/1 on the Ethereum blockchain. This composition is a copy of his first work on the Tezos blockchain. It depicts endless perspectives using paints of various colors.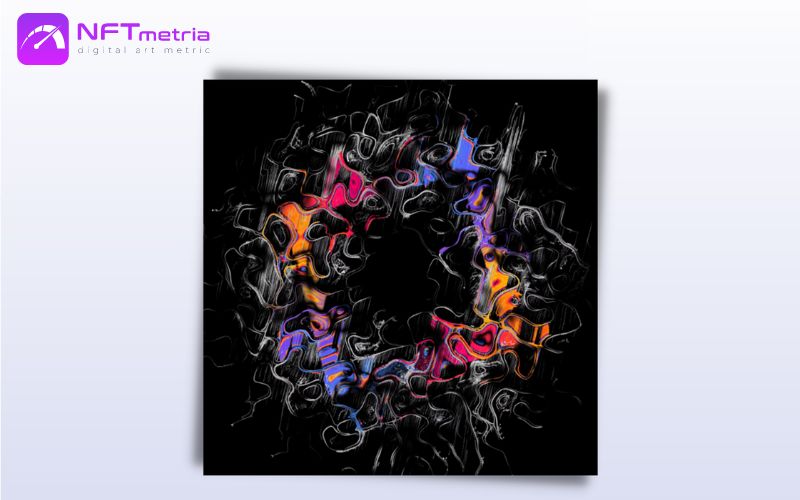 STRW01 was released by a crypto artist on the Foundation site on July 19, 2021 and sold to the famous collector VincentVanDough 4 days later for 1.50 ETH (about $3k).
The Blocks of Art NFT Collection
The Blocks of Art is the debut animated release on the Art Blocks platform, which brought the crypto artist his first big income and fame in the wide circles of the industry. Each panel in the block is a small generative work with a few random parameters that live a life of their own while being part of the composition.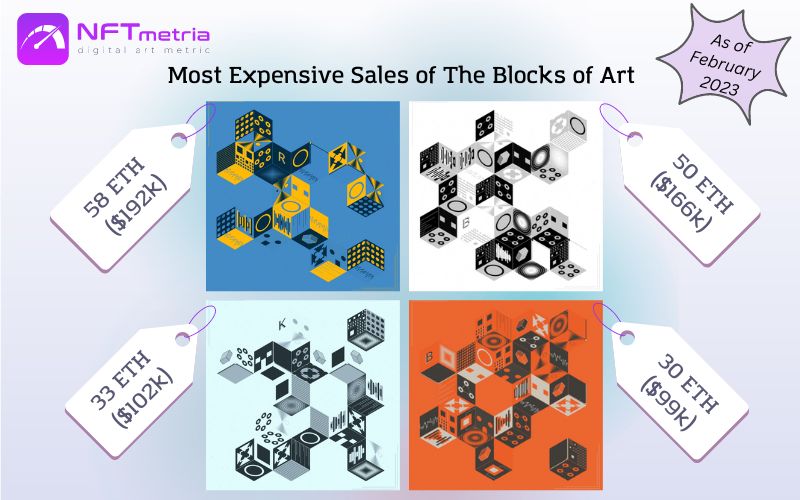 The Blocks of Art was released on May 28, 2021. The collection consists of 500 NFTs and symbolizes artists-generators as art blocks that are united by one idea.
Shvembldr then received 44 ETH (about 100,000 euros) for such a large project, and secondary sales today exceed 2500 ETH (about 3.8 million dollars at the moment).
Alien Insects NFT Collection
Alien Insects is an NFT collection of 1000 digital paintings. By creating the project, Shvembldr tried to combine generative art, the PFP (ProFile Picture) project and collectible postcards to create a single work. The illustrations depict military alien insects that are symmetrical and asymmetrical and are in several dimensions at the same time.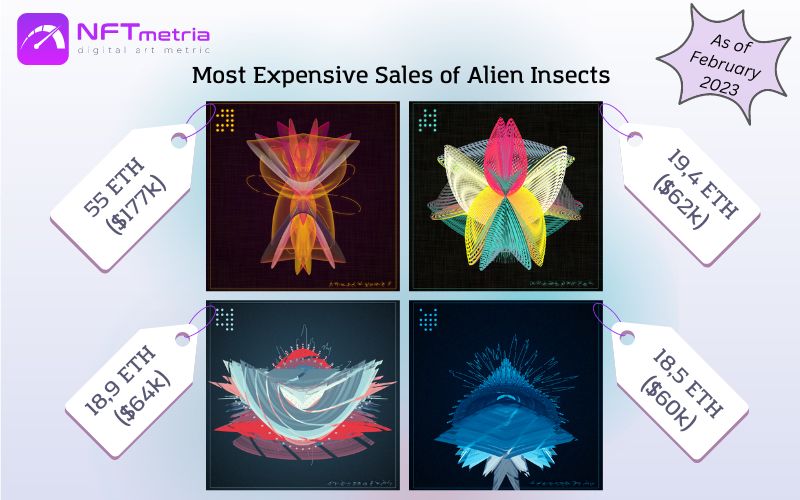 Alien Insects was released on August 17, 2021 via Art Blocks. To date, the total volume of secondary sales has already exceeded 4300 ETH (about $6.5 million at the moment).
Where can you buy NFTs by Shvembldr?
Now NFTs 1/1 by Shvembldr is only available on the secondary market, namely on the Foundation marketplace. And you can buy works from the collections on OpenSea. In addition, you can follow the artist's Twitter and Instagram for future updates.
Opinion of NFTMetria
Shvembldr is a big name in the NFT scene for several reasons:
Precedent with the arrest of all his accounts in connection with the income from his NFT creativity. This is currently the only case among all digital artists. Therefore, the entire crypto industry is following such a lawsuit.
Successful NFT artist who has released 9 collections and over 100 NFTs 1/1s. As a result of its activities, the total secondary sales exceeded 11,500 ETH (about 28 million euros at that rate).
He made a personal contribution to the development of generative art, creating several unique technical innovations of the time.
If we take into account the popularity, high-profile court case and all aspects of the artist's activity, it can be said with confidence that whatever the outcome of the court case, he inscribed himself in the history of the NFT industry. And, accordingly, any work released by him will enjoy increased attention and, therefore, have an increasing price.