Generative and process art has been the subject of increased attention since 2021. The market trend, the unique technology, the combination of art with coding make this area highly discussed and highly profitable. Among the many generative artists, there are a few trailblazers and pioneers of the movement.
Among them is the NFT artist Manoloide, who is also a creative coder. He combines modern generative art with ancient primary forms in his works. Despite the fact that many programmers have knowledge of processing, only a few like Manoloide manage to realize themselves in the process art. Thanks to his programming skills, he creates beautiful and appreciated NFTs. The consequence of his unique abilities was his status, recognition in the community and sales of more than $ 1.7 million.
Who is Manoloide?
Manoloide (full name Manolo Gamboa Naon) is an Argentinean digital artist and creative coder.
And here are some facts about him:
exhibitor at the NFT Museum in Seattle,
his MMNTT has been exhibited at the Museum of Crypto Art in Australia,
was a guest on an interview with Jason Bailey for his blog Artnome in 2018,
November 11, 2021 Manoloide held a solo show 88 Allegories in KVG,
Gave only 2 interviews in his entire career, one in 2018, the second in 2021.
Manoloide is not a public person. He prefers that the object of public attention should be primarily his process creativity.
I usually live in dreams that are constantly changing, so my ideas change, but it's an adaptation to the context. I would like to get rid of words, of ideas. To fall in love with language again and explore it freely in my mind. To learn to enjoy the slow processes without expecting big results. This is how Manoloide describes his desire in art and his worldview in creativity.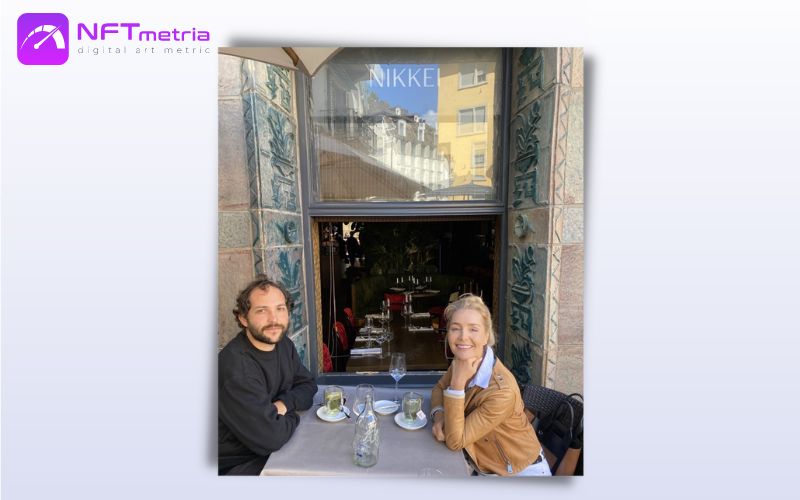 Manoloide Official Links
The creative path of Manoloide: from programming to NFT
Little is known about Manoloide. The future artist was born in Argentina, from an early age he began to get involved in programming. Prior to creative programming, he worked in game development and design. Since 2014, he has posted open source code on GitHub, with which he creates his works. Currently lives in Buenos Aires.
Manoloide in the NFT world
Manoloide entered the NFT world in 2018, when only artists and art lovers began to turn their attention to digital art. Since that time, the artist has become one of the most appreciated in the field of generative art.
And here are some facts from his professional biography:
In 2018, Jason Bailey, owner and creator of the popular digital art blog Artnome, invited Manoloide for an interview.
In 2019, Manoloide worked briefly at his favorite studio in Germany, but returned to Argentina just a year later.
In 2020, his MMNTT was exhibited at the Museum of Crypto Art in Australia.
On July 4, 2022, his art was exhibited at the NFT Museum in Seattle, where he was invited himself.
In April 2022, his CUDA was auctioned by Sotheby's and sold for $352,800.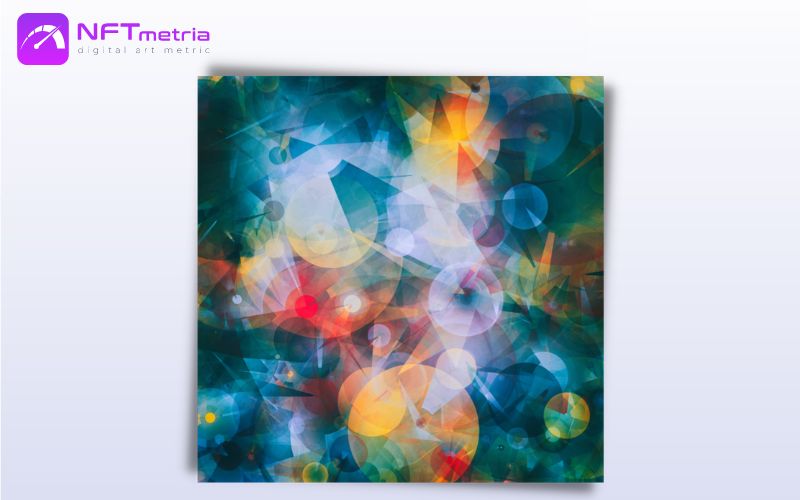 It is difficult for me to have a clear idea, many contradictions arise as with cryptocurrencies, they're the things in which I am immersed but I really do not understand nor they interest meI'm not usually interested in what happens when something is trending but I'm curious to see how it evolves in the coming years. Manoloide has his own idea of the NFT market, which sometimes goes against the community
Features of NFTs by Manoloide
Some of Manoloide's works is experimentation with code that is publicly available on GitHub. The artist himself explores the programming language as a language of expressive art. He believes that programming is a huge, large-scale opportunity with which to create work related to generative aesthetics and process art. The artist admits that the most beautiful parts of the tokens are born from mistakes.
Accidents and mistakes, according to the artist, are an important part of his art. So, noticing that randomness and bugs in code made his work more skillful, he began to integrate randomness as he worked. Thus, the artist tries to manipulate mistakes.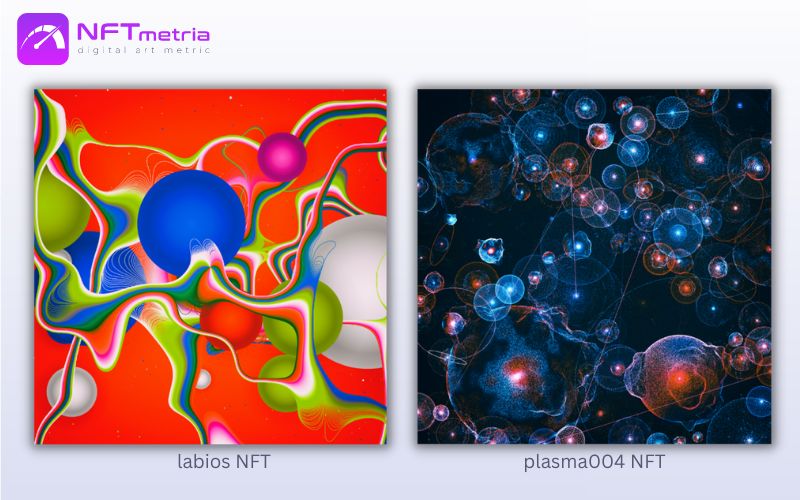 His work explores the potential of programming as an expressive language within the framework of generativity and process art. Combining images and video, he explores possible relationships between chaos and order, organic and artificial, chance and control.
Manolo approaches the digital surface as a plastic space, using code as an artistic materiality based on experiments with basic geometric shapes, lines and colors.
The artist's works are predominantly bright, detailed, with elements of regular geometric shapes and lines. All these regular geometric shapes give rise to beautiful generative images.
The most famous NFTs by Manoloide
In total, the artist posted 32 tokens on SuperRare. The average cost of his tokens is about 46 ETH. The first sale of the NFT "Neopla" dates back to October 20, 2018. The cost of it was 0.068 ETH. Among all the works, the most distinguished are the 3 most expensive ones, which brought a total of 512.5 ETH.
Mantel Rojo NFT
Mantel Rojo is a red tablecloth in the vision of an artist and generative art. Geometrically correct circles look like flowers of different colors. Painting is bright, with a predominance of bright colors that symbolize the full joy of life.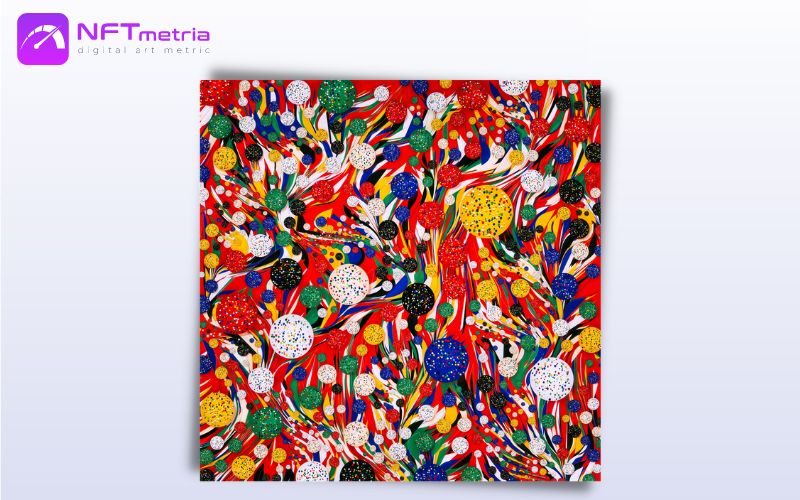 The Mantel Rojo was minted on July 28, 2020 on SuperRare and sold for 275 ETH (about $888k) to renowned influencer and collector 6529.
arbolito2 NFT
arbolito2 is also implemented using program code. You can consider some landscape of thickets, bushes, trees. Red, white and green colors predominate.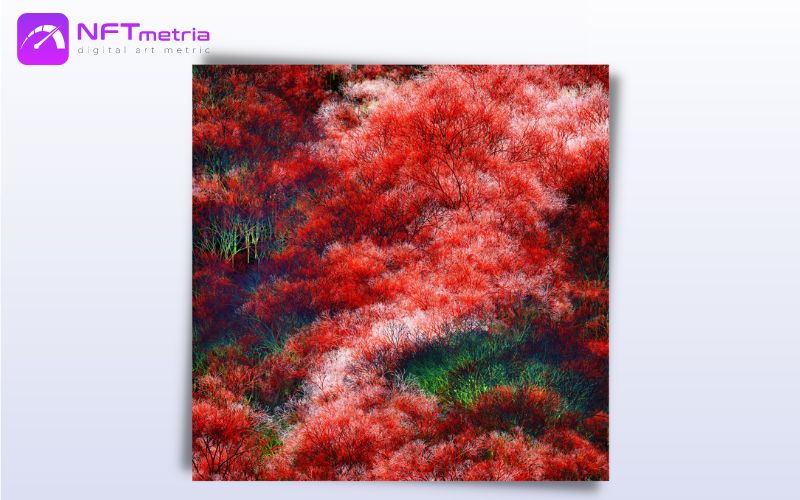 Arbolito2 was minted on September 4, 2021 on SuperRare and sold for 47.2 ETH (about $185k), and subsequently resold on August 31, 2021 for 180 ETH (about $268k).
Mantel Amarillo NFT
Mantel Amarillo is similar to Mantel Rojo, only the "flowers" are already on a yellow background. Bright colors also predominate. You might even think that Mantel Rojo and Mantel Amarillo differ only in the background color, but this is not so.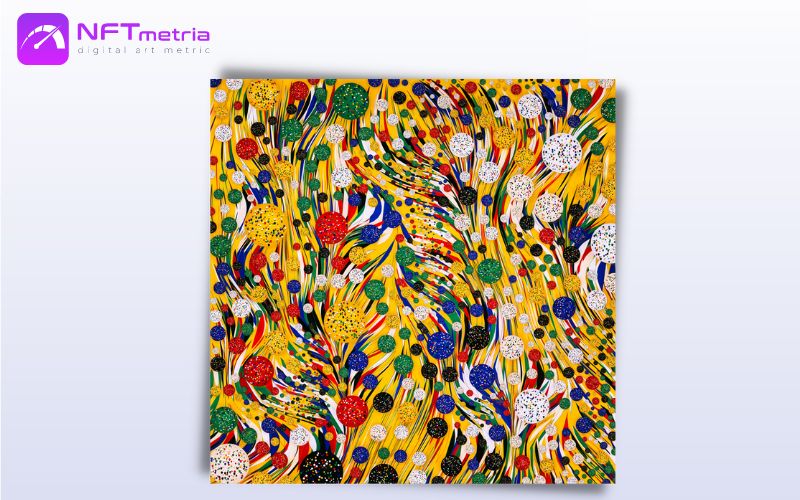 Mantel Amarillo was minted on August 14, 2021 on SuperRare and sold for 57.5 ETH (about $189k).
Where can you buy NFTs by Manoloide?
Now the NFTs of the artist Manoloide are available only on the secondary market, namely on the SuperRare marketplace. In addition, you can follow the artist's Twitter and Instagram for future updates.
Opinion of NFTMetria
Manoloide is undoubtedly one of the pioneers of generative art. Even before NFT, he created his work and posted it on his Behance page. His works have been appreciated by the NFT community. And the exhibitions of his works only confirm that Manoloide has contributed to digital art, and, in particular, to generative art, which is sometimes born from errors in the code.
At the same time, his name did not grow out of hype and artificially created popularity, he does not have hundreds of thousands of fans, and he is not active in social networks. He is a rather closed personality, and his works can be classified as niche art, accessible to understanding and purchase by no means to everyone.