Today, the works of the artist Robbie Barrat are very rare and a huge success. Back in 2018, a young artist gave away 300 NFT coupons at a Christie's auction. But most who were given coupons threw them in the trash. Then simply no one understood the value of these assets.
Soon, in 2021, when the NFT boom was observed, one of the 300 published works "Nude Portrait #7 Frame #64" was sold at Sotheby's for 821,000 US dollars. All failed investors faced such irony, and by this time the artist himself had become disillusioned with the industry due to its speculative nature.
Today, he still works with AI, but no longer in the NFT space. Despite this, he ranks second in the top NFT artists (right behind XCOPY) of all time in terms of sales on SuperRare, having sold over $9 million of his art.
Who is Robbie Barrat?
Robbie Barrat (creative pseudonym videodrome) is a young digital artist prodigy who has been working with artificial intelligence since he was 16 years old. He was born in 1999, originally from Dublin, and spent his childhood in Virginia, USA on a family farm. After working at NVIDIA and Stanford, he moved to Amsterdam, the Netherlands.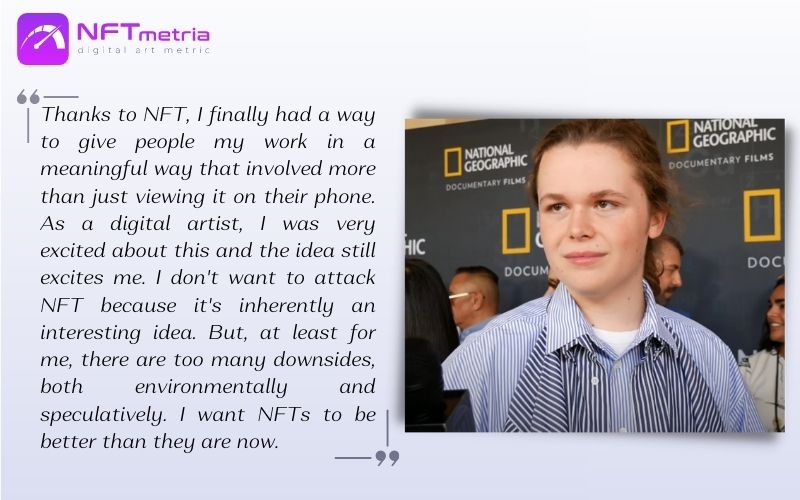 The main focus of Robbie Barrat's work is AI fighting (GAN) – works that are created using competing artificial intelligence programs.
Robbie Barrat is a pioneer of the NFT market, he started working with non-fungible tokens back in 2018, having sold about $ 9,000,000 in total during his art.
Currently, the artist creates digital paintings and has moved away from the NFT world. He became disillusioned with the speculative nature of the market and people's attitude towards NFTs as a subject of enrichment and speculation. Robbie sees NFT as art no matter the price. Due to the extreme shortage and history with the auction in 2018, his work is called nothing but "The lost Robbies".
Robbie Barrat Official Links
The creative path of Robbie Barrat: from AI to NFT
Robbie Barrat was born in West Virginia. Before NFT, he was fond of neural networks. After graduation, Robbie moved to California to work at NVIDIA, after which he began lecturing in neuroscience and artificial intelligence research at Stanford University. He developed a neural network and trained it to create musical works and paintings.
The artist created his first artificial intelligence in 2016, when he was only 17 years old. Then, with the help of this AI, Robbie created a song. And it was the first serious project. The work was created on the basis of 6,000 recordings by Kanye West.
In 2018, he created a collection of clothes for Balenciaga using artificial intelligence.
In 2018, tech start-up Obvious auctioned off its first AI work at Christie's. It was then revealed that the group had stolen the code from Robbie.
In February 2019, Robbie Barrat's first exhibition was held at Avant Galerie Vossen in collaboration with French artist Ronan Barrot.
Robbie Barrat in the NFT World
Robbie Barrat has been interested in artificial intelligence since his school days. This prompted him to create a neural network – GAN, which stands for generative-adversarial network. It processes the portraits and landscapes loaded into it and creates an image based on them. When processing such portraits, the neural network created them surreal.
Back in 2018, art collector Jason Bailey (known in the crypto art world as Artnome) invited the artist to Christie's Art + Tech Summit.
There, Robbie Barrat handed out 300 NFT coupons containing NFT ownership data from the AI Generated Nude Portrait collection. Then the public did not yet understand the technology and value of such gifts, so most of the coupons were thrown away and not used.
I told everyone from the stage: this is the future. Do not discard this card. But these people were traditional art collectors. They just said, "What a crazy guy on stage. Nobody collects digital art." Jason Bailey remembers
To date, 46 NFTs from this collection have survived. And these are, in fact, nuggets that have entered the history of the formation of the NFT as an independent and valuable sector of art, collecting and investing.
I am proud of the 300 cards, although they are now being misunderstood because they reflected my hopes for what NFTs could be – a way for people to own digital work. Sharing his thoughts Robbie Barrat
One of the works called AI Generated Nude Portrait #7 Frame #64 was sold at Sotheby's on March 2, 2022 for 630,000 GBP (about $844k at that rate).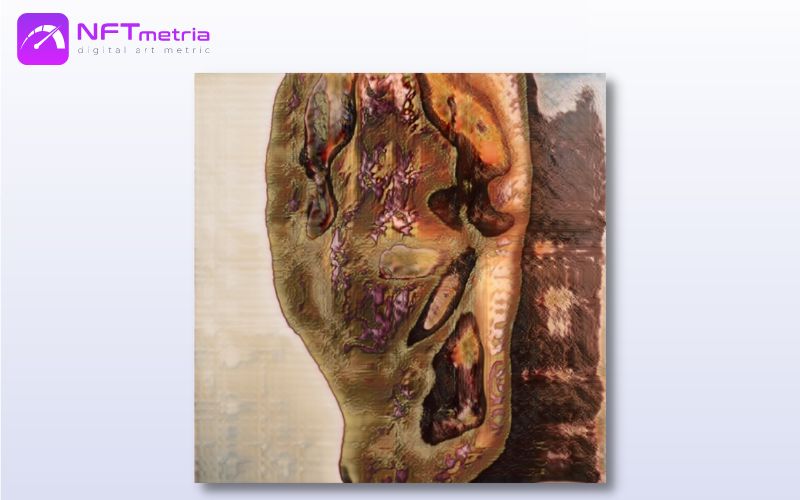 To date, Robbie Barrat continues to experiment with AI, but he has moved away from the NFT market. He believes that today's market is completely speculative.
I'm glad that this old story is getting attention; since it's funny

but I don't want people to think that I still am actively involved with NFTs. I don't plan on making any more until the environmental / speculative aspects of the space change (if ever)https://t.co/Aiop09FLMX

— Robbie Barrat (@videodrome) April 5, 2021
Recently, the artist has been doing a lot of cyanotype – analog work in the form of icons. But he also does not leave digital works such as landscapes.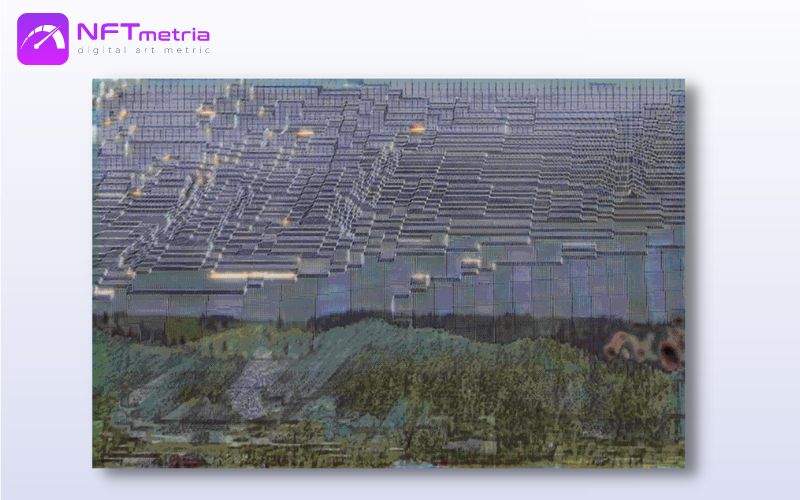 Features of NFT artwork by Robbie Barrat
A feature of Robbie Barrat's work is surrealism. The artist creates his works with the help of a neural network, which he himself created. His creations sometimes look intimidating, which the artist himself does not deny. He believes that this is how neural networks see people and landscapes. But in the understanding of an ordinary person, the works of artificial intelligence of the artist Robbie Barrat are similar to the creatures from Silent Hill.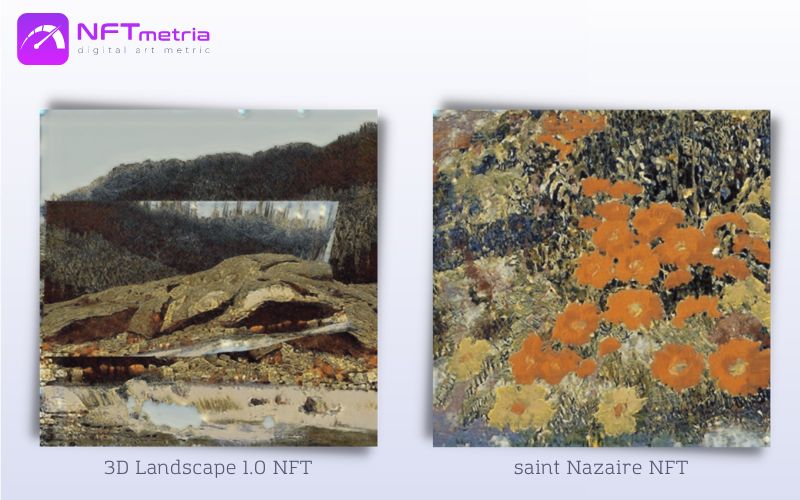 The people in the works of the artist's neural network look very strange – most of them do not have some parts of the body, or they even look like some kind of blurry spot. But even such works find their connoisseurs.
Barrat has repeatedly argued that the final issuance of work by artificial intelligence did not satisfy his desires.
The most famous NFTs by Robbie Barrat
Robbie Barrat has a total of 58 NFTs on SuperRare. Among them are 2 collections and several individual works. Initially, there were 300 NFT works in the AI Generated Nude Portrait collection. But most of them were lost without a trace at the Sotheby's auction. And even with this factor, the artist did not stop from selling his work for more than $ 9,000,000.
AI Generated Landscape Painting NFT Collection
The AI Generated Landscape Painting collection includes 6 works minted on May 1, 2018. The collection was created by a neural network based on thousands of oil-on-canvas landscapes. In this case, the neural network created the outlines of the trees quite clearly, and they are more similar to the original format – an oil painting on canvas. The total amount of secondary sales was 444 ETH.
Of the 6 tokens, only two are expensive sales:
AI Generated Landscape Painting #2 sold on August 28, 2021 for 335 ETH (about $1 million at the time of sale).
AI Generated Landscape Painting #4 sold on March 6, 2021 for 100 ETH (about $165k at the time of sale).
AI Generated Nude NFT Collection
The AI Generated Nude collection is the same one that the artist created for Christie's auction in 2018. For this project, Robbie Barrat stored 10,000 classical-era nudes on his computer and modified them with a system that "fights" two algorithms to create the final image.
There are 46 works left in this collection, presented on SuperRare. Among the owners of works from this collection are top collectors such as Hackatao, Rudy, 6529.
Of this collection, the most expensive are:
AI Generated Nude Portrait #7 Frame #184 sold on October 5, 2021 for 300 ETH (about $1 million at the time).
AI Generated Nude Portrait #7 Frame #96 sold on August 30, 2021 for 222 ETH (around $716k at the time). By the way, the owner is a well-known collector 6529.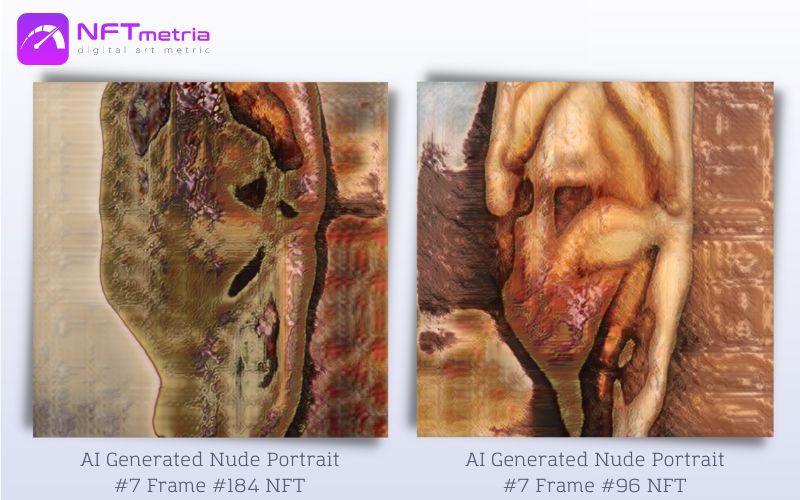 Where can you buy NFTs by artist Robbie Barrat?
Now NFTs by Robbie Barrat are only available on the secondary market, namely on the SuperRare marketplace. Unfortunately, the author no longer works in the NFT space, so his work is now worth the price of gold and is practically not for sale.
Opinion of NFTMetria
The work of Robbie Barrat is a desirable acquisition for many investors and collectors. The current owners understand the value of the artist's work and, despite sometimes attractive offers, do not sell it to NFT. This is due to the fact that the artist no longer plans to return to NFT-related activities. Accordingly, further his work will only rise in price due to exclusivity and rarity.
Robbie Barrat is a true digital artist who sees art first and foremost in his work. He is alien to the current state of the NFT market, where the main issue is the price, not the picture itself. In his worldview there really is a fraction of the true state of affairs. But despite this downside, the market is actively developing, and it still appreciates individual works of digital art.