Art is going through very interesting times: the classical school is fighting for its existence with new technologies, digital projects and exhibitions. And a few months ago, a flash mob began on Twitter and other media, where artists began to protest against the active development of neural networks that could take away their profession. But some artists did not "fight their enemy", but used it for their own purposes. Claire Silver became a prominent representative.
Who is Claire Silver?
Claire Silver is an anonymous artist who uses neural networks and AI in her work. She works with oil, acrylic, GAN (Artbreeder), Procreate, collage, photography and more to create her work. Claire Silver often mixes classical style and myth in her work, collaborating to create works that feel both familiar and strange.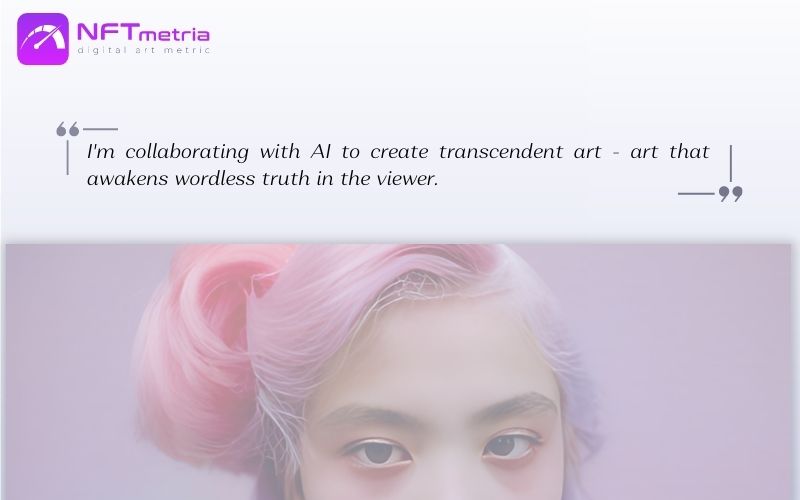 Claire Silver was one of the first who at one time became interested in the idea of tokenization of real art. Back in 2017, she was one of the first to support the CryptoPunks legendary collection and advocate for its implementation. As a result, she is still the owner of these tokens, and CryptoPunk #1629 adorns her profile picture on social networks. And her NFTs have been acquired by such eminent collectors and industry influencers as VincentVanDough and Cozomo de' Medici (owned by rapper Snoop Dogg).
Thanks to her name and active position (she advocates for the development of art, work with AI and represents the category of WEB3 artists), she is a welcome guest at various virtual events and podcasts.
Claire Silver Official Links
The creative path of Claire Silver: from classical art to NFT
Since Claire Silver is completely anonymous, and she does not share information about her biography and creative path. She only shares her successes in the field of working with traditional materials and painting.
Before getting into the world of digital art and non-fungible tokens, she was actively involved in painting and experimenting with different materials. According to the artist, she began to draw after she suffered a serious illness, overcame it and recovered. This situation changed her life and encouraged her to start trying new things.
The girl started with classical materials: oil, acrylic, collages, photographs. Later she started using digital methods like Procreate, GAN and so on.
Claire Silver highlights the main idea in her career, which helps her to become more popular, grow and develop. She realized that in the modern world, art can have any shape, size, manifestation options and be created using different materials and technologies. The main thing in modern art is taste and its feeling. This is what makes Claire Silver stand out as the main measure of the artist's skills.
Claire Silver in the NFT world
Claire Silver's interest in the NFT world began with cryptocurrencies before the 2018 crisis. Struck by a chronic illness and losing her job against this background, she was in a deep depression. The salvation for her was the Internet and the famous 4chan forum. It was there, thanks to a random user, that Claire Silver understood the principle of cryptocurrency and began to take her first steps in this area. At the same time, she connected as a buyer to the nascent, first of its kind, CryptoPunks project.
Claire Silver began releasing her first digital works in 2020, already combining neural networks with classical art. And the first NFT Shapeshifter was released in February 2021. The buyer was a well-known NFT collector, influencer and founder of the large-scale digital gallery AOTM under the pseudonym VincentVanDough.
Gm

shapeshifter by @ClaireSilver12 pic.twitter.com/Dliel7gser

— VincentVanDough (@Vince_Van_Dough) February 11, 2022
The fact that she is a member of the exclusive community of the NFT project CryptoPunks has also contributed to the success. That is, at the very start, Claire Silver already had access to the founders and influencers of the NFT of the world.
At the moment, she herself posts small guides and tutorials on working with paintings and tokens on her Twitter. It shows step by step how to work with AI, how to set it up to create unique works and paintings, how to train it to achieve the desired effect.
🌟Got 30 minutes to make your first AI animation? This thread is for you!🌟

STEP BY STEP AI ANIMATION TUTORIAL: THREAD ONE

(link in the last tweet for thread 2, which is a deep dive of tips and tricks!) #AIArt pic.twitter.com/wXnM4d2nDO

— Claire Silver 🌸 (@ClaireSilver12) January 8, 2023
As she grew and developed in the NFT space, the artist co-founded the A2 Acelerate Art project. The project is a decentralized community of NFT fans. It includes not only creators, but also collectors, beginners, those who want to be creative in the digital sector and those who need support, advice.
A distinctive feature of the artist is that she has not abandoned traditional art materials. She still paints and creates paintings. Claire Silver tries to reproduce some of her tokenized paintings on canvas in order to exist in 2 planes at once – digital and real.
Features of NFTs by Claire Silver
I explore the themes of vulnerability, trauma, disability, social hierarchies, innocence and divinity, and question their role in our transhumanist future. Claire Silver speaks
The artist makes no claims about how good artificial intelligence is at work, how it helps her, what she would do without using it.
Her work is a mixture of classical art, mythology, fairy-tale and mystical elements. All this is processed with the help of AI, and the original works of Claire Silver are obtained. Thanks to this strange mixture of elements and collaboration with AI, her work has an amazing effect that can only be conveyed by the phrase "weird and familiar" paintings.
The most famous NFTs by Claire Silver
Claire Silver releases single NFTs, each of which is unique and made up of many elements. The creation of each of them is a technically and creatively complex process. In total, the artist has released more than 20 digital works and continues to develop in this direction.
Digital Twin NFT
Digital Twin is a reflection of the artist's position and her vision of digital art. The doppelgänger is a virtual representation of real art. The artist was inspired by mythology, namely the constellation of twins (Castor and Pollux). One of them is mortal, and the other is divine. It is not difficult to draw an analogy with traditional and digital creativity.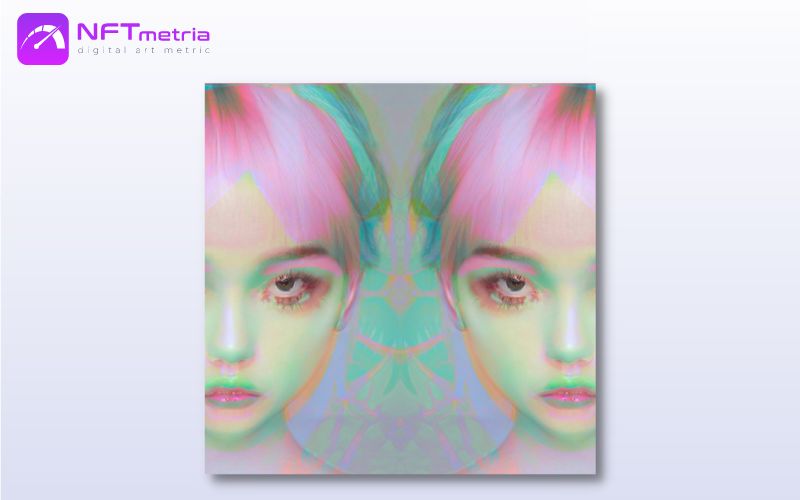 The painting was created in November 2021 and sold on the Foundation site for 16.5 ETH (about $52k at the time of sale). Today it is one of the most recognizable works of the author.
Garden of Eden NFT
Garden of Eden is a spectacular collaboration with renowned macro photographer James Fox. Elements from the 1898 photolithograph "Enigma," by Henri Jules Ferdinand Bellery Desfontaines, are taken as the basis for the work with artificial intelligence (namely the body and curls).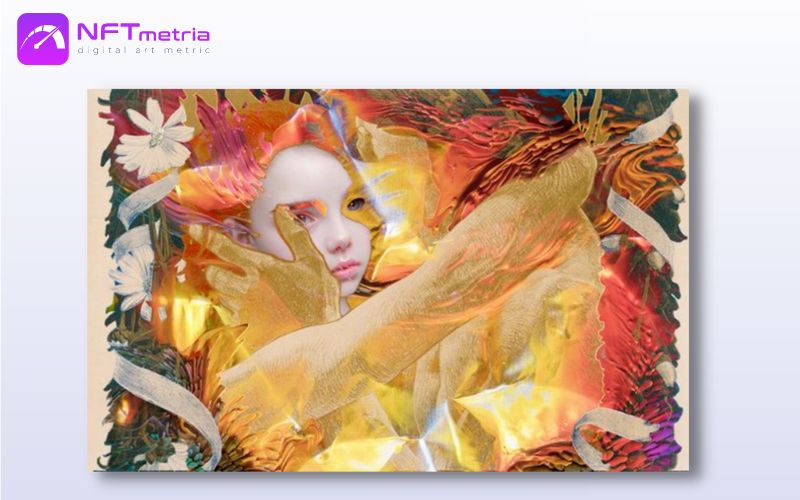 Garden of Eden was sold in 2021 at Ephimera for 2 ETH (about $6k at the time). This work also won first place in the "It's A New World" competition of the Ephimera digital art marketplace.
Blood in the streets, late to the ball NFT
"Blood in the streets, late to the ball" using AI was based on the work of such personalities as John Singer, John William Godward, Evelyn De Morgan, Gustav Klimt. The painting demonstrates the artist's attempts to pass on the cultural heritage of previous generations to those who will inherit the Earth in the future.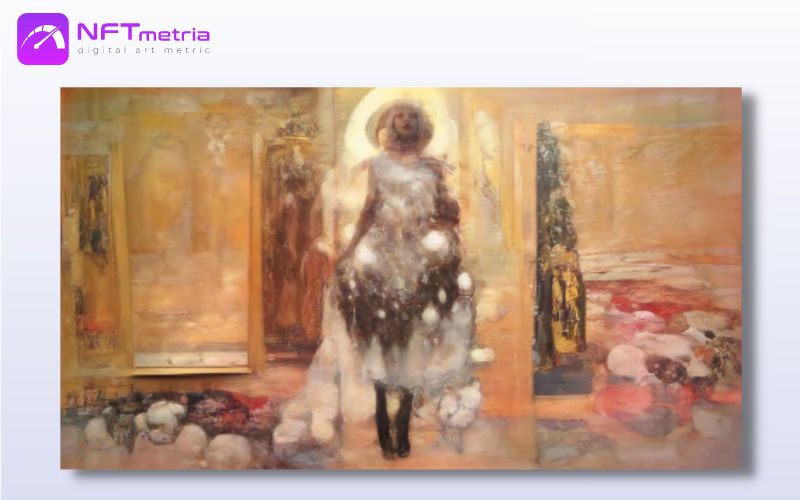 "Blood in the streets, late to the ball" was created in February 2022 and sold on March 3 at Sotheby`s for 40320 GBP (about $55k at the time).
Aqua Regia NFT
"Aqua Regia" has (like many others) esoteric undertones. The picture is a purification of the character's soul, which helps to reach the higher self and reveal its capabilities.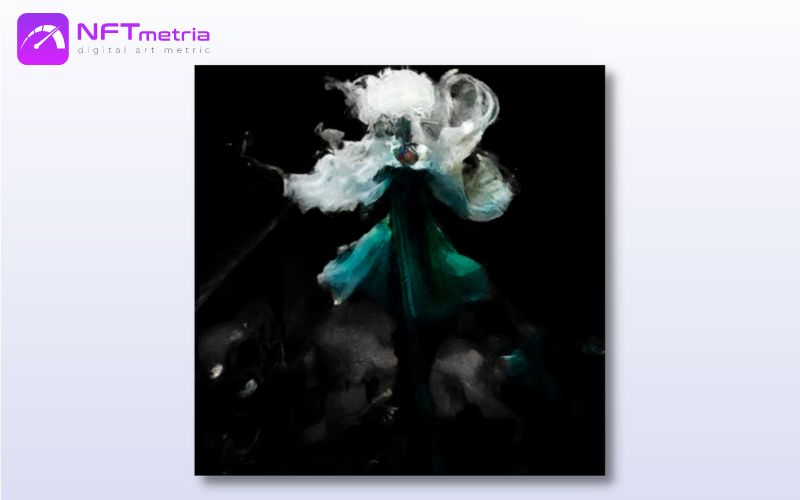 The painting was created in September 2021 and sold on the Foundation site for 6 ETH (about $20k at the time of sale). And the buyer was a well-known NFT collector, influencer under the pseudonym VincentVanDough. He bought her very first
Anonymous Incarnatia NFT
Anonymous Incarnatia is made up of thousands of images that have been created with the help of AI and arranged into a single composition. It represents the freedom and beauty of digital art identity. The aesthetics of the picture encourages people to remember the classics of the masters of the East and transfer the "treasures" of cultural heritage into the future, making them immortal with the help of digitization.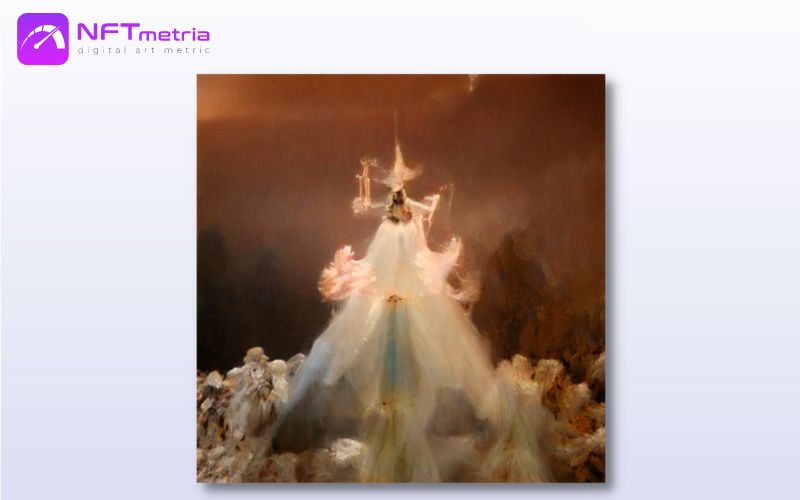 The painting was created in September 2021 and sold in an auction format on the Foundation site for 15.5 ETH (about $43k at the time of sale).
Complicated NFT
As the artist herself states, Complicated is a kind of self-portrait, which is created from layers of experience, trauma, triumph and victories. The painting is based on artificial intelligence, acrylic paint skins and many transparent layers of luminous digital hand painting to achieve the final result. In the work, like many others from the artist, there is only 7% of her appearance.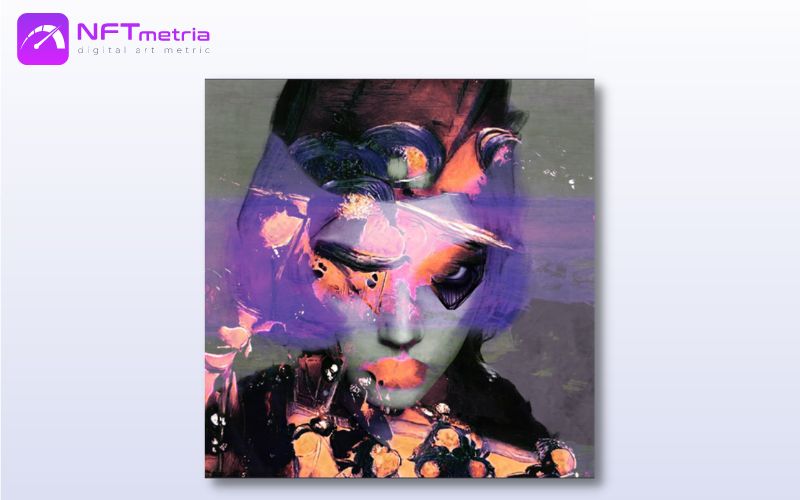 The painting was created in November 2021 at the Foundation site. Then handed over to rapper and one of the most famous influencers in the NFT industry, Snoop Dogg, via his Cozomo de' Medici account.
Where can you buy NFTs by Claire Silver?
Now the NFTs of Claire Silver are available only on the secondary market, namely on such marketplaces as OpenSea, SuperRare, Foundation, Rarible. In addition, you can follow the artist's Twitter and Instagram for future updates.
Opinion of NFTMetria
Claire Silver is more than just an artist or NFT creator. She is part of a new generation of digital creators who look to non-fungeble tokens and digital projects as the future and not just a way to make money from their skills. This is supported not only by her position, social activity, but also by the fact that she helps young talents to understand the digital world, helps them to get on their feet and achieve success.
The artist herself is actively working, sharing her achievements and successes, improving her style, working with AI. Her contribution can be compared with those artists who brought new styles and genres to academic painting at the beginning of its formation.