If you suddenly want to start working with generative art, then you can turn to Kjetil Golid, a Norwegian generative artist, or rather, his website. There he posted open source code to create generative works. It was with his help that the artist gave birth to a large number of amazing works, some of which were even exhibited at the Moco Museum and Phygital.
Who is Kjetil Golid?
Kjetil Golid is a generative NFT artist and systems developer based in Norway. And here are some facts from his biography:
participant of the exhibition Phygital, where two of his works were shown: Curvescape VII – Outpost and Iterations series,
participant of the online show The Game of life, where a series of his works was shown,
in October 2020, Jason Bailey posted an interview with Kjetil Golid on Arnome,
at the beginning of January 2023, 10 works by Kjetil were presented at ART SG 2023.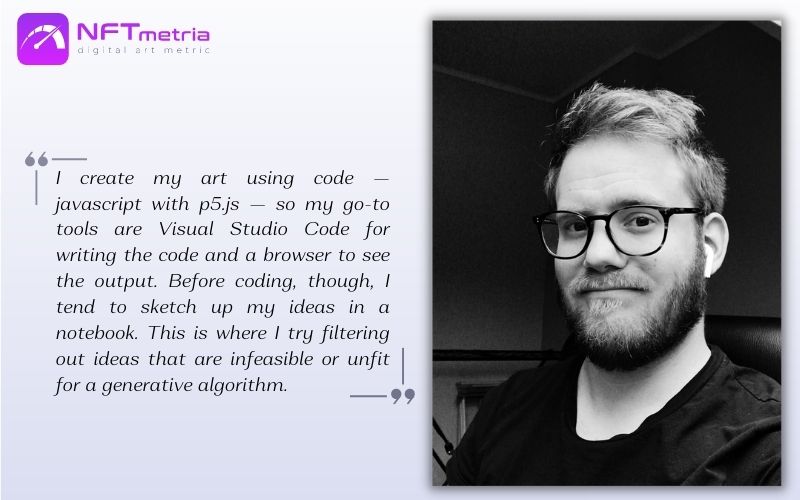 Kjetil Golid Official Links
The creative path of Kjetil Golid: from graphic design to NFT
Kjetil Golid was born and raised in a small village in southern Norway. After graduating from the University of Bergen, he moved to live in the Norwegian city of Trondheim. After that, he received a bachelor's degree in graphic design, then the artist obeyed a bachelor's degree in cognitive science. It was at the stage of studying graphic design that the artist got acquainted with processing.
The artist was fond of structures and systems, such as conventional programming languages, deductive systems, and Turing machines (abstract computing machines). He later wrote a dissertation on structures and systems on the topic "Incompleteness of the Inference System BNeg".
Passion for structures and systems led Kjetil Golid to randomness and different data sets. The artist considered that this could give certain results in his works.
Kjetil Golid in the NFT world
As an NFT artist, Kjetil Golid started his career in 2018. The first resource where the artist posted his work is Know Origin. In total, 18 works were posted, which were purchased as investments by site users. Since 2018, his work has sold 57 times on Know Origin, with a total sale of over 25 ETH.
The artist posted 21 of his works on SuperRare. Some of them are resold at a price several times higher than they were originally bought at auction.
Throughout his creative career, the artist has created many successful works and collections.
And here are the most famous collections:
Paper Armada, hosted on ArtBlocks, has sales of over 1900 ETH.
Archetype has become even more significant in the artist's career. Also hosted on Artblocks, it was able to generate over 12,500 ETH in secondary sales/
Decagon, co-created with DecaVerse, Deca's NFT platform metaverse has become no less successful. The volume of secondary sales for this project exceeds 750 ETH, and NFTs are a member of DecaVerse. They depict random geometric structures of different sizes, colors, shapes.
Features of NFTs by Kjetil Golid
Most of the artist's works have regular geometric shapes. Basically, these are figures with straight lines, have the shape of a square or rectangle. Some of his works have different color palettes.
Also, the paintings of the artist Kjetil Golid resemble sketches of megacities. Looking at them, you can see rectangular buildings stretched upwards with dense buildings, some kind of industrial building or a group of buildings.
There are works that resemble a color palette. In this case, the paintings show hundreds of cells with different colors that can be repeated. They may appear to be without corners, but they are actually finished, with minimal shading from the background.
There is often a chaos of colors, shapes and sizes in his works. Almost the same structures can be depicted in one work. And on the other, the structures are already changing from chaos or in its direction.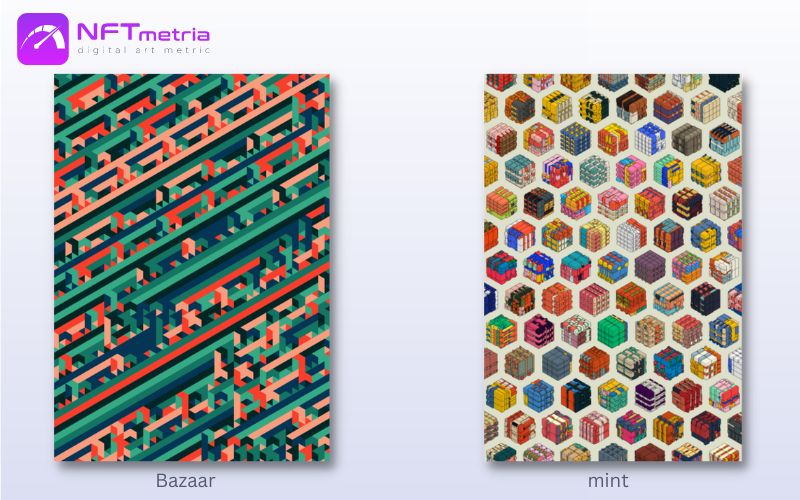 The artist admits that he has always been very inspired by other generative artists such as Tyler Hobbs, Matt Deslauriers and Anders Hoff. In addition, echoes of his love for caricature in the style of Ligne claire can be seen in his work. This is how he explains the use of off-white backgrounds and figures with thick black outlines in his work.
The most famous NFTs by Kjetil Golid
Kjetil Golid has created over 40 NFT 1/1 and 2 collections released on ArtBlocks that have made the artist famous in the community. This is confirmed by the total volume of secondary sales of his work, which today has exceeded $ 25 million.
Hippodrome IV NFT
Hippodrome IV features random symmetrical sections that make up isometric structures. In this picture, the choice of colors ranges from white to orange.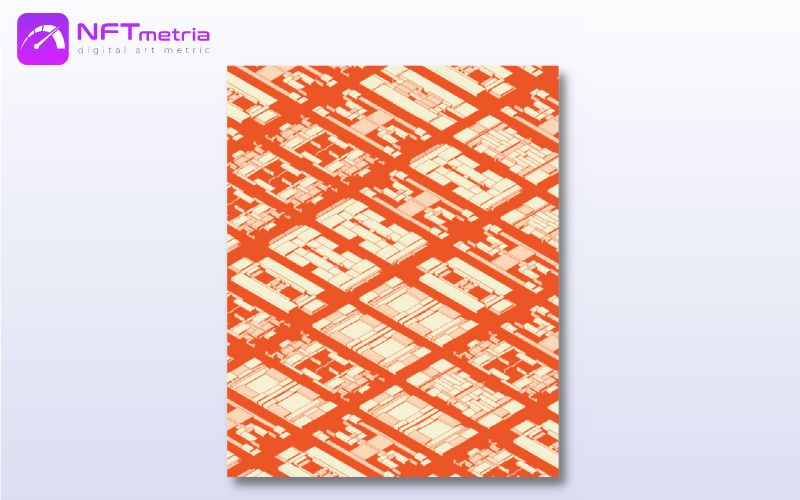 Hippodrome IV was minted on March 20, 2021 on SuperRare and sold for 40 ETH (about $130k).
Iterations IV NFT
Iterations IV shows structures that seem to be in chaos. But at the same time, these structures are similar to the dense development of a metropolis of multi-colored buildings. And if you evaluate the picture in terms of the color spectrum, then the white color prevails over the rest.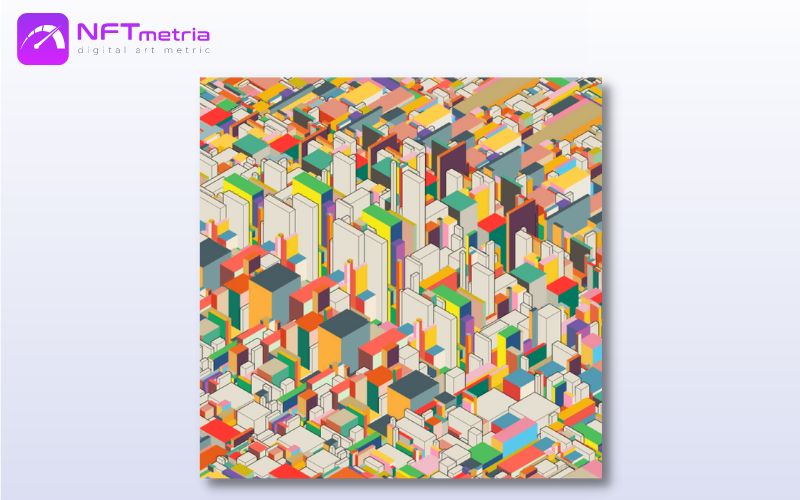 Iterations IV was minted on April 13, 2022 on SuperRare and sold for 39.9 ETH (about $121k).
Paper Armada NFT Collection
Paper Armada is the first NFT collection of 3,000 paintings by artist Kjetil Golid. Here you can see the peculiar spaceships, which, let's say, are not very well drawn, but are perfectly symmetrical.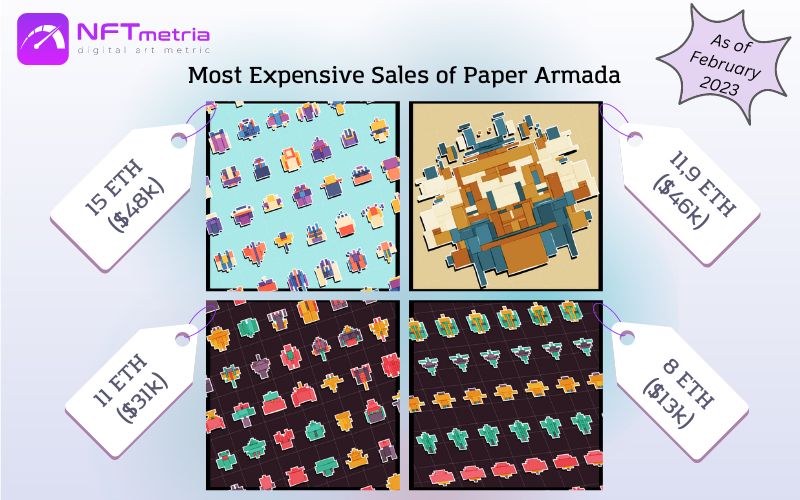 The collection was released on March 31, 2021 on the generative art platform ArtBlocks. To date, the volume of secondary sales has exceeded 1940 ETH, and the floor price is 0.28 ETH.
Archetype NFT Collection
Archetype is the artist's most famous collection of just 600 paintings, which are reminiscent of Hippodrome IV in style. But here there is more chaos between regular rectangles than in Hippodrome IV. At the heart of Archetype is a rectangle splitting algorithm that generates every possible way to divide a rectangle into smaller rectangles.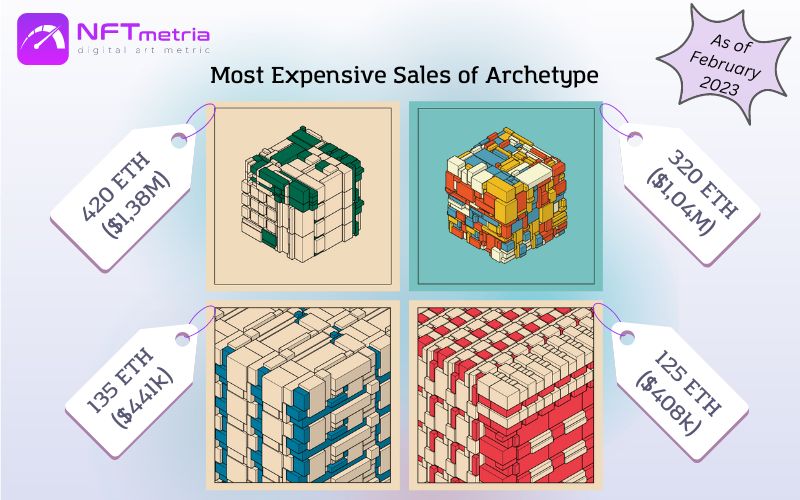 The collection was released on February 28, 2021 on ArtBlocks. To date, the volume of secondary sales has exceeded 12750 ETH, and the floor price is a crazy 21 ETH.
Where can you buy NFTs by Kjetil Golid?
Now NFTs 1/1 by artist Kjetil Golid is available only on the secondary market, namely on such marketplaces as Know Origin and SuperRare. And you can purchase works from the popular Archetype and Paper Armada collections on OpenSea. In addition, you can follow the artist's Twitter and Instagram for future updates.
Opinion of NFTMetria
Kjetil Golid can be called a pioneer of generative and process art. Although his works on Know Origin were sold for very symbolic amounts in 2018, now many of them have changed owners several times and the sale price has increased several dozen times. Since 2018, he has created many works that are posted on various marketplaces. Some of them have been exhibited in museums and exhibitions. All this makes the artist one of the most successful in generative art, and his work is an excellent prospect for investing in NFT art.